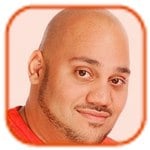 Posted by Andru Edwards Categories: Accessories, Portable Audio / Video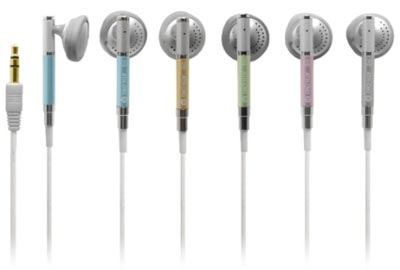 Tad Grglewiecz was on one of the buses hit by the bombings a few days ago, and his doctors say that his earbuds saved his hearing:
Doctors told him his hearing was saved by his iPod earphones. He was treated at the scene by a female doctor from the British Medical Association, whose headquarters were next to the bus blast. "I was bleeding heavily, so without her help it could have been very serious for me. Last night I went into theatre to have my wounds cleaned. There were bits of bus in me. It was a miracle I was not more badly injured considering how close I was to the explosion. The help I received from people was extraordinary."
Read More

| Independent Online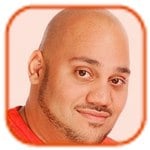 Posted by Andru Edwards Categories: Accessories, Features, PC / Laptop, Product Reviews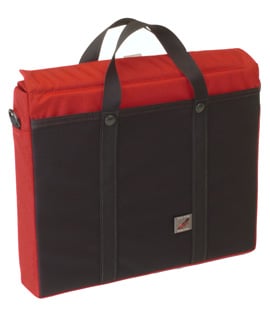 Tom Bihn constructs some very unique and functional bags. We recently got the opportunity to try out a couple of them, and the results are in. The first bag we are going to talk about it the Brain Cell laptop bag. If you have a notebook, it is essential that you have a way to carry it while keeping it protected. How does the Brain Cell meet the challenge? Find out after the jump.
Click to continue reading Tom Bihn Brain Cell Review

Posted by Sparky Categories: Accessories, Portable Audio / Video

Someone has finally announced a product that manages to both remove the tangle of cords that can occur with an iPod Shuffle used with the lanyard accessory and make the wearer not look completely ridiculous. morphie is proud to present the Song Sling - a strap that goes around the back of your neck, with included color coordinated earbuds that connect to the back of the unit. This means that the headphone cords can't get tangled in the lanyard or each other. The strap then goes down where it can hold the iPod Shuffle draped across your chest. The Song Sling is priced at only $39.95 and you can get a 10% discount if you pre-order them now. I'm somewhat curious at how the earbuds are going to sound.

| morphie

Posted by Sparky Categories: Accessories, Features, Product Reviews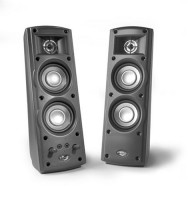 I recently found myself on the market for a pair for my computer at work and thought I would share my experiences. After doing significant amounts of research I decided to settle on the Klipsch ProMedia Ultra 2.0 PC Speaker System as they got positive ratings and seemed to have a good bass response even given their lack of an actual subwoofer. I just received them and am quite impressed so far. They are ideal for people short on desk space who are looking for a great sounding set of speakers with no large subwoofer, or listen to music where excessive bass is not needed. Check out after the jump for my full initial impressions.
Click to continue reading Klipsch ProMedia Ultra 2.0 Review

Posted by Kristin Wenzel Categories: Accessories, Portable Audio / Video

Called the iVault, Griffin's new case for the iPod Shuffle certainly looks nice. The aluminum exterior encases the iPod Shuffle while still allowing access to the dial, headphone jack and switch. The iVault will set you back about $20 and comes not only in aluminum but also in four anodized aluminum colours: Red, Blue, Green and Purple.
Read More

| iPodLounge.com
iVault

| GriffinTechnology.com
Posted by Devin Categories: Accessories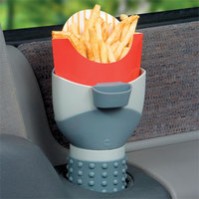 When I first saw this, I thought it was by far one of the strangest gadgets I've seen in a while, but after it sunk in I can actually see it's usefulness. How many times have been on your way somewhere and stopped at McDonald's or Burger King for a meal to go, but as soon as the aroma of french fries filled the car you could no longer wait to arrive at your destination? You find your self rummaging through your bag for fries and sucking ketchup out of the little packet all the while trying to keep your eyes on the road and not cause an accident or get the ketchup on your car seat. If you're like me, you've been in this position more times then you'd like to admit, but with this french fry holder that fits into most car cup holders, situations like this can be a thing of the past. Simply put your container of fries in the holder, along with a packet or two of ketchup in the clip-on ketchup cup and you're ready for the road. You can get yourself one of these for only $9.99.
Read More

| Home Focus Catalog
Posted by Edwin Soto Categories: Accessories, Portable Audio / Video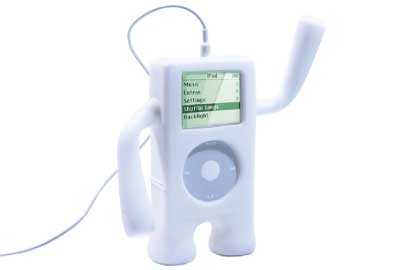 In case you ever wanted to turn your iPod into an inanimate little person that looks strangely like a white Gumby, iGuy is for you. It'll run you 34.99 USD and most of your dignity. By all means, send us pictures of you interacting with your iGuy - we could use a laugh.
Read More

| SpeckProducts
Read More

| Gadgeteer Review
Posted by Edwin Soto Categories: Accessories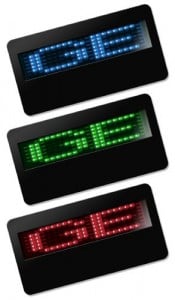 I swore I saw this last week in my neighborhood but i couldn't believe it. On his belt, some teenager had this LED badge mounted. Unfortunately I drove by so quickly I didn't get a chance to read it (or believe it). I turned to my wife and asked, "Was that I think it was?" She said, "Yep, it said 'Tiny' - not a good thing to have on you belt." Words of wisdom, y'all.
Read More

| ThinkGeek

Posted by Sparky Categories: Accessories, Features, Product Reviews, Wireless / WiFi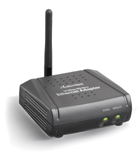 Actiontec provides a third party wireless game adapter at a price less exhorbatant than the first party counterparts. It really functions as an Ethernet to 802.11g bridge, enabling you to get your game system (PS2 or Xbox) or other Ethernet enabled device (TiVo or notebook) online wirelessly. It's a very cool concept, but unfortunately the Actiontec has a few minor implementation issues. Check out the full review after the jump.
Continue reading "Actiontec 54g Wireless Game Adapter Review"
Posted by Devin Categories: Accessories, Portable Audio / Video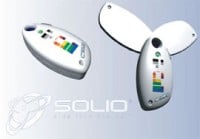 Fans of the band Coldplay may be excited to know that they have hooked up with Solio and come up with a solar powered iPod charger with designed in the same vein as the album art from Coldplay's recently released album, "X & Y". The charger retails for £79.99 - a little less then $150, at the Coldplay Shop. Only 200 of the things were made, so if you want one you better get it now before they're all gone.
Read More

| OhGizmo!
© Gear Live Inc. – User-posted content, unless source is quoted, is licensed under a Creative Commons Public Domain License. Gear Live graphics, logos, designs, page headers, button icons, videos, articles, blogs, forums, scripts and other service names are the trademarks of Gear Live Inc.