Posted by Alex Grahmann Categories: Accessories, Portable Audio / Video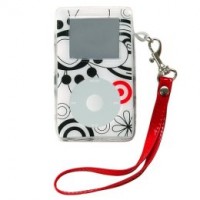 Although not available until the end of the month, Target is now taking preorders for their own logo-branded iPod case. The design, called "Cosmic Flowers," features the Target logo in the midst of a black and white floral pattern. Made of heat-sealed PVC, the case also includes screen protection, a Target-red wrist strap, and a lobster clamp. This should be great news for all of us who have been dying for a chance to offer free advertising to Target while keeping our iPod scratch-free.
Read More

| Target

Posted by Sparky Categories: Accessories, Portable Audio / Video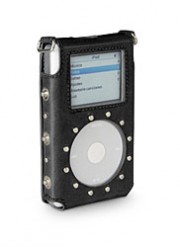 Vaja, the makers of some of the coolest leather cases for phones, laptops, and MP3 players just announced their newest leather iPod case. The AP96 comes in metal studded black leather with that oh-so-fetish feel. Perfect for listening to some tunes while strolling through your local S&M club. Am I wrong to want one of these?
Read More

| Vaja via Generation MP3
Posted by Edwin Soto Categories: Accessories, Music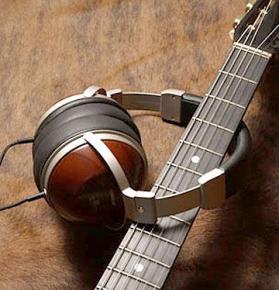 The audiophile in me is drooling whenever I view these. After the fiasco at the pharmacy yesterday, where i was forced to buy under my taste level, this is exactly what im looking for while never knowing it. Wood is easily one of the best materials to have resonating sound. These puppies are quite nice to look at too. There are only two things to fear: the $1000 price tag and woodpeckers.
Read More

| GizMag
Posted by Devin Categories: Accessories, Cell Phones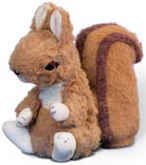 If your cell phone is constantly ringing and you find yourself ending an important conversation abruptly, only to switch to a less important one, the Cellular Squirrel may be for you. The cute little animatronic squirrel was developed by MIT's own Stefan Marti as a dissertation project and when it picks up an incoming call, it begins a conversation with the caller and compares the caller's voice, your contact list, and keywords from it's conversation with the incoming call with your current conversation and decides if the new call is important enough to pull you away from you current conversation.
This embodiment is able to use the same subtle but still public non-verbal cues to get our attention and interrupt us like humans would do (like eye gaze and small gestures), instead of ringing or vibration. The user can whisper and listen to her squirrel, receiving and replying to voice instant messages. If the user wishes, she can also bypass the Intermediary altogether and get into a synchronous voice communication with the caller by simply talking to the embodiment.
Read More

|The Cellular Squirrel via engadget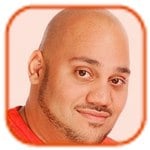 Posted by Andru Edwards Categories: Accessories, Cell Phones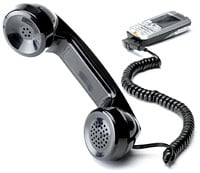 If you are jonesin' for the days of those old dumbell handsets from rotary, and later touch-tone phones, Phobile is here to take you back in style. All this thing does is connect to your cell phone, allowing you to chat it up by holding up one of those old-school dumbells to your head. Honestly now, is there anyone who doesn't want this thing?
Read More

| Phobile Product Page
Posted by Edwin Soto Categories: Accessories, Misc. Tech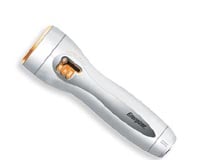 So there I was getting some headphone at my local pharmacy, which is a definite no-no for the audiophile in me - but i had no choice, when I spot something that intrigued me: a flashlight. Why is this flashlight different? Well, this flashlight can use 3 kinds of batteries: C, D, and AA. Not only that, but when one pair dies out you can easily just flip a switch and be using the next set. There's no need to even fiddle around in your closet to find an old boom box that may contain 4 or 5 dead C batteries. Just awesomely practical.
Read More

| Energizer

Posted by Sparky Categories: Accessories, PC / Laptop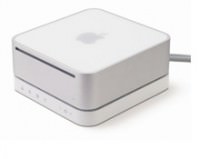 Belkin just introduced a great little product: the Belkin Flip. It's a mostly run of the mill KVM switcher to enable you to use two computers with a single keyboard, mouse, and monitor - but with excellent industrial design. It's sized to fit underneath a Mac Mini to enable people with an existing computer to buy a mini and hook it into their existing setup. It seems well designed in that the Flip requires no power, and needs no additional cables - it does everything it needs to do right out of the box, and all in a swank little form factor.
Read More

| 123MacMini

Posted by Sparky Categories: Accessories

For the longest time I carried an HP 4355 Pocket PC with me everywhere. I used it like the worlds smartest wallet - I had a leather case for it with a space for credit cards, ID, a spare housekey - the works. Not only could I check my email and browse the web, but I could pay for dinner and get into bars all in one not-so-svelt package. Now a company called iPocket has brought that concept to the iPod with a stick on pouch designed to carry ID, Credit cards, or keys with your iPod. The iPocket also has the bonus feature of helping to protect the back of your iPod from scratches. At $3.99 for a full sized iPocket, and $2.99 for an iPocket mini, there is no reason why not go go buy one! Heck - I'm buying a few just so I can stick one on the back of my current PDA, as well as on a few other gadgets I carry with me frequently. The iPocket is available in six shades.
Read More

| iPocket Product Page

Posted by Sparky Categories: Accessories, Corporate News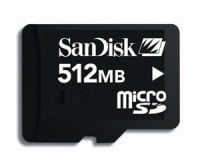 SanDisk today announced their support of Transflash - although in a somewhat backwards way. They have announced a new product offering called MicroSD - which happens to be identical to and "backwards compatible" with Transflash. The big news here is that they have doubled the size of the thumbnail sized memory cards. A 512 MB card is expected to retail for less the $70 and be available next month. Perfect timing for the supposed iTunes phone from Apple and Motorola. A 1GB and 2GB version are both in the works and should be available in the next year.
Read More

| Sandisk MicroSD Press Release
Posted by Devin Categories: Accessories, Misc. Tech, Portable Audio / Video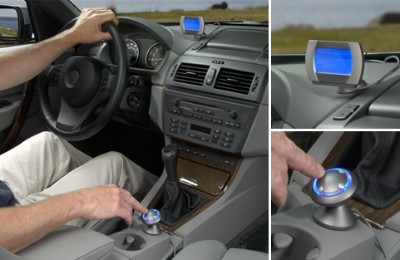 The Drive+Play from Harman/Kardon is the most convienient iPod accesory I've seen in a while. Consisting of three parts, it makes listening to your favorite songs while driving a breeze. The first piece slightly resembles a joystick, but it actually has a clickwheel-like control on the top which allows you to control your iPod without ever having to touch it. Just place it anywhere in your car that's easy for you to get to. The next piece of the Drive+Play is a small, 5 line LCD that you can place anywhere on your dash, which allows you to see what song is playing, or what menu screen you're at. The last piece is what you might consider the "brains" of the whole operation. It has a connecting port for your iPod, and serves as an information processor. Inside, there's a wireless FM modulator with five set frequencies and you even have the ability to add one in if you'd like. A 3.5mm output jack allows you to connect the Drive+Play to any vehicle with an auxiliary input, and there's even and input jack if you ever have the need to connect any other audio signals into your car's audio system. It even features automatic shut-off and will charge your iPod when docked. Harman/Kardon's Drive+Play hits stores in September and is expeced to retail for around $200.
Read More

| Oh Gizmo!
© Gear Live Inc. – User-posted content, unless source is quoted, is licensed under a Creative Commons Public Domain License. Gear Live graphics, logos, designs, page headers, button icons, videos, articles, blogs, forums, scripts and other service names are the trademarks of Gear Live Inc.