Find Our Latest Video Reviews on YouTube!
If you want to stay on top of all of our video reviews of the latest tech, be sure to check out and subscribe to the Gear Live YouTube channel, hosted by Andru Edwards! It's free!

Posted by Sparky Categories: Accessories,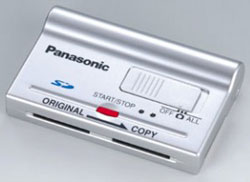 Every once in a while a company produces a simple, yet brillant, product. The moment I saw this device from Panasonic, I knew that it was such a product. They have created an SD duplication device. The Pocket Copier device will allow a user to back up an SD card, or make a copy for a friend. There is a switch to select if you want copy the entire card, or just images - useful for the digital photographer on the go.

Read More

| Panasonic (Japanese) via Gizmodo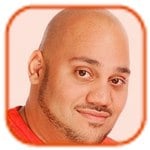 Posted by Andru Edwards Categories: Accessories, Features, Home Entertainment, Video Games,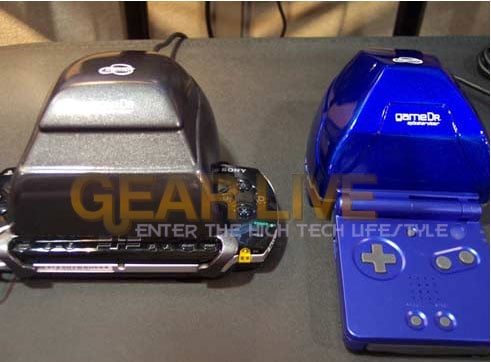 Over the past few days, there has been talk on the Internet that a company out there is working on a device that will allow you to play PSP content on your television. We were given an exclusive look at just that. The GameDr Excelerator will actually come in two flavors - one that allows you to play PSP content on your television, and another that does the same thing for the Game Boy Advance: SP. Now, this isn't something where you just hook up a cable to your portable device that sends a signal to the television. You are actually encapsulating the screen, and the GameDr Excelerator captures the video in real-time, and sends the signal to the television. It results in a bit of bulkiness, but still, a cool concept. No word on when the device will hit the market, but it should be very soon.

Posted by Sparky Categories: Accessories, Cell Phones,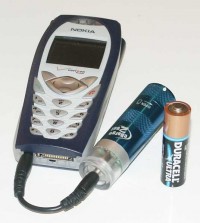 With electricity service months away in some disaster stricken areas due to Katrina, communications are going to prove tricky. While most cellular service is currently unavailable in the area, carriers are working to fix the problem as quickly as they can. The question of how to charge your cell phone does present itself, and is solved quite neatly by Pocket Power - an adapter that promises to fit most phones to provide up to 3 hours of talk time from a single AA battery. At $24.95 USD, this handy device should be in everyones emergency kit for that quick boost in power when you need to summon emergency services.

Read More

| Herrington Catalog via Red Ferret Journal

Posted by Sparky Categories: Accessories,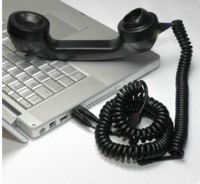 Hulger has busted out with the best Skype/Gizmo/Google Talk headset yet, providing that retro feel: the P*PHONE. The P*PHONE is their premier old school style headset but it comes with a Y*CORD adapter, allowing the use of the P*PHONE by simply plugging in to the standard microphone and headset jacks from your computer. Ringing in at about $75, I think I will be picking one up for my grandparents - who do you know that would like one?

Read More

| Skype shop via GigaOm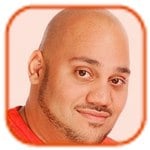 Posted by Andru Edwards Categories: Accessories, Peripherals,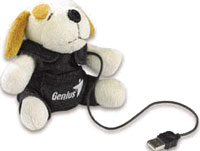 Oh, how cute - a stuffed dog that can spy on you! The Genius Look 312P webcam is fairly unique, in that the whole "cam" part of the contraption is hidden in the nose of our plush canine friend. The dog connects to a Windows or Linux PC over USB 1.1, and records at 0.3 megapixels. For still images, it takes a standard 1.3 megapixel shot. The manufacturer claims compatibility with MSN Messenger, Yahoo Messenger, and CUSeeMe, but I don't think I'm alone in assuming that this should work with just about anything that your standard webcam is compatible with.

Read More

| Genius
Posted by Rob Stevens Categories: Accessories, Features, Peripherals, Product Reviews,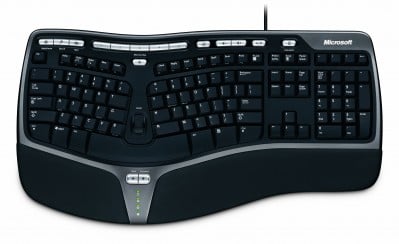 Let me get this out of the way; I'm a keyboard snob. I've been typing for a very long time, and still have fond memories of my IBM Selectronic (with its very nice "buckling spring" keys), and my old Northgate Omnikey, with those wonderful programmable keys. (Geek Cred +2) I hoard keyboards like they're going out of style, because you never know when a company will stop making the perfect keyboard and leave you out in the cold.
However, since developing some severe RSI in both wrists, I had to move to a more ergonomic keyboard; a standard "straight" keyboard would have my wrists in flames in less than 10 minutes. Microsoft was one of the first companies to perform major research into ergonomics, and developed the first of what would become known as a "split" keyboard, branded under the "Natural" moniker.
The first of the Natural keyboards, the Natural Pro, was a gift from the almighty himself. As with any new keyboard layout, it took some adjustment to get used to it, but I noticed right away that the RSI that I'd developed was gone. Spending a little more time practicing with the keyboard, and my typing speeds improved even over my previous scores, and the keyboard had a fantastic "aural" response. You could hear me typing on that thing from across the office. There were some differences in the key layout, however, that had some people up in arms. Microsoft would change the layout of the 3x2 key grouping that contained the Delete, Insert, Home, etc., to a 2x3 layout of only five keys … removing the Insert key entirely and doubling the size of the Delete key. It was a controversial change, but one I came to embrace.
A series of refinements came to the line, starting with the slimmer "Elite" model, which many people still swear by to this day, but which also came with a new key configuration for the arrow keys, changing the "inverted T" to a cross layout with smaller keys. The Natural Multimedia would come later, adding specific keys for commonly used programs, as well as a two-port USB hub, but it retained that wonderful loud "clackity" sound. After that, it seemed as if there was no further development into the ergonomic keyboard design, and rumors started to spread that they simply weren't selling as well as they should.
Finally, when Microsoft jumped into wireless technologies, they released a wireless desktop set called the Wireless Optical Desktop Pro. It features a wireless version of the Natural Multimedia with slick translucent keys, and while the sound had been reduced somewhat, it was still easy to hear when you were making good contact with the keys. They also introduced an "F-Lock button, which can convert your F-keys into dedicated keyboard shortcuts for New, Open, Close, etc. Today, I use the Natural Multimedia at work, and the Natural Desktop Pro at home. The wireless feature ended up being far more useful than I had anticipated … sometimes it's nice to be able to just grab the keyboard and toss it aside to give yourself more desk space.
Click to continue reading Microsoft Natural Ergonomic Keyboard 4000 Review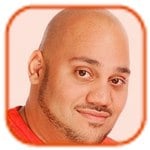 Posted by Andru Edwards Categories: Accessories, Home Entertainment, Internet, Peripherals,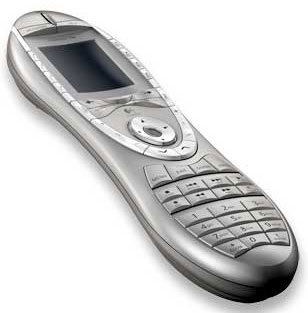 Even more from Logitech, and this one is pretty sweet. Basically, the company took the Harmony 880, made it silver, and added RF capabilities. This means that it has that nice 880-styled color screen, rechargeable lithium ion battery, and backlit keys.
Logitech´s Harmony 890 Remote Control uses both radio frequency (RF) and infrared (IR) wireless signals to deliver complete control of your home-entertainment system that may be hidden behind cabinets or in separate rooms. With a wireless range of up to 100 feet, the Harmony 890 remote sends RF commands to a base station, which then blasts infrared signals to any components in that zone. With the Harmony 890 remote, you can create a system that involves multiple remotes and/or base stations to deliver control of all the entertainment zones throughout the home.
This one is not too shabby, although at $399 USD, the only place we might see these in action is on MTV Cribs.

Read More

| Logitech Harmony 890 Product Page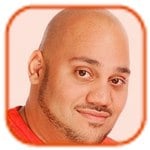 Posted by Andru Edwards Categories: Accessories, Home Entertainment, Household, Peripherals,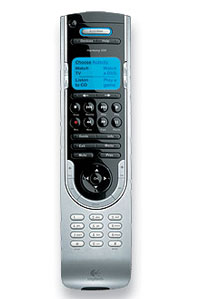 I love Logitech Harmony remote controls. I have yet to use a remote that is more intuitive, easy to set up, and recognized as many devices at the Harmony line. That being the case, I am looking forward to getting my hands on the 520 to see what kind of product they are putting out there at the $99 USD price range. It is a great option for those with just a few devices that they need to control, although the oddly-shaped housing does leave a bit to be desired. Hey, for $99 you still get the signature Harmony internet setup wizard via USB, which makes this thing cake. Look for it to hit stores by the end of the month. Jump down for the full press release.

Read More

| Logitech Harmony 520 Product Page
Click to continue reading Logitech Harmony 520 Universal Remote, For the Cheapies
Posted by Edwin Soto Categories: Accessories, Peripherals,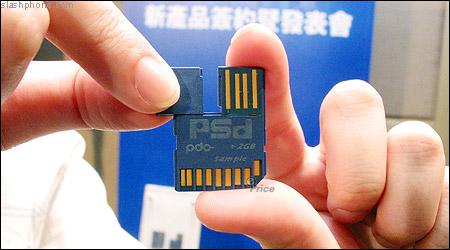 Here is another SD card that has an extension to allow it to be used as a USB 2.0 drive in and of itself. This particular one is made by PDC Taiwan, and there have been others including the Sandisk Ultra II SD Plus and INX-USD.

Read More

| Slashphone
Posted by Edwin Soto Categories: Accessories, Mods / Hacks,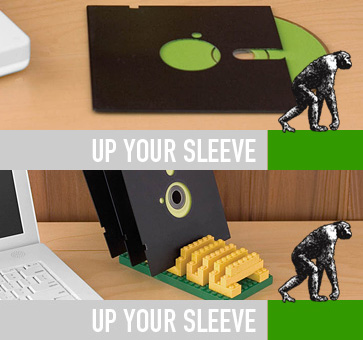 Time to tear down your R2-D2 Lego masterpiece, and grab your "Where In The World Is Carmen Sandiego?" floppy for yet another cool mod. Follow these simple instructions and you will end up with a CD/DVD rack that any uber-geek would love.

Read More

| Ready Made via Gizmodo
© Gear Live Inc. – User-posted content, unless source is quoted, is licensed under a Creative Commons Public Domain License. Gear Live graphics, logos, designs, page headers, button icons, videos, articles, blogs, forums, scripts and other service names are the trademarks of Gear Live Inc.