Find Our Latest Video Reviews on YouTube!
If you want to stay on top of all of our video reviews of the latest tech, be sure to check out and subscribe to the Gear Live YouTube channel, hosted by Andru Edwards! It's free!
Monday March 4, 2013 4:20 pm
Sonos Playbar review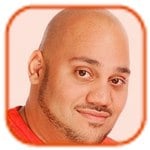 Tweet
Posted by Andru Edwards -
Categories: Features, Home Entertainment, Music, Product Reviews, Videos, Wireless / WiFi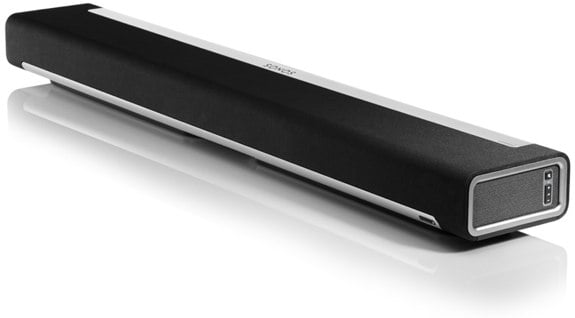 The Sonos Playbar is a product that filled us with excitement when it was announced, and we are back with our Playbar review. With the Playbar, Sonos enters the home theater market with a pretty sound strategy--provide a soundbar that puts out a 3.0 sound signal, and allow it to be paired with the Sonos SUB for those who want 3.1 sound…then, make it even better by allowing two Sonos PLAY:3 speakers to be used as a full on 5.1 surround sound system.
Of course, for the ultimate Sonos 5.1 setup, you'll have to pay an additional $699 for the SUB and $598 for the two PLAY:3 units, an additional $1,397 above the $699 price of the Playbar. So, while we will touch on the 3.1 and 5.1 configurations, we are here to bring you a Sonos Playbar review that focuses on the standalone abilities of the ambitious soundbar. Has it been worth the wait? We explore the answer in our full Playbar review--read on.
SONOS PLAYBAR UNBOXING VIDEO
INCLUDED IN THE PLAYBAR BOX
Sonos Playbar
Power cable
Optical cable
Ethernet cable
Quickstart guide
Warranty and regulatory booklet
PLAYBAR SPECIFICATIONS
AUDIO
AMPLIFIER: Nine Class-D digital amplifiers perfectly tuned to match the speakers and acoustic architecture.
SPEAKERS: With nine amplified speakers—six midrange and three tweeters—PLAYBAR replaces the steady drip of your TV's built-in speakers with deep booms, crystal-clear whispers, and huge waves of live concert sound. And with automatic equalization, the system self-adjusts for rich, seamless performance.
3.0 HOME THEATER: PLAYBAR's nine-speaker design plunges you into the cinematic action, with huge waves of sound that raise goose bumps while capturing every whisper and footfall. The player connects to your TV with a single cable and plays all sources, including satellite boxes and game consoles.
3.1 HOME THEATER: Pair PLAYBAR with SUB, and with the push of a button you can add spine-curling bass to your cinematic experience—wirelessly.
5.1 HOME THEATER: Add PLAY:3 speakers to your PLAYBAR and SUB for a true surround sound experience that plunges you deeply into the cinematic and gaming action on your screen. Sleek and understated with wireless control, this deeply immersive home theater experience wraps you in crystal-clear, state-of-the-art Sonos sound.
SYSTEM REQUIREMENTS: TV with optical audio output. Broadband Internet. One Sonos component wired to router. Sonos Controller App.
MUSIC
OPERATING SYSTEMS (FOR STORED FILES): Windows XP SP3 and higher; Mac OS X v10.6 and higher; NAS (Network Attached Storage) devices supporting CIFS
MUSIC SERVICES SUPPORTED: Sonos works seamlessly with Amazon Cloud Player, AUPEO!, Deezer, iHeartRadio, JB Hi-Fi NOW, JUKE, Last.fm, MOG, Pandora, Rdio, Rhapsody, SiriusXM Internet Radio, Slacker Radio, Songl, Songza, Spotify, Stitcher SmartRadio, TuneIn, Wolfgang's Vault, WiMP, and downloads from any service offering DRM-free tracks. (Service availability varies by region.)
INTERNET RADIO SUPPORTED: Streaming MP3, WMA
AUDIO FORMATS SUPPORTED: Support for compressed MP3, iTunes Plus, WMA (including purchased Windows Media downloads), AAC (MPEG4), AAC+, Ogg Vorbis, Audible (format 4), Apple Lossless, Flac (lossless) music files, as well as uncompressed WAV and AIFF files. Native support for 44.1kHz sample rates. Additional support for 48kHz, 32kHz, 24kHz, 22kHz, 16kHz, 11kHz, and 8kHz sample rates.Note: Apple "Fairplay", WMA DRM and WMA Lossless formats not currently supported. Previously purchased Apple "Fairplay" DRM-protected songs may be upgraded.
ALBUM ART SUPPORTED: JPEG, PNG, BMP, GIF
PLAYBACK MODES: Crossfade, shuffle, repeat
PLAYLISTS SUPPORTED iTunes, Rhapsody, WinAmp, Windows Media Player, and MusicMatch (.m3u, .pls, .wpl)
NETWORKING
WIRELESS CONNECTIVITY: SonosNet, a secure AES encrypted, peer-to-peer wireless mesh network
SONOSNET EXTENDER: Functions to extend and enhance the power of SonosNet 2.0.
ETHERNET PORT: A single Ethernet port can connect PLAYBAR to a wired home network. A second Ethernet port can be used to share wireless control.
GENERAL
POWER SUPPLY: AC 100-240V, 50-60 Hz
SIDE PANEL BUTTON: Volume up, volume down and mute
SIDE PANEL LEDS: Indicate PLAYBAR status
DIMENSIONS: (H X W X D) 3.35" (H) x 35.43" (W) x 5.51" (D), 85mm (H) x 900mm (W) x 140mm (D)
WEIGHT: 11.9 lbs.
MULTIPLE ORIENTATIONS: Mount PLAYBAR on the wall either above or below your television. You can also lay PLAYBAR flat on your television table.
CONTROL
CONTROL: Control PLAYBAR volume and mute using your existing TV, cable or universal remote. Or download the free Sonos app to control PLAYBAR from your, smartphone, tablet, PC or Mac computer.
SUPPORTED DEVICES
SUPPORTED DEVICES: PLAYBAR works with all amplified and non-amplified Sonos products.
PLAYBAR connects to your TV using a single optical cable and plays all sources connected to the TV, including cable boxes and game consoles.
INITIAL IMPRESSIONS
As you can see in the Sonos Playbar unboxing above, the device looks fine. Nothing impressive, but that's kind of the point--the Playbar is meant to fit in with your television and home theater components rather than be a visual distraction or eyesore. There's a reason for the plainness, consisting of speaker fabric and dark aluminum. The elegant simplicity continues around back, where the ports are location. You get a power cord port, optical audio port, and two Ethernet ports--power and optical are mandatory for TV audio, while Ethernet is optional if you have a BRIDGE or another Sonos component wired to your network.
It's definitely nice that Sonos included everything you need in the box to get up and running, including all supported cables.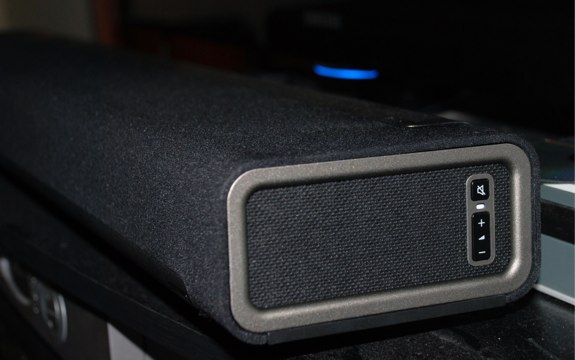 SETTING UP THE SONOS PLAYBAR
As with all Sonos components, setup of the Playbar is a snap. At the very least, you will need a Playbar wired to Ethernet and a way to control it, either with the Sonos Controller iOS or Android apps, or with the dedicated Sonos Controller. If you can't wire your Playbar into your Ethernet network, you can buy a Sonos BRIDGE and hook that into your router, then the Playbar can connect to your network wirelessly. Already have a Sonos system set up? Even easier. Just plug the Playbar in and go into your Controller settings and add a new Sonos component there and follow the simple intructions.
The Playbar does have a few extra (quick) setup steps, but aside from connecting it to your television with the provided optical cable, the remaining steps all involve answering questions on the control screen about the sound that the Playbar is putting out.
Finally, the Playbar will ask you to mute your television speaker output and will then have you send a TV volume command to it that it will capture and use going forward.
OUR SONOS SETUP
Kitchen: Wireless CONNECT:AMP
Dining Room: Wireless PLAY:5
Master Bedroom: Wired Playbar, Wireless Play:3, Wireless Play:3, Wireless SUB
Bathroom: Wireless PLAY:5
Bedroom: Wireless PLAY:3
Office: Wireless PLAY:3
Office: Wireless Sonos BRIDGE
USING THE PLAYBAR
Many will ding Sonos in the sound fidelity department due to the fact that it's a wireless system, but since the Playbar is connected directly to the optical output of your television, that argument doesn't fly here. After working on the Playbar for two-and-a-half years, Sonos has delivered what may just be the best soundbar solution on the market today, bar none.
We tested the Playbar in a large bedroom because we figured the size of the room matched that of the target market for a product like the Sonos soundbar. In that environment, the Playbar filled the room with ease. After getting it all set up, we noticed that our television (a Samsung LNT5271FX) threw up a quick error message anytime we tried to use the volume command. It was a quick error that disappeared right away, but know that some televisions that have the sound muted in the settings will let you know this whenever you control the Playbar volume. No big deal, if you ask us, but worth mentioning.
The engineers at Sonos recognized that some people would want to have the Playbar sit on their TV stand, while other might want to mount it on a wall, either above or below the television. Whichever configuration you choose, the Playbar will recognize it, and optimize the audio depending on the positioning. If you do decide to mount the Playbar, you'll need to grab the $40 Playbar Wall Mount.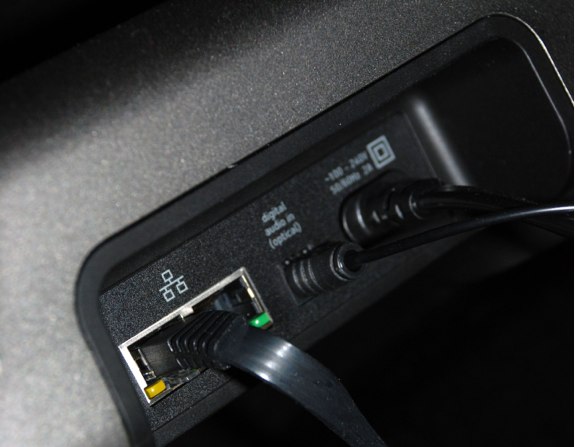 The Playbar has IR passthrough, which means that it can take any remote control signals it receives at the front of the unit, and repeat them from the back of the unit. This came in handy when I wanted to control the Apple TV that the Playbar completely blocked as far as line of sight is concerned. I was still able to control it despite it not getting the remote control signals directly thanks to the IR passthrough feature. Smart.
Since the Playbar functions as a regular Sonos component with the additional feature of an optical input, that means that you can do all the cool stuff that all your other Sonos devices can do, including zone grouping. Typically, you would use zone grouping to play the same music in multiple Sonos zones. With the introduction of the Playbar, you can also share the TV audio in multiple zones. Imagine having the game on the main Playbar during a party, but also wanting to have the audio of the game in other rooms. Easy. Just group your other Sonos device(s) with the Playbar, and the TV audio is piped there as well. This is something that you just can't easily do with other soundbar or surround sound solutions, and with Sonos, it's a snap.
As far as content, we tested the Playbar with FiOS TV coming through a TiVo Premiere X4, Netflix, YouTube, and Hulu Plus through Apple TV, and Blu-ray discs played on a PlayStation 3. In all cases, the audio sounded superb--much, much better than the built-in stereo speakers on our Samsung LN-T5271 display.
PLAYBAR ISN'T FOR EVERYONE
As exciting and good as the Playbar is, it isn't the perfect solution for everyone, although it's a great option for the majority. If you have a dedicated 5.1 setup, don't replace it with the Playbar, even if you want to go with the full-on 5.1 Sonos setup, unless you are absolutely positive that:
You can plug all of your components into your television without the need for a receiver
Your television, absolutely, positively passes a 5.1 signal out of the optical cable
You don't want a 7.1 surround sound system
You don't mind spending $2000 for the full setup (or $2050 if you need a Sonos BRIDGE)
Oh, and even if you decide that you're fine with all of the above, it seems that the Playbar simply refuses to recognize DTS signals, so if you have Blu-ray discs with DTS Master Audio, you lose that too. Plenty of Disney discs sport fantastic DTS Master Audio tracks. Still, if you weren't enjoying those tracks anyway (and if you are just using your typical television speakers, then you aren't,) the Playbar is an upgrade.
3.1 MODE
The Sonos SUB packs a serious punch, and pairing it up with the Playbar provides for some serious bass to go along with your entertainment, if you want it. Of course, you can control the bass level of the SUB when initially pairing it with the soundbar, and even after that, you can control the volume level of the sub using the Sonos Controller app. Our only complaint is that this functionality is kind of buried in the app, and it's found in the volume control area like it should be.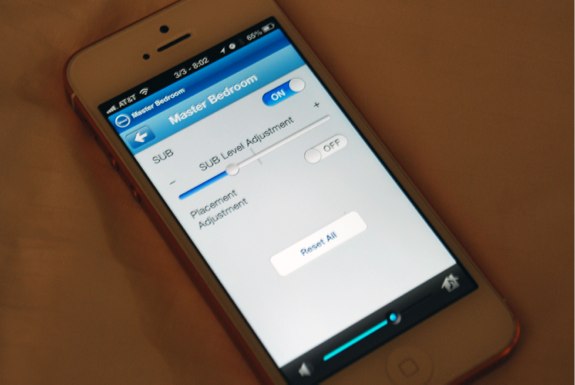 5.1 SURROUND SOUND MODE
Those looking for the ultimate Sonos surround sound setup should look no further than a Playbar that is paired up with a Sonos SUB and two PLAY:3 speakers, providing for a 5.1 surround sound setup that also functions the same as any other Sonos component. That means that you get 5.1 surround sound when watching TV and movies, but also the ability to stream music from your iOS and Android devices, Mac or PC, local music servers, and tons of online music streaming service as well. We've set up a bunch of surround sound systems here at Gear Live in order to review them, and a couple of things can be said here:
The Sonos Playbar with SUB and PLAY:3 units is the easiest and fastest way to set up a 5.1 surround sound system.
You get great sound…meaning, it sounds great. However, unless you have a television that passes the 5.1 Dolby Digital signal through the optical connection, what you are getting is Pro Logic II instead of the true DD. Doesn't matter though--it still sounds awesome.
Yep, one area of disappointment was the lack of HDMI support/passthrough. Sonos seems to stand by the decision publicly, but a company that is dedicated to audio definitely knows that the majority of HDTV sets out there simply do not pass 5.1 audio out of the optical connection, instead providing a regular stereo 2.0 signal. This means that in situations like ours when we tested the Playbar with a top-of-the-line Samsung HDTV from a few years ago, we got no 5.1 signal. What ends up happening instead if the 5.1 signal goes into the TV, the TV sends a downmixed 2.0 signal to the Playbar, and then the Playbar uses Pro Logic II in order to recreate a virtual 5.1 surround signal.
The Digital Optical jacks on the 2007 LN-T series LCD TVs output Dolby Digital 5.1 when recieving a 5.1 Dolby Digital signal from an over-the-air digital station. From any other source is outputs a PCM 2.1 signal.
That is kind of ridiculous, and something that would have easily have been solved by simply providing HDMI in. Sonos has to be aware of this limitation, and we wouldn't be surprised to the something like a Playbar Pro to hit the market in the future to address this.
To be clear, though, the 3.1 and 5.1 offerings are features of the Playbar--not the typical or average use case for the product. So, as we express disappointment the particular way that the feature operates, it's really not a ding on the Playbar as a whole.
CONCLUSION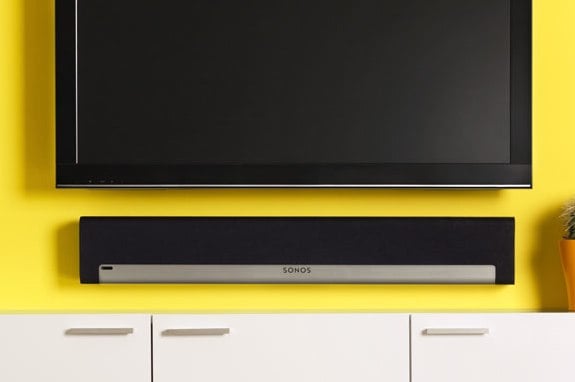 As we've said before, we've been waiting for Sonos to make a home theater play for years, and the Playbar is the first move in this space. It's impressive, providing great sound that can appropriately fill a room. As we stated earlier, it's not for everyone. Some will prefer a true 5.1 setup with receiver with no compromises, and those people can get the same functionality by adding in a Sonos CONNECT into their lineup. Other folks will be content with a cheaper soundbar that isn't as full-featured as the Playbar--make no mistake about it, this is a premium product, and it shows in everywhere from build quality, sound quality, and feature set. That's who this product is for. Those who can't afford a full 5.1 system, but don't want a cheap, plastic soundbar that sounds barely better than their TV speakers.
Also, anyone who is a Sonos lover will likely want one--if you already understand and know the magic of Sonos, you know just what the Playbar brings to the table. The 3.1 and 5.1 surround feature are a nice value-add as well, which we called when the SUB launched last year. All in all, when it comes to soundbars, the Sonos Playbar is the best on the market.
You can pick up the Sonos Playbar for $699.
© Gear Live Inc. – User-posted content, unless source is quoted, is licensed under a Creative Commons Public Domain License. Gear Live graphics, logos, designs, page headers, button icons, videos, articles, blogs, forums, scripts and other service names are the trademarks of Gear Live Inc.