Find Our Latest Video Reviews on YouTube!
If you want to stay on top of all of our video reviews of the latest tech, be sure to check out and subscribe to the Gear Live YouTube channel, hosted by Andru Edwards! It's free!
Thursday April 8, 2010 12:00 pm
Live notes from Apple's iPhone OS 4.0 event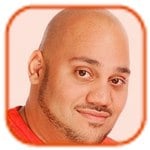 Tweet
Posted by Andru Edwards -
Categories: Apple, Cell Phones, Features, Handhelds, Software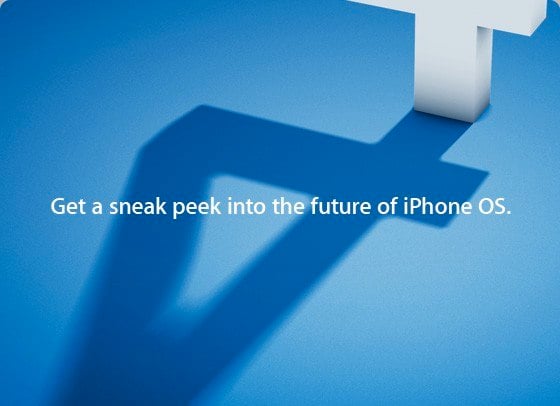 Apple is set to show off the next major version of the iPhone OS platform this morning, and the event is just about to get underway. We will be bringing you live notes of all the action here, along with a running commentary on all the new things Apple is bringing to the table with iPhone OS 4.0.
The event started with Steve Jobs hitting the stage and mentioning that today they are happy to talk about iPhone 4.0. However, first he started with a bit of iPad news. He mentioned the great reviews the device has received, and also that as of today, they've sold 450,000 iPads. Impressive for a device that's been on the market for five full days.
Continuing with some numbers:
600,000 iBooks downloaded so far
3.5 million iPad apps downloaded so far
Users have downloaded over 4 billion apps from the App Store
There are over 185,000 apps in the App Store, 3,500 of which are iPad apps
After going through a bunch of his favorite iPad apps, Steve moved on to some iPhone numbers:
The iPhone was the JD Power's customer satisfaction award in 2008, 2009, 2010
The iPhone has 68% of mobile browser marketshare
50 million iPhone sold to date. If you include the iPod touch, the number jumps to 85 million
Moving on to iPhone OS 4.0 (finally,) Jobs started by saying that it would be launching this summer, but that a Developer Preview would be released today.
iPhone OS 4.0 will have 1,500 new APIs available to developers. A few that we caught from the slide: In-app SMS, Calendar, automated testing, full map overlays, full access to still and video camera data, carrier information, ICC profiles, half-curl page transition, Quick Look, package-based documents, iPod remote control accessories, Draggable map annotations.
New user features include: app gifting, 5x digital zoom, tap to focus video, Bluetooth keyboards, sync IMAP notes, Places in the Photo app, delete within Mail search results, home screen wallpaper, and MULTITASKING.
Regarding multitasking, Jobs says that they aren't the first to the party, but that they will be the best. It is easy to implement multitasking, but they wanted to avoid battery drainage, and making the foreground app feel sluggish.
In the demo, Steve showed how he could be reading email, tap a link to launch a browser, and then pull up the multitasking dock to go back to Mail with a simple double-tap of the Home button. The multitasking dock rises up from below the screen, pushing the UI up. You can then select any other concurrently running app, and it will be brought to the foreground in the same state that you left it, rather than launching from scratch. Jobs then introduced Scott Forstall to talk about how they did this while preserving battery life and performance.
According to Scott, Apple distilled down the services that the apps need to multitask in the background. "We implemented these services ourselves." They're going to offer these services to developers to provide multitasking to third-party apps. He mentions that there are seven multitasking APIs that they're going to be offering, and he goes into each one.
Background audio: He uses Pandora's app as an example. You can have Pandora running, and then pull up a browser, and as expected, Pandora remains in the background playing your music.
VOIP: They demo Skype here. Basically, with the current iPhone OS, if you don't have Skype launched as your foreground app, you couldn't receive calls. Also, if you were on a call and left the app, the call would disconnect. With iPhone 4.0, all the VOIP stuff happens in the background, so that you can receive calls. You will get a pop-up notification if you are in a separate app, which will allow you to answer the call right there.
Background location: Background location lets you have apps like GPS running in the background, all the while tracking your location and continuing to provide you with directions, even if you jump into another app. Even cooler, for location check-in apps like Loopt and possibly Google's location app, these can be updated in the background. Instead of using battery-heavy GPS, it can update when you switch cell tower signals. Pretty smart.
Push Notifications: If you own an iPhone, you should already be familiar with push notifications. They are sticking around.
Local Notifications: Similar to push notifications, but you don't need to be connected to the server. These happen right on your phone. For example, you can have the TV Guide app pop-up a notification when a specific show is on.
Task Completion: This is a nice one. Task completion allows you to do things like upload videos to YouTube, or photos to Flickr, even if you switch out of the app. Rather than the upload stalling, it will continue in the background.
Fast App Switching: Simple - this is what allows apps to save the state and hibernate in the background if need be, and then launch right back from where they left off.
The second major feature (all that multitasking stuff is just one of seven that Apple is showing off today!) is Folder. We've been wanting this one for a long time, as currently we need to use a jailbreak app to accomplish this. In a nutshell, you can take all the games you have installed in your iPhone, and you'll be able to put them all into a folder called "Games." This means you don't have to keep a ton of icons spread across your phone, letting you be more organized and tidy. We love it. The icon for the folder show mini icons of the apps enclosed in it, and you can even keep folders in your dock.
Steve mentions that, with folders, you are now able to store 2,160 apps across your allotted 11 iPhone home screen pages, which is way up from the current 180. Oh, and you can also now set Home screen wallpaper as well.
The third feature of iPhone OS 4.0 that Apple demoed is Enhanced Mail, with the big thing here being a universal inbox option! This means you can see all of your mail accounts in one inbox, and even better, they've made it so that you can have more than one Exchange account in iPhone OS! Apple has also made it much faster to get from one inbox to another, and has added a new threaded conversation view. As for attachments, you can now choose to open attachments with a separate app, rather than using Mail's preview feature. We are loving the new Mail app so far.
The fourth feature, although we don't think it's mind-blowing or anything, is that Apple is adding iBooks to the iPhone and iPod touch. It's just as you'd expect - a smaller version of the iBooks ebook reader and iBookstore, right on the iPhone. Books will sync between devices, similar to how Amazon does it.
The fifth feature is better security and integration for the enterprise. Better data protection, Exchange 2010 supports, multiple Exchange accounts, SSL VPN support, wireless app distribution, etc. Nothing exciting for the user, but companies will eat this up.
The sixth major feature is a big one, as Apple announced what they are calling Game Center. For all intents and purposes, this is pretty much Xbox Live for the iPhone OS - a social gaming network. You get stuff like global leaderboards, friends, achievements, and matchmaking. This is going to be very awesome, and takes any and all focus away from the Plus+ network.
The final thing Apple showed off isn't so much a user feature as it is a new revenue opportunity, and that's their iAd Mobile Advertising platform. Steve mentioned that a lot of devs that release free apps are inserting ads into their programs, and that these ads "suck." He went on to say that "the average user spends over 30 minutes every day using apps on their phone. If we said we wanted to put an ad up every 3 minutes, that's 10 ads per device per day. That would be 1b ad opportunities per day."
Apple also wants these ads to be striking, so no more of those boring or annoying tiny banner ads that take you out of the app you are using. iAds will be interactive and spur emotion, and can even include video content. Apple will sell and host the ads, and will do a 60/40 split with the developer. They give an example to show off how interactive an ad can be, with a Toy Story 3 ad. There was a small banner within an app. If you tap the banner, you get a full-screen Toy Story 3 experience. You can watch clips from the movie, play minigames, and it even had wallpapers you could apply to your home screen. Steve asked "Have you ever seen an ad like this? Anything even close?" Honestly? No, we haven't.
What Apple has done here is allowed brands to build apps that are ads, and make them fun and useful to the consumer, rather than an annoying distraction - and the ads are pretty much apps that live inside of your apps. Very cool.
That was it as far as the feature announcements. Multitasking, folders, enhanced mail, iBooks, enterprise, Game Kit, and iAd. These are just seven of the 100 new user features. Apple is releasing a dev preview today.
As far as release, iPhone OS 4.0 will hit end users this summer. It will work fully with the iPhone 3GS and iPod touch 3rd gen. The iPhone 3G and iPod touch 2nd gen will also get 4.0, but there are some features they won't get, such as multitasking. iPhone OS 4.0 will also be hitting the iPad, but that will come in the fall. Of course, there were no features that were specifically mentioned or referenced that will be exclusive to the next iPhone, which will also be launching this summer—likely coinciding with the launch of iPhone OS 4.0 itself.
We will have more on each of the seven major features that Apple touted today a bit later on, and a bit more in-depth. For now, leave your thoughts and questions in the comments!
© Gear Live Inc. – User-posted content, unless source is quoted, is licensed under a Creative Commons Public Domain License. Gear Live graphics, logos, designs, page headers, button icons, videos, articles, blogs, forums, scripts and other service names are the trademarks of Gear Live Inc.