Find Our Latest Video Reviews on YouTube!
If you want to stay on top of all of our video reviews of the latest tech, be sure to check out and subscribe to the Gear Live YouTube channel, hosted by Andru Edwards! It's free!
Sunday June 20, 2004 2:59 pm
Moblogging: Web Revolution or Invasion of Privacy?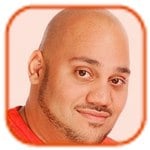 Tweet
Posted by Andru Edwards -
Categories: Features

Chances are good that you have seen a blog (especially if you are visiting Gear Live!). The popular practice of posting an online diary full of personal thoughts, or focused on a particular subject can't avoided these days. Well now, get ready for the moblog (mobile blog). Recently, moblogging has come under a level of controversy with many saying they can easily become an invasion of privacy. Click for more.
Moblogging is the result of people trying to figure out what exactly their camera phones could be used for. What you do is sign up for a moblogging service. Many are springing up all over the net, but the most popular is TextAmerica. All you need at that point is a compatible camera phone. Simply take a snapshot of something random while out and about, dial the phone number corresponding to your MoBlog, and you picture is uploaded to your MoBlog site. You are able to append a message to any of your images before or after uploading, so your MoBlog becomes a picture book of your everyday life.
Looking through different MoBlog's, you find many people making funny faces or poses. You see embarrassing moments, and random things on the street or in shops that anyone might find interesting enough to take a picture of. What happens when someone decides it would be interesting to take a picture of you - without you knowing?
WHAT'S ALL THE FUSS ABOUT?
With sites like TextAmerica, Yafro, and Buzznet popping up like crazy, it is obvious that the MoBlogging community is growing at a quick rate. You can visit any of these sites, and simply browse through hundreds of different MoBlogs. Chances are that you will find similar content throughout most of them.
What is starting to worry people is the high level of secrecy one has when taking a picture on a camera phone. A person who looks like they are making a phone call may have just taken a picture of you, without you knowing. Major Corporations are worried, because although documents are meant to be confidential, a camera phone can capture that private information and upload it for the world to see.
The line between privacy, freedom of speech, and freedom of expression become blurred.
LOOK AT IT POSITIVELY
Let's be honest, most of the people doing the MoBlogging are teenagers with camera phones that want to show off their sites to their friends. Just browsing through the different MoBlog hosts makes that apparent. Friends get together, act goofy, and take pictures with their phones. They want other friends to see, so they post them on the Internet.
No HTML, or basic web design skills are required. All you need is a camera phone and a MoBlog account. The MoBlog account is free. The fact is, students love technology. MoBlogging provides a fun, easy way to have a presence on the web.
Let's not forget about the adults. While wading through the many MoBlog's featuring students, you also find quite a few related to families. If you've just had a baby, what better way to make sure the whole world can see it than by uploading it to a MoBlog? Then family across the globe can check out the photos instantly, instead of waiting for the pictures in the mail. Same with those family vacations - a MoBlog can replace that "Wish You Were Here" postcard.
There are many convenient, fun, and innovative ways that one can use a MoBlog...and that is the point, isn't it?
ARGUMENTS AGAINST MOBLOGGING
We have established that teens do most of the MoBlogging. So, what's to stop one from snapping a quick photo of the mid-term and posting it to their MoBlog for the rest of the class to peruse? It has already happened - but most will probably say its harmless. What's the big deal, right?
Some say that MoBlog's do more harm than good. Think about it for a moment, people are taking pictures of people they may not know, and they are posting them for the world to see. In other words, if you happen to doze off on the subway and someone gets a kick out of it, they can snap your photo and upload it with an unflattering caption beneath it. If you want to go to the extreme, it has been reported that people have been using their MoBlog's post "voyeur" pictures - that is lewd photos taken of women who don't even know they are having their photo snapped.
The problem is that you can easily take a picture and upload it, while everyone around you simply think you are looking up info on your phone or making a call. Pretty soon, MoBlog's going to start facing legal troubles I would assume. One could enter an area where pictures are not allowed, and take a picture using their phone. They could then put it on the web. That becomes a problem.
CONCLUSION
As of now, MoBlog's are becoming more and more obscene. So much so, in fact, that Yafro has added an adult content filter to it's site. MoBlogging can be good or bad, depending on how it's used - just like a lot of other things. However, I think it's time that the MoBlog sites police the different activities of it's users. Just like we have rules here on About regarding what members may post on the message boards, there should be no reason that MoBlog hosts can't set up certain rules stating what is and is not allowed.
To be fair, TextAmerica and Buzznet have been fairly good about it - although they may not be as thorough as they should be. In Japan, camera phones now have to be made so that they make an audible "snapshot" sound when taking pictures, to cut down on the voyeur aspect.
If MoBlogging sounds interesting to you, give it a try. I have provided links to a MoBlogging tutorial here on About, as well as to a few different MoBlog hosts. Have fun!
MOBLOG SITES ON THE WEB:
TextAmerica
Buzznet
Yafro
© Gear Live Inc. – User-posted content, unless source is quoted, is licensed under a Creative Commons Public Domain License. Gear Live graphics, logos, designs, page headers, button icons, videos, articles, blogs, forums, scripts and other service names are the trademarks of Gear Live Inc.