Find Our Latest Video Reviews on YouTube!
If you want to stay on top of all of our video reviews of the latest tech, be sure to check out and subscribe to the Gear Live YouTube channel, hosted by Andru Edwards! It's free!
Wednesday November 21, 2012 12:09 pm
Microsoft Surface review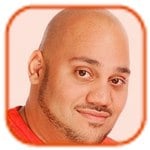 Tweet
Posted by Andru Edwards -
Categories: Accessories, Features, Handhelds, Microsoft, PC / Laptop, Product Reviews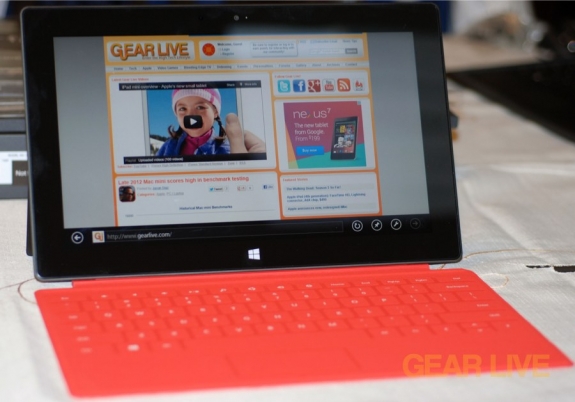 The release of the Microsoft Surface is a much bigger deal that the average consumer might perceive it to be. You see, Surface marks Microsoft's entry into the PC market. That might sound odd, but it's true--Microsoft may be the maker of Windows, but it's always been Microsoft partners who build the PCs. I'm talking about companies like Samsung, Toshiba, Dell, Lenovo, and others. Now, Microsoft is competing directly with its partners, hoping that consumers will flock to its Surface in a major way.
Similar to Apple's approach, Surface is the marriage of first-party software with first-party hardware. Microsoft controls the whole platform. If devices like the Mac, iPhone, iPad, and even Microsoft's own Xbox 360 have shown us anything, it's that when you have the ability to control the whole device as it pertains to software and hardware functionality, you can generally make a better product than you could using third-party ingredients. It's never a guarantee, but we think it puts you in a better spot to shine. That is the hope that Surface brings. Does Surface succeed in carving out its own niche, and filling a need that consumers are willing to pay to remedy? That's what we are here to discuss, so following along with us for our Microsoft Surface RT review.
MICROSOFT SURFACE UNBOXING AND SETUP
In the video above, we open up the handsomely-packaged Surface with Windows RT (64GB model) along with an array of Touch Covers and a Type Cover, and we go through the (lengthy) setup process.
SPECS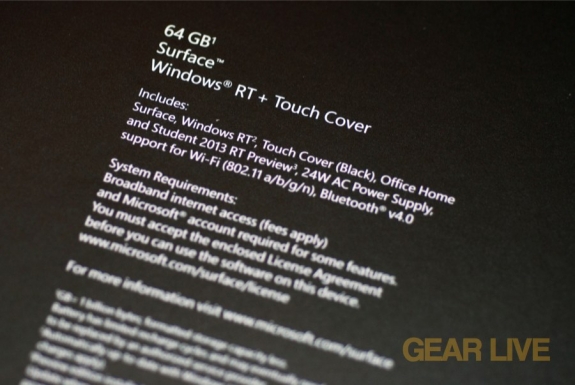 Operating System:
Windows RT; Microsoft Office Home and Student 2013 RT Preview (Word, PowerPoint, Excel, and OneNote). Works exclusively with apps available in the Windows Store.
Exterior:
10.81 x 6.77 x 0.37in
1.5lbs
VaporMg casing
Dark Titanium color
Volume and Power buttons
Interior:
Storage: 32GB, 64GB
Display: 10.6" ClearType HD Display
1366x768 pixels
16:9 (widescreen)
5-point multi-touch
Quad-core NVIDIA Tegra 3
2GB RAM
Wi-Fi (802.11a/b/g/n)
Bluetooth 4.0 technology
Battery: 31.5 W-h
Cameras and A/V Two 720p HD LifeCams, front- and rear-facing
Two microphones
Stereo speakers
Ports: Full-size USB 2.0
microSDXC card slot
Headset jack
HD video out port
Cover port
Sensors: Ambient light sensor
Accelerometer
Gyroscope
Compass
24W power supply
Warranty 1-year limited hardware warranty
Apps (included) Microsoft Office Home and Student 2013 RT Preview (Word, PowerPoint, Excel, OneNote); Windows Mail and Messaging; SkyDrive; Internet Explorer 10; Bing; Xbox Music, Video, and Games.
Gallery:
HARDWARE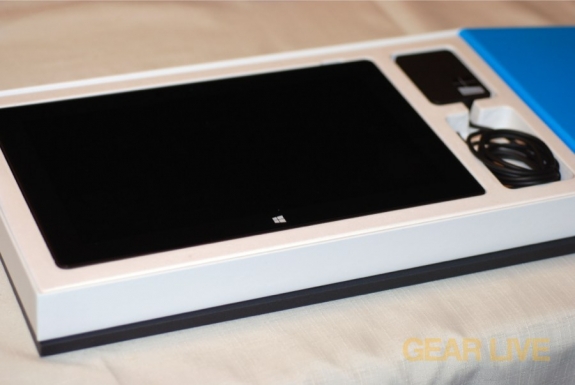 When you remove the Surface from it's box (and you should check out our Surface unboxing gallery--Microsoft did a great job here,) it is immediately apparent that you're holding a premium, high-quality product. The VaporMg and glass body feels great in the hand, and it's a unique change on the aluminum you'd find on the iPad, or the plastic you typically find on Android tablets.
Also different from most other tablets is that Surface offers a full-sized USB port built-in without any need of a dongle. This means you can directly plug in a keyboard, mouse, or any other USB peripheral when you need it. This leads to the Surface being a bit thicker than most competing tablets, since it has to house the USB port, but we're confident that this is a trade-off that many users will be willing to accept.
For comparison's sake, Microsoft Surface is heavier than the Apple iPad, and it's also larger. You get a widescreen display, rather than Apple's 4:3 aspect ratio, and you get a form factor that allows for comfortable keyboard layout when paired with one of the much-touted Touch Covers or Type Covers.
One other thing that has to be mentioned about the Surface is the kickstand. Microsoft has made a big deal about the kickstand, which is what allows the Surface function as a notebook with relative ease, more so than any other tablet on the market.
SETUP
Once you power on Surface, the setup process is pretty straight-forward. You put in your settings and Windows Live ID, choose your theme colors, give your Surface (which is referred to as a "PC" multiple times during the setup process) a name, and more. Then comes the frustrating part. We've tested many, many tablets over the last few years here at Gear Live, and the setup process for any of them took just a couple of minutes, going through similar steps to what I just described. With Surface, once you are done with settings, you have to wait a good 8-10 minutes before you can do anything. Surface just sits there letting you know that it is "setting up your PC", then installing some apps, etc. This initial slowness made the Surface (or Windows RT) seem sluggish, and that feeling would come back later.
PERFORMANCE
In our opinion, you don't ship a product until it performs well when used for acceptable, common tasks. Unfortunately, this is where we realized that it seems that Microsoft rushed the Windows RT version out the door before it was truly ready. What do we mean? Well, Windows RT is already limited to pre-installed applications, as well as additional apps from the Microsoft Marketplace. With that limitation, you'd think that everything would be optimized and work great on the hardware--especially software that is pre-installed on the tablet, or featured in Microsoft's Windows Store. We just found that this isn't the case.
For example, Surface ships with a preview of Office 2013. We understand that this is a preview, so it's unfinished. What we wouldn't expect, though, is that the software would be so early that Microsoft Word has a hard time keeping up with words being typed at 65 WPM. I'd often type a few sentences, and when done, Word would be 4-5 seconds behind my typing, playing catch-up. You just don't ship your flagship word processor app on your flagship hardware device with this type of lag.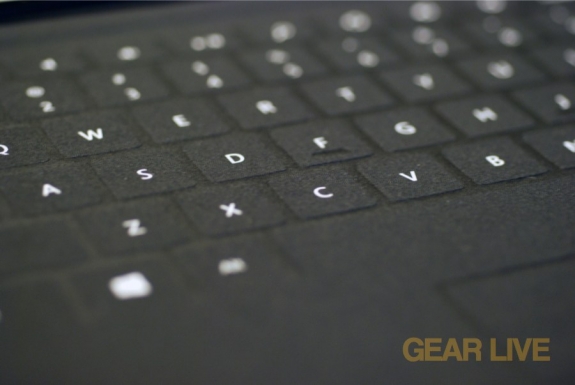 Bing News? A nice feature with great imagery, but it regularly crashed and dumped us out back to the Windows Start Menu due to a simple tap of a headline to read a news story. This is a simple thing that shouldn't push the limit of a premium tablet. A $199 tablet? Maybe. A $499 device from a major player? Not at all.
How about apps from the Windows Store? Jetpack Joyride is highlighted as a featured Xbox game download. It's a free, cross-platform game that we've enjoyed on iPhone, iPad, a Galaxy S III Android smartphone, and the Nexus 7 Android tablet. No matter which of these devices we played Jetpack Joyride on, it was always smooth as butter. On Surface? Nowhere near as smooth. The app would start lagging and skipping frames the more we progressed, then would catch up and be fine, then lag once more. Again, this is not how you launch your flagship hardware device, where it can't even keep up with a featured game that has performed nothing but splendidly on iOS and Android devices.
We decided we would run an update to see if there were any OS upgrades that might have been waiting to be applied to fix some of these issues. After all, our review unit was sent prior to release, and there may have been final updates released before the device was released to the masses. This was another adventure, as there are two different places you should check for updates. There's the regular settings area that you'd expect, which offers updates…but there is also the more traditional Windows Control Panel, which you access through the desktop area, where you can perform a Windows Update check, and force a re-check. When I checked these two different places, they gave me two different results. The "standard" settings app told me I had some Windows Defender updates to install, but mentioned nothing about the Microsoft Office 2013 RT update that I found in the Control Panel Windows Update area--and, believe it or not, the Windows Update in Control Panel made no mention of the Windows Defender update. You need to check two different spots to make sure your Surface and its software stay up to date--the two places I mentioned, plus the Store for app updates. That is nothing but excessive.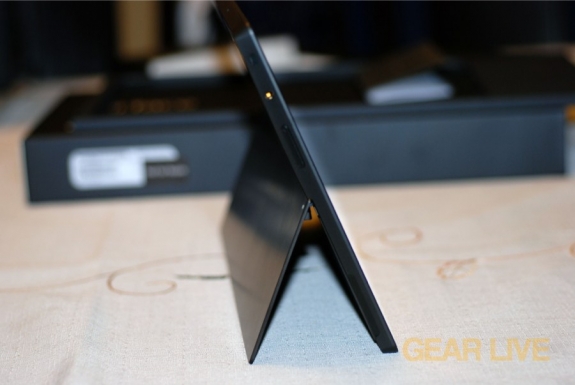 Also, we experienced a ton of Wi-Fi issues. Connections would drop on the Surface unexpectedly, and for no apparent reason, and trying to reconnect in Network settings would tell us that there were no Wi-Fi networks found. Meanwhile, every other Wi-Fi connected notebook, tablet, and various other devices reported no such error.
So we went into the desktop and pulled up the Network and Internet pane in the control panel, where Surface reported that "Windows did not detect any networking hardware." From that point on, we weren't able to get the Surface tablet back online.
DISPLAY
The Surface sports a 16:9, 1366 x 768 10.6-inch display that uses Microsoft ClearType technology to bring clear text and imagery into the equation as a means to compete with displays that have a much higher pixel density, like the iPad with Retina display. What we've found is that, while the colors and black levels are great, no amount of ClearType can make up for the lack of pixels on the Surface. Text just isn't as sharp as it is on other competing devices. This is a multitouch display, and it's very smooth and responsive to touch input, which is more than we can say for a lot of Android tablets on the market.
CAMERAS
The Surface packs in two 720p-capable cameras--one on front, and an angled one on the back (so that it looks straight ahead with you have the Surface angled in the kickstand position.) There's nothing special about the cameras. They do their job, but are otherwise just there. You're not going to be shooting any great images or videos with them, but for video calls and conferencing, they do their job well.
TOUCH COVER
The Touch Cover is an impressive accessory, if only because it's an unprecedented tablet add-on. It snaps into place magnetically to the Surface, is easy to remove, yet strong enough to stay connected to the device to the point where you pick up the Touch Cover with the Surface attached, and it'll stay connected. If you're buying a Surface, you should really invest in a Touch Cover--it's pretty essential to the whole Surface experience. In fact, without a Touch Cover (or Type Cover) at your disposal, the Surface is harder to use when in kickstand mode rather than easier.
TYPE COVER
If you prefer tactile key typing, then the Type Cover is for you. Since it houses mechanical keys that move up and down, along with a real, clickable trackpad, the Type Cover is a bit thicker than the Touch Cover option. That said, we found that we were able to type more accurately using the Type Cover, and we'd expect that to be the case for just about anyone. These cost $129.99, so, $10 more than a color Type Cover, and $30 more than buying a Surface with black Touch Cover included.
FINAL VERDICT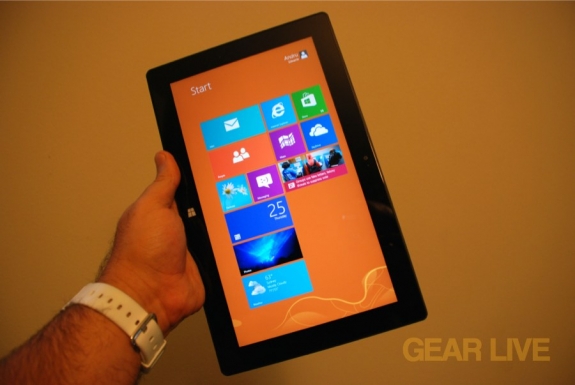 The success of the iPad has demonstrated that there is a desire for a product that fits in the gap between the smartphone and the notebook computer, but this isn't the hole that Surface seems to fit into. Instead, it sits in the gap between tablet and notebook. Unfortunately, we're not sure that this is an area where people are clamoring for a device. Good notebooks and tablets offer distinct enough experiences that something in the middle really isn't needed by many. That said, we can agree that there are certainly people out there who'd use it and who'd love it, but those are likely to be the highly technical users who know exactly what they are getting into with Surface. For the average consumer who doesn't obsessively follow sites like Gear Live, we think they'll, more often than not, just be left confused.
In our opinion Microsoft wants the Surface to be a mass market product that offers no compromises. Instead, with Surface for Windows RT, it's a niche product specifically because of the compromises made.
Want to pick up one of these for yourself? You can pick up the Microsoft Surface, Type Cover, and Touch Cover from the Microsoft Store.
© Gear Live Inc. – User-posted content, unless source is quoted, is licensed under a Creative Commons Public Domain License. Gear Live graphics, logos, designs, page headers, button icons, videos, articles, blogs, forums, scripts and other service names are the trademarks of Gear Live Inc.