Find Our Latest Video Reviews on YouTube!
If you want to stay on top of all of our video reviews of the latest tech, be sure to check out and subscribe to the Gear Live YouTube channel, hosted by Andru Edwards! It's free!
Sunday July 4, 2004 1:25 pm
Major Circuit City Video Game Clearance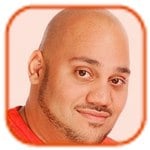 Tweet
Posted by Andru Edwards -
Categories: Hot Deals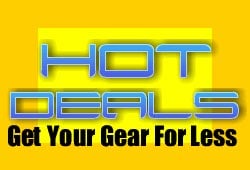 Get them while you can! Circuit City has officially put a bunch of major video games on clearance for a cool $5 per title! Of course, with a deal like this everything is flying off the shelves. If you can get to a Circuit City that has any of the games left, you can definately benefit from the huge mark downs. The prices are not marked, and will only show up when the item is scanned.
NOTE: Some Circuit City stores will not be honoring these prices until July 17th.
For a list of all the titles on clearance, click the link.
These are titles that have been confirmed as only $4.99. Deals and prices are only good while supplies last.
GAME BOY ADVANCE
Breath of Fire II
Driver 2
Fire Pro Wrestling
Lunar Legend
Max Payne
Megaman & Bass
Megaman Battle Network 2
Robotech: The Macross Saga
Sega Smash Pack
Shining Soul
Super Street Fighter II Turbo Revival
Stuntman
Super Monkey Ball Jr.
Tactics Ogre
Zone of Enders: Fist of Mars
GAMECUBE
2002 FIFA World Cup
Aggressive Inline
All Star Baseball 2003
Baldur's Gate: Dark Alliance
Beach Spikers
Billy Hatcher and the Giant Egg
Bloodrayne
Bomberman Generation
Capcom Vs SNK 2 EO
Def Jam Vendetta
Defender
Die Hard Vendetta
Disney's Party
Dragon's Lair 3D
Evolution Worlds
Freekstyle
Gauntlet: Dark Legacy
Home Run King
Hot Wheels Velocity X
Hot Wheels World Race
Ikaruga
Jimmy Neutron Jet Fusion
Jimmy Neutron Boy Genius
Kelly Slater's Pro Surfer
Knockout Kings 2003
Lost Kingdoms
Madden 2002
Madden 2003
Mario Party 4
Medal of Honor: Frontline
Megaman Network Transmission
Mortal Kombat: Deadly Alliance
Nascar Dirt to Daytona
NBA Courtside
NBA Street
NFL Quarterback Club 2002
NHL 2003
NHL Hitz 2002
Pac-Man Fever
Piglet's Big Game
P.N.O3
Rayman 3
Red Faction II
Resident Evil
Resident Evil Code Veronica X
Rocket Power Beach Bandits
Scorpion King Rise of the Akadian
Sega Soccer Slam
Shrek Extra Large
Smugglers Run Warzones
Tarzan Untamed
Tetris World
The Sims
Timesplitters 2
Top Gun Combat Zones
Ty the Tasmanian Tiger
UFC Throwdown
Universal Studios Theme Adventure
Vexx
Viewtiful Joe
X-Men: Next Dimension
Zoocube
PLAYSTATION 2
Ape Escape 2
Armored Core 2
Barbarian
Black & Bruised
Bloodrayne
Bloody Roar 4
The Bouncer
Britney's Dance Beat
Breath of Fire: Dragon Quarter
Capcom Vs SNK 2
Chaos Legion
Clock Tower 3
Dark Summit
Defender
Devil May Cry 2
Dino Stalker
Disaster Report
Disgaea: Hour of Darkness
Driving Emotion Type-S
Dynasty Tactics
Dynasty Warriors 4
Ephemeral Fantasia
ESPN NFL Football
ESPN NHL Hockey
ESPN Winter X Games Snowboarding
Freaky Flyers
Freestyle Metal X
Frequency
Futurama
Grandia Xtreme
Guilty Gear X
Gungrave
Haunted Mansion
Ico
Indiana Jones and the Emperor's Tomb
Jeopardy
Jungle Book: Rhythm N'Groove
Klonoa 2
Legends of Wrestling 2
Mega Man X7
Men in Black 2: Alien Escape
Metal Gear Solid 2 Substance
Metropolismania
Minority Report
Mobile Suit Gundam: Encounters in Space
Mobile Suit Gundam: Federation vs. Zeon
My Street
Mystic Heroes
Ninja Assault
Okage: Shadow King
Onimusha 2
Parappa the Rapper 2
Pryzm Chapter One: The Dark Unicorn
RAD: Robot Alchemic Drive
Resident Evil: Dead Aim
Roadkill
Robin Hood: Defender of the Crown
Robotech: Battlecry
Rumble Racing
Rygar
Secret Weapons Over Normandy
Sega Sports Tennis
Shadow Hearts
Silpheed
Simpsons Skateboarding
Smash Court Tennis: Pro Tournament
Soccer Mania
Speed Kings
Spyhunter 2
Street Fighter EX3
Stretch Panic
Tenchu: Wrath of Heaven
Terminator: Dawn of Fate
Vampire Night
Vexx
War of the Monsters
Wheel of Fortune
Wild Arms 3
Wipeout Fusion
WRC World Rally Championship
WWE Crush Hour
WWE Smackdown
X-Squad
Zone of Enders: 2nd Runner
XBOX
Aggressive Inline
Aliens Vs Predator
Baldurs Gate: Dark Alliance
Crimson Sea
Crazy Taxi 3
Dead or Alive: Extreme Beach Volleyball
Dino Crisis 3
Dragon's Lair
Dynasty Warriors 3
Enclave
ESPN NFL
Fatal Frame
Futurama
Gun Metal
Gunvalkyrie
Marvel Vs. Capcom 2
Mad Dash Racing
Metal Gear Solid 2: Substance
Motor Tren Presents: Lotus Challenge
NFL 2K3
New Legends
Panzer Dragoon Orta
Pro Race Driver
Robin Hood: Defender of the Crown
Shenmue II
Simpsons: Hit & Run
Star Wars: Clone Wars
Star Wars: Obi Wan
SWAT
ToeJam & Earl III
Unreal Championship
Voodoo Vince
Wakeboarding Unleashed
Whacked!
© Gear Live Inc. – User-posted content, unless source is quoted, is licensed under a Creative Commons Public Domain License. Gear Live graphics, logos, designs, page headers, button icons, videos, articles, blogs, forums, scripts and other service names are the trademarks of Gear Live Inc.