Find Our Latest Video Reviews on YouTube!
If you want to stay on top of all of our video reviews of the latest tech, be sure to check out and subscribe to the Gear Live YouTube channel, hosted by Andru Edwards! It's free!
Wednesday June 18, 2014 7:59 pm
Live from the T-Mobile Uncarrier 5.0 event! [Update: Uncarrier 6.0 as well!]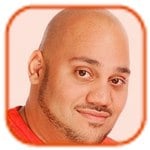 Tweet
Posted by Andru Edwards -
Categories: Apple, Cell Phones, Corporate News, Features, Music, Wireless / WiFi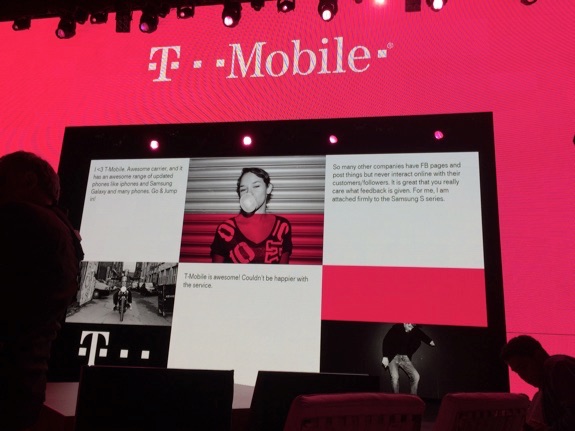 We are coming to you live from Seattle's Paramount Theater, where T-Mobile is set to deliver its Uncarrier 5.0 keynote address. Outspoken CEO (or un-CEO) John Legere is about to take the stage to unveil the next big move from the bold wireless carrier. The lights are going down, so join us for the live coverage after the break!
John Legere is on stage talking about who's been invited. First, the press as honored guests. Also, a bunch of local T-Mobile customers. The fanatics (and cheers break out.) Lastly, a bunch of T-Mobile employees (and the crowd goes wild yet again.)
John says T-Mobile will not stop. No contracts, no overages. Customers are rejecting the deceptive phone practices of the past. It's crazy to think that a phone costs $99. Upgrade plans were a great idea and T-Mobile started them. They want to transform an outdated industry. Competitors don't get that smartphones aren't just a call. The businesses began when cellphones were used to make phone calls. Today, T-Mobile is a mobile Internet company, not a phone company.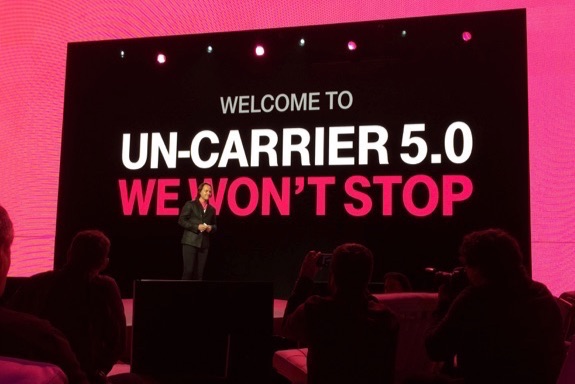 Why are there overages still? 78% of Facebook users are mobile. 76% of Twitter users. 66% of music streaming are also mobile. Legere asks "Why don't AT&T and Verizon offer unlimited data plans? They can't? They're "greedy bastards?" Or, both?" These companies were created to help a network make phone calls on a fixed wire network, and they need to monetize and make a return.
Data is concentrated on T-Mobile where and when people are using the most data. Wide and thin maps make no sense anymore. If you spend 97% of your time in the city in Seattle and then you go to Montana and can make a phone call in Montana, which is more important? T-Mobile customers use the most data. They use 69% more data than an average customer on Verizon. An average T-Mobile customer uses 100% more data than an AT&T customer. This is because T-Mobile has far more network capacity per customer than any other carrier, and 70% more spectrum per customer than Verizon, and the nations fastest 46 LTE network.
T-Mobile has launched Wideband LTE in 16 markets. Up to 147 megabits, an HD movie download in 3 minutes or 11 song album in 3 seconds. T-Mobile VoLTE now covers over 100 million people, with nationwide deployment by the end of 2014.
46% of Americans say they've gone into a wireless store and regretted their decision. This is a higher remorse rate than the used car industry, and about the same as the cable industry, says Legere.
Another video package and we are introduced to #7NightStand, T-Mobile's latest in the Uncarrier revolution. To stop customers from feeling like they are buying blind is to allow them to come in to T-Mobile (or order online,) take an iPhone 5s, and test drive it for 7 days absolutely free, with no exchange of cash. Return it 7 days later and see how it feels to use T-Mobile.
Mike Sievert, CMO of T-Mobile, hits the stage to talk about the 7 Night Stand. People in families need to swap and trade phones and spend time transferring data and worry about the cost. It should be free instead. You order your phone, you pay nothing with no deposit. You get an iPhone 5s, or whatever is the latest and greatest iPhone. After a week, bring it back. Thats it. That is how you assess whether or not it will work for you. This is in partnership with Apple. There's even a social media promotion that's launching alongside the launch of the T-Mobile Test Drive.
John Legere is back and says, the next question is "What's next?" Will there be more Uncarrier?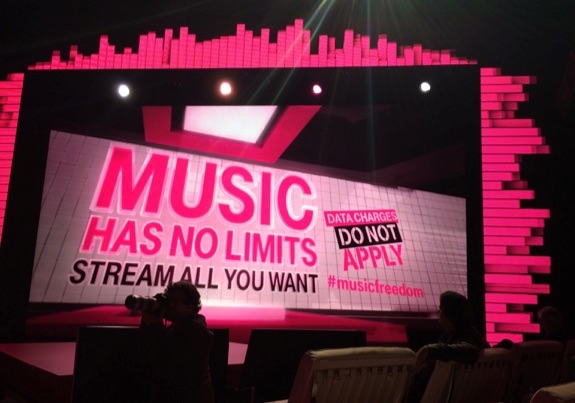 Aaaaannndd...T-Mobile announces Uncarrier 6.0! Music freedom. Streaming music from all the top music services is free and will never hit your data bucket. Even when you've gona over your data bucket, music will still stream at high speed without any overage charges. Where competitors see an opportunity to gouge you, we are setting you free, says Legere.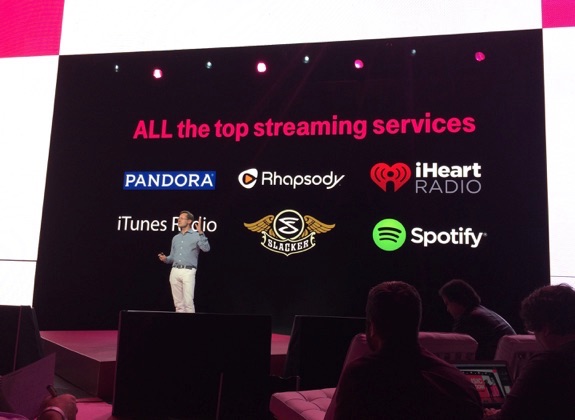 Pandora, Rhapsody, iHeartRadio, iTunes Radio, Slacker, Spotify, Milk, and Beatport are the launch partners here and represent 85% of all the music streamed on T-Mobile. You can vote for new services to be added. Another announcement, unRadio from Rhapsody, which lets you stream unlimited with unlimited skips, free for unlimited customer, $4 a month for legacy customers.
Time for Q&A:
What are you going to do if competitors match what you are doing?
I don't give a #### and I'll celebrate because we changed the industry. We will not stop.
Why can't I Test Drive a Galaxy S 5?
We took the Test Drive to our partners at Apple and there is low awareness that we actually carry the iPhone. We are trying to solve several things at once. Apple is interested in teh fact that the fastest growing wireless carrier in the US has a low penetration of their product, and they're providing the devices to us for free. It's a win-win.
Are the six streaming services you mentioned the only ones available at launch?
It's 8. People can choose the hot trending services, and we will add more depending on demand. These services account for 85% of music streaming on our services.
Any hidden charges or limited stock for Test Drive?
Not at all. No hidden charges, and we will aim to do a million Test Drives in a year. If there is more demand, we will do more. I want you to feel respected, but I know that our network will be the best in 12-18 months on all fronts in the country. I want to answer the question of T-Mobile service and coverage for free. Don't listen to my words, go ahead and try it.
From a Net Neutrality perspective, you are treating music as free but not other types of data?
No. This is a technical inclusion. We are giving you free music streaming, this is nothing that a proponent of Net Neutrality would dislike. The customer is our North Star.
A lot of people would say that it is video, not music, that is the bandwidth hog. Netflix, Hulu, YouTube. Would you consider something similar for video?
Clearly video uses more data than music, quite a bit more. One step at a time. This is an attempt to get people to think differently about their data service provider. If you bump up against your data cap, you are much more likely to be an AT&T or Sprint customer than a T-Mobile customer. We are open to moving people to our unlimited plan and then you'll have no problem with video.
Any way you can make it so customers can just configure which music services they'd like, as some use more obscure ones?
We will have folks vote and we'll see. To get the gist, I'd have no problem with that. The only reason we are starting with a group is that it's a simple process of getting connected with those providers and whitelisting them. If we could do that in an automated fashion, we would. We have every intent of adding every music streaming service that people use to this.
When does Test Drive go into effect, and what happens if I damage the phone or return it a day late?
It starts on Monday, pre-registration goes up tonight. You must return the phone to a T-Mobile store, and there is a grace period so we won't slam your credit card on midnight of the seventh day. We don't want to make money off this. If you bring the phone back and it has a little ding on it, we aren't going to charge you. We want this to be positive.
How frequently can you use Test Drive? If you try today, when can you try again?
It's once per year per household or credit card number.
What about corporate business plans?
We do have a business area for the T-Mobile Test Drive. It works a little differently, you'll be contacted directly, get three phones for 2 weeks, and everything is hand-delivered.
What about the Sprint merger?
The uncarrier movement will continue, and competition is much better because T-Mobile exists. The US is getting to see what an inkling of competition looks like. We are looking forward to consolidating the industry with this revolution.
Will it always be the newest Apple devices that are offered for the Test Drive?
This Test Drive is about putting the latest and greatest devices in you hands.
© Gear Live Inc. – User-posted content, unless source is quoted, is licensed under a Creative Commons Public Domain License. Gear Live graphics, logos, designs, page headers, button icons, videos, articles, blogs, forums, scripts and other service names are the trademarks of Gear Live Inc.