Find Our Latest Video Reviews on YouTube!
If you want to stay on top of all of our video reviews of the latest tech, be sure to check out and subscribe to the Gear Live YouTube channel, hosted by Andru Edwards! It's free!
Monday November 8, 2010 3:45 pm
Kinect for Xbox 360 review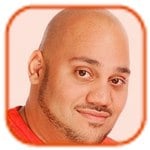 Tweet
Posted by Andru Edwards -
Categories: Accessories, Cameras, Features, Microsoft, Product Reviews, Video Games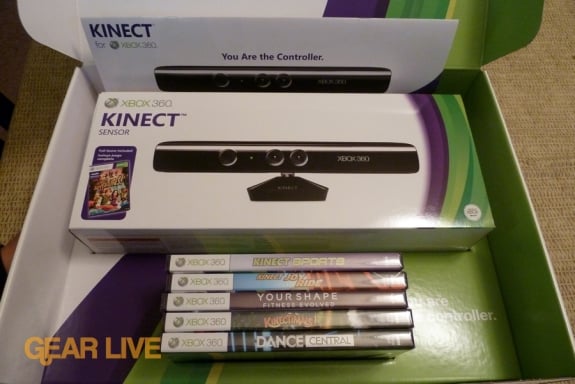 Kinect has been a product that Microsoft has been betting on and hyping for about a year and a half now, ever since revealing Project Natal at E3 2009. The motion sensing gaming peripheral is finally available, and despite some initial concerns, our minds are blown. Kinect definitely feels futuristic once you start playing around with it, but is it worth the $150 price? Read on for our thoughts and Kinect review.
Motion-based gaming has been a part of the mainstream gaming world since Nintendo launched their Wii console back in November 2006. Four years later, the Playstation 3 caught up with their Playstation Move controllers, and the Xbox 360 has Kinect. The thing with Wii and Playstation Move is that they both still require a physical input device, what with the Wii Remote, Nunchuks, classic controllers, Move controllers, etc. Sure, using Wii was pretty amazing back in 2006 and 2007, but recently the popularity of the console has waned as many third-party developers have relied on the same tricks for so long. Move can do a bit more, especially as it pertains to depth and moving around in a 3D environment, but it still mostly just feels like a high definition version of Wii at this point. This is where Kinect comes in, eliminating the controller altogether.
As the ad campaign for Kinect says, "you are the controller" - and it's true. Once you turn on the Xbox 360 and wave at it, you are whisked into the Kinect Hub, which relies completely on motion-based gesturing for navigation.
Opening the Kinect package
With its motor, depth sensors, and RGB camera, this is one technology packed accessory, and the way Microsoft has packaged it gets that across. The Kinect sensor is protected in a padded box, the inside of which is royal purple in color. Along with the sensor, you've got Kinect Adventures (the game included with purchase), some pamphlets and manuals, a USB extension cable, and an AC adapter that allows you to use Kinect with the older Xbox 360 consoles that don't have the Kinect port on the back.
The device itself matches the newer Xbox 360 S consoles in color and build. It's got the same glossy finish, and those grill vents on the sides. It's got a pretty solid base to support itself, which is good since there's a motor inside there that allows the sensor to intelligently track you as you move around. The front of the Kinect sensor is where all the magic happens though. Here is where you'll find the power indicator, the RGB camera, and two depth sensors which let Kinect "see the room in 3D under many lighting conditions." There are also four microphones that Kinect uses to allow for communication both with the Xbox 360 itself, as well as with friends over Xbox Live.
All of this technology is then put to work by the proprietary software that Microsoft has built to make sense of the gesturing, voices, skeletal mapping, facial recognition, etc. With that, you've got Kinect, and a new platform to build games on top of.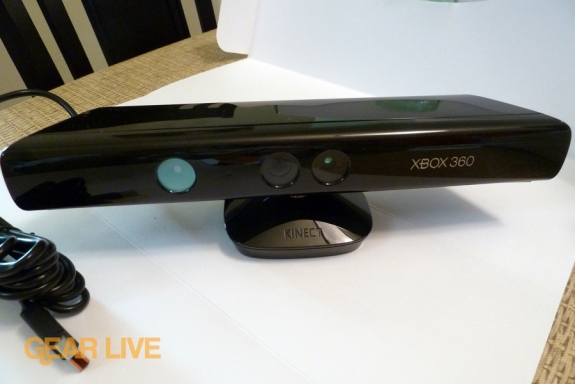 Setup
A word of warning to anyone looking to pick up Kinect - you'll be reminded time and again by the console and by the games that you need 6-8 feet of play area with no coffee table or anything else between you and the sensor. Initially, we were able to achieve this in our review lab, but just by inches before hitting the couch, and our room is fairly large. Microsoft does offer different mounts for Kinect, though. You can get one to mount it to the top of your television, mount it on the wall, or use a floor stand. We used the TV Mount, and Kinect improved mightily. We'd highly recommend it, or the wall mount, because they instantly give you at least another foot of space between you and the sensor just based on where they are placed.
Once you've cleared your space, Kinect will walk you through a quick calibration and tutorial, which you can further enhance and improve by running Kinect ID from the Kinect Hub.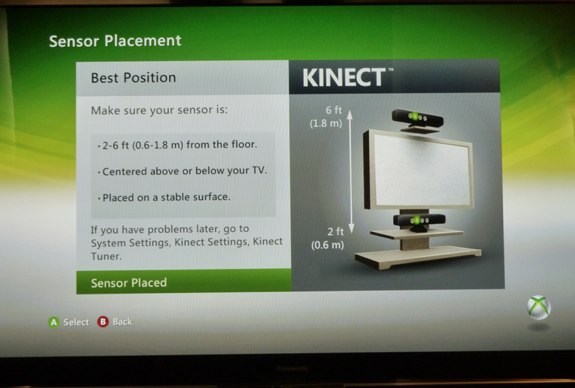 Using Kinect
This is where things get really interesting. Once you are done setting up the hardware and going through the tutorial, you are brought to the Kinect Hub. You immediately get a sense that this is unlike any other gaming experience, or tech/computing experience, that you've ever had. Literally, you are controlling your Xbox 360 by just waving your hand in front of you, and the system is recognizing your face and logging you in based on your facial profile. This is stuff is the future, and there's never been anything like it in gaming.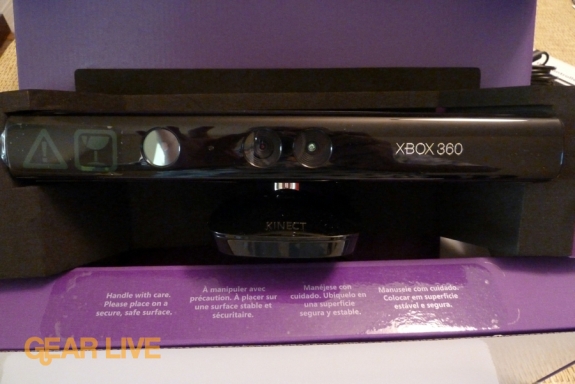 That said, it's definitely got those "new technology" bugaboos that come with brand new products. For one, it can be a little finicky with the less exaggerated movements. Waving your arms or moving fast is much more likely to get picked up than a subtle hand wave. We are guessing that, through software updates and tweaking over time, that Kinect will get better and better.
We will have reviews up for the six games that we received to review (Dance Central, Joy Ride, Kinectimals, Kinect Sports, Kinect Adventures, and Your Shape Fitness Evolved) soon, but based on the ones we've tried so far, they are certainly fun. That is the point here. We've even asked around to a few people who aren't big gamers that have been able to try Kinect what they thought, and the reports have been pretty much unanimous across the board. Playing a game without having to worry about which button to press and where your thumbs go is a game changer.
The other nice thing here is the voice command and gesture control of the Xbox 360 dashboard itself. Speaking out loud to your Xbox 360 is a bit awkward at first, but when you see it obeying your commands, it's pretty amazing.
Gallery:
Wrap-up
We know that to many people, especially in this economy, $150 is a lot of money to spend--especially on a console accessory peripheral that isn't necessary to enjoy the console itself. However, based on our time with Kinect, we think that it should instead be looked at almost as a whole new console, and a whole new way of playing games. In fact, despite its shortcomings, we'd venture to guess that any Xbox 360 owner would love to find a Kinect unit waiting under the tree (or whatever your preferred holiday gift location of choice might be.) It's just such a cool device that opens up and displays the possibilities that the future holds.
Obviously, when the successor to the Xbox 360 launches, motion based gaming is gonna be a huge part of it. We're already hearing that Microsoft is hard at work on getting things like finger motions to be recognized, and as time goes on, technology will get more powerful while also dropping in price. You can bet Microsoft and the Xbox team are invested in this, and they want it to be a winner--part of that is improving the experience, and they are going at it full-steam ahead. However, there's not much need to talk about the future of Kinect when we are focusing on the current version, which opens up some of the most futuristic experiences we've had with any gadget.
© Gear Live Inc. – User-posted content, unless source is quoted, is licensed under a Creative Commons Public Domain License. Gear Live graphics, logos, designs, page headers, button icons, videos, articles, blogs, forums, scripts and other service names are the trademarks of Gear Live Inc.