Find Our Latest Video Reviews on YouTube!
If you want to stay on top of all of our video reviews of the latest tech, be sure to check out and subscribe to the Gear Live YouTube channel, hosted by Andru Edwards! It's free!
Wednesday November 16, 2011 10:46 am
With iTunes Match, Apple has ended piracy as we know it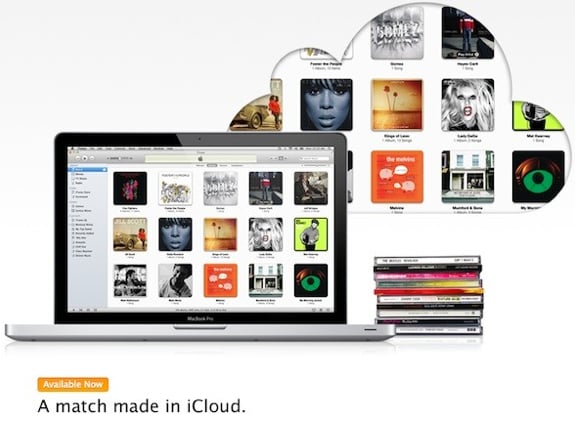 I belong to the MP3 generation. Mine was the first to confront the choice between an $18 CD filled with marginal tracks and free MP3 downloaded from Napster in minutes. It was a test of character, and like many of the MP3 generation, I failed. But my days as a copyright violator, music pirate, and intellectual property profiteer ended long ago, and after enabling iTunes Match, previous guilt is gone.
To be fair, I haven't actually stolen music in years. I actually have multiple music service subscriptions, mostly because I am too lazy to cancel when I switch. So I have access to Rdio, Zune Pass, Rhapsody, Slacker, and Spotify Premium. But the truth is, I have a 32GB music collection sitting on my home PC that was built illegally downloading from services like Napster, Limewire, and BitTorrent. But now Apple is offering me amnesty for just $25 a year.
Apple's iTunes 10.5.1 launched yesterday, and it includes the much-anticipated Match feature. Install the software and it will scan your hard drive for music and make high-quality, 256-Kbps AAC versions of every file available to you in the cloud. The kicker is that this includes not just songs you purchased through iTunes, but any music file on your system, no matter where or how you got it. It will cost $25 a year to maintain access to this newly rebuilt and legal library, but for that price you can have access to up to 25,000 songs. Apple will pay the labels a small fee for the rights, but all you pay is the $25 per year. For those of us in the MP3 generation, this is library liberation.
My enormous old library on my home PC is ready to be freed. It's filled with copies of Tom Waits, REM, and The Clash, most of which I bought on CD—or even cassette tape—and then, shall we say, "reacquired" through file-sharing services. And, yes, some of it I never paid for at all.
I'm not saying it was right, but I will say that the music industry's approach to pricing, distribution, and piracy was deeply flawed. If you doubt this, just look at CD sales over the last 10 years.
Ethical issues aside, illegal digital downloads came with their own problems, including low-quality files, lousy track information, and the threat that the RIAA would sue you to protect their broken business model. My main problem was that my 32GB library is a mess, filled with dupes, and a pain to move to new system. With iTunes Match, once I upload my library, it will be available on all of my iOS devices, and even other computers that use the same Apple ID—up to 10 devices, in total. Rather than move my MP3s from device to device, I can synchronize them and access the tracks as needed. This is huge.
Now, there are some definite limitations here. The 256-Kbps AAC files are pretty high quality, but I have some stuff that I ripped even higher than that. I have to make sure to exclude these tracks or Match will lowered them to 256 Kbps. That is unfortunate, but I probably have enough 128 Kbps tracks to make it worth the tradeoff. Also, given the $25 annual fee and the total dependence on iTunes, this service is guaranteed to make the barriers around Apple's "Walled Garden" ecosystem even higher.
That said, I think it is time that the MP3 generation let go of our files—and our illegal file sharing. Our excuses for piracy are all gone. Easy-to-use, legal digital music options abound. And they are increasingly free of pesky DRM. The music industry has unclenched enough to allow innovative services like Pandora and Slacker to experiment with new models. Even Spotify has been allowed into the United States. There is no reason to steal music anymore.
Now, I could be wrong about this. Maybe I am just an old timer who finally makes enough money to pay for my musical pleasures, but I don't think so. Like a lot of the MP3 generation, I tried to create a music library that that worked like my old CD library.
The Facebook generation looks at music differently. For them, it's something to post to their wall or stream from their phone. They don't want it less, but I imagine they would find my locally stored 32GB of jazz, punk, and indie-rock, with live recordings of the Greatest American Poets thrown in, to be an anachronism.
And now, so do I.
This article, written by Dan Costa, originally appeared on PCMag.com and is republished on Gear Live with the permission of Ziff Davis, Inc.
Related Tags:
apple, editorials, icloud, itunes, itunes 10.5.1, itunes match, mp3, music, music piracy, napster, piracy, rdio, rhapsody, slacker
© Gear Live Inc. – User-posted content, unless source is quoted, is licensed under a Creative Commons Public Domain License. Gear Live graphics, logos, designs, page headers, button icons, videos, articles, blogs, forums, scripts and other service names are the trademarks of Gear Live Inc.