Find Our Latest Video Reviews on YouTube!
If you want to stay on top of all of our video reviews of the latest tech, be sure to check out and subscribe to the Gear Live YouTube channel, hosted by Andru Edwards! It's free!
Tuesday October 18, 2011 12:55 pm
iOS 5 review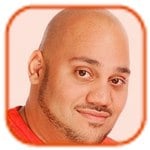 Tweet
Posted by Andru Edwards -
Categories: Apple, Cell Phones, Features, Handhelds, Software

Edit: Be sure to check out our iPhone 4S review as well!
Back in June, I detailed the nine features that I wanted Apple to include in iOS 5—features that would fix obvious OS flaws and expand upon its already rock-solid foundation. Days later, at WWDC 2011, Apple revealed a handful of the "200 new features" that would comprise Cupertino's latest mobile operating system—many of which were what I and droves of other iPhone, iPad, and iPod touch users had desired for some time. Fast forward to today: iOS 5 is now here, and it surpasses iOS 4 with its overhauled alerts and notification system, wireless syncing, the ability for users to activate iPads without first connecting them to a Mac or PC, and many other much-welcomed features. No operating system—be it mobile or desktop—is without flaws, but Apple iOS 5 manages to keep the dings to a minimum and retains its place as the best phone and tablet operating system. Note: iOS 5 is only compatible with the iPhone 3GS, iPhone 4, iPhone 4S, iPod touch 3rd Generation, iPod touch 4th gen, iPad, and iPad 2.
Now, let's get to the review, shall we?
New Mac and PC-Free Setup
When the iPad debuted in 2010, critics knocked it for not being a true standalone device—a valid criticism that carried over to the iPad 2. Users had to tether their tablets to a Mac or PC in order to activate the slate—not anymore. iOS 5 transforms the iPad and iPad 2 into true pick-up-and-play devices, as you can now set it up from anywhere you can snag a Web connection.
You have three options for setting up the iPad: "Set Up as New iPad," "Restore from iCloud Backup," and "Restore from iTunes Backup." I selected "Set Up as New iPad," entered my Apple ID credentials (there's also the option to create a new Apple ID on the spot), and arrived on the home screen approximately 30 seconds later after declining the option to activate location-based services, iCloud, and iCloud related services (I'll dig more into that later). The computer-free setup is an incredible leap forward; those who've pondered using an iPad as a true Mac or PC replacement will certainly appreciate this addition. Apple states that iOS 5 will allow users to update iOS without connecting their iPad, iPhone, or iPod touch devices to a computer.
That's not the only wireless freedom packaged within iOS 5. The new iTunes Wi-Fi Sync syncs apps, music, photos, and other files between an iPad and iTunes if they're connected to the same wireless signal. In fact, the sync happens automatically when you connect the iPad's plug to a socket, which is perfect for keeping files each night before bed (you can also sync manually without a plug by pressing Sync Now in Settings > General > iTune Wi-Fi Sync). The process went off without a hitch—I synced nearly 15GB of data in just shy of 20 minutes. The only downside is that you must first set up wireless syncing in iTunes—after you connect your iPad to a Mac or PC via USB. Thankfully, that's just a one-time connection; you can go completely wireless afterward.
New Apps On The Scene
iOS 5's home screen has a few subtle changes that may not be instantly recognizable. A sharp eye will notice three new icons: Messages, Reminders, and Newsstand. Tapping "Messages" (located in the icon grid's upper-left corner) launches Message, an app that lets you send unlimited texts—as well as photos, videos, location information, and contacts information—from one central location, much like BBM. Before you begin using the app, you have to set it up in Settings, which takes only a few seconds. In my tests, Message allowed me to chat with friend simply by entering his e-mail address into the "To" field (or selecting it from your Contacts), crafting a message, and hitting send. You aren't limited to sending data to just one person—Message supports group messaging.
Reminders is iOS 5's to-do app. It's what you'd expect from a to-do program—it lets you create lists and alerts—but what makes it special is that combine due dates and location information. This is how it works: Say, you want to pick up batteries from the convenience store. As you approach the store, you'll receive an alert to jog your memory based on the time that you've set or your location. I wouldn't recommend keeping Reminders' location-based features constantly running, as it has the potential to be a battery drain.
Elle, Popular Photography, San Francisco Chronicle, and other magazines and newspapers come to your iDevice in one central location courtesy of Newsstand, which lets you purchase individual issues and subscription. New purchases go directly to your Newsstand folder, a folder that organizes your magazine and newspaper purchases in an iBooks-like app that features a shelf with the latest issues and editions. Then, as new issues become available, Newsstand automatically updates them in the background with the latest covers—a very cool feature for periodical readers.
The one downside to the new set of apps is that Siri (Apple's new voice control software that lets you send messages, place phone calls, and schedule appointments), is only available on iPhone 4S. We'll test that part of iOS 5's capabilities when we get our mitts on Cupertino's latest smartphone.
iCloud
ICloud, Apple's new Web-based storage and syncing service, gives users a free 5GB to use to keep Contacts, Calendars, Reminders, Bookmarks, Documents & Data, and Photo Stream (a feature that automatically uploads pictures to iCloud downloads them to all your iCloud-enabled devices) in sync across multiple iDevices. You can also access e-mail, contacts, calendar, iWork, and Find My iPhone data from iCloud.com. Mail and Notes compatibility requires creating and using a @me.com account, which you can do from the iPad. As one would expect from Apple, the backup process happens inconspicuously behind the scenes, but you can view your backup status by visiting Settings > iCloud > Storage & Backup. My initial backup, which included 13.9GB of data, didn't happen because I didn't have enough iCloud space. Fortunately, you can up iCloud's storage to 10GB, 20GB, or 50GB for $20 per year, $40 per year, and $100 per year, respectively. After an addition 10GB of storage, iCloud backed up files without err. Note: When you activate iCloud, you deactivate the iPad's ability to automatically backup to iTunes.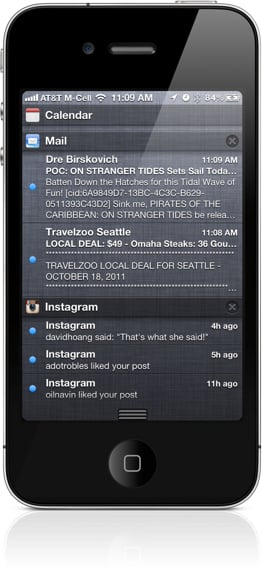 Notification Center
One of the most sought-after iOS features that iOS 5 makes manifest is a robust, intuitive notification alerts—something that Android have enjoyed for quite some time. iOS 5's new Notification Center now lets you view calendar, email, text, friend request, and other notifications (such as stock and current weather)from one central location. By default, notifications appear at the top of the screen ("Banner" style), but you can set them to appear in the middle of the screen ("Alert" style) in Settings. In my tests, Notification Center worked flawlessly. New appointment alerts appeared at the top of the screen, and I could view them at any time by swiping down from the bezel. Even if you're not actively using your iPad you can still receive notifications—they appear on the Lock Screen. When a Google+ alert came appeared on the lock screen, I simple swiped the alert from left to right to read the message. This revamped was much need, and its implementation was very solid.
Camera, Twitter, Safari, and Game Center Improvements
You can also activate the camera from the iPhone's Lock Screen by double-tapping the home button (this causes a camera icon to appear on the screen). Users can crop, rotate, enhance, and remove red-eye without leaving the Photos app—a nice addition. You can even organize your photos in albums on the phone. iCloud compatibility means that photos can be pushed to other Apple devices.
Apple has boasted of iOS 5's tight integration with the 140-character-based social network. After entering your credentials into the Twitter Settings, iOS downloads Twitter iPad app. With it, I could tweet Safari URLs, photos, YouTube links, and other interesting items by hitting the drop down option icon from within the respective app. It's super intuitive, and makes you wonder (in retrospect) how you've managed to clumsily tweet content in iOS 4. You can also add location information to any tweet.
Tabbed browsing finally comes to iOS allowing users to keep multiple Webpages open within a browser at the same time. The "Reader" icon lives within the address bar. When tapped, it strips away ads and Web design, leaving behind just text and the in-body images. In fact, the pages look very much like streamlined pages you'd find in Flipboard (Free, 4.5 stars) or Zite (Free, 4.5 stars). Reading List lets you save interesting articles to read later in a drop-down menu that displays both all the saved articles and those that are unread. Unlike Instapaper, Reading List doesn't allow you to read articles when the iPad isn't connected to 3G or Wi-Fi.
Mail, Calendar, Gesture, and AirPlay Improvements
Mail gets a makeover with a number of formatting features that let you bold, bold, italicize, or underline fonts—perfect for times when making an emphasis is key. You do this by highlighting a word or text block, which opens the normal "Cut/Copy" menu. iOS 5 adds an arrow, that when tapped, reveals the formatting options. There's also a "Quote Level," which lets you highlight quoted text by making an indentation.
iOS 4's Calendar required that you tap to create an event, key in times, and key in a new set of times should you want to change the event's date or hour. iOS 5's Calendar lets you use your finger to drag the event block from one time slot to another. It took a bit of acclimation, but I was soon dragging and dropping dates from one area to another. Calendar app users on an iPhone or iPad touch will see a scrolling week view of their calendar while iPad users will be able to scroll through a year view of their calendar. iCloud kept appointments in sync across devices.
Game Center has two new features that are displayed when you launch the app. Your Public Profile can now be toggled on and off. With it on, your profile, including your real name will be visible to other players. Your Game Center nickname, however, is used on leaderboards. There's also Friends Recommendations that you can turn on/off that uploads your contacts so that you get personalized friend recommendations.
iOS 5 includes new multitasking gestures--if you have an iPad 2. You use four or five fingers to swipe up to reveal the multitasking bar, pinch to return to the Home screen, and swipe left or right to switch between apps. In those moments when you're not swiping and you'd like to showcase a video, photo, or game on the big screen, you can mirror the image to a TV or monitor using AirPlay and Apple TV. Unfortunately, AirPlay Mirroring is limited to iPhone 4S and iPad 2.
Should You Upgrade to iOS 5?
Absolutely. Apple iOS fixes many of the quibbles that iFans have had with Cupertino's mobile OS, while simultaneously adding new features to increase the iPhone, iPod touch, and iPad's functionalities. It's a bummer that some features are limited to only the iPhone 4S and iPad2, thus alienating part of the base that has hardware that's just over a year old. Despite that, iOS 5 is an excellent mobile operating system that dares to do more than Android, BlackBerry, and Windows. If you own a compatible iDevice, consider this a must-have upgrade.
© Gear Live Inc. – User-posted content, unless source is quoted, is licensed under a Creative Commons Public Domain License. Gear Live graphics, logos, designs, page headers, button icons, videos, articles, blogs, forums, scripts and other service names are the trademarks of Gear Live Inc.