Find Our Latest Video Reviews on YouTube!
If you want to stay on top of all of our video reviews of the latest tech, be sure to check out and subscribe to the Gear Live YouTube channel, hosted by Andru Edwards! It's free!
Friday August 31, 2012 4:44 pm
GeekDesk Max review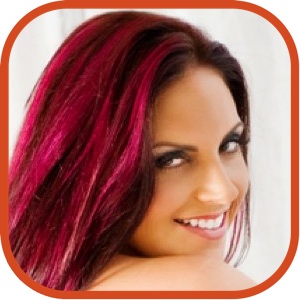 Tweet
Posted by Taylor Peterson Categories: Features, Household, Product Reviews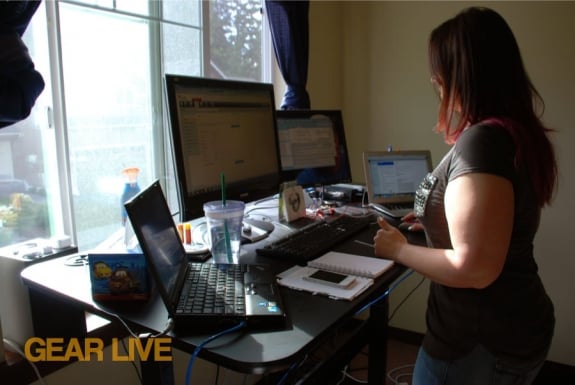 If we had to guess, we'd bet you're probably sitting down right now. The problem is that sitting down for extended periods of time, all day every day, may be killing us. You may have heard of stand-up desks, and maybe even know someone who works in an office where this is an option. They don't choose these just to be different--the goal is to keep your metabolism, and muscle electrical activity performing optimally. This is where GeekDesk comes in. The company sells two different models of desks that allow the user to stand or sit--the best of both worlds. We received the GeekDesk Max for review, and it just so happens that this feature would turn out to be more than a simple Gear Live gadget review. Sure, sitting down may be killing us, but my story isn't about life expectancy, but rather bad posture and what I referred to as "my pinch" for at least 6 months. Read on for more on that, along with our full GeekDesk Max review.
WHAT IS GEEKDESK MAX?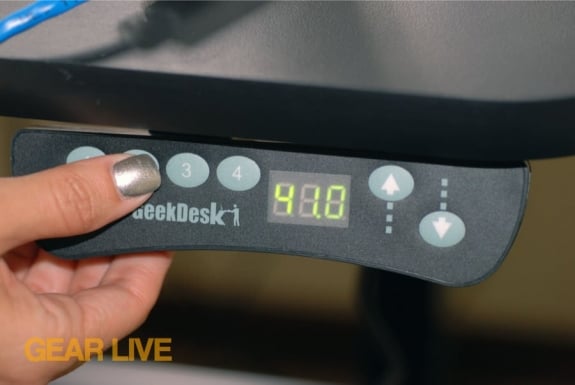 The GeekDesk Max desk is a heavy-duty model that can hold and lift up to 335 pounds. It's got four programmable-heigh presets too, making it convenient to set your preferred standing and sitting heights and get to them automatically. It also spots an LED display that shows the current height of the desk. You can select between a small, medium, or large desktop frame, all of which have cable-routing holes. You get two choices for the size of the frame itself as well. As far as colors, you can choose between beech veneer and black laminate for the desktop, and silver or black for the frame itself. There's some assembly required, but it's pretty easy (more on that later.)
The motor and moving parts come with a two-year warranty, while the actual steel frame is covered for five years.
THE BACKSTORY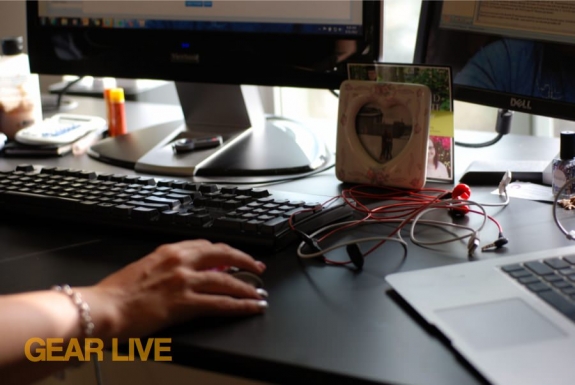 I've been working from home for about ten years. I have done contract work for clients that make ergonomics a high priority, but as a contractor working from home, I receive a laptop and an RSA token--no ergonomic desk. I started out working at my kitchen table, which I then moved into a home office. Truth be told, a kitchen table isn't the best desk to work at, but it's what I had. I often wanted to work in front of the TV or go somewhere to co-work with friends, in which cases I'd have my notebook on my lap. I had become comfortable with being uncomfortable. Sound familiar?
Early last year, I was working out with trainer and told her I was having a hard time with not just the workouts, but everyday life in general due to a constant nagging pain I had in my left shoulder and neck area; the best way I could describe the feeling was an intense pinch. My trainer suggested I go to a chiropractor.
My chiropractor explained that the pain I was experiencing was due to my muscles shortening in length because of my poor posture. It was a pretty uncomfortable process to lengthen those muscles back to where they should be, and it took several months; there is only so much stretching you can take before the pain I felt behind my eye was too much for one visit. It was obvious that in addition to the therapy, I needed to make some changes to my work conditions.
TIME TO STAND UP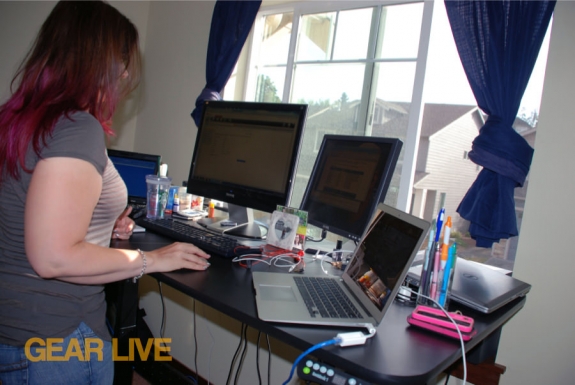 I started looking for a stand up desk but since my company was not paying it was difficult for me to justify the price so I kept putting off the purchase. I made a few changes like getting a new keyboard and monitor so I stopped looking down all day and I did feel a difference. I reached my limit on chiropractor visits so I was paying out of pocket every time I went. My chiropractor offers deep tissue massage in his office and he suggested I was ready to change from adjustments to deep tissue. I was paying about $150 each month to this chiropractor but still had it in my mind the stand up desk was expensive.
Gallery:
My "Ah-ha" moment didn't come to me until after I had been using the stand up desk for about a month. I realize that sounds confusing, and I'll explain what I mean, but I want to make the point that I was so stubborn that I don't know if I would have ever purchased the GeekDesk. Kind of surprising considering how much pain I was in. I loved the idea of standing up while working, and I started looking at some workaround ideas that I might make for myself. I saw a great idea on Kickstarter for a cost effective option that hangs on a door (which I think would be great for travel) but another problem was that I have a total of two notebooks and two external monitors on my desk--that's a little ridiculous to have hanging haphazardly from a door. A full-sized desk was a necessity.
My Gear Live writing typically focuses on the non-tech categories. Things like nail polish, food, and TV shows, but rarely anything that was gadgety. When I was asked if I wanted to review the GeekDesk, I felt like I'd won the lottery. This was, potentially, exactly what I needed. The GeekDesk Max review unit arrived with the larger frame in black. These sell for $985 directly from GeekDesk, and to be honest, is more than I would have spent if it was my own money.
SETTING UP THE GEEKDESK
The GeekDesk arrived in three large boxes. They're big and awkward, but not too heavy. I was able to carry them upstairs to my home office, so obviously the weight wasn't too bad. I was nervous about how difficult it would be to put the desk together, but decided that if I was going to do an appropriate review I would figure this out on my own. The good news? Set up was easy! There was one area where I needed help in holding the frame steady because it's heavy, but if you're alone you could do it with a little patience and a heavy box to rest the frame on while you get all the pieces together. When you do get all the parts together, you have to flip it over. This is where you might need some assistance depending on how long you are. My total set-up time for the desk was just about 20 minutes, and after flipping it over I was up and running. If you'd really rather not deal with putting it together, you can pay an extra $95 and the GeekDesk folks will hook you up with a local third-party installer who can do it for you.
USING THE GEEKDESK MAX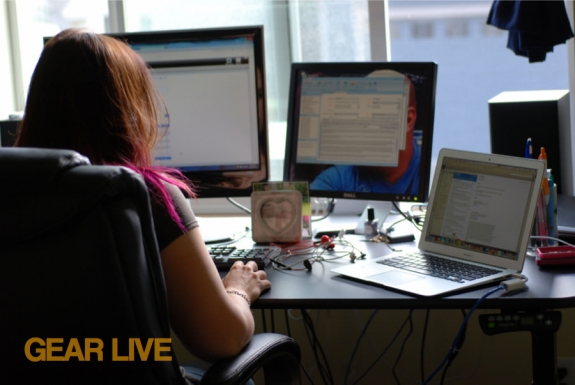 The first day I used the GeekDesk, I was only able to stand for about 90 minutes without feeling tired. I had read that some people immediately felt more energy when standing up, but I felt tired and had to build up a tolerance. In terms of the pain I experienced, the GeekDesk wasn't an instant miracle cure, but over time I'm addicted and cannot imagine not having this desk. I've been using it for just over two months and I've found that when I am listening on a call, watching a video, or having to learn something new, I prefer to sit. Alternatively, if I'm creating spreadsheets, writing emails, or putting out some type of work, I like to stand. I still have not stood up for the entire day and I've read that that shouldn't be the goal; everything in moderation. I am still going for deep tissue massage but have cut my visits in half and there is so much improvement I think I could stop going and just stick with the stretches they have given me - it is important to take a break and stretch. I did also learn that it is important to keep your weight on both feet to keep your hips aligned and not strain your lower back, this is still a struggle for me but I keep it in mind and try to correct my poor posture whenever I notice a problem.
CONCLUSION
I really love the GeekDesk Max. It was easy to set up, and I use the memory settings to get to the exact same height each day without guessing. I would have liked to see some information on the optimal height for standing, but a quick Google search was able to help out there. The "Ah-ha" moment I mentioned earlier came after I had time to use it and feel the difference. Initially, the price felt a little out of my range, but if I reduced the need for the chiropractor and massages then I was able to budget for the desk. The thought of returning after my three month test is just not an option, I will find a way to make it work. If you feel like this might not be in your price range I suggest charging your purchase with the intent to just try it. The company offers a 30-day no-risk return policy. If you don't like it, you can send it back for a full refund of both the desk and the outgoing shipping fee. Our guess? Once you try it, you'll agree that it's worth the cost, even if it is a little outside of your normal budget.
The GeekDesk Max starts at $949 USD.
© Gear Live Inc. – User-posted content, unless source is quoted, is licensed under a Creative Commons Public Domain License. Gear Live graphics, logos, designs, page headers, button icons, videos, articles, blogs, forums, scripts and other service names are the trademarks of Gear Live Inc.