Find Our Latest Video Reviews on YouTube!
If you want to stay on top of all of our video reviews of the latest tech, be sure to check out and subscribe to the Gear Live YouTube channel, hosted by Andru Edwards! It's free!
Tuesday August 17, 2004 10:02 am
CyberTree CWH-900D Wireless Cellular Headset Review
Tweet
Posted by Hector Martinez Categories: Accessories, Product Reviews, Wireless / WiFi
The ability to use a headpiece to talk wirelessly with your cellular
without
Bluetooth, sounds almost too good to be true. How does the
CyberTree's
new headset, the CWH-900D stack up? Find out in our review, by clicking the link below.
CYBERTREE CWH-900D WIRELESS CELLULAR HEADET REVIEW
The ability to use a headpiece to talk wirelessly on your cellular
without
Bluetooth, sounds almost too good to be true. How does the CyberTree's new headset, the CWH-900D stack up? Find out in our review: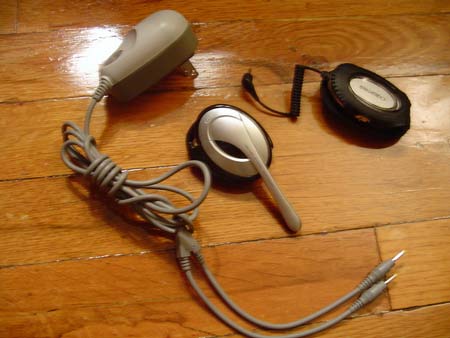 Many of you have already read through my
review of the Samsung SCH-A670
. One of the things you'll notice about the phone is that it doesn't have Bluetooth capability. I knew going in that I was getting this phone primarily for its screen, and that if I wanted to talk on the phone using a headset, there would be no way for me to do so wirelessly. I'm pretty tall too, so I've had bad experiences with cell phone wires that barely reached down to my belt, dashing my wireless hopes altogether.
Well, enter the
CWH-900D
from Cybertree. This little thing is aimed squarely at people in my situation: cell phone owners who don't want to have to buy a new Bluetooth-enabled phone just to get wireless. It's also aimed at folks who don't want to get tangled up in their wires while driving/walking and speaking to their loved ones. While the phone does indeed work, and it looks stylish enough, I'm not sure that the quality of the sound and reception is consistent enough to warrant a purchase.
INSTALLATION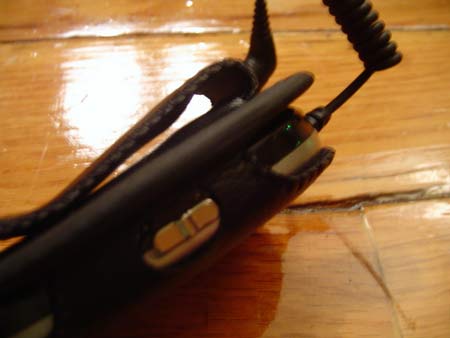 As you can see from the pictures, the CWH-900D consists of a base and a one-ear headset. The two things sure do look cool, and I was happy to see that the base came with a leather holder that clips to your belt. The idea is that you plug the base into your phone using its cord, and place the headset on your left ear. By the way, it can only be placed on the left ear, due to its design. The outer side of the headset looks pretty sleek, but I wondered how well the small half-moon shaped earphone would rest against the ear itself.
Sure enough I had a little trouble getting the thing on. The instruction book actually asks that you use your hand to widen the plastic hook before slipping it over your ear, which is what you'll have to do. It's not a simple, one-swipe affair. And if you wear glasses, you'll probably need to take them off because they will also get in the way. As I feared, the earpiece didn't rest tightly against my ear, and in fact the earphone itself wobbled a bit on the threshold of my ear canal.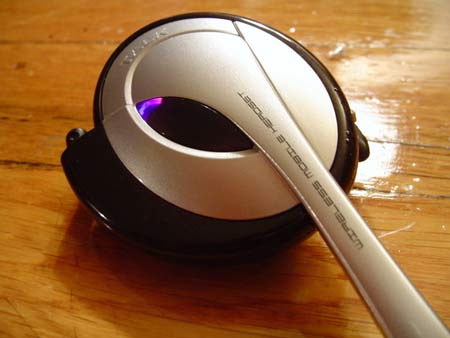 But the way the headset looks on your head, once you've arranged it a little bit, is really nice. The same can be said for the base that attaches to your cell phone. I took my phone and rotated it on its clip, so that the coiled wire goes from the base right to the phone without obstructions. The fact that the cord is coiled shows that Cybertree was thinking about how the distance from the base to the phone may change, depending on the user and their phone set-up. The base and my cell both fit happily on my belt, though they do need to be somewhat close to each other.
The entire package also comes with a velcro-like tape that you could stick to say, your car's dashboard, so that you can attach the base near a phone cradle when driving. Since I live in NYC, without a car, I didn't have much of a need for this, but having this headset while driving may be the best time to use it.
GENERAL SPECIFICATIONS
HEADSET WEIGHT 23g (0.8oz)
HEADSET DIMENSIONS 10cm x 5cm x 2.5cm (4" x 2" x 1")
BASE ADAPTER DIMENSIONS 6.5cm x 4cm x 1.5cm (2.5" x 1.6" x 0.6")
FUNCTIONAL RANGE 10m (32ft)
TYPICAL TALK TIME 3 hours
TYPICAL STANDBY TIME 48 hours
TYPICAL RECHARGE TIME 2 hours
COMPATIBILITY Standard 2.5mm jack
COLOR Silver, Blue, Gold, and Cranberry
CASE DIMENSIONS 5 product units
25cm x 15cm x 15cm
(10" x 6" x 6")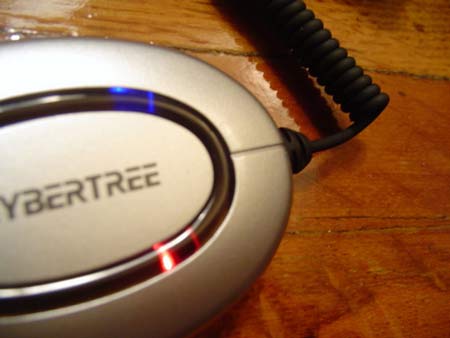 FEATURES
In order for the headset to work, you must turn on a switch on both the base and on the headset so that the two units turn on, and search for each other. You will see little red and blue lights inside both pieces that will flicker on during this process. Once the connection is made, and you are in the midst of a call, the blue light on each piece will blink steadily. I found it a little confusing as to which unit needs to be flicked on first, and I still haven't exactly figured it out. You do need to make sure that the base is connected to the phone before anything.
There is a small button that is flush with the headpiece that will act as the answer or pick-up button. You depress it before making a call and you then hear the tones of your cell phone through the headpiece. I couldn't believe that it actually worked the first time I heard it! It seemed like this was the real deal.
SOUND QUALITY
The actual quality of the sound is such a mixed bag, I am unable to draw a decisive conclusion on it. It's a shame too, because the technology is so cool, I would love to be able to say that calls came through flawlessly.
When I first tested the unit, it was with another cell phone on the other line. I was indoors, and the other person's voice kept dropping out. As the voice dropped, the headset would give a short beep. I was able to hear about half the conversation, and eventually was too frustrated to try again. However, I was willing to give the headset the benefit of a doubt. Perhaps my friend's phone carrier was not working at its best, and they had weak signals.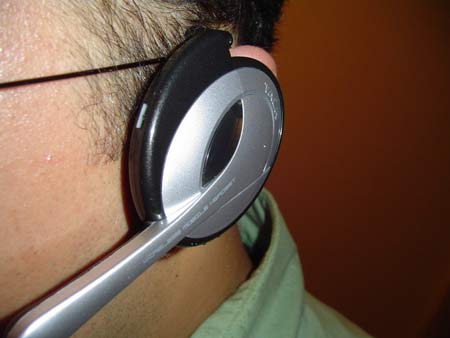 The second time I tried the headset I was completely outdoors, on a bright sunny day. I thought that this would be a fairer test, considering that signal strength would be ideal. I also decided to call a land line phone. The other side picked up and sure enough we were enjoying our conversation, with only an occasional drop in the voice, again accompanied with a short beep. I asked the other person how did I sound, and he said that it felt like I was a little further away. Switching to the phone without the earpiece, he could immediately tell the difference: closer, clearer, and no dropped voice.
I tried again a couple more times, this time back at the apartment. My bother uses the same phone cellular carrier, and he told me that it sounded perfectly, with no drops at all. He couldn't even tell the difference when I switched to the regular phone without the earpiece. I had the same experience calling home to my wife, who said I sounded fine.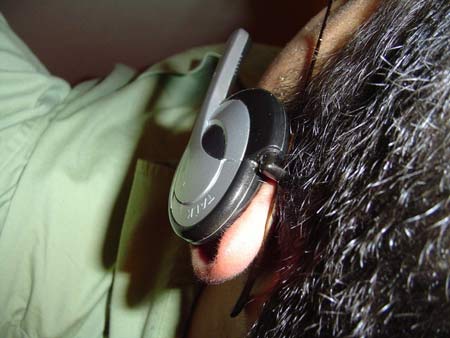 Then calling another land line indoors, I had a similar experience to the first time. The beeps that seemed to signal a loss of my own voice through the headset came frequently enough to be an annoyance. The voice coming to me would distort at times as well, as if the volume was set too high, though in reality it was set to medium volume. Again, switching to just the cell phone itself was a great improvement. You can sense my frustration, and my uneasiness about this headset. I didn't get the sense that I could rely on it consistently.
Even with the mixed results, I could make a couple of conclusions. First, the sound coming from the earpiece was not loud enough, especially if you're walking about outdoors or if there's some other background noise. This is partially attributable to the fit of the earpiece itself. It's not snug like an earbud headphone, so I had to hold the earpiece to my ear with my hand to get a good solid sound. The second observation was that the strength of the connection was dependent on what came between the base and the headset. If I were to cover the base with an outer section of my shirt - or imagine the sides of a jacket - the unit was prone to more voice-drops.
Either way, I'm not pleased with this unit when it comes to the actual calls themselves. It appears that you need to be outdoors, with a direct line-of-sight between the base and the headpiece to get anything approaching audio consistency. Again, even then it's not as loud as you would want, and you will still experience dropped bits voice.
BUILD QUALITY
The two units, both the base and the headset, are really light - almost to a fault. You might mistake them for cheap little toys because of this. I've also had the things stored in my bag without the protective storage case that it comes with, and it still doesn't have a single scratch on it. Pretty tough suckers.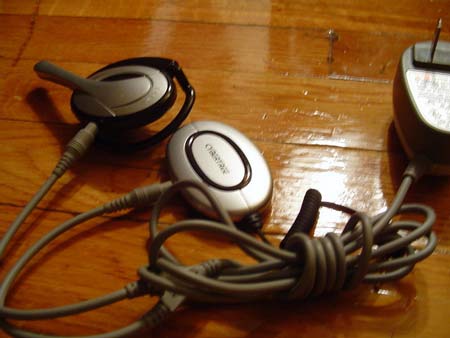 CHARGING
The base and the headpiece both need to be charged with the included charger, which has a cord that splits in two so that this can be done at one time. The manual advises that you let them charge for a good 2 hours before using them, which is about right.
FINAL VERDICT
Hopefully these conclusions will help CyberTree to refine the next iteration of its product.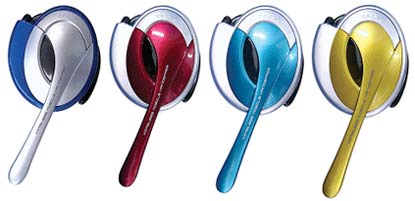 The CWH-900D wireless headset needs a better earpiece that will rest snugly against your ear canal so that it can transmit its sound more directly. It needs clearer instructions so that we understand the order of the boot-up sequence and the lights that accompany it. It needs to have stronger reception capability to lessen the likelihood of calls sputtering in and out. It certainly looks attractive, and the leather-like belt pouch for the base is a thoughtful touch, but the functionality leaves a lot to be desired. These problems make the unit appeal only to desperate and busy drivers with no other choice, though maybe a little wire isn't such a bad thing if you don't have a BlueTooth set.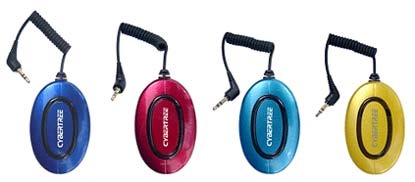 Company Information:
CyberTree
© Gear Live Inc. – User-posted content, unless source is quoted, is licensed under a Creative Commons Public Domain License. Gear Live graphics, logos, designs, page headers, button icons, videos, articles, blogs, forums, scripts and other service names are the trademarks of Gear Live Inc.