Find Our Latest Video Reviews on YouTube!
If you want to stay on top of all of our video reviews of the latest tech, be sure to check out and subscribe to the Gear Live YouTube channel, hosted by Andru Edwards! It's free!
Tuesday August 3, 2004 11:11 am
BoomGear MP-800 MP3 Player Review
Tweet
Posted by Hector Martinez Categories: Features, Portable Audio / Video, Product Reviews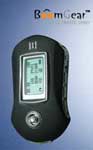 BoomGear offers a variety of digital mp3 music players, and accessories. We recently had the chance to try out their 256Mb flash-based offering, the MP-800. How does it stack up in the crowded digital player arena? Find out in Hector's review by clicking the link below.
BoomGear MP-800 MP3 Player Review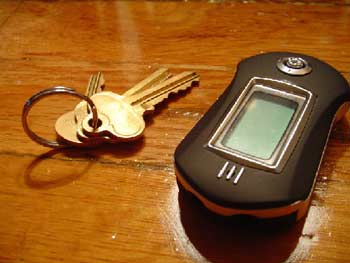 The first thing you'd notice about this player is how small it is. It looks like something you'd attach your house-keys to. In fact, you can see from the screens that it really isn't that much bigger than a key itself. I have pretty big hands, so the player can be concealed pretty easily, leaving others wondering what the little gadget is. It's a flash-based player, which contains no moving parts, so the small size may not be too much of a surprise.
Let me be up-front and tell you that this is not the perfect player. In fact, a lack of expected features left me a little disappointed. On the other hand, if I were to receive it as a gift, I'd still be happy for what it does offer. You see ,up to this point, I've burned CD's and played them on a regular CD Player. But when I loaded up a batch of random songs, and popped in my favorite earplugs, my eyes grew wide open with the sound this thing poured into my head. I could barely believe that I was going to leave all my CD's home this weekend, and use this teeny "key chain" as a replacement. It wasn't until I got used to the controls that I noticed the lack of play options. More on all that later.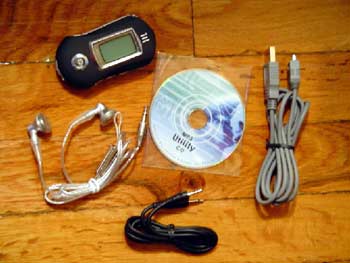 INSTALLATION
The box comes with a mini CD to that allows you old-timers to install the USB drivers on to your system, and then reboot. Anyone with anything higher than Win98 should have the USB drivers automatically load on to your machine. Once installed, you system will recognize the player as a generic removable drive. We can't overstate how important that is: You won't need to convert files or go through some separate software just to load songs on your player. You just drag and drop them to your player's window. Simplicity itself. Songs took about a minute each to add on from my older system, but on my newer AMD 3000+/512 RAM, they took about 10 seconds each.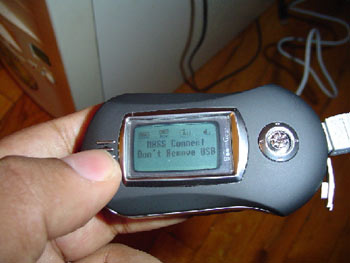 THE LCD SCREEN
The screen has the standard fields of information on it during song playback: volume level, battery, repeat mode, artist, song, time-remaining, track number, and EQ mode are shown. The screen is hard to see in anything but direct light, so I find myself adjusting the volume for the "glow" of the screen to come back on when I want to read anything. There is a protective plastic covering over the screen which peels off. Doing so took away the scratches I initially thought were on the screen itself. Either way, under the settings menu, you can change the color of the screen-glow from yellow, to green, to a deep red. Pretty cool stuff, though the red makes the text a little harder to see.
SOUND QUALITY
This is really the charming "little player that could" if I've ever seen one. I threw everything I could find at it - R&B, Rock, Hip Hop, Instrumentals, Salsa--and songs were clear as a bell without even adjusting the EQ. They also had just the right amount of bass. My previous player had the mega-bass boost that always drowned out the vocals, so I appreciated the range the MP-800 was capable of. This thing goes pretty loud too...enough to be painful. Trust me, it has you covered in terms of playing all your favorites without a hitch. Very nicely done. The included AAA battery lasted me about 8 hours. There is support for MP3, WMA, and LRC formats.
PLAYBACK OPTIONS
Here is where the MP-800 stumbles a bit. And perhaps it's just a case of me having my expectations set too high. With a digital player, I expect to have the ability to make songs fade in from one to another for continuous play. I expect to be able to hear the track as I fast forward or rewind it to my favorite spot. I'm looking for the player to cycle songs randomly within a given genre of music, or
at least
within a folder I create. I want the machine to be able to make note of songs that are played most frequently, and have an option to play the "top ten" or favorites, when I ask it to, or even better, play the lowest requested songs, to keep the song playback fresh over extended periods of time.
Well, guess what? The MP 800 does none of these things. It is a "meat and potatoes" player, and while some of you may be okay with that, I can't accept being this limited when you're dealing in the "limitless" realm of digital music files. Yes, it plays random songs, but when it does, it will jump from folder to folder. This means you'll hear a slow song followed by thrashing rock without warning, and are forced to skip to the next random track more often than you would like.
OTHER FEATURES
If you get tired of listening to all of your recorded tracks, you can shift over to the built in FM tuner. How come there's no AM on most players? I didn't miss it, but some people might. You can record a song while it plays on the tuner, but you'll have to wait until you're back on the PC's removable drive window to rename it with a recognizable "label", or to move it to a separate folder. Until then it stays stored under the "data" tree of the player, along with any voice recordings that you can also make. It's nice to see that it shows you how much recording time is left as you're making either voice or FM recordings. Also, when you press the "FM" button during playback, the unit will transmit the song over an FM frequency that appears on the screen, so that you're able to hear it over a nearby receiver. This option could come in handy, though I would recommend you plug the unit into a receiver through its headphone out, as the sound is richer and fuller this way. Without a direct line-in, the broadcast was a little tinny.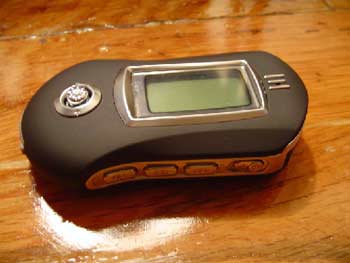 THE CONTROLS
The mini-joystick on the side of the device controls volume (up/down) and track advancing or skipping (left/right). This makes sense since this they're the most frequently used control adjustments you'll make. You can switch over to the FM tuner by pressing the FM button on the top of the player, and you can pause your recorded tracks by pressing the play/pause button. This latter button also functions as a power switch when held down. You can also lock the player via a small switch to prevent accidental inputs.
When pausing a song, you can press the joystick "in" to bring up the list of songs in the folder your playing from. On that screen you can select left/right to see your folders, and up/down to scroll through all your tracks. Again, the player will not let you select a "play all tracks in this folder" option. It seems to store all your songs in one huge folder during actual playback, so you'd need to pause the song and access this "folder" menu if you want some real control to your music.
ACCESSORIES
The player comes with a USB cord, which you'll need to add or delete songs to the system. It also comes with a cord for recording from another source outside of FM or the mic, which should come in handy. The mini-CD has the drivers and also a utility for crafting a small black and white custom logo to show up on your screen.
And finally you have the earplugs. Why on earth don't mp3-players come with good plugs? Surely, the designers assume we already have better plugs for our CD-players. These accursed things barely fit snugly in your ear. They sound tinny compared to my other plugs. And worse yet, the cord is literally about 2 feet long! At that length you can't even reach the player to your pocket! Shame! I thought this was a mistake, and maybe the cord would elongate from the metallic pipe near the end, but no such luck. End rant.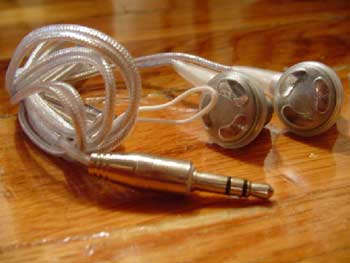 FINAL VERDICT
I really wanted to forgive any little shortcomings that would come up with this player, because it did feel liberating to leave the CD?s at home and carry everything around in something so small. But the lack of playback features really made it tedious to select the kinds of songs I wanted to hear. You can't play songs in only a given folder or genre, and that really puzzled me.
This is not a bad player, by any means, because it does get the job of installing and playing songs done. But if I had my choice out of all the flash-based players in the market, I would do a little more research before I personally select this one. It's not bad, but just not the best. We at GearLive give it a 7/10, since BoomGear appears to be on a good start.
Ordering Information:
Website -
www.Boomgear.com
Pricing - $219 MSRP
© Gear Live Inc. – User-posted content, unless source is quoted, is licensed under a Creative Commons Public Domain License. Gear Live graphics, logos, designs, page headers, button icons, videos, articles, blogs, forums, scripts and other service names are the trademarks of Gear Live Inc.