Find Our Latest Video Reviews on YouTube!
If you want to stay on top of all of our video reviews of the latest tech, be sure to check out and subscribe to the Gear Live YouTube channel, hosted by Andru Edwards! It's free!
Monday September 27, 2004 7:46 am
Archos AV400 Video Recorder Review
Tweet
Posted by Hector Martinez Categories: Movies, Portable Audio / Video, Product Reviews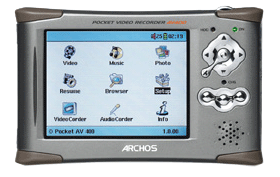 There's something to be said for the promise of convergence. Having
one single
device that handles multiple tasks will save you carrying space at the very least. At its best, you can save serious dough when a unit is more than the some of its parts. Today, Gear Live takes a look at
Archos' latest offering
, the AV400, a DVR-like recorder that also allows you to view photos and play music. Click below to see how this $550 device stacks up in terms of functionality and usability.
Click here to discuss this story on the Gear Live Message Boards.
PRODUCT SPECS
Capacity:
20 GB (Model Reviewed). Also Comes in 100 GB.
Interfaces:
USB 2.0 high-speed, compatible USB 1.1, PC & Mac. Built-in CompactFlash Type I slot to accept CompactFlash memory cards and optional 4 in 1 CF adapter (not included) for SD, SM, MMC, MS and MS Pro.
Video recording:
MPEG-4 SP with ADPCM stereo sound.
Music playback:
Stereo MP3 decoding @ 30-320 kb/s CBR & VBR, WMA (including protected files), WAV (PCM & ADPCM).
Music recording:
From any analog source in stereo sound in WAV format.
Voice recording with built-in microphone.
Photo viewer:
JPEG (except progressive) or BMP.
Display:
3.5" to 3.8" TFT, 320x240 pixels, 262,000 colors and TV output.
BUILD
The Archos comes in a pretty solid package, with a brushed metal finish and a dark, sleek screen. The unit feels pretty hefty when you first pick it up...much heavier than say a PDA device. I felt pretty scared of dropping it, as I could only imagine what type of circuitry magic was done in order to fit a 20-gig drive and a bright color screen in such a compact form-factor. The unit does come with a slightly padded storage case, though. It has a velcro tab to open its lid, and allows the AV400 to come out with a small pull at its edges. Still, I would rather look for something with a metal exterior for better protection if its rummaging around in my bag. Here's hoping someone offers this soon.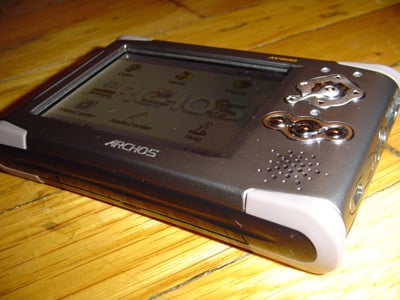 What you have here is a unit that feels really nice to hold. I have very big hands, yet the controls remained readily accessible. In fact, it reminded me a little of a game pad because you wrap your index fingers across the top of the unit as you navigate through the menus. You'll have to move your left thumb to the side a bit since there is more screen on that side. I also liked how there were rubberized corners on the player, which can help protect against accidental bumps, and also gave it a little bit of grip for my fingers and for surfaces you lay it on or prop it against.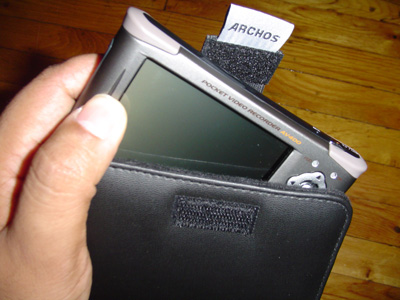 MEDIA QUALITY
Songs sounded nicely, with all the catchy bass and rhythm that you would expect them to. No hisses or pops found here, though I wouldn't expect there to be any considering this is not Archos' first player. Like any hard drive player there will be a slight lag between song selection and playback. Still, 20 gigs is quite a bit of space, and it's nice to know you can probably store about 5,000 high quality recordings here.
What
wasn't
as great was video playback. The screen also wasn't so nice with digital photography, but we'll get to that in a moment. On the video side, you'll need to make sure that you bump up the sampling rate in the settings to make sure they look good when you pipe them out to the TV. It's a little deceptive because movies may look fine on the small LCD at first. Adjusting the settings to the max will record video at better quality. Even then I saw some fudges around edges, but that could've been from the broadcast itself and not due to the player.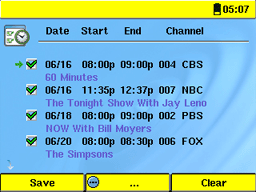 TRANSFERING DATA
Data went through to the player at a pretty zippy clip via the USB. Really, there was nothing unusual here. We really need to commend companies that will allow you to transfer things without using some proprietary software. You plug it in, and it shows up in Windows as a removable drive. It's really pretty simple.
From there you drag and drop folders to your liking. Having a player with such a large screen allows Archos to let you rename files once they are transferred. I know how frustrating it is to find some misnamed MP3 on your player, but you have to wait until you get home to make the adjustments. An onscreen keyboard lets you make your changes, although I wish it was a touch screen because you'll need to scroll over to each letter for inputs.
TV CAPTURE
The manual that comes with the AV400 is pretty small but thick, which is what happens when you have something in 6 different languages. The result was a dearth of English instructions. I worried that I wouldn't be able to connect this thing for proper TV recording. There was a separate pictorial poster though, with "Quick Set Up" connections nicely simplified.
I plugged things in as instructed, which called for composite cables to go from the back of your cable box to the cradle. I turned on the player and went to the Video Record icon to select it. The moving TV image
instantly
showed up on the screen along with several options assigned to the soft buttons. You've got to love when things work the first time. Still it would've been nice to have a bigger manual so newbies can feel more comfortable. Connecting to the TV will require you to set the player on the included cradle, and plug in a specialized connection from the cradle to the side of the unit.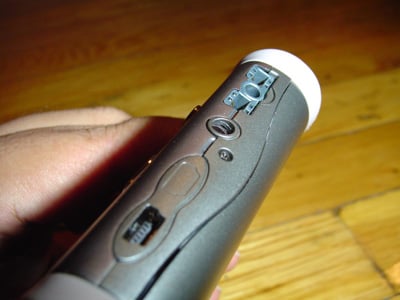 Capturing the video showing on your screen was a pretty simple affair. The middle button on the D-pad acts as the start and stop buttons for recording. When you exit the menu, the unit will save the video and assign a filename to it, usually something like "VID000001". You can rename things later. I was able to figure out how to set up future recordings easily enough by feeling my way around the menus. Just like a DVR, you can set for recordings to begin slightly earlier or end slightly later after the regularly scheduled time, just in case.
There were various slots for recordings, each one allowing a different channel, date, and time. However, don't expect anything as nice as the EchoStar system found on your cable company's DVR box. The included menus are pretty simple, and won't let you browse through a channel's future programming and select record with a single button when you see something you like. Unless of course, you take the time to set up your AV400 to sync with
My Yahoo TV Listings
. The fact that this feature doesn't come built into the system is a let-down. I have to rely on some 3rd party website for efficient searches and scheduling of my recordings.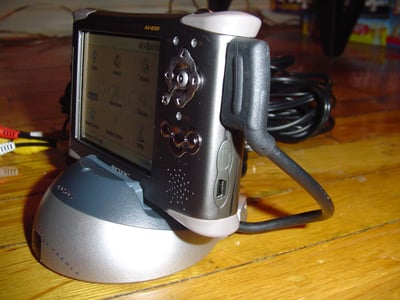 It helps to know a network's start times, along with their duration. Plus be on the lookout for shows that might run a little longer than usual, like those 90-minute Apprentice episodes that kicked off the new season. Once you actually have the TV program on your player, it's a real treat watching it on the train while everyone else has to suffer through newspapers and basic MP3 players.
CONNECTIONS
So far things sound pretty good, right? Well, there are certainly some shortcomings that would make you hesitate about buying these. Let's start with the most obvious one. First you have the cables. When you pull out the cradle for this unit, you will notice a
massive
tangle of composite and S-Video wiring that's used to connect to your TV. Once you figure the things out, it's not as imposing, but jeez, why couldn't they have
swappable connectors
or something?
All the wires, each about 4 feet long, sort of coalesce into the cradle in a bunched up fashion. This will include composite in (L/R audio, and video) composite out (again, L/R audio and video) and S-Video in. What, no component in or outs? Then again you may not miss those... Luckily, once you're connected, you can just plug the unit into the docking station and be able to play without fussing with wires again. However, if you plan on taking the Archos out to a hotel or a friend's house, and you want to view things on their TV, you may get these weird looks while you bust out the long bunch of cables, and wrap them around so that you don't knock anything over. Also, the size of the docking station, when combined with the irremovable cords is pretty cumbersome, and you'll need to think about that when you're traveling. This won't be a problem if you're planning on viewing things by yourself from the unit while traveling. You don't need to use the cradle every time to charge, since that cord can be taken out separately.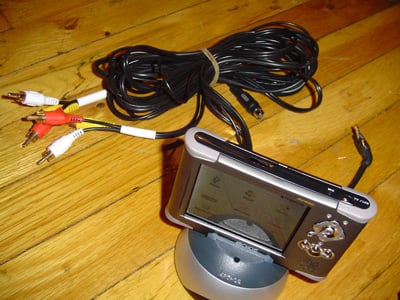 NOT A DVD PLAYER!
Now for the most unusual experience I've had with the player. Getting a non-mpeg4 compliant AVI video to play on this thing is almost an impossibility. In other words, you're not going to be able to simply load in your DVD movie on this thing and take off. I was immensely disappointed with this, because I thought with 20 gigs of space that I would have the ultimate in entertainment satisfaction. Sure, the player will record pretty easily from a broadcast, DVR style. But trying to rip DVD contents will require some pretty shady software, and even then you're not going to be able to load it.
The player comes with some software executables that will supposedly convert other forms of video to the AVI required, but the front-end and options were so confusing and archaic that you'll quickly give up. The strangest experience was when I tried to convert a 43 meg mpeg video to AVI. The software appeared to do it, but when I began transferring the file to the player, I found that the file was now over 2 GB large! The Archos is simply not a DVD player. It's being marketed as a DVR-like TV recorder, and that's what you get, along with the MP3 and photo-viewing.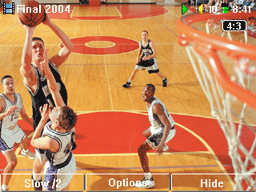 THE SCREEN
When you turn this thing on, you're going to be impressed by how bright the screen is. The startup screen, which comes on for a few short seconds, has some vibrant primary colors coupled with the Archos logo. There is a slider for brightness in the setup menu though there are only three settings for it. As with most portable devices and PDA's you have some power saving features in the way of setting the idle time before the screen shuts off, including a "never" option.
Watching recorded video content is a real treat. Sure the resolution isn't as nice as a full blown TV set, but it's still impressive. We've all seen portable TVs that will fit in your palm, but most of them rely on over-the-air broadcasts, while the Archos could potentially display anything that has been on a cable channel, albeit in a recorded fashion. I snagged a few minutes of the Discovery channel, and smiled as the station's watermarked logo spun on the lower right corner, coupled with nice dramatic moving images of the nature at work.
Where the screen falters a bit is in dealing with digital photography. I had no problems transferring files to the device via the USB connection, but when they actually show up on your screen they appear a tad too blocky for my tastes. I've seen some better images on my wife's Tungsten E. Checking the specs on these two models, sure enough you'll find that the Archos has a 320x240 resolution, while the Tungsten E sports 320x320. Black and white images fare a little better on the Archos, but pictures with subtle details really look "jaggy" or pixilated if the player is held closer than a couple feet away from your eyes. This is with files that were over a meg in size, mind you. Video, at least from the player itself, had less problems because the image was constantly moving, and you tend to not fixate on any one thing for too long.
CONTROLS
Menu navigation is a breeze with the AV400. One the right side of the face of the unit, there is a metal-colored directional pad with a "select" button on its center that allows you to easily navigate through the various icons. If you need to go back one step, you can click on the small "x" button to the lower-left of this pad. No matter how much I plunged through the depths of the system, that "x" button, when hit repeatedly, will take you all the way back to the root menu, if you need it.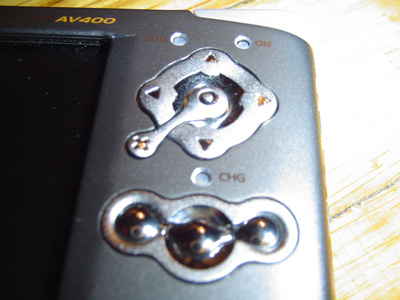 Below these controls there are three soft keys laid in a row, though the middle key is positioned a bit lower than the other two. They are context sensitive, and so will do various things depending on the type of media you are watching, or the type of information you want to display. For example, bring up a picture and the first button allows you to cycle from 1-pic, to 4-pic and 9-pic views. The center button will bring up options to view the properties of the image, delete it, or set it as a wallpaper. Some images will work better for wallpapers than others, since the icon fonts might get a little lost against the backdrop. Finally, the third button will allow you to hide the information displayed with the image so that it is completely unobstructed.
In video mode, the buttons will let you slow down the playback speed, set bookmarks for where you left off on the video, or again hide the text. For music the buttons will allow you to adjust the setup of your player (including a simple equalizer), bookmark the song, or browse through the music files in the directory that you are in. Songs can be sorted by the usual categories: genre, artist, album, etc. There is also a remote control included with the player, for some basic navigational functions.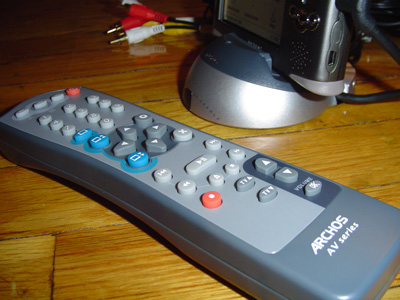 FINAL VERDICT
These days, I believe convergence isn't such a
great
thing. The Archos does some things fairly well, including TV broadcast-recording and solid music playback and features. But the tangle of cords required, and the lower resolution of the screen really hold it back from complete greatness. You'll find considerable problems trying to get any DVD content loaded (read: it's next to impossible) and the video conversion software needs serious heart surgery.
The Archos scores marks for being solidly constructed, with intuitive controls, but loses out on a screen that doesn't have that smooth film-like sharpness that you'll find on current PDA's. It's a good product, considering the amount of storage you get, with features simply unmatched in most players, but it needs to be a master of those features before we can fully recommend it as the "ultimate media player".
Product Information:
Company:
Archos
Price:
$450-$550
USD
Availability: Now
-
Hector Martinez
© Gear Live Inc. – User-posted content, unless source is quoted, is licensed under a Creative Commons Public Domain License. Gear Live graphics, logos, designs, page headers, button icons, videos, articles, blogs, forums, scripts and other service names are the trademarks of Gear Live Inc.