Find Our Latest Video Reviews on YouTube!
If you want to stay on top of all of our video reviews of the latest tech, be sure to check out and subscribe to the Gear Live YouTube channel, hosted by Andru Edwards! It's free!
Friday February 7, 2014 3:45 pm
Apple Mac Pro (2013) review: in a class of its own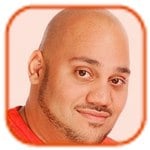 Tweet
Posted by Andru Edwards -
Categories: Apple, Features, PC / Laptop, Product Reviews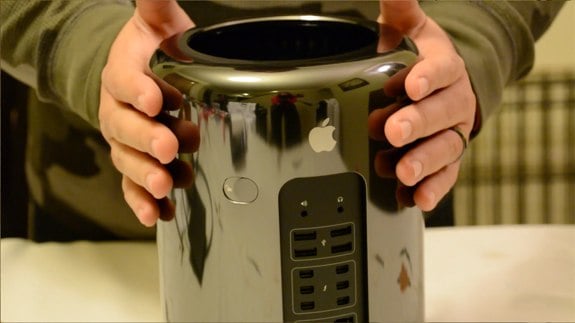 Power. The Apple Mac Pro (late 2013) is the newest Mac on the block, and it's also the most powerful computer ever made by Apple. It deserves to be, too, as the Mac Pro lost that title as Apple let that product line slip into virtual irrelevancy. After all, the previous Mac Pro spent the last four-or-so years at a technical standstill. It didn't have any Thunderbolt ports, no USB 3.0, no PCIe flash storage...heck, it didn't even have an 802.11n Wi-Fi option. For all intents and purposes, Apple had allowed the Mac Pro, the one machine that was aimed at meeting the needs of the most demanding customers, to become a dinosaur.
That is, until the release of the newly-redesigned Mac Pro (late 2013) model. With its smooth metallic cylindrical shape that looks like it was plucked off of an alien spaceship, smaller and lighter profile, and top-of-the-line specs that include PCIe SSD storage, dual workstation-class GPUs as standard, the newest Intel Xeon processors (up to 12 cores!), 802.11ac Wi-Fi, and a bunch of I/O ports which include Thunderbolt 2 and USB 3.0, this thing is a beast. It's modern--no, futuristic.
For all of you professional video editors, photographers, graphic artists, 3D animators, audio engineers and the like, we're betting that Apple has piqued your interest. After all, this is a Mac which can drive up to three 4K displays simultaneously. That's a lot of power. Wondering if it should be your next purchase? It's expensive, starting at $2,999 (and climbing up to $9,559 depending on how you configure it,) so we're here to help you in your decision making. Follow along as we bring you our full Mac Pro (late 2013) review, after the jump.
MAC PRO (LATE 2013) UNBOXING & HARDWARE TOUR VIDEO
Included in the box:
Mac Pro
Power cord
Quick Start Guide
INITIAL IMPRESSIONS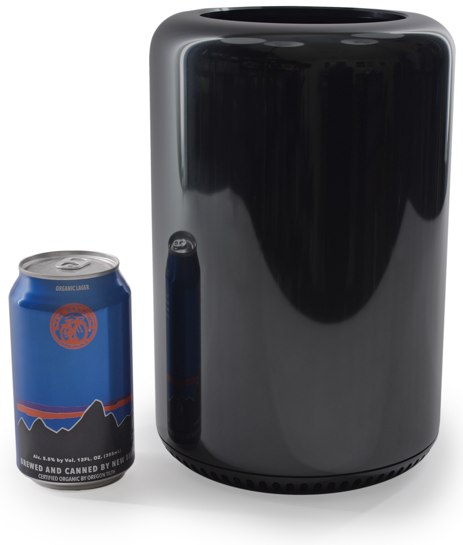 Mac Pro Size - iFixit
When you remove the Mac Pro from the box, and strip off the protective plastic that it ships in, you're left with what looks like a piece of art. A small, dense hunk of metal machined into a 9.9-inch tall cylindrical shape with a round opening at the top for heat dissipation that also doubles as a convenient handle. Don't let its small size fool you, as the Mac Pro is dense, weighing in at 11 pounds. The device rocks a look that's close to the Space Gray hue found on the black iPhone 5s and latest iPads, but shiny rather than matte. Definitely something to behold.
One thing we found interesting was that there is no Apple branding on the front. Unlike every other Mac (iMac, Mac mini, Macbook Air, Macbook Pro,) the Mac Pro is plain--or, as plain as a unique design like this one would allow. Spin it around, though, and you'll find a small Apple logo on the back, right above the ample I/O. Speaking of which, here are the ports you'll find on this machine: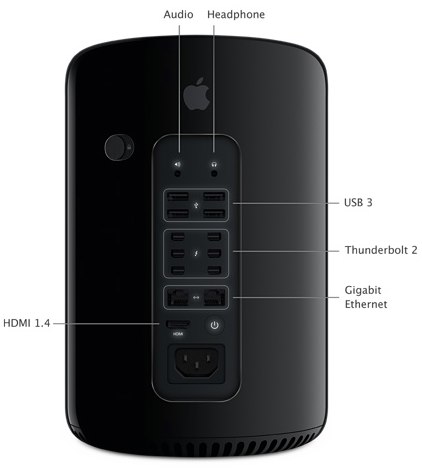 Audio out
Headphone
4 USB 3.0
6 Thunderbolt 2
2 Gigabit Ethernet
HDMI 1.4
You'll also fine the power button, power cord port, and a lock switch back there as well. All of these are separated into tidy sections that are surrounded by a series of LED lights. When you boot up the machine, they glow. In fact, the Mac Pro uses an accelerometer to know when you pick it up and spin it around, and upon sensing movement, it'll light up those LEDs so that you can see what you're doing.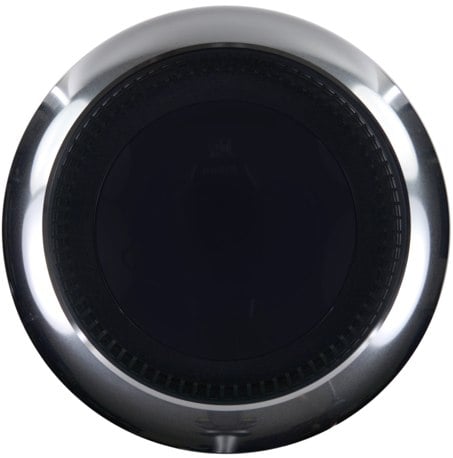 Mac Pro top - iFixit
On the bottom of the Mac Pro, you'll see a number of cutouts. This allows the fan to pull air in from the bottom of the unit to cool the thermal core, pushing the air out of the top. This engineering feat results in Apple's top-of-the-line Mac measuring in at just 15 decibels of sound when under load, and 12 decibels when idle. That is close to what you'd get from Apple's cheapest and least-powered computer, the Mac mini.
What's missing from the Mac Pro? Well, every other Mac ships with a built-in SD card reader. The Mac Pro never has, but we figured that the new model would for the sake of consistency, but alas, it doesn't. Additionally, there is no keyboard, mouse, or trackpad included in the purchase price either.
INTERNALS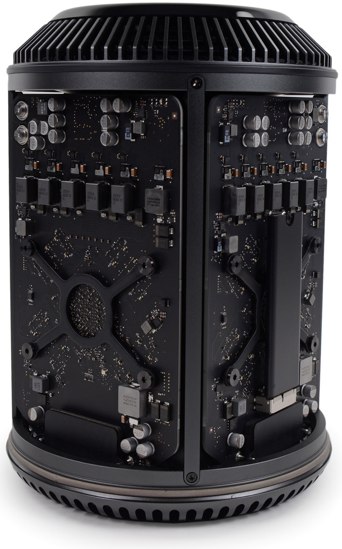 Mac Pro internals - iFixit
That lock switch we mentioned above? It's to keep the Mac Pro enclosure in place. When you unlock it, you can easily remove it by simply pulling it up off of the rest of the unit. On the inside, you'll find a neatly organized three-sided motherboard that Apple calls the "thermal core" of the Mac Pro. Two sides are occupied by the dual GPUs, in our case, the AMD FirePro D500, each with 3GB of RAM. The third side is for the Intel Xeon processor(s). The RAM slots and PCIe storage are also easily accessible--you can stuff up to 64GB RAM in the Mac Pro with 60 gigabyte per second bandwidth, alongside a 1TB PCIe flash storage module.
USING THE MAC PRO
First things first, here are the specs of the Mac Pro that we've tested for this review:
3.5 GHz Intel Xeon E5 Six-Core
64GB of 1866 MHz DDR3 ECC RAM
256GB PCIe-based Flash Storage
Dual AMD FirePro D500 GPUs (2 x 3GB)
Six Thunderbolt 2 Ports
Four USB 3.0 Ports, One HDMI 1.4 Port
Supports up to Three 4K Displays
802.11a/b/g/n/ac Wi-Fi, Bluetooth 4.0
Unique Compact Cylinder Design
Mac OS X 10.9 Mavericks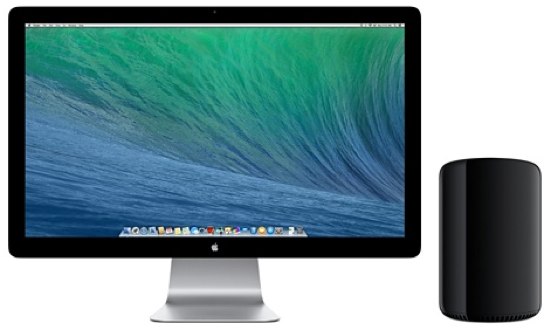 To get the simpler questions out of the way, this Mac Pro is fast. For general computing needs like webs surfing, email, and office tasks (read: things that the Mac Pro is overkill for), it flies. It's also highly unnecessary. We also took Final Cut Pro X to task. The newest version, 10.1, is optimized specifically to take advantage of the Mac Pros multi-core architecture and dual GPUs.
We obviously do a lot of video here at Gear Live, and we were previously using the top-of-the-line 2013 iMac with a Fusion Drive on the inside. The iMac performed well, but would definitely struggle and beachball every now and again during the editing process, while also taking forever during export.
With the Mac Pro, editing is fairly seamless. I won't say that it is absolutely perfect, as editing high definition video is an intensive operation, but it's much, much better during the editing process, and also much faster during the all-important export. There is no waiting time when applying effects or transitions, which is another time saver when you are trying to bang out some footage for uploading to YouTube or elsewhere.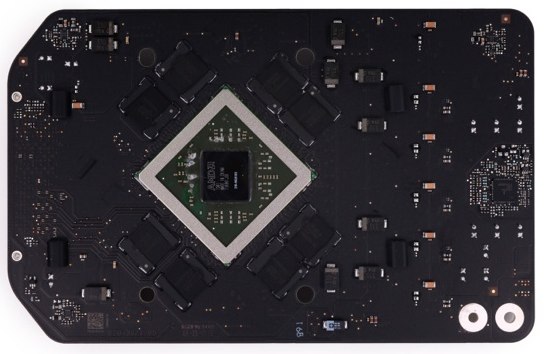 AMD FirePro D300 GPU - iFixit
One tip for video editors who want to do something else with their Mac while waiting for an export to finish, you'll want to prevent Final Cut Pro X from using App Nap. App Nap is a feature of Mavericks that will slow down, or halt, the processes of apps that are running in the background. If you're exporting footage and switch over to Safari or iTunes while you wait, this could be problematic. Simply find the Final Cut Pro X app in your Applications fold, right-click it and select Get Info. Then, check the Prevent App Nap box. Once I did this, exports went even faster, as I typically do them in the background.
Truth be told, though, not many apps are coded to take advantage of the Mac Pro dual GPUs today, and this is where a lot of the power comes from. Apple has certainly optimized plenty of its first-party apps, and some quick developers have made popular apps compatible (like Pixelmator,) and more are on the way. For now, though, it's an investment in the future if you are hoping for every app that you own to take full advantage of the power that the Mac Pro holds.
The machine is certainly quiet. In fact, the Western Digital My Book Thunderbolt external hard drive that I have connected to it is louder than the Mac Pro itself. That's saying something.
4K SUPPORT
Apple has touted the fact that the new Mac Pro can power up to three 4K displays simultaneously over Thunderbolt 2 (there's also an HDMI port that can power 4K as well.) These panels offer a resolution of 3840 x 2160--four times the resolution of a 1080p display. While this is true, it should be mentioned that there are some driver issues that mean you can't just pick any 4K display that you want and get optimum performance. For example, if you go with the Sharp 32" 4K PN-K321, you get a huge display that can run at 60Hz in 4K mode. That's optimal. We also tested the Dell UP2414Q, a 24-inch UltraSharp 4K display that will only run at 30Hz when in 4K mode, but will run at 60Hz in 1080p mode. Obviously, Apple hasn't implemented a general way of sending a 4K signal to displays that is universal, which is a bit of a downer. You basically have to go with the Sharp display, or a similar ASUS display, otherwise your experience is dumbed down. We are hoping that an update to OS X Mavericks will fix this very soon.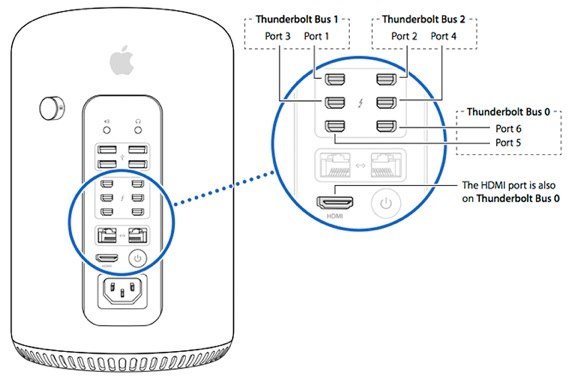 The other issue that is there is no HiDPI scaling mode for 4K yet. In other words, everything is show natively, which means that movies and images look drop-dead gorgeous, but text is insanely small. Compare that to the experience you get on a MacBook Pro with Retina display (see our MacBook Pro with Retina display review,) where it renders things like text and menus at 4x their normal resolution (so, 2x in each dimension) with the end result being that it is a more usable experience. We're sure this will be coming, likely when Apple releases its own 4K Thunderbolt display.
MAC PRO CONFIGURATION OPTIONS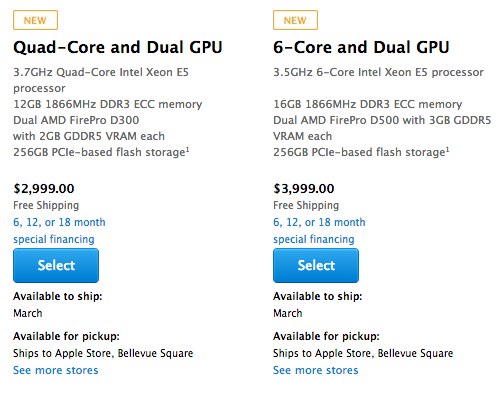 The Mac Pro is the most configurable Mac in the entire Apple line-up. You start with two base models, and go from there. The first is a $2,999 Mac Pro that ships with a quad-core 3.7GHz Intel Xeon E5 processor, 12GB of RAM, 256GB PCIe SSD storage, and dual AMD FirePro D300 graphics cards (each with 2GB of VRAM.) The higher specced model ships with a 6-core 3.5GHz Xeon processor, 16GB RAM, dual AMD FirePro D500 graphics cards (each with 3GB VRAM,) and the same 256GB SSD as the other model.
When you choose one of these two Macs on the Apple Store online, you then get a bunch of configuration options to choose from. For the base model, you have the following options:
Processor: You can bump up to a 6-core 3.5GHz for $500, 8-core 3.0GHz for $2,000, or 12-core 2.7GHz for $3,500. If you start with the 6-core Mac Pro, then those upgrade options cost $500 less.
RAM: You can go to 16GB RAM for an extra $100, 32GB for $500, or 64GB for $1,300. If you start with the 6-core Mac Pro, those upgrade options cost $100 less.
Storage: If you need more storage capacity, you can get 512GB for $300, or 1TB for $800. The cost is the same for both models.
Graphics: Upgrade to dual AMD FirePro D500 GPUs for $400, or dual D700 GPUs for $1,000. If you start with the 6-core Mac Pro, you can upgrade to the D700 for $600.
CONCLUSION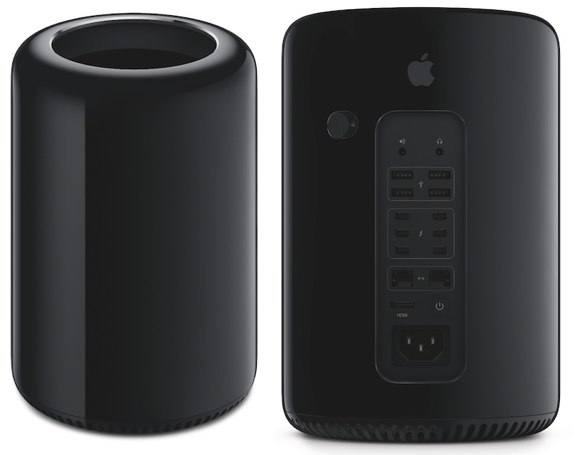 We've been waiting almost five years for Apple to do something radical with the Mac Pro. In the interim, we did away with the big, bulky machines, in favor of the high-end config iMac and a MacBook Pro with Retina display. We just weren't willing to sit idly by as better hardware was released, especially for single-threaded computing.
The new 2013 Mac Pro now fills a hole that the previous one no longer could. It offers those who need more core, more RAM, and more GPU performance a great option. For example, the latest version of Final Cut Pro X is optimized to split its work across the multi-core architecture, allowing the user to work more efficiently. In fact, even something as simple as importing photos in iPhoto is multi-threaded now. In other words, the Mac Pro now offers greater performance in many tasks.
Apple has also gone all-in on bringing the GPU to the forefront, as relying solely on the CPU (even ones as powerful as the Ivy Bridge Xeons) would leave much more average performance increases. With the dual Mac Pros, Apple is looking to provide the large performance gains expected from the hype of a new system like this. With two GPUs by default, one can be dedicated to compute work while the other powers display graphics, for example.
Supporting up to 64GB of RAM, paired with ultra-fast PCIe storage rounds out the speed increases that make the Mac Pro sufficient for many varied types of professional workloads.
On the outside, the new Mac Pro's design is striking, and we like it. In order for desktop computing to evolve, the large, bulky chassis enclosures need to become a thing of the past. Apple has clearly spent a long time thinking about this issue, and the result is quiet and compact while sporting class-leading power. Just as much thought went into the internals, packing all that power neatly into a small area. The thermal design with the shared heatsink is smart, and the large fan keeps the noise level to a minimum.
At the end of the day, the new Mac Pro is a worthy upgrade from the previous, aging model. Apple has done a great job densely packing the power of a world-class workstation into something the size of a large coffee can. Gone is the bulk, and in return, we get an eye-catching device that looks as good as it performs. If you're a professional who needs strong computing power and you like OS X, no longer is the Mac Pro the solution that you've grown to love to hate--it's simple a solution that you'll love again.
You can pick up your own Mac Pro now. APple has about a 6-8 week delay on shipping them out, but if you order from B&H Photo, you'll get it much faster (and likely, tax-free!)
© Gear Live Inc. – User-posted content, unless source is quoted, is licensed under a Creative Commons Public Domain License. Gear Live graphics, logos, designs, page headers, button icons, videos, articles, blogs, forums, scripts and other service names are the trademarks of Gear Live Inc.