Find Our Latest Video Reviews on YouTube!
If you want to stay on top of all of our video reviews of the latest tech, be sure to check out and subscribe to the Gear Live YouTube channel, hosted by Andru Edwards! It's free!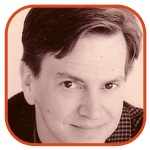 Tweet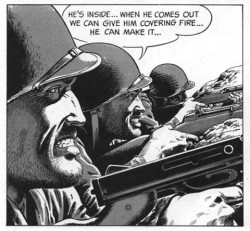 To a generation or so of comic book fans, Russ Heath is a name most-associated with DC Comics' war titles, specifically Sgt. Rock, but he's had a long and varied career that didn't always include drawing tank battles and G.I.'s blasting Nazis. Ralph Reese started out working with Wally Wood, worked with Neal Adams' Continuity Associates, and later at Valiant, all in an impressive freelance career. Now they both could use a little help.
Tom Spurgeon has talked about this on more than one occasion (here's a link to one of the latest) and so has Valerie D'Orazio.
Click to continue reading Russ Heath and Ralph Reese: Help 'Em Out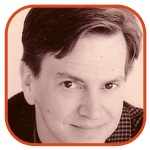 Tweet
Posted by Tom Mason Categories: Conventions, Editorials, Movies, Television, DC Comics,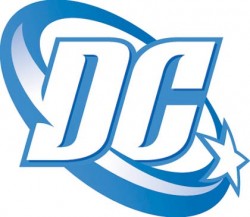 Apparently, there's some kind of comic book thing going on in San Diego. I hope enough people show up and it catches on. I never get tired of hearing jokes like that!
The talk of the convention – or I should say one of the talks of the convention – is that DC is getting ready to make the move to the West Coast where its big daddy Warner Bros. is located. It makes a lot of sense, from a dollars-and-cents pov. You can get a lot done faster if your comic book resources are right next door to your movie resources and you don't have to fly everyone out for meetings or Skype 10 times a day. More importantly, if DC's on the Warner lot or in a building that Warner is already paying for, they could eliminate the overhead on their NY offices (which could be a huge annual chunk of bucks). And since corporations routinely operate this way, it'd be a sneaky way to have mass layoffs of the people who can't or won't go and get rid of any entrenched deadwood that'd be too hard to dismiss without cause.
Click to continue reading Weekend Reading: Comic Con International, Gene Colan and The Inferior Five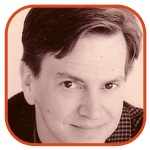 Tweet
Posted by Tom Mason Categories: Editorials, DC Comics,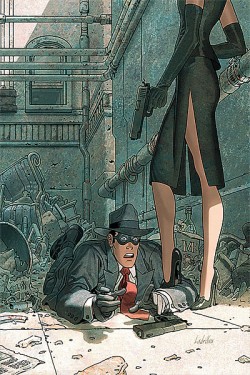 If you've ever wanted to stroll through an author's personal library, but they won't let you into their house (and with good reason), Harlan Ellison's wife Susan offers the next best thing: a book purge from his private collection.
There's enough good stuff written about Mr. Ellison available on the internet that you don't need me to cut and paste a bunch of it to reaffirm the award-winning author's place in literature and pop culture. From books to movies to TV to comic books, he's really done it all and won awards for lots of it. Mr. Ellison and I have had about a dozen fun and friendly encounters over the years and it was always a pleasure to hear his voice at the other end of the phone.
"What the hell are you doing now, Mason?" he'd call out teasingly and we'd take it from there. Very enjoyable conversations about the state of the world, the comic book industry, and even one about the history of, if I remember correctly, the Golden Age super-hero, Cat-Man.
Click to continue reading Harlan Ellison's Book Purge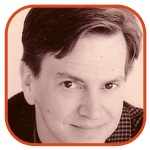 Tweet
Posted by Tom Mason Categories: Editorials, DC Comics, Independent,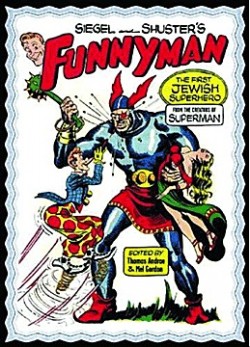 After many years of struggle, Jerry Siegel and Joe Shuster hit the comic book jackpot with their creation Superman, only to see it slip away from their control and for DC Comics to keep not just the rights but almost all the money as well. One of the many dark chapters in the building of the comics industry – businesses profiting by taking away the rights of creators.
Frustrated by their attempts to negotiate with DC, and out of work when DC dumped them for complaining (and filing suit), they did what creators do: created another property where they were determined to get a better deal for themselves.
The project was Funnyman, a red-headed TV comedian who fought crime. Unfortunately, the self-titled comic book, for Vince Sullivan's Magazine Enterprises, lasted just 6 issues in 1948 and a companion newspaper strip defined the term short-lived.
Click to continue reading Jerry Siegel and Joe Shuster: Funnyman
Read More

| Feral House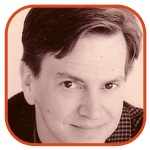 Tweet
Posted by Tom Mason Categories: Editorials, DC Comics,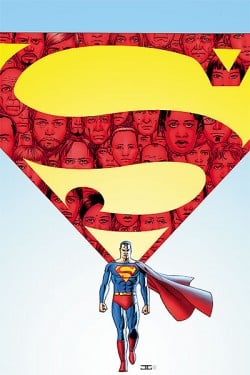 Superman's been grounded. No he hasn't been sent to his room without supper, but the Man of Steel is taking a walking tour of America. The year-long adventure, called "Grounded" began in Superman #700 but really picks up steam in #701. It's written by J. Michael Straczynski and illustrated by Eddy Barrows. Supes will be using his cross-country hike to try to reconnect with the people of this great nation.
Naturally, he's keeping a diary and we got our hands on some excerpts. Up, up and away…on foot.
Day 6
Batman called to laugh at me. Said even Terra-Man used a horse. Ha-ha. Prick.
Status: Facebooking an embarrassing panel of Bruce and Dick getting massages in old comic book.
Lunch: A&W's Uncle Burger. Stupid name for a pretty good burger.

Day 9
Met another guy who wants to talk about the "brown skins." I said he had me confused with Green Lantern. I don't see skin color. I have enough trouble with Kryptonite's colors. And don't get me started on the Amazing Technicolor Dreamcoat.
Click to continue reading Grounded: Superman's Walking Tour Diary
Read More

| Superman Grounded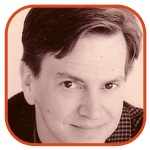 Tweet
Posted by Tom Mason Categories: Editorials, Movies, Reviews, DC Comics, Marvel Comics,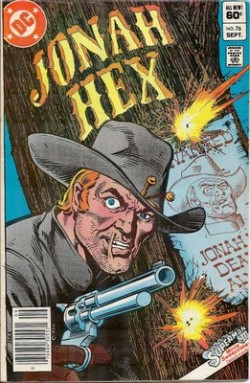 Well, I reckon it was bound t'happen, pardners. Jonah Hex has opened to just a $5 million weekend, meaning that it's officially been labeled a bomb. Too bad. Jonah was – and is – an iconic comic book property, the creation of John Albano and Tony DeZuniga. Maybe the filmmakers should've gone with a more traditional western approach like The Outlaw Josey Wales or 3:10 From Yuma instead of the steampunkian world of The Wild Wild West movie? Who's to say what would've worked, but the new one sure doesn't.
The problem now is that because Jonah Hex is based on a comic book (not a graphic novel as some lazy reporters simply retype) – but one that none of the general public has heard of before – it'll get tagged as a comic book movie, and worse, a failed comic book movie. And finger wagging along the lines of "is the comic book movie fad finally over" will start appearing as breathless know-it-all headlines in newspapers no one reads anymore.
Click to continue reading Jonah Hex And The Lost Weekend
Read More

| Deadline Hollywood Daily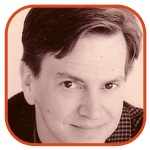 Tweet
Posted by Tom Mason Categories: Editorials, Movies, Reviews, Television, DC Comics, Marvel Comics,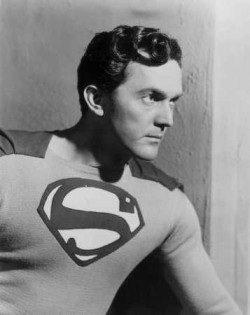 Hey Librarians! Pack up your decimals of Dewey and head out to Washington DC, where all the cool graphic novels are going to be talked about. It's the American Library Association's annual conference, and it's set for June 24-June 29. Early Word has the word on all the graphic novel programming just waiting for you.
Dave Simons: It's been one year since the death of the acclaimed artist Dave Simons and his friend Daniel Best and 20th Century Danny Boy remembers him with stories and quotes, like this one: "Here is my recipe for a winning comic book cover: Flame. Gorilla. Skull. Hot chick. Other elements of interest: Nazis, dinosaurs." I would totally buy Flaming Gorilla Skull Chick Vs. Nazi Dinosaur #1 from any publisher. Even at $3.99. I'll even write it. And I wish Dave was still alive to draw it.
Superman Serials: The Bijou Blog takes a look at those Superman movies that most comic book fans don't care about: the old serials like Superman and Atom Man Vs. Superman, starring Kirk Alyn. "His Superman seems stern at times, then happy-go-lucky, but also happens to take a sadistic glee in cracking two crooks' heads together. The cape appears to give him some trouble. Alyn is seen to push it out of his way several times and he never runs while in costume, doing more of a ballet leap to keep from tripping."
Click to continue reading Weekend Reading: Bob Bolling, Dave Simons, Kirk Alyn and Chuck Jones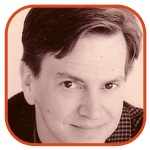 Tweet
Posted by Tom Mason Categories: Editorials, Reviews, DC Comics, Image Comics, Marvel Comics,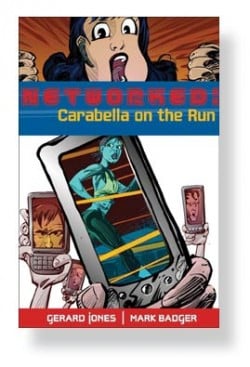 To create the Ultraverse, Chris Ulm convinced seven comic book creators to meet him and Malibu's editorial staff in Scottsdale, Arizona back in September 1992. Malibu Comics' Ultraverse flew into print in June 1993, led by those seven: Mike W. Barr, Steve Englehart, Steve Gerber, James Hudnall, Gerard Jones, James Robinson and Len Strazewski.
Click to continue reading Ultraverse: Checking In With The Founders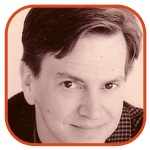 Tweet
Posted by Tom Mason Categories: Editorials, DC Comics,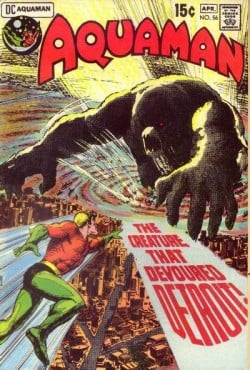 Aquaman! Welcome, your highness. Thanks for coming. Ted Belvedere, Department of Surf And Turf. Namor, that saltwater prick, didn't even return my call. You want a shrimp cocktail before we start? I don't think it's anyone you know.
Can I call you Mr. Curry? Great. As you know there's oil all over the Gulf of Mexico, thanks to BP's "What Could Possibly Go Wrong?" emergency planning. Those gas-huffing boobs make Tea Party candidates look like Rhodes scholars. BP's latest plan is to shove all the dead ducks into the pipe as a two-fer hail Mary: plug the hole and hide the damage. But the "Lucky Duck" won't work any better than the Big Hat, the Wishful Thought or the Cork of Destiny.
We need a hero. A professional. We need the fashion-forward green-and-orange of the King Of What'll Be Left Of The Seven Seas. That's where you come in, Arthur.
Click to continue reading Aquaman Saves The Gulf?!
Read More

| The Boston Globe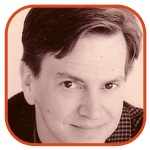 Tweet
Posted by Tom Mason Categories: Editorials, DC Comics, Independent, Marvel Comics, Viz Media,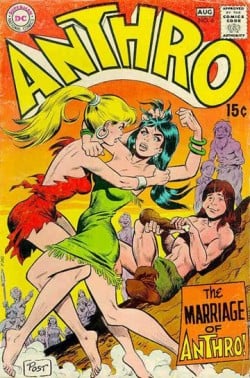 Happy holiday weekend for those of us in the US who love a long weekend, some grilled meat and a cold Pabst Blue Ribbon. And since there's no football game, you can spend that extra time surfing the internet. Here are some links to fill the game-less void:
Vertical: Given the significant changes at manga publishers Viz (massive layoffs) and CMX (DC shuttered the division), it's interesting to read about someone with a little different take on events. Rod Lott at Bookgasm has a chat with Ed Chavez at Vertical (publishers of Osamu Tezuka's Black Jack, among other things). "While I will always say there is plenty of grade-A material to license from Japan available, access to those properties has become quite limited over the last three to four years. I find it curious that this lack of competition has occurred during the recent decline of the U.S. manga market."
Steve Perry: The death of the Thundercats and Timespirits writer is just about the saddest way for a comic book creator to go. Johnny Bacardi exchanged correspondence with him recently, but I don't want to spoil his story, except to say that it's one you'll want to read.
Click to continue reading Weekend Reading: Vertical, Fantastic Four, Cowboys & Aliens and Lost
© Gear Live Inc. – User-posted content, unless source is quoted, is licensed under a Creative Commons Public Domain License. Gear Live graphics, logos, designs, page headers, button icons, videos, articles, blogs, forums, scripts and other service names are the trademarks of Gear Live Inc.