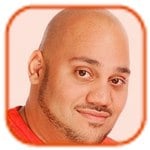 Tweet
Posted by Andru Edwards -
Categories: Hot Deals, PC / Laptop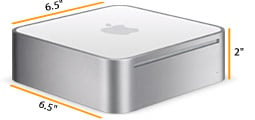 Well, that was certainly quick. If you weren't one of the ones that felt the need to preorder the Mac mini the second it was announced, you are in luck if you were thinking of buying one with some Apple customized features. After less than a week at retail, Apple has lowered the price for the WiFi, Bluetooth, hard drive and RAM add-ons. For example, you can now get both integrated Bluetooth and AirPort Extreme for a cool $99, or a 512 MB RAM upgrade for $75. Now, yesterday they had also bumped up the speed of the Superdrive from 4x to 8x - but when I looked again today, it was back to 4x. Why must you toy with us, Apple? Why?
Read More

| Apple Mac mini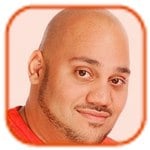 Tweet
Posted by Andru Edwards -
Categories: Misc. Tech

I'm sure you've been there - you are prescribed a certain medication which you need to take at certain intervals during the day. Of course, you are late on taking your last dose, or miss one completely - so you wonder if you should skip the last one or double up the next time. Well, fret no more. SIMpill is a medicine bottle that monitors how often pills are being taken by SMS, and it can send you a text message if you have missed a dose! Each time the bottle cap is removed, a message is sent to a secure SMS server. If it start seeing discrepancies between the bottle being opened and your prescribed amount, it will alert you.
Read More

| AllAfrica via Gizmodo

Tweet
Posted by Oscar M. Cantu Categories: Hot Deals, PC / Laptop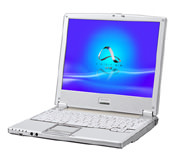 Sharp has announced the availability of its anticipated Actius MC24 notebook computer. This notebook computer is designed with the home/small office user in mind; it is a fully equipped notebook computer including a 60GB hard drive for a selling price of $999.00. The list of features are the following:
AMD Mobile Athlon XP-M 2400+ with AMD PowerNow!TM Technology Support
Microsoft Windows XP Home Edition Service 2 with Advanced Security Technologies
512MB DDR SDRAM (PC2100) standard (expandable to 768MB)
12.1" XGA TFT LCD (1024 x 768), 16 million colors
60GB Hard Drive
CD-R/RW&DVD-Rom drive
4 USB 2.0 ports, Audio output jack, External mic. jack, External Display Connector
56kbps fax modem (V.90)
Wireless (IEEE802.11b/g, 11 channels), 100BASE-TX/10BASE-T
Approx. 2.0hrs Battery Life
5.07 lbs
As you can see, this is a pretty good deal at less than $1000. Sure some parts could be better, but at $999 almost anyone can afford this stylish notebook.
Read More

| Sharp
Tweet
Posted by Categories: Peripherals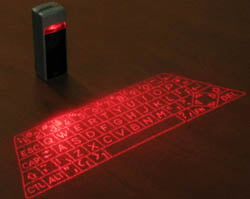 No more tiny, cramped PDA keyboards, or fumbling for the right keys on your cell phone. Roughly the size of a disposable lighter, the Virtual Laser Keyboard emits a keyboard onto any surface, and infrared sensors determine where your fingers are pressing. Other than not really being there, the keyboard acts just like a real one. Completely configurable, right down to the sound of clicks to simulate keypresses, the virtual keyboard is perfect for anyone who needs a small compact keyboard for their portable device. The Virtual Laser Keyboard can be yours for the low price of $200.
Read More

| Virtual Laser Keyboard

Tweet
Posted by Oscar M. Cantu Categories: Home Entertainment, Video Games

Sony's newest and highly-anticipated microprocessor code-named Cell will run at a blazing 4.6 gigahertz. Next month, IBM, Sony and Toshiba will present four technical papers at the International Solid State Circuits Conference. This chip is a multicore 64-bit processor capable of massive floating point processing. What this translates into is massive operating power from a single chip. Sony plans to use this processor to power its next generation Playstation as well as home servers for broadband content and high-definition televisions. It probably will not be long until we see this kind of processing power on our home desktops as we see processing speed increase at almost a weekly basis.
Read More

| Team Xbox
Tweet
Posted by Categories: Home Entertainment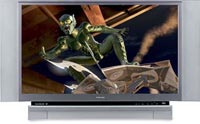 The only way to have the biggest and best Super Bowl party on the block is to collaborate the food and fun with high definition. If you haven't purchased an HDTV yet, you may need some help with choosing what is best. As the HDTV market grew tremendously in 2004, the choices grew by a large margin. CNN Money has an article that aims to provide some insight on the myriad of options that are out there, as well as how retailers are likely rake in the profits this week.
Read More

|CNN Money
Tweet
Posted by Categories: Misc. Tech

Google Labs announced plans to implement a new video search, unlike any search offered by other web portals. By offering the option to search recent television programs online using the closed captioning embedded within video, users can now find content from major distributors. Still in its beta stage, this new type of search will be in competition with other video searches from major search engines, such as Yahoo! video search. I know that Yahoo's video search has been widely used since it's release in December. Every day, my personal server recieves several hundred hits while searching for video content on my site. Hopefully, these new video searches will help users in much the same way that Google's library text search and journal article search beta have been helping people. For a full list of all beta projects, click the link below.
Read More

| Google Labs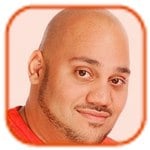 Tweet
Posted by Andru Edwards -
Categories: Home Entertainment, Hot Deals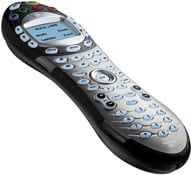 They have 700 of these new activity based remote controls to give away, and you can score one simply by filling out a very short survey on their site. We recently reviewed the Harmony 688, and walked away impressed. Logitech has a good thing going with the Harmony remote line. If you have multiple components and use a bunch of remotes to control them, this contest is for you - that is, if you are at least 18 and live in the United States.
Read More

| 100 Remotes a Day Giveaway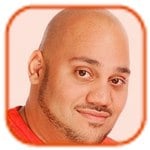 Tweet
Posted by Andru Edwards -
Categories: Music

By now you must know of our love for sites like MP3Search.ru and AllofMP3.com. It feels good to pay what feels to be a reasonable amount for music, doesn't it? What about the legalities of it? The Wall Street Journal takes a look at just that in a recent article. Will it deter anyone from using the sites? Highly unlikely.
Read More

| WSJ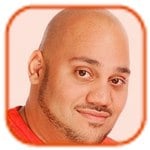 Tweet
Posted by Andru Edwards -
Categories: Movies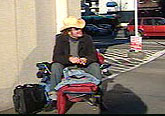 We know how excited a lot of you readers are about the upcoming release of Star Wars Episode III: Revenge of the Sith. We really do. But guys, it doesn't open until May. This means that you can continue living a full, happy, normal life until then! Now, someone go down to the Cinerama in Seattle and tell that to Jeff Twieten. You see, for some reason, Jeff has decided to wait in line for the new flick, which includes Darth Vader's first big screen appearance in 20 years or so, starting now. He plans to wait in line for five months, and isn't even sure if the theater he is waiting at is going to be showing the movie!
Read More

| KOMO
© Gear Live Inc. – User-posted content, unless source is quoted, is licensed under a Creative Commons Public Domain License. Gear Live graphics, logos, designs, page headers, button icons, videos, articles, blogs, forums, scripts and other service names are the trademarks of Gear Live Inc.