Find Our Latest Video Reviews on YouTube!
If you want to stay on top of all of our video reviews of the latest tech, be sure to check out and subscribe to the Gear Live YouTube channel, hosted by Andru Edwards! It's free!
Tweet
Posted by Devin Categories: Accessories,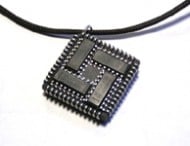 Love electronics so much you wish you could wear 'em? Probably not, but just in case you ever get the urge, check this out. From a gold microprocessor "Bling" necklace, to a diskette handbag, to an alluminum wallet, they've come up with some pretty creative stuff for both men and women. If you're interested, you can check out www.fractalspin.com to purchase a few pieces.
Read More

| ZelleStyle
Tweet
Posted by Devin Categories: Music, Portable Audio / Video,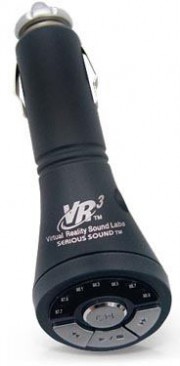 Meet the VR3 MP3 FM Modulator. While there are quite a few FM transmitters on the market today, the VR3 has the ability to turn any flash drive into an audio player. Simply load your flash with as many songs as you can, plug it into the VR3, then plug the VR3 into your cars' cigarette lighter port and listen to your favorite songs on any FM frequency you desire. It also has an audio-in jack if you feel the need to listen to DVD's, CD's, or any other audio players while you're on the open road. A similar model came out last year in Japan that sold for $115, but you can get this model for only $30 and finally have a use for those extra flash drives you've got lying around collecting dust.
Read More

| engadget

Tweet
Posted by Sparky Categories: Accessories, PlayStation 3,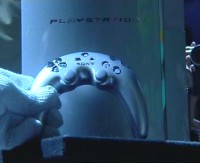 The forums over at Gamespot are abuzz with a new photo of the Sony PS3 controller. The shot makes it look like the controller is about half the size of most of todays controllers. There is a lot of discussion as to if this is all a trick perspective shot, with the gloved hand lending to that theory. Is it a farce, or could the PS3 controller end up being half the size of the Xbox 360's?

| Gamespot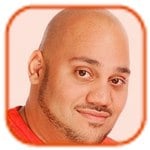 Tweet
Posted by Andru Edwards -
Categories:
Syndication is powerful and amazing. Microsoft tried with Active Desktop and Channels in IE 4.0 and 5.0 back in 1997. He jokes about the success of Active Desktop. In 2002 Don Box blogged on GotDotNet.com, and in 2003 they hired Scoble. In 2005 feed are everywhere. MSN Spaces has 15 million users, 1500 MS employee blogs, MSN Search feeds on every query, and hundreds of feeds on microsoft.com, MSDN, and other Microsoft sites.


This all started with browsing, with the blue underlined text. After browse came search. Search is still being innovated to this day. Today, the thing is subscribe. Subscribe is more than a feature, it is really a new approach. I can subscribe and say what is interesting to me, and the machine will bring me what I like. People will keep browsing and searching, but it is how they will find more things to subscribe to. Compared to the first time someone sees a TiVo. It changes the way you use the Internet. Full summary after the jump.
Click to continue reading GnomeDex 5.0: Longhorn Hearts RSS, Dean Hachamovitch Keystone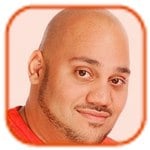 Tweet
Posted by Andru Edwards -
Categories:
Dave is the opening Keynote at GnomeDex, and he believes that it should be done non-conference style. His idea is that his Keynote should be more like a discussion rather than a speaker/audience type of relationship.


In the mid-90's he wrote an essay called Bill Gates vs The Internet. The Internet has changed the way software vendors do business, as it has simplified the way a lot of the things that we do today are done. eBay, Yahoo!, Amazon all competing with each other in one way or another, yet the platform they use is the same - the Internet. None of these companies developed the platform, so it puts them all on an even keel. That is the power of the Internet.


Talking about eBay, they thought they would be absolutely dominant, going so far as to purchase PayPal to keep everything internal. Nowadays, people are realizing that they don't need eBay as much as they thought they did. I actually agree, as nowadays everyone I know uses the free Craigslist rather than going to eBay to pay their exorbitant fees.


Dave says the W3C was ineffective. There has not been any effective evolution of the web. Not that they are stupid, but rather the dominant Internet vendor had the power to say whether the net would evolve or not. This is why the people took the power back through things like RSS.


After about 20 minutes of not being able to grab an IP address from the wireless network (too many PC's!), Dave was finally able to get on the network. Now he begins his demo - an OPML based blog publishing tool. Shows the backend of ScriptingNews. He can edit an OPML file, and it edits his website in realtime, and it is ridiculously quick. He then showed how he edits his Smart Blogs area, again just using an OPML file and clicking save. It really has the look and feel of just typing in a text editor and clicking the save button - it's that quick. Even changing the header graphic is as simple as browsing to a file and clicking on it. Refresh the browser and it is there. Truly amazing.


Even better, Dave added an MP3 Podcast to the blog simply by browsing to and selecting an MP3 file. The blog publishing software then creates the RSS feed with all appropriate enclosures. This really looks like it will allow anyone to do these things that previously only us techies have been able, or willing to do.


The network is once again down, so Dave discusses why this is open source - which is fantastic news. Users can add on features, such as a spell checker. Dave thinks this is the next phase of the web. News changes, but there are plenty of things that don't change, such as the names of the Major League Baseball teams. He is trying to develop a tool for both needs - changing information as well as information that does not change. He does not think that you can get top of the line development for something like this from a corporate environment. Open source is the way to go. There are about 60 testers using this - he hoped to launch it at Gnomedex, but it isn't quite ready. He will open the doors when he knows that at least 80% of those who download will have a great experience with it and be excited about it. They are working on both a Windows and Mac version - Windows is farther along, but they will have both.


Someone asks a question about why Dave doesn't have permalinks, comments, trackbacks. Dave responds that he does have comments, but only on posts where he wants to allow them. Usually, they are all flames. Flamers want to get you entangled in their mess. He doesn't want to put up with that, but he doesn't have an objection to trackbacks, comments, etc. on a blog.


Someone asks what Dave was demoing, invoking laughter. He forgot to name the product. It is called "The OPML Editor". Someone else asked about the name. No one knows what OPML means, less than 1 out of 100 people. That could be a turn off. Dave says that people don't know what RSS is either, but if you use NetNewsWire, you don't need to know what RSS is even though you are using it.


After talking about The OPML Editor a bit more, Dave ended the keynote by having everyone sing Yellow Submarine. No, I did not participate. Not a Beatles fan.
Click to continue reading GnomeDex 5.0: Dave Winer Keynote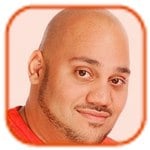 Tweet
Posted by Andru Edwards -
Categories: Corporate News, PC / Laptop, Software,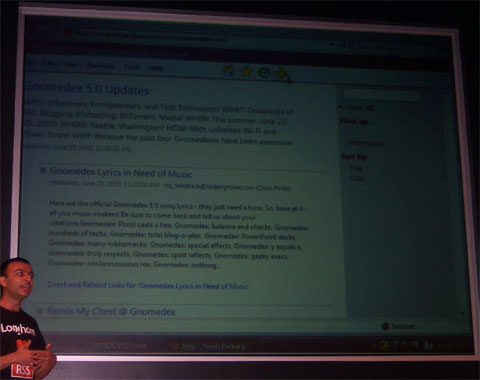 Okay, I just snapped these pictures while sitting here at GnomeDex 5.0. Check this out, what you see above is Internet Explorer 7 running on a very new Longhorn build. When you visit a website that has an RSS feed, an orange and white RSS button will appear in the toolbar. If clicked, you will then be brought to the screen you see above. You can increase and/or decrease the size of each post, as well as subscribe to the feed. IE 7's visual implementation of RSS is what I would call extremely similar to Tiger's Safari 2.0. That being said, I am really happy about the fact that Longhorn will be featuring a central feed location. In layman's terms, any feed subscribed to will be stored in a central location within the OS. The beauty of this is that any application can be written to access this feed with your permission. As an example, Dean Hachamovitch showed how the Longhorn screen saver displaying a slide show of images downloaded from an RSS feeds enclosures. When showing the images, there was a caption on the bottom right which consisted of the first paragraph or so of the blog post in which the images were sent in. Read more at my post on Venturus. Here is an image of the Longhorn screen saver using RSS: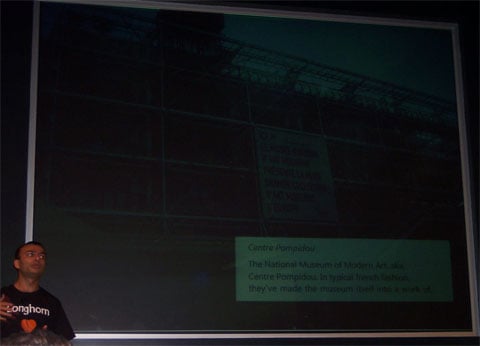 Tweet
Posted by Sparky Categories: Misc. Tech,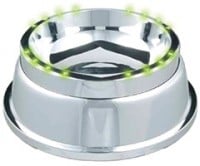 The discovery store just dropped what is quite possibly the most ridiculous gadget yet - the LED pet water bowl - on the unsuspecting masses. I had no idea such a thing could exist - nor do I really know why such a thing needs to exist. It's a pet water bowl that has a ring of green LED's (what - not blue?) surrounding the top that light up when the bowl is less than 1/4 full. I mean really - can't people tell if the bowl has water in it by looking at it? Do they really need to spend extra money to add lights? Not to mention that Rover would be pretty freaked out by the concept of drinking from a bowl that lit up and blinked at him. Then again, maybe that is reason enough to give it a buy.

| Discovery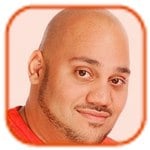 Tweet
Posted by Andru Edwards -
Categories:
Chris Pirillo opened the show, welcoming everyone to GnomeDex 5.0. Below are some of the key points of his opening. Interestingly enough, the Bell Harbor Conference Center here in Seattle had to upgrade their WiFi system for all the GnomeDexers. The best part was his mom came down to start snapping images, distracting Chris and causing a breakout of laughter. Chris took it in stride, walking over to give his mom a kiss. The GnomeDex WiKi is up as well.


Thank You's:

Ponzi, Lockergnome's CEO
Bob Fogarty, LockerGnome's Editor
Jake Ludington, Chris Pirillo Show Partner
Steve Gillmor, The First IM
LockerGnome Contributors
GnomeDex Sponsors
Every Single Gnomedexer
Ground Rules:

Always use the microphone
Blog, Cast, Snap, Share
Take extended rants/agendas outside
Play nice, play fair
No unnecessary upload/download
Click to continue reading GnomeDex: Chris Pirillo Opens The Show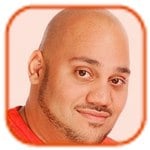 Tweet
Posted by Andru Edwards -
Categories:
GnomeDex will be under way in just under five minutes. Lockergnome.com's yearly People Aggregator aims to have their best year yet, with influential Internet minds, a large group of entrepreneurs, and a few announcements as well. I expect Attensa to announce a Microsoft Outlook RSS reader at some point. Check back with Venturus throughout the day for live GnomeDex 5.0 updates.
Click to continue reading Live Blogging GnomeDex 5.0
Tweet

An online research company called Entertainment Media Research has recently released the 2006 Digital Music Survey. The survey, using information collected from 4,000 people, says that 35% of consumers now download tracks legally thru the Internet. They estimate the number will continue to climb and eventually surpass the 40% who continue to obtain music illegally online. The main reasons cited for using legal downloads were fear of prosecution, viruses, and low quality.
Read More

| Reuters
© Gear Live Inc. – User-posted content, unless source is quoted, is licensed under a Creative Commons Public Domain License. Gear Live graphics, logos, designs, page headers, button icons, videos, articles, blogs, forums, scripts and other service names are the trademarks of Gear Live Inc.