Tweet
Posted by Sparky Categories: Accessories, PC / Laptop, Peripherals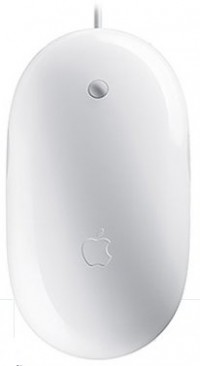 Apple today finally caved to it's millions of users who make daily use of a two button mouse with OSX and introduced the Apple Mighty Mouse - along with some significant improvements to a normal mice of a non-mighty variety. The Mighty Mouse has the look and feel of a normal Apple mouse, but hidden touch sensors record the right and left click events from the mouse. The Mighty Mouse also features a touch sensitive ball at the top enabling scrolling in any dimension easily with the touch of a finger. Finally the Mighty Mouse is pressure sensitive meaning you can gently squeeze the entire mouse in your hand
has two side triggers to zoom in and out in applications such as Final Cut Pro or Photoshop or presumably navigate forward and back in a browser. The Mighty mouse will work with OS X 10.4.2 and above, as well as With Windows 2000, XP, and supposedly Vista. Years ago Microsoft "built a better mouse" when they introduced the scroll wheel - could this be yet another innovative step in the mouse world? I won't know for sure until the one I just ordered to replace my Logitech MX900 Bluetooth two button mouse that I've been using with my Powerbook. What do you think?
Of course, this will change many opinions on why Apple made a one button mouse in the first place.
Read More

| Apple Mighty Mouse
Tweet
Posted by Alex Grahmann Categories: Misc. Tech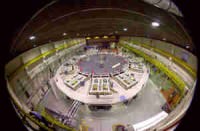 Last week, scientist in Nevada successfully tested the Atlas pulse-powered generator, designed to certify the power of nuclear weapons, by imploding a small aluminum cylinder using what amounts to about four times all the electrical power on Earth. According to the press release, the Atlas will be used not only to crush tin cans, but to "characterize the behavior of materials at the extreme conditions in an exploding nuclear weapon." The ability to reproduce these types of experiments so efficiently will be a move toward advancing the science of nuclear weapons without resorting to underground nuclear explosions. We should all keep our fingers crossed for a can-crushing home version.
Read More

| National Nuclear Science Administration
Tweet
Posted by Alex Grahmann Categories: Accessories, Internet, Movies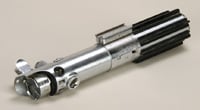 The original lightsaber prop used by Mark Hamill as Luke Skywalker in 1977's Star Wars grabbed a closing bid of over $200,000 at a recent auction of Hollywood memorabilia. The auction, with both live and online bidders, took place in Beverly Hills, California, and featured 550 different movie props, some from the personal collection of Star Wars producer Gary Kurtz. Despite being made up of only a metal tube and some rubber, the lightsaber sold for far more than the $60,000 to $80,000 that was expected. Darth Vader's original saber also sold, but for a much smaller sum of $118,000.
Read More

| Profiles in History
Tweet
Posted by Alex Grahmann Categories: Driving, Portable/Mobile, Wireless
Nintendo has chosen to begin the mainstream hype of its upcoming Wi-Fi service with a 1 minute trailer that will be run before copies of The Fantastic Four, The Dukes of Hazzard, Bad News Bears, Stealth, Charlie and the Chocolate Factory, and The Island. The trailer, titled "The Sad, Agonizing Tale of Bhunvan Ganguly," will run between July 29th and August 25th. Rather than a detail-laden explosion, Nintendo has decided to employ some cinematic subtlety to generate interest. However, the ad does feature footage of the online Mario Kart DS and stresses world-wide connectivity. Be sure to catch the trailer on the big screen, or at online at the link below.

Read More

| IGN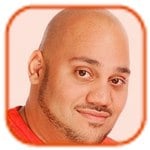 Tweet
Posted by Andru Edwards -
Categories: Wearables, Features, Product Reviews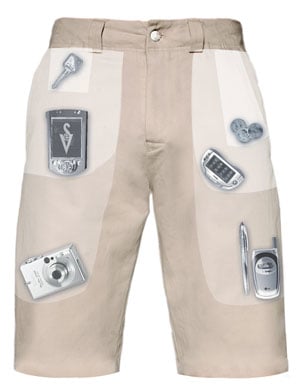 The folks over at SCOTTeVEST have come up with yet another piece of clothing aimed at making the tech life just a little bit easier to live. The TEC Hidden Cargo Shorts are perfect for the summer, but how well do they carry your gadgets? Find out in our review, after the jump.
Click to continue reading SCOTTeVEST Hidden Cargo Shorts Review
Tweet
Posted by Edwin Soto Categories: Accessories, PC / Laptop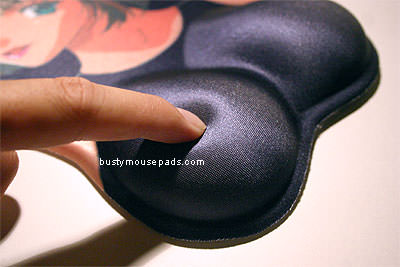 You want to prevent carpal tunnel syndrome? Gel mousepads are great for supporting that mouse hand, but we all know that boobs are softer, right? Busty Mousepads even self-proclaim on their site that your male friends will feel and steal them, while your female friends will think you're a perv. I think this may help ease some internet pr0n tension for a one time fee of $19.95.
Read More

| Busty Mousepads

Tweet
Posted by Sparky Categories: Accessories, Peripherals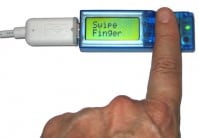 Atmel has announced a new biometric flash drive today aimed at protecting your sensitive data. The FingerGear has a self cleaning fingerprint sensor that you swipe your finger over. The flash drive will feature a LCD display on the front to enable the operator to have a much more user-friendly experience. When you swipe your finger software stored on the flash drive activates and authenticates the user thus enabling the flash drive to be mounted. Because all of the authentication technology is located on the drive itself this is host independent - and will work on Windows, Linux, OS X or any other USB host compliant operating system. As clunky looking as this flash drive is this Gear Live editor is very impressed that it can operate without using OS specific software on the host PC and in this day and age of increased security concerns I suspect biometrics are going to be creeping into more and more data storage mediums.
Read More

| FingerGear via MacMinute

Tweet
Posted by Sparky Categories: PlayStation 3
Playstation Magazine claims to have some advance info on the upcoming PS3. Of note is that the hard drive won't be used for games - I'm guessing Tivo/PSP use. The PSP will be able to access media on the PS3 via Wifi. The PS3 will have a TiVo-like accessory so that it will be able to record TV - hopefully in Hi-Definition. The last tidbit surprised me - you will be able to chose to run games at a lower resolution for smoother game-play - the PS3 has enormous amounts of processing power already, do people really think that this thing is going to get maxed out by a lot of games? I sure hope so!
Read More

| MaxConsole via Kotaku

Tweet
Posted by Oscar M. Cantu Categories: Portable Audio / Video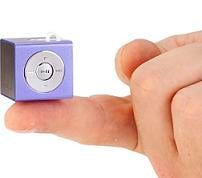 There have been many other flash memory based audio players claiming to be the iPod Shuffle killer, but none have done so yet. However, this portable audio player seems to be very promising. The world's smallest player at only 1" cube including an OLED display and with a price tag that is wallet-friendly, this player is sure to impress anyone. The features include the following:
OLED Display
WMA (DRM)
FM Radio Receiver And Recorder
USB 2.0 Flash Drive
Built-in Voice Recorder
Five Preset EQ modes plus one User-Set EQ mode
SRS WOW - Surround Sound
File Navigation System and Unlimited Folder Capacity
Easy & Convenient Clock
Built-In Lithium-Ion Battery
Resume Function
Firmware Upgradeable
Most interesting is where you can get one of these players – Wal-Mart.com exclusive. That's right, this nice and affordable can be picked up at everyone's favorite "everything's cheap here" store. At time of writing, the mobiBLU Cube was sold out; however, I'll definitely be on the lookout for this one.
Read More

| mobiBLU Product Page
Buy It

| Wal-Mart Page

Tweet
Posted by Oscar M. Cantu Categories: Home Entertainment, Internet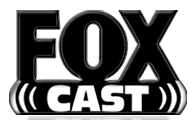 Fox has now joined the bandwagon that is Podcasting, or blogcasting. The FOXcasts are narrated by Michael Krogmann, and are free to download. This idea is nice since you don't have to be tied to a TV set to get an idea of what an episode is about. Only problem is that the site lacks updates, or content for that matter. Hopefully they'll get on the ball and give us some more.
Read More

| FoxCast
© Gear Live Inc. – User-posted content, unless source is quoted, is licensed under a Creative Commons Public Domain License. Gear Live graphics, logos, designs, page headers, button icons, videos, articles, blogs, forums, scripts and other service names are the trademarks of Gear Live Inc.