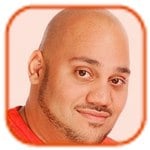 Tweet
Posted by Andru Edwards -
Categories: Corporate News, Software
Yesterday, Microsoft launched Windows Genuine Advantage, a worldwide program it hopes will combat software piracy. During a customers first visit to Microsoft Download Center, Windows Update or Microsoft Update they will be asked to download an ActiveX control which checks your Windows to see if it is authentic and, if it is, stores a special download key on your computer for future reference. If your software turns out to be pirated, Microsoft gives you two options. The first allows you to submit a piracy report, provide proof of purchase, and mail in your counterfeit discs, and in turn they will send you a genuine copy of the software absolutely free. The second option, for those who only submit a piracy report, but provide no proof of purchase or counterfeit discs, allows the user to purchase a genuine copy of XP Home Edition for $99, or XP Professional for $149 with their choice of receiving it online, or in the mail on a CD.
"Microsoft has created a program that is fair to customers and reseller partners," said Michael Cherry, lead analyst, Windows and Mobile, at Directions on Microsoft. "While Microsoft is requiring customers to validate, they're putting their best foot forward to help customers out, in terms of simplifying the process, creating software incentives and offering to help customers replace counterfeit software they acquired unwittingly."
Read More

| Tech News World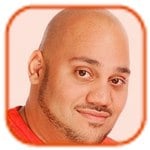 Tweet
Posted by Andru Edwards -
Categories: PC / Laptop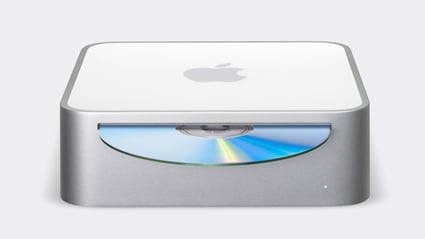 As speculated before, Apple has added a more powerful version of the Mac mini to its product line – a SuperDrive enhanced $699 model. The SuperDrive Mac Mini carries all the same features as the lower-end $599 model, plus the SuperDrive. Across the board the Mac mini receives an upgrade to a standard minimum of 512 MB RAM. The $599 and $699 models now come standard with AirPort Extreme and internal Bluetooth. With all these updates, the Mac Mini is looking more like a powerful desktop right out of the box.
Read More

| Mac Mini Product page

Tweet
Posted by Sparky Categories: Wireless / WiFi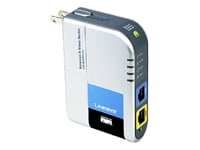 Linksys introduced a travel sized router today aimed at business travelers looking to broadcast an in room Internet connection to their laptop. The WTR54GS features a compact size, built in A/C adapter, a 10/100 port for wired computers, and of course 802.11g networking technologies. The WTR54GS also features a convenient setup button that can enable secure setup of the router without having to utilize a password that can be forgotten. While this router lacks the Airport Express music streaming functionality it does provide a smaller size and $100 price tag as well as a wired port for connecting older laptops.
Read More

| Linksys WTR54GS via Daily Wireless

Tweet
Posted by Sparky Categories: Misc. Tech, PC / Laptop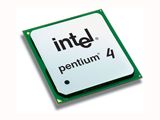 New Scientist points out that modern chips are so complex that some chaos creeps into their workings. The study ran a set of test instructions on a Pentium 4 chip many times and noticed that each time the test was run it took a different amount of time to run the test. This deterministic chaos could help them discover the causes behind some kinds of computer glitches. It's interesting to think that this kind of organic chaos in computer systems could one day produce interesting side effects in human created artificial intelligence.
Read More

| Chip Chaos via Geekpress

Tweet
Posted by Sparky Categories: Misc. Tech, Software

Phil Zimmermann, creator of the the popular Pretty Good Privacy (PGP) email encryption program is hard at work to bring secure communications to the masses via VOIP. He is currently working on an improvement of his PGPfone voice encryption software that was used with modems to create secure VOIP applications. It is conceivable that the company he is currently trying to fund would be able to develop plugins for popular networks like Skype and Gizmo. Because PGP uses a PKI infrastructure it becomes easy to trade public keys with the people you wish to communicate with while keeping your private keys secure - thus making eavesdropping on your conversation virtually impossible.
Read More

| Secure Communications

Tweet
Posted by Sparky Categories: Cell Phones, Portable Audio / Video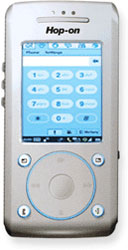 Hop-On - a virtually unknown cellphone manufacturer - launched the biggest iPod phone rip off ever. The Hop-On features a touch sensitive screen, and click wheel control device. The phone is aimed at the MP3 phone market, yet fails to list internal memory to story MP3's on. The Hop-On does manage to have a Mini-SD slot, so at least 1GB of storage will be able to be bought for the phone. Dan Gannon, the CEO of Hop-On, is quoted as saying "Our market research studies showed that this design will be extremely successful" - I wonder if their market research studies also indicated that the design had been patented by Apple computer as well?
Read More

| SlashPhone

Tweet
Posted by Sparky Categories: Cell Phones, Internet
Are you unhappy with your cell reception? Are you trying to figure out if your new home will have good cell reception? What about the hotel at the resort you are about to head to? Well this new website promises to answer these questions for you. They have obtained information on tower location from the FCC and performed a great Google Maps hack to present you with a birds eye view of any neighborhood and the cell towers it contains. It's great to see so many Google maps hacks emerging after the API was released by Google. We think interactive web applications like this are going to become very prominent in the near future.
Read More

| Cell Reception via BoingBoing
Tweet
Posted by Edwin Soto Categories: Portable Audio / Video
iLounge has polled its readers to find out how much space is currently left on their iPod and this is what they found: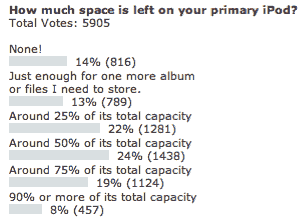 I would like to get a specific breakdown of each iPod device, to see if most of those whom have fifty percent or more own sixty gigabyte iPods. Have you upgraded yours yet?
Read More

| iLounge
Tweet
Posted by Edwin Soto Categories: Hot Deals, PC / Laptop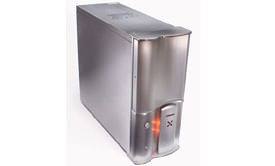 What's a Compaq, and why is it even in this entry? True, Compaqs have not been know as the favorable gaming computer system, but this spectacular piece of hardware may change that impression. Sporting an AMD 64 bit processor and expandable to 4GB of ram, check out some of the specs ready to blast away at the next LAN party. Gotta love Woot!
Read More

| Woot.com
Click to continue reading Compaq X Athlon 64 Gaming System
Tweet
Posted by Edwin Soto Categories: Software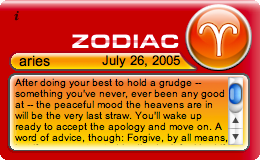 What better way to read your fortune every day than on your dashboard. Well, Cristiano Verondini, has thrown out all his newspapers and created this handy widget that take the information from www.astrology.com and puts it right on your dashboard. Makes me really wish for a fortune cookie widget - they are more accurate.
Read More

| Verodini
© Gear Live Inc. – User-posted content, unless source is quoted, is licensed under a Creative Commons Public Domain License. Gear Live graphics, logos, designs, page headers, button icons, videos, articles, blogs, forums, scripts and other service names are the trademarks of Gear Live Inc.