Tweet
Posted by Hector Martinez Categories: Video Games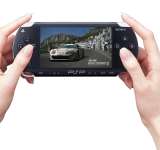 With all the recent Nintendo DS coverage, we at Gear Live didn't want you to think we're not looking forward to Sony's
upcoming portable
. Just last week,
it was announced
that the PSP would support MP3 playback as stored on a Memory Stick Duo card, sold separately. With analogue controls, a vividly bright screen, wireless capability, and UMD disc-based storage (read: more detailed and richer sounding games), what's not to love? In addition, it will provide about the same graphical processing power of a PS2, which is leagues better than Nintendo's upcoming DS. Third party support should be strong as well, as evidenced by Activision's
recent announcement
that it will be launching versions of SpiderMan 2 and Tony Hawk's Underground 2 with the unit when it arrives here in the states early next year.
Much more PSP love to be found by clicking here for the PSP Thread on the Gear Live Message Boards.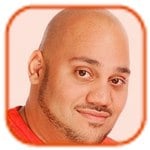 Tweet
Posted by Andru Edwards -
Categories: Hot Deals
How would you like a
free iRiver H320
? Maybe a
free TiVo or ReplayTV
is more your style. If watching your favorite shows on the go is your thing, then a
free portable media center
sounds about right. No, these are not scams, schemes, or hoaxes - they are the real deal. And it's the latest craze sweeping the internet. Not convinced? Click on one of the links above, and sign up. You will be on your way to expensive electronics at no cost to you. We take a closer look after the jump.
Click to continue reading Free Stuff: The Internet's New Craze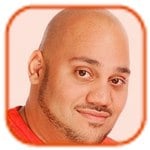 Tweet
Posted by Andru Edwards -
Categories: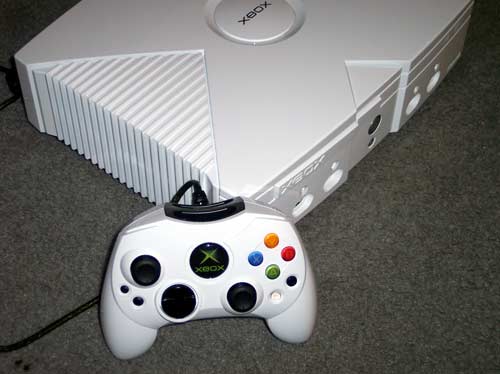 A couple of months ago, ColorWare took our iPod and gave it
the golden treatment
. After such a stellar job, we decided to find out what they could do with a game console. We sent ColorWare our regular black XBOX along with a controller, and they sent them back white as snow. We take a closer look after the jump.
Click to continue reading Color-Ware XBOX Paint Mod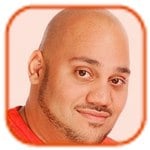 Tweet
Posted by Andru Edwards -
Categories:
This week's Gear Live
Playlist
takes a look at one of the most controversial alblums of all time, along with new releases by Interpol and Sum 41. If you want something with more of a mixed flavor, we have a review of the Garden State Soundtrack. Get this week's music fix after the jump.
Click to continue reading Gear Live Playlist: Public Enemy, Interpol, Jimmy Eat World, Sum 41, Eyeada & Abilities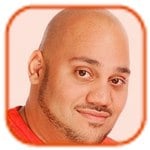 Tweet
Posted by Andru Edwards -
Categories: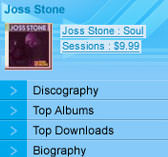 We all know how frustrating it can be to hear a song on the radio that you like, but not know the name of it (or the artist who sings it). What if you liked it so much that you wanted to purchase it? Well, with AT&T's new mMode Music Store along with the Music ID service, all you need is your cell phone. All you need to do when you hear a song playing is dial #ID on your phone, and hold it up to the speaker for 15 seconds. You will then get a text message giving you all the 411 on the track, as well as the option to purchase the song (or a related ringtone). Sounds interesting. From AT&T:
"Now consumers no longer have to scribble down the names of songs they've discovered and wait until they get home to download them onto their computers," Sam Hall, vice president of mMode services for AT&T Wireless, said in a statement. "The convenience and immediacy of our mobile digital music store lets users remotely explore and buy digital music while on the move."
Tweet
Posted by Categories: Portable Audio / Video
ThinkSecret.com
is reporting on a rumor as old as time itself (ok, thats a slight exaggeration, but am I the only one who feels like this has been a rumor for the longest time?). The rumor of a 60GB iPod has been around for a while as well as the rumor of a color screen. Now, according to ThinkSecret.com, it will only be a rumor for about 30 to 60 more days. The device (as mentioned earlier) will have a 60GB hard drive capabable of holding up to 20,000 music tracks and 25,000 photos. Of course file size and quality will affect these numbers but not by much with such a large drive. The screen size will remain the same, but the two inch screen would be in color, and of a higher resolution. Big news is the new video out option to view all your photos on your television/projector. Apparently, the iPod would sync not only with iTunes, but also with iPhoto. If this ever materializes, look for the new iPod to cost $499 USD.
We will have more on this as the story becomes official, until then, remember, its only a rumor (but hey, wasn't the internet created for rumor sites about Apple?).
Read More

| Think Secret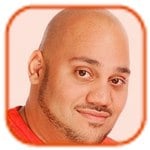 Tweet
Posted by Andru Edwards -
Categories: Home Entertainment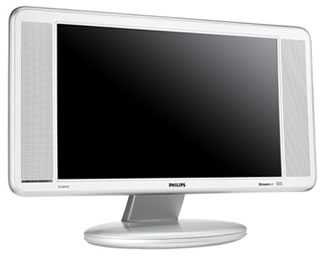 There are more and more adding wireless networks to their homes, as the technology has come down in price quite a bit. After taking that plunge, most try to make future purchases based on whether the device has integrated Wi-Fi or not. It's understandable, as you have invested in the technology in the first place. Philips is finally ready to release their Streamium HDTV. What does one have to do with the other? The Streamium 23PF9976i is an HDTV with integrated 802.11g Wi-Fi.
Philips claims the TV is "future proof" as well. This simply means that the TV will check Philips servers for updates on codecs and other features throughout its lifetime. Sounds nice, but that's not all the Wi-Fi does. The main attraction of this unit is that it can stream audio (MP3, MP3 Pro, PCM, WAV), video (MPEG-1/2/4, DivX, XviD), and photos (JPEG, GIF, BMP, PNG ) over your network and display them on its 23-inch high definition screen. It also boasts a built-in FM tuner, and if that isn't enough, you can stream internet radio as well.
So what's the price? So far, Philips hasn't made it public. We can expect an announcement soon, though, as the Streamium HDTV is set to be released in November. While 23-inches might seem small, it is the perfect compliment to your
Streamium Boombox
. Right.
Click here to discuss this story on the Gear Live Message Boards
Read More

| eHomeUpgrade
Read More

| Streamium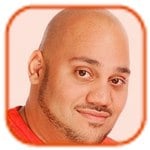 Tweet
Posted by Andru Edwards -
Categories: Movies

Today's DVD Release List might seem a bit skimpy at first, until you take a closer look. Then you realize that all these releases are ho-hum, with the exception of the fourth season of CSI. That is unless you like overdone comedies (like The Nutty Professor), or overdramatic dramas (like The Day After Tomorrow). Enjoy!
Click to continue reading DVD Release List: 10/12/04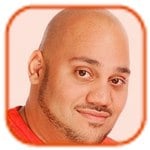 Tweet
Posted by Andru Edwards -
Categories: Features
With all the email we get at Gear Live regarding technology, opinions on what people should buy, and the like, we figured it was time to start a mailbag column. We thought long and hard about how to go forward with the new column, and it soon became obvious. We needed a Gear Chick. Is there anything better than a woman who loves tech? Didn't think so. They are a rare breed, and it took a while for us to find that one woman who fit the bill - but we did it.
Meet Lauren, the new Gear Chick. She will be answering your emails on all things related to gear in Ask the Gear Chick each week. You can reach her at
gearchick@gearlive.com
. Here is her first column:
Welcome to
Ask the Gear Chick
. It isn't too often that you see a chick on Gear live but with my new column, that might just change things around here! Here's the basic idea:
You
write me an email
and ask some questions. I will pick a few to answer each week and you'll get an honest answer or opinion from a real tech girl.
Click to continue reading Ask the Gear Chick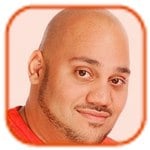 Tweet
Posted by Andru Edwards -
Categories: Portable Audio / Video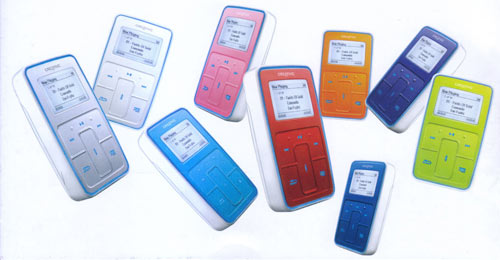 Continuing the latest industry trend of releasing portable audio players with a smaller amount of drive space, Creative has developed the next competitor to the iPod mini. The Creative Zen Micro is just 3.3" x 2" x 0.7" and offers 5 GB of storage space, along with an FM tuner and voice recording. In addition, the rechargeable battery will be removable and lasts for 12 hours. The Creative Zen Micro employs similar technology to the
Zen Touch
, utilizing a vertical touchpad. You can expect to find the product in stores in time for the holiday season.
Click here to discuss this story on the Gear Live Message Boards
Read More

| Gizmodo
© Gear Live Inc. – User-posted content, unless source is quoted, is licensed under a Creative Commons Public Domain License. Gear Live graphics, logos, designs, page headers, button icons, videos, articles, blogs, forums, scripts and other service names are the trademarks of Gear Live Inc.