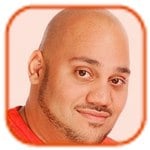 Tweet
Posted by Andru Edwards -
Categories: Games, New Apps, $9.99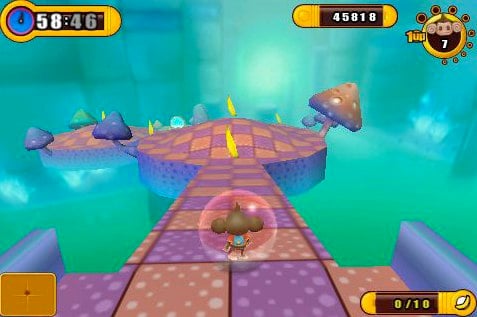 Sega has just launched Super Monkey Ball 2 for the iPhone and iPod touch, aiming to follow up on the original that took the App Store by storm. The new version includes over 115 levels, as well as 2-, 3-, and 4-player Wi-Fi play. One of the biggest gripes with the original Super Monkey Ball was that the accelerometer didn't seem to cooperate as well as the player expected it to, making for a frustrating experience. Having played the sequel, it appears that Sega has taken care of those problems, as Super Monkey Ball 2 for iPhone and iPod touch seems a lot more responsive and fluid.
In case you aren't familiar, Super Monkey Ball games feature monkeys that are encased in balls. You tilt the iPhone to roll the ball towards a goal, and as you progress through the game, that goal is increasingly more challenging to get to without falling off of the level. It's a good time. You can pick up Super Monkey Ball 2 for $9.99.
Read More

| Super Monkey Ball 2 [iTunes]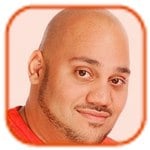 Tweet
Posted by Andru Edwards -
Categories: Social Networking, App Updates, New Apps, Reviews, $2.99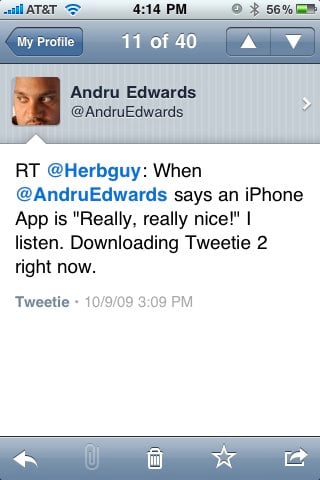 Tweetie 2 has just launched and is now available for the iPhone and iPod touch, and the popular Twitter app brings with it many, many improvements and feature additions. Some of the more notable additions include full app persistence, which means that if you leave the app for any reason and come back to it, Tweetie 2 will remember exactly where you were. There's also a nice offline mode, that lets you read, favorite, and even write drafts of tweets. Once you connect to the Internet again, everything gets synced up.
Many users have been waiting for video support and push notifications to come to Tweetie as well, and Tweetie 2 delivers on both fronts, but we feel both are lacking. With video support, we'd love to see Posterous added as a hosting service, as opposed to just yFrog and TwitVid. As is pertains to push notifications, Tweetie 2 gives it to you, but only on a per-user basis. So you have to go into each user that you want to receive notifications from, and enable them in a menu that is buried a couple of levels deep. We'd love an option to get all mentions and direct messages pushed to the phone from Tweetie 2, rather than having to rely on another Twitter app that can do it (like SimplyTweet) or an app dedicated to pushing content (like Boxcar.)
Still, don't let those two issues deter you. We've been playing with it for a while, and can say without hesitation that Tweetie 2 is now our iPhone Twitter application of choice. It is fast, elegant, and a great deal at $2.99. You can buy Tweetie in the App Store now, we've got a full feature list for you after the jump. Oh, and feel free to follow Gear Live and App.tapper on Twitter!
Read More

| Tweetie 2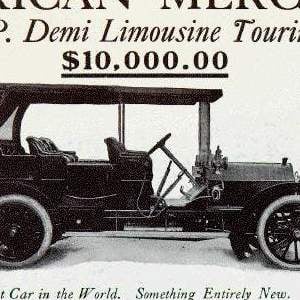 Tweet
Posted by Drea Avellan Categories: Games, New Apps, Reviews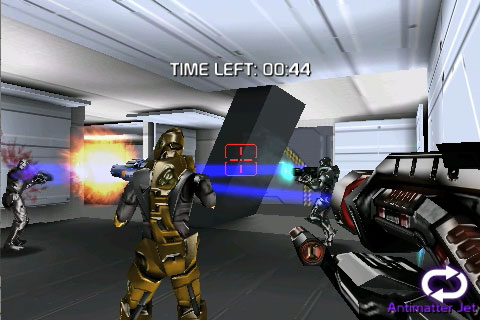 Oh, San Francisco. Home to the 49ers, majestic bridges, historic Alcatraz, cable cars and even countless videogame development studios. Amongst these studios, in a cozy restored building cloaked by the AT&T Park, lives Neil Young's iPhone & iPod Touch game developer—NGMOCO.
ngmoco has been put out some of the most successful games for the iPhone & iPod touch, including the Rolando series, Topple and Word Fu. Ranging from puzzle, strategic and adventure, ngmoco knows how to create entertaining portable games. Now, they are set to release one of their most exciting titles yet, ELIMINATE. ELIMINATE is a 3G/Wi-Fi enabled First-Person Shooter (FPS) game, which takes advantage of micro-transactions, where you can upgrade characters, weapons, and the like.
Uncomplicated games currently dominate the App Store platform, due to their casual nature and mass appeal. The creation of more complex genres, such as FPS and strategic games, require a higher level of thought and consideration— a challenge ngmoco was more than willing to take on. ELIMINATE brings with it an FPS online arena with intuitive controls that make it simple to jump in and play, and while the game might be a pick up and play experience, they haven't ignored the importance of creating a story. ELIMINATE casts you as an employee of Arsenal Megacorp, a company in question for the use of humans in testing as a way of perfecting their gear. You and three other players are the guinea pigs of this project—SURPRISE!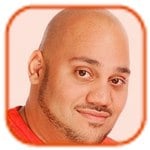 Tweet
Posted by Andru Edwards -
Categories: Photography, Social Networking, New Apps, Videos, $2.99
If you've been looking for an iPhone app that can replace the default camera app for taking photos, Best Camera just may be what you've been looking for. Developed by Seattle photographer Chase Jarvis, Best Camera provides a full-featured camera control app, fantastic photo editing (think of it as an iPhone version of Photoshop,) and a great online community that lives both online and in the app, where you can see great photos that have been taken by other Best Camera users.
The app lets you fade, crop, lighten, darken, and add a ton of effects to photos you take. You can then share those photos to social sites like Facebook, Twitter, Flickr, and the Best Camera community.
As part of the launch, and to build up the Best Camera community, there will be a photo contest where the winner receives an iPhone 3GS. Hit the video above to get a look at the idea behind the app, and how it works. It costs just $2.99, and you can download Best Camera now on the App Store.
Read More

| Best Camera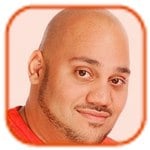 Tweet
Posted by Andru Edwards -
Categories: Social Networking, New Apps, Reviews, Free Apps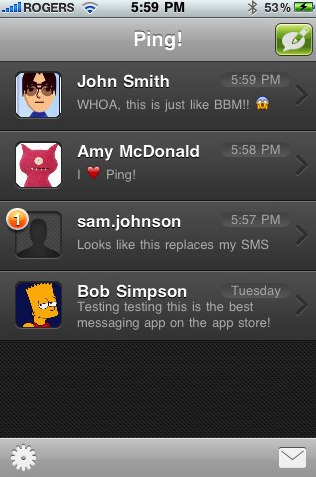 We were just alerted to a new iPhone and iPod touch app called Ping!, which aims to provide free iPhone-to-iPhone (and iPod touch) messaging to users of those devices. We tried it, and thought it was worthy enough to give a shout out to.
Basically, once you download the free Ping! application, you set up a username, and you are set. You can invite others from within the app over email, letting them know your username, and also set up whether you want push notifications or not. Once you start a conversation, it's very similar to SMS…except it's free, and instant. You get the speed of an IM conversation with the persistence of SMS, all at no extra cost. Even better, it works internationally. So you can send and receive messages with people in other countries, and again, at no extra cost.
Go ahead and give Ping! a try, we think you'll like it.
Read More

| Ping! in App Store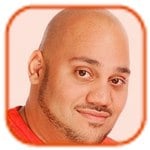 Tweet
Posted by Andru Edwards -
Categories: Music, App Store News, New Apps
Hey, streaming subscription music fans, it looks like Spotify has finally been approved by Apple, and it will be appearing in the App Store shortly. You may not realize how big a deal this is at first glance, but trust me, this is huge. Spotify is a service that gives you all-you-can-eat access to music for a set fee each month. The app appearing on the iPhone and iPod touch means that you can use another store besides iTunes to listen to, and download, music. Yes, Spotify even lets you listen to downloaded tracks if you are offline. This is a game-changer, and we look forward to getting our hands on Spotify once it is released!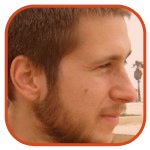 Tweet
Posted by Brandon Gribin Categories: Productivity, New Apps, $0.99, $1.99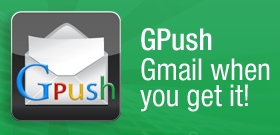 While you can't have true Push Gmail on the iPhone [Editors Note: You can, if you set up Gmail as an Exchange account, but you don't get Push Notifications this way], an app arriving very soon on the App Store will come close to replicating the true experience.
Currently, the iPhone's Mail App pings Gmail periodically, or when you hit refresh, to see if you have any new messages. Push e-mail would be virtually instantaneous - as push notification on the phone is.
GPush is an app that will shoot off push notifications whenever you get new e-mail. You'll then be able to go into your phone's Mail App and see your new e-mail as the Inbox refreshes.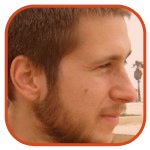 Tweet
Posted by Brandon Gribin Categories: Games, New Apps, Reviews, $1.99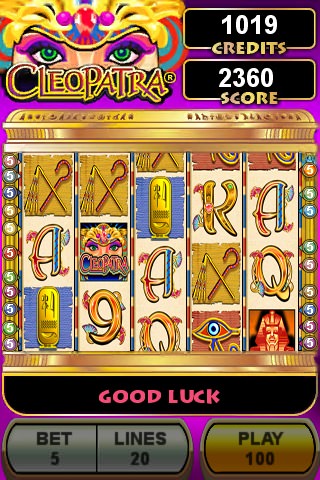 As I see it, there are three types of slots players:
People who sit for hours on end at a single machine
People who pull on a machine once, hoping for a lucky spin, as they stroll by
People who refuse to touch a machine (they just don't know they're slot players yet)
Cleopatra is the perfect iPhone and iPod touch game for the first type of slots player. And possibly a fun diversion for the other two types of players.
IGT, International Game Technology - a slot machine manufacturer, recently released Cleopatra on the iPhone and iPod touch. The app is a portable version of the video slot game that's in casinos all over the world. The iPhone and iPod touch version is a solid rendition and should be up your alley if you're looking for a slots game.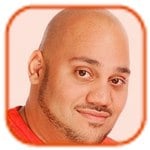 Tweet
Posted by Andru Edwards -
Categories: Photography, Social Networking, New Apps, Reviews, $0.99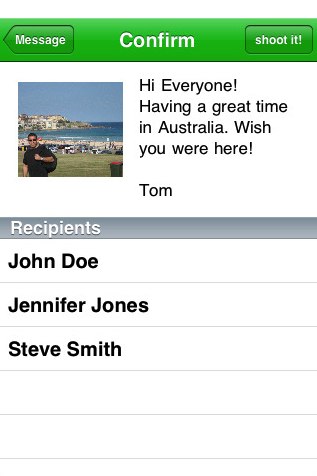 We've been beta testing the Shoot It! app for the past couple of months, and we are excited to let you guys know that it is now available for purchase in the App Store for $0.99. Why the excitement? Well, Shoot It! is one of the apps we use very regularly, and it's one of our favorite apps that we've ever used on the iPhone. So, What is Shoot It?
Shoot It! allows you to send high quality postcards to anyone in your iPhone or iPod touch Address Book, using images in your Camera Roll, or an image that you take from within the app using the iPhone camera. You can send a postcard to as many people as you like, and you also fill in a message that would be printed on the back of the photo. The end result is, as we said, a high quality 4x6 glossy postcard that has the image of your choice on the front, and your message on the back. Since you can send the message to any number of contacts, you end up with the ability to send one message to, say, twenty people, in just a minute or two.
Read More

| Shoot It!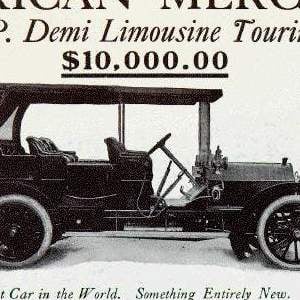 Tweet
Posted by Drea Avellan Categories: Social Networking, Utilities, New Apps, Video Apps, Free Apps
Today, the fine folks at 12 seconds have announced the release of a new app for iPhone 3GS users—12cast. 12cast is their first native video app for the iPhone, allowing users to log into Twitter, record, title their posts and share them with friends. The goal with this app was to create an easy and seamless video sharing tool for Twitter. In hopes to get the word out, 12cast has created a contest so easy to enter, well, a caveman could do it. Simply send out a Twitter or 12seconds post with the hashtag #12cast, and you will be instantly entered to win iPhone data service for a year. For every 12seconds post you make with the hashtag #12cast, you will be entered 3 times. The contest ends Friday, August 7th—so get out there and start posting! 12cast is now available free at the iTunes app store.
Read More

| 12cast

© Gear Live Inc. – User-posted content, unless source is quoted, is licensed under a Creative Commons Public Domain License. Gear Live graphics, logos, designs, page headers, button icons, videos, articles, blogs, forums, scripts and other service names are the trademarks of Gear Live Inc.