Tweet
Posted by Categories: Portable Audio / Video
I can see the situation now: You're just turning onto the on-ramp of the interstate, and you've got to be somewhere fast, but the other cars won't get out of your way. What can you do? Ask your car to play "Ludacris - Move", of course. A software and online-music company, Gracenote, is working on voice recognition software that would allow you to ask for a song and have your car's stereo play it from its hard drive. Rather than having to sift through thousands of possible songs, you would simply ask for your favorites. If you don't like the song that is playing, command it to play the next one. If you want to listen to everything by Coldplay, just ask. Your wish it its command. This technology, in conjunction with an in-dash computer, would allow drivers to have complete access to their files without ever taking their hands off ten-and-two. Luckily, this technology doesn't yet extend to your car's steering as well, or you might have a problem when asking your car to play Van Halen's "Right Now."
Read More

| MSN CNet
Tweet
Posted by Categories: PC / Laptop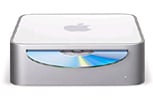 Why bother integrating an iPod in your car when you can get the whole computer? Although in-car computers are nothing new, the Apple Mac Mini brings a new face to the concept. Classic Restorations wants to put a Mini in your dashboard. By integrating the Mac into the car's system, you can have countless cool features available to you on the go. By adding Wi-Fi, your car can now access the internet from hotspots. By adding a GPS module, you can plot directions to your driving location. You can even play 40 gigs worth of music from iTunes, if that's what you want. The Mac Mini is just about the right dimensions to fit into the dash where most CD player head units typically go, so it isn't inconcievable that with a little stretchwork a professional looking install would work. The CD drive could be used as your car's main stereo, powering the speakers. The possibilities are endless. I can't wait to see a finished result.

Read More

|Mac Daily News
Tweet
Posted by Hector Martinez Categories: Cell Phones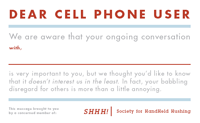 You know the situation: You're riding on a bus or waiting for your dinner at a restaurant, and you hear an entire conversation you have no interest in. Why do people feel they need to talk so much louder on their cellphones? While we ponder the answers, a couple of designers from the Society of Handheld Hushing (SHHH!) put together a solution that's starting to catch on. Basically, it's a series of cards you can print out and hand to the gabber when they're starting to get on your nerves. They're free, and feature comments like "The rest of us don't care what he/she said to you" and "The world is a noisy place. You aren't helping things." You can download the pdf file here.
Read More

| Wired News
Tweet
Posted by Categories: Misc. Tech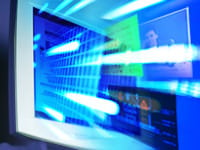 The LA Times has an article discussing a few people who have become so fed up with spyware and viruses found on the internet that they have physically cut themselves off from the world wide web. Cancelling their broadband connections and unplugging the cable, these displeased netizens have decided that the malware was not worth the hassle. Computers freezing, records being lost and deleted, computers screetching to a halt. The web was not designed for this kind of abuse. Criminals and thiefs thrive in cyberspace, where they attack unsecure online stores and steal credit card numbers from unsuspecting shoppers.
I don't know if I would ever reach the point where I stop using the internet, but only because I have protected myself well. I never see popup ads or spyware on my computer thanks to all the work I've put into it, and that makes for an enjoyable experience. The few times I see something, the damage control is quick and only a minor irritation. But I have stopped watching TV, and I don't go to the movie theater much anymore, because I dislike being forced the ads. So I certainly understand. One day, the world will progress.
Read More

| LA Times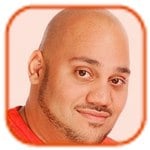 Tweet
Posted by Andru Edwards -
Categories: Video Games

If you are a Halo 2 master in need of some quick cash, then read on. The Twin Galaxies Board of Referees has released their 2005 video game bounties. Put simply, they set forth a massive list of challenges, and if you meet those challenges, you win cash. Here are a couple of examples:
Bounty (93) – Crazy Taxi (Bounty Prize: $100.00) for Sega Dreamcast (DC) Challenge Rating – 4 (out of 5) Challenge: achieve 250 or more "Crazy Throughs" on the mini-game challenge "Crazy Through" Special Rules – player may use any vehicle and driver combination Bounty Prize - $100.00 Bounty Payable Date – ninety (90) days after mailing postmark of successful accomplishment.
Bounty (105) – Halo 2 (Bounty Prize: $250.00) for the Microsoft Xbox Challenge Rating – 5 (out of 5) Challenge: fastest completion of the entire game on "Legendary" difficulty, without losing a life, in single player mode Rules and Settings – player may use any weapons and/or vehicles found. Special Rule: Usage of the "Envy Skull" to attain permanent invisibility defeats the spirit of the game and is a banned tactic. Bounty Prize - $250.00 Bounty Payable Date – January 31st, 2006.
As you can see, if you are good, you can walk away with a lot of money. Check out the full list at the Twin Galaxies site.
Read More

| Twin Galaxies Bounty List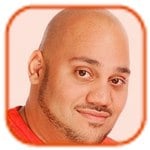 Tweet
Posted by Andru Edwards -
Categories: Corporate News, Video Games

EA has been on a rampage as of late. First, they sign an exclusive deal with the NFL giving them sole rights to make games based on the NFL for the next five years. Then they do the same with the AFL for four years. Now, it seems they pulled off the coupe de grace - EA has signed an exclusive deal with ESPN which makes Electronic Arts the only publisher with the ability to make sports games under the ESPN brand. This means that the days of Madden vs ESPN NFL are over. While the deal is signed for 15 years, there is a clause that says that the option of ending it after 10 years is a possibility. Sucks to be Sega right about now.
Read More

| Gamespot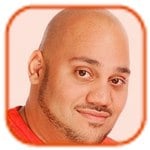 Tweet
Posted by Andru Edwards -
Categories: Accessories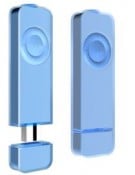 Hey Speck, it's great that you have been able to show a couple of images of your prototype iPod shuffle case. Really, it is. However, at $20 USD, don't you think it might be a bit steep for a cover for a device that is just white plastic? I mean, the iPod shuffle has neither a screen nor a scratch prone metal back - the two main reasons to own some sort of case or skin for the other iPods. Ah well, I am sure someone will want one.
Read More

| Speck Products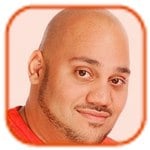 Tweet
Posted by Andru Edwards -
Categories: Software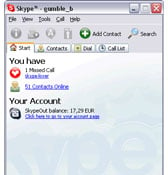 Skype 1.1 was release last week, with some nice changes. If you are unfamiliar with the program, Skype allows you to make voice calls to other Skype users, anywhere in the world, for free. Think of it as AIM with very reliable voice chat. You can also use the program to call regular phones for a small fee. Check out the changelog for the upgrade, and if you haven't yet, download Skype here. I personally recommend it, as Skype is my messaging program of choice.
Tweet
Posted by Categories: Corporate News
Comcast Cable follows Time Warner and Cox Cable in a move to increase bandwidth to users from speeds of 3000/256 to 4000/384 - all at no additional charge to their customers (for now). These cable companies not only hope to further distance themselves from the telphone companies with DSL, but also because many users have found needs for the higher bandwidth abilities, such as video e-mail, video chat, and the transfer of HD content. Some Comcast users have already received the speed upgrade.
Comcast is also scheduled to roll out their VOIP service later on this year. The advantage of using Comcast's VOIP service over one like Vonage is that Comcast will have a separate infrastructure that the service will run on, thereby not affecting your internet service speed at all.
Read More

| CNet News

Tweet
Posted by Oscar M. Cantu Categories: Corporate News

HP has stopped placing orders with Apple's manufacturer for iPods. This is because HP wants a price protection policy from Apple. Since they have no price protection policy, HP is vulnerable to financial loss if Apple suddenly cuts the price of the Apple iPod. HP has refused to place any further orders for Apple's iPod until Apple is willing to discuss the issue and agree on a solution. Could this be the end of iPod + HP?
Read More

| Apple Insider
© Gear Live Inc. – User-posted content, unless source is quoted, is licensed under a Creative Commons Public Domain License. Gear Live graphics, logos, designs, page headers, button icons, videos, articles, blogs, forums, scripts and other service names are the trademarks of Gear Live Inc.