Tweet
Posted by Oscar M. Cantu Categories: Xbox 360
We've all seen pictures of these two consoles on their own, but better this is a nice way to give those who haven't seen the Xbox 360 up close an idea of how large it is. TeamXbox has some pictures comparing the two consoles which they were able to obtain thanks to Gamecon. One of the best parts of this gallery is the close ups of the new controller which is said to be much more comfortable then the Controller S.

Read More

| TeamXbox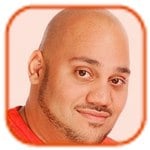 Tweet
Posted by Andru Edwards -
Categories: Video Games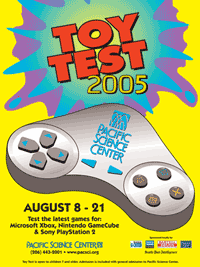 Alright, slow news morning on Gear Live, I know. The reason behind this is that I am hanging out at the Pacific Science Center today, getting a hands-on look at the games that are set to drop this holiday season. So far I have taken Burnout: Revenge, Pac-Man World 3, LA Rush, Mario Party 7, and the new DragonBall Z for a spin. I will be checking out a few more, and then will report back later this evening with full impressions over at PlayFeed.
Read More

| Toy Test 2005 (PDF)

Tweet
Posted by Sparky Categories: Accessories, Nintendo Gamecube, PlayStation 2, Wireless, Xbox 360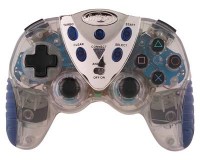 Intec has finally released something a lot of hardcore gamers have been asking for since the dawn of wireless controllers: rechargeable wireless controllers for Xbox, PS2, and GameCube. The chargers are powered by the game console and you can recharge them while using the controllers as wired controllers - a nice feature for those all night LAN parties. The controllers charge in 4 hours, and get 60 hours of game-play per charge. Halo 2 Deathmatch anyone?

Read More

| Intec via GadgetryBlog
Tweet
Posted by Devin Categories: Cell Phones, Misc. Tech, PC / Laptop, Portable Audio / Video, Software
Monday morning, President Bush is expected to sign into effect an energy bill that will start daylight savings time three weeks earlier and end it a week later. While it may not sound like a big deal, some are concerned that the time change, which would be starting in 2007, may have an effect on many tech gadgets we use in our daily lives. The last daylight savings schedule was put into effect in 1987, so a lot of the electronics we use today are programmed to follow it automatically. This means that come 2007 many of us who rely on technology to remember our appointments, record our favorite TV show, or give us our morning wake up call could find ourselves an hour behind. While some things may just require the time to be set manually, others may end up needing a software update. Dave Thewlis, executive director of a group that promotes standards for calendar software says, "It wouldn't be a society-wide catastrophe, but there would be a problem if nothing's done about it or we try to move too quickly". What do y'all think? Does the thought of all your favorite equipment messing up worry you, or does it make you laugh and think of all the Y2K hype we saw 5 years ago?
Read More

| USA Today

Tweet
Posted by Sparky Categories: Portable Audio / Video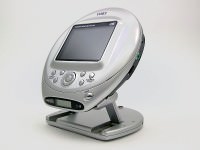 Colby has announced the DN-TF-DVD500 DVD player for the Japanese market. This slick unit features a motorized stand with batteries to push the unit up to a good viewing angle. While the translated text seems to indicate that it can only play DVD's; no DivX or other formats are supported; this still feels like a unique enough form factor that it might make it. The Japanese translation also enlightens us with the following information
The night DVD is rented
During next morning commuting you see
While returning home you see

If there is a last part which remains,
Connecting to the TV at the house, you see

The DVD it goes to the return
In addition amount of the next day is borrowed

First it returns
Is it a strange form of video promotional haiku, or does it have a deeper meaning? When first it returns will you achieve enlightenment? No word on if the DVD500 will ever see American shores, or what it might cost as of yet. Check out the link below for more pictures.

Read More

| Product Announcment (translated) via DAPreview

Tweet
Posted by Sparky Categories: Cell Phones, Handhelds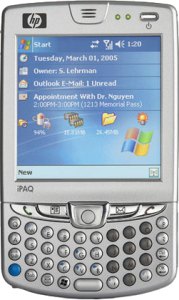 The hw6515 and hw6510, also known as the Mobile Messenger, is coming soon to Cingular. The Mobile Messenger features a 240x240 screen, EDGE data access, and GPS mapping built in. The phone will be running Pocket PC 2003 Second Edition - not the upcoming Windows Mobile 5.0. With no word on if the phone will be upgradable to Windows Mobile 5.0 when it comes out, I'm not sure if this will be a good seller or not. Regardless of software, having a small phone like this with a keyboard and good email software is always a plus for the connectivity-hungry geek on the go.

Read More

| Daves iPaq
Tweet
Posted by Edwin Soto Categories: Features, Mods / Hacks, Podcasts, Portable Audio / Video, Software, Video Games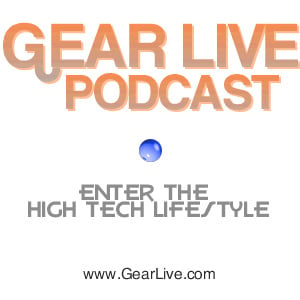 As techies who yearn for the newest, hottest, next big thing, we love to speculate about what's to come. In this week's podcast, we mostly focused on technology that is on the horizon:
XBOX 360 QWERTY Controller
Miyamoto Revolution Controller
iPod video
Pretec 4MB SD
Russian Spammer Killed
Click here to download the MP3, or you can just subscribe to the Gear Live Podcast feed. You can also subscribe to us directly through iTunes as well.
Voices: Edwin Soto, Sparky
Length: 32:52, 30.1 MB
Don't forget to vote for us on Podcast Alley! Also, be sure to check out the Gear Live Odeo Channel, and subscribe there are well. You can even tag each episode with keywords.
Listen | Gear Live Podcast

Tweet
Posted by Sparky Categories: Portable/Mobile, Xbox 360
With Microsoft touting the Xbox 360 as a multimedia hub, it's good to see them following through with their promise to integrate 3rd party video players like the Sony PSP into the Xbox 360 dashboard. Some leaked screenshots show UI for playing content stored on a PSP via the Xbox 360. Although the developer kit used to make these screenshots is presumably using the PSP as a mass storage device, the Xbox 360 would theoretically also be able to transcode media center content into a format supported by the PSP enabling you to take your shows and movies on the road with you.

Read More

| PSP Vault via Kotaku

Tweet
Posted by Sparky Categories: Cell Phones, Handhelds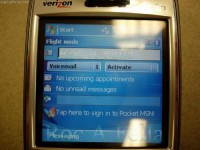 With rumors flying amidst Howard Forums posting movies and pictures of the Treo 670, could it really be true that Palm is working on a Windows Mobile 5.0 smartphone? Most phone geeks out there are really excited about this but I just don't see how this is in Palm's best interest - they have always been an OS and a software company as well as a hardware manufacturer (aside from the whole PalmOne/Palmsource buyback debacle) and it would seem that shipping a competitors operating system on their award winning hardware would be counterintuitive to their business model. I for one am excited about this - the Treo hardware has impressed me, but their software has always been slightly lacking when it came to just being a phone - with Windows Mobile 5.0 and Treo's hardware design we could be on to a winner. Right now only a Verizon EV-DO version has surfaced, but hopefully a Cingular UMTS version is in the works to coincide with their pending UMTS launch.

Read More

| Howard Forums

Tweet
Posted by Oscar M. Cantu Categories: Corporate News, Mods / Hacks, Software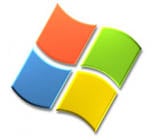 Microsoft just can't get around software hackers in their latest attempt to cut down pirated Windows XP users – Genuine Windows Validation. Early last week Microsoft "fixed" the Genuine Windows Validation exploit. Now the new and updated validation service has been hacked yet again. Maybe Microsoft should start hiring these hackers, since it takes Microsoft days or more to fix their exploits, while hackers only need a day to come up with a work around.
Read More

| Cnet News
© Gear Live Inc. – User-posted content, unless source is quoted, is licensed under a Creative Commons Public Domain License. Gear Live graphics, logos, designs, page headers, button icons, videos, articles, blogs, forums, scripts and other service names are the trademarks of Gear Live Inc.