Tweet
Posted by Alex Grahmann Categories: Internet, Software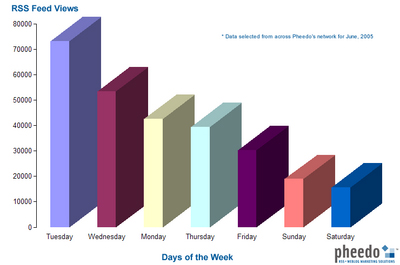 Pheedo, a weblog marketing company, has released a few choice points of data about the way readers use RSS. Highlights from their report include:
RSS is most active on Tuesdays and least active on Saturdays.
The most content is viewed early in the morning.
The most click-throughs occur late at night.
Bloglines is the most popular RSS reader, with only 5 programs being used to read 70% of RSS feeds.
Pheedo's posted information represents only an initial analysis of the data they've collected over the course of their work with their blogging clients. Pheedo is promising a follow-up program of more formalized reports called "Pheed Reads." Check back here for more insights as these reports are released.
Read More

| Pheedo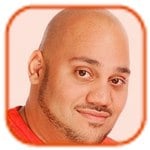 Tweet
Posted by Andru Edwards -
Categories: Misc. Tech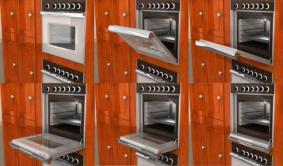 Amidst all the amazing bits of technology we come across on a daily basis, oftentimes it is the simpler ones that catch our attention. Take the Dooraway for example. While I am not sure what took this so long to come to fruition, it is certainly something that millions would love to have as a part of their kitchen. The Dooraway is a retractable oven door, which both leaves extra space in the kitchen, and hides the hot door away from the kids. Nice job, Oven Elite.
Read More

| Dooraway via Gizmag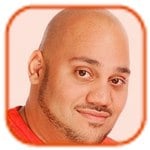 Tweet
Posted by Andru Edwards -
Categories: Features, Retro, Wii
This last week I was inspired to break my 8-bit NES gear out of cryogenic hibernation and play some classic old school games without any emulation or ports to modern hardware. Call me a freak, but no matter how advanced game system gets I will never get totally bored with the NES era games. I think a lot of them hold up pretty good over the years, and most of the Java based cellphone games are not technically more advanced than what we played in our NES decks back in the 80s.
Nintendo has been making lots of money recently off repackaging older NES games on the Gameboy Advance or a special edition disk of Zelda games for Gamecube.
Nintendo announced at E3 that their next game console the Revolution will be able to play downloaded classic games for the NES, Super NES and N-64 from half a gig of flash memory or a SD memory card through emulation in a virtual console. That is not to shabby since it will also play Gamecube disks and new Nintendo Revolution games and DVDs. They also might include the ability to play Gameboy, Gameboy Color and Gameboy Advance games through the virtual console but that has not been confirmed but it is entirely technically feasible.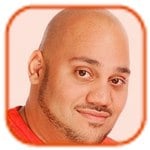 Tweet
Posted by Andru Edwards -
Categories: Action, Features, Portable/Mobile, Reviews
I love my PSP, but you know what boys and girls? There are just not enough good games for it if you ask me. That is why I had a smile on my face when I saw that Dead to Rights Reckoning was out for my game hungry PSP. Namco has put together a pretty good action game for the PlayStation Portable that involves shooting wave after wave of henchmen over and over again with hot lead. This is sort of a PSP side story port of the PS2 game Dead to Rights.
Dead To Rights Reckoning is an over the shoulder gunfight driven action game where you play a hard nose bad ass cop who has a killer dog for a friend. Some evil druglord bad guy kidnaps some girl that we never actually see, and a killing spree and blood bath ensues that is not over until there is an off screen virtual pile of dead henchmen the size of Dallas. The game play is very similar to Max Payne and you can even jump into a "Bullet Time" dive and shoot a lot of bad guys in super cool slow motion. In addition to co-opting Max Payne's biggest gameplay gimmick, you also can sic your off screen dog after the bad guy you have targeted and the dog will magically jump in and run over and rip out their through while the bad guys just stand there. Think of it as a summon evil hound spell that this guy chants when your killer canine meter is full.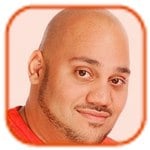 Tweet
Posted by Andru Edwards -
Categories: Corporate News, Internet, Software

You know, it was only a matter of time before Konfabulator was snapped up by someone big, and it has finally happened. Yahoo! has bought the product, along with the company behind it - Pixora. Yahoo! didn't delay on rebranding it as soon as they could, as there is already a Yahoo! Widgets site up and running. They are keeping the product free, and already have the library of PC and Mac widgets available for download. This is a smart move for Yahoo! in our opinion, a great way for them to get back on the desktops of computer users via information delivery.
Read More

| Yahoo! Widgets

Tweet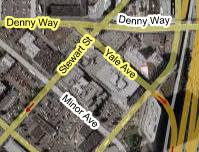 So this editor just got back from a multi-day camping trip and logged into Google maps to check out some satellite photos of the area I had come from. I was pleasantly surprised to discover that Google has managed to improve yet again on their Google maps application by introducing a third option to their map views: Hybrid. The new hybrid view combines a modified satellite image, with the street names transparently laid over the picture. It looks like they used the same technique to put the names and streets on as they use to plot a route in the directions feature -separating the information overlay as a transparent PNG layer is a great technical solution for problems like this. This was a great answer to both the new MSN Virtual Earth application's similar feature. For a visual person this is an ideal form of map - not only does it let you see the location you are going to, but it shows you what the buildings in the area look like!
Tweet
Posted by Alex Grahmann Categories: Corporate News, Internet, Wireless / WiFi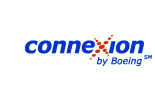 Several tech-minded journalists were invited this week to take Boeing's new broadband service for an test flight. The on board service, dubbed Connexion, would service the plane with 20Mbps of bandwidth. Taking advantage of the connection would cost anywhere between $10 and $30, depending on the type and length of the flight. While this all may sound wonderful, especially for those living the traveler's high-tech lifestyle, the down side is that none of the major airlines have shown any official interest in purchasing the service. In the era of budget and service cuts in the airline industry, it may be a while until we can join the mile-high web surfing club.
Read More

| PC World
Tweet
Posted by Devin Categories: Cell Phones, Portable Audio / Video

This obviously isn't the first time we've heard the iTunes phone was supposed to be announced, and I don't think anyone is holding their breath this time around, but MobileTracker is reporting that the elusive handset will be announced Monday night at an event called MOTONOW. Rumor even has it that Steve Jobs himself will make an appearance at the event. MOTONOW will be lead by Motorola CEO Ed Zander. If they don't plan to announce the phone at this event, I'd hate to be Zander, being bombarded with questions as I'm sure everyone there will want to know why the phone hasn't been announced yet.
Read More

| MobileTracker
Tweet
Posted by Alex Grahmann Categories: Accessories, Portable Audio / Video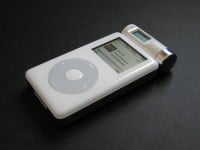 iLounge reviewer Jeremy Horwitz has gotten a hands-on first look at Griffin's new iTripLCD prototype. The most impressive feature of the device, which is the successor to the immensely popular iTrip, is the addition of a backlit LCD screen. The screen, used in partnership with a dial, allows the user to visually select which FM station they want to receive their iTrip broadcast. While you had the freedom to make this selection with the original iTrip, the process was complicated enough to be avoided by most users. Fortunately, it looks like Griffin is sticking with their smart design integration with this second-generation device and adding a few additional volume and sound-quality features. The iTripLCD should be available in August for around $40.
Read More

| iLounge

Tweet
Posted by Oscar M. Cantu Categories: Driving, Portable/Mobile
Burnout Legends is coming to a Portable Playstation near you this September and features one of the most entertaining game types well known to the serious – road rage. As many people know, this game combines speed and destruction in a game that becomes highly addictive and fun. Now this same game type will be available in a portable form very soon. EuroGamer has the trailer available for download for your viewing pleasure. You will need a BitTorrent download client such as Azureus to download.
Read More

| Burnout Legends PSP Trailer
© Gear Live Inc. – User-posted content, unless source is quoted, is licensed under a Creative Commons Public Domain License. Gear Live graphics, logos, designs, page headers, button icons, videos, articles, blogs, forums, scripts and other service names are the trademarks of Gear Live Inc.