Tweet
Posted by Jesse Easley Categories: Xbox 360
Now that Microsoft has let the official price and packages of the Xbox 360 out into the wild, everyone is talking about which to get or would you really spend $399 on new system. Well, MS Corporate VP J. Allard, held an online chat discussion on Monday to help alleviate concerns and to sell the 2 SKU idea.
Allard, who said that the chat was "super valuable" to the Xbox team, explained that the Xbox 360 launch has been optimized for three "critical audiences." Xbox 360 has been designed for the game developer "by offering them a no compromises platform with great hardware, tools and the leading online service with live;" for the hardcore gamer "by putting together a configuration with everything you would want at a compelling price;" and for the entry level gamer "that wanted to get into next generation gaming and was excited by the media capabilities and wanted an entry level option."

Read More

| GameDaily
Tweet
Posted by Edwin Soto Categories: Cameras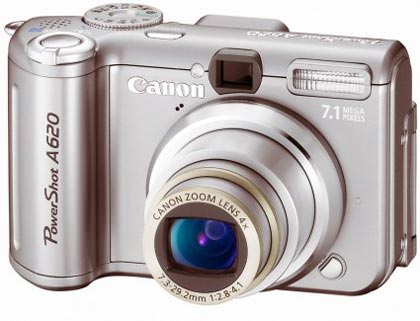 Cannon will release a new line of PowerShots "A Series" for all those looking for a simple out-of-the-box experience. The A620 (pictured above) will retail for about $400 and sports the following specs:
7.1 Megapixel, 1/1.8 inch charge coupled device (CCD)
Focal Length Lens
7.3 - 29.2mm f/2.8-4.1 (35mm film equivalent: 35-140mm)
4x Digital Zoom
TTL Autofocus (continuous/single)
Optical Viewfinder
Real-image optical zoom viewfinder
2.0 inch low-temperature polycrystalline silicon TFT color LCD (vari-angle)
Approx. 115,000 pixels LCD Pixels
Maximum Aperture - f/2.8 (W) - f/4.1 (T)
Shutter Speed - 15-1/2000 sec.; Slow shutter operates with noise reduction when manually set at 1.3-15 sec.
Recycling Time - Approx. 10 sec. or less (battery voltage=6.0V)
Shooting Modes - Auto; Creative: P, Av, Tv, M, C; Image: Portrait, Landscape, Night Scene, Special Scene (Foliage, Snow, Beach, Fireworks, Underwater, Indoor, Kids & Pets, Night Snapshot), My Colors, Stitch Assist, Movie
Photo Effects - Vivid, Neutral, Low Sharpening, Sepia, Black & White
SD Memory Card, MultiMediaCard readers
Movie: 640 x 480/320 x 240 (30 fps/15 fps), 320 x 240 (1 min. at 60 fps), 160 x 120 (3 min. at 15 fps)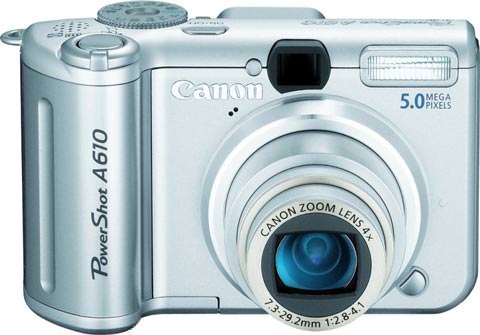 The A610 is the 5MP version of the A series and it will retail at $300. Here are some of its specs:
Powered by 4 AA-size batteries; stores images on SD memory cards (16 MB card included)
5-megapixel CCD captures enough detail for photo-quality 13 x 17-inch prints
2.0-inch vari-angle LCD display; 4x optical zoom
Shoot high-quality movies at up to 60 frames per second
20 shooting modes including My Color settings for customization while shooting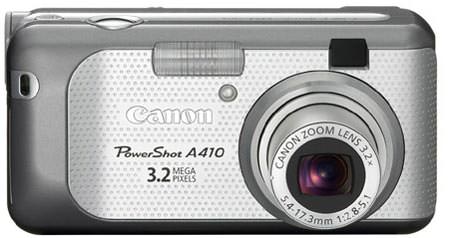 Lastly, this is for those who do more casual picture taking. The A410 is the smallest, lightest in these releases and will retail at $150. Here are its features and specifications:
Features:
Direct downloads and printing made easy with the new Print/Share button
4- Megapixel Digital ELPH with 3x optical and 4x digital zoom (12x combined zoom)
Sleek, ultra-compact metal body for the ultimate in style and durability
Exclusive Canon "DiG!C" imaging processor and iSAPS technology for superior image quality and faster processing speed
Full range of print features including ID Photo Print and Movie Print
Print direct to any Canon Direct Printer or any pictbridge enabled printer

Specifications:
Image capte device: 4.0 MP 1/1.8" CCD
ISO sensitivity: Auto, or User Set ISO 50, 100, 200, 400
Image quality modes (JPEG): Normal, Fine, Superfine
File format: Design rule for Camera File System, DPOF Ver. 1.1 (Digital Print Order Format)
Image recording format: Still Image: JPEG or RAW; Movie: AVI. Exif 2.2 compliant
Recording media: CompactFlash (CF) Card, Type I
Shooting modes: Auto, Manual, Stitch Assist, Movie, Continuous (Approx. 2.2 fps)
Photo effects: Vivid, Neutral, Low Sharpness, Sepia, B/W
Playback modes: Single, Index (9 Thumbnails), Magnification (Approx. 2x~10x) or Slide Show, Movie
Erase mode: Single Images, All Images
Interfaces: USB; AV Output (NTSC/PAL Selectable, monaural audio) & CF Card slot (Complied w/ Type I Standard), Direct Connection to Canon Direct Photo Printers & PictBridge compatible Printers
Lens: 3x Optical, 3.6x Digital. 11x Combined Zoom (equiv. to 36-108mm in 35mm format)
Shutter speed: 15-1/2000 sec. slow shutter of 1.3 sec. and more operates w/ noise reduction
Focus range: Normal AF: 18 in. (46cm)~infinity; Macro AF: 2~18 in. (5~46cm) (WIDE), 12~18 in. (30~46cm) (TELE)
Light metering method: Evaluative Metering, Center-weighted average metering or Spot metering
Exposure control: Program AE; AE Lock is available
Compensation: +/-2.0 EV in 1/3 step increments
White balance control: TTL Auto White Balance, Preset White Balance (Avail. settings: Daylight, Cloudy, Tungsten, Fluorescent or Fluorescent H), & Custom White Balance
Optical viewfinder: Real-image optical zoom viewfinder
LCD: 1.5" low-temperature polycrystalline silicon TFT color LCD
Power: Rechargeable lithium ion battery (NB-1LH) or AC Adapter Kit ACK500, Car Battery Carger CBC-NB1
Dimensions (W x H x D): 3.4" x 2.2" x 1.1"/ 87.0 x 57.0 x 27.8mm
Weight: Approx. 6.5 oz./185g (camera body only)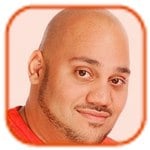 Tweet
Posted by Andru Edwards -
Categories:
Just found a great article which is basically just a checklist of what makes a successful entrepreneur. Thinking about the things I do and comparing it to the list, it is very spot on. It even includes a few things that I never noticed. If you have been considering going into business for yourself with the hopes of being a success, I would recommend check it out. Here is a snippet:
Skills of Successful Entrepreneurs



Co-ordination
The ability to manage many different types of jobs and responsibilities at the same time.
Evaluation
The ability to examine important facts about the business and to determine the least risky way to proceed.
Organization
The ability to organize all the resources of the business in order to make it run in the most efficient manner.
Research
The ability to obtain all the necessary information to insure that the best possible decisions are made.
Check the list, and let us know if you think anything is missing - or if you can relate - in the comments.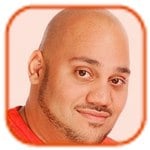 Tweet
Posted by Andru Edwards -
Categories:
If you are a small business owner without a website, Yahoo! is offering a simple solution if you are in their local small business index. It costs nothing to become listed, and now they are offering a free basic website as well. I am not sure what kind of domains Yahoo! will be using for the sites, so they may be long and unsightly - but regardless of the domains Yahoo chooses to affix, they are still a great free resource to local small business owners. The websites can have up to five different pages of information, and can be customized with a business logo, contact information, etc. Very cool.

Tweet
Posted by Jesse Easley Categories: Internet, PC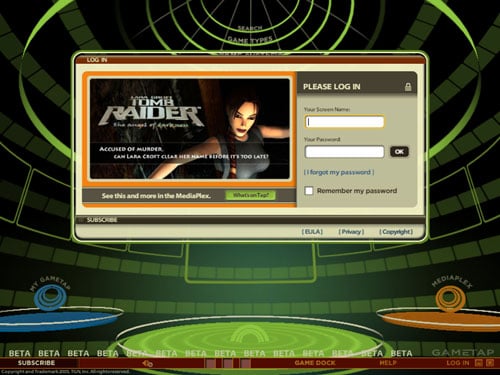 When we went to E3 this year we met with Turner, the creators of the upcoming GameTap service. GameTap provides subscribers an "all-you-can-play" gaming service accessible from up to two household computers. To access GameTap, players securely download and install Turner-developed client software from www.gametap.com that acts as a gateway to the GameTap vault. Because games reside securely on the PC, not across a network, they act just as if they were still on the console or at the arcade. Fast response times, 3D effects, colors, and characters are all present and accounted for. GameTap supports navigation and game play using keyboard and mouse, as well as most USB peripherals. Today, we got a press release from them explaining their pricing strategy. Jump down for the details!
Tweet
Posted by Devin Categories: Internet, Mods / Hacks, Software
If you can't wait until Google releases Google Talk to the masses, it seems you're in luck. All you need is a Jabber-compatable IM client like Audium, iChat, GAIM or Trillian and a Gmail account. Point your server setting to talk.google.com and simply sign in using your Gmail username and password. You'll be online using the latest instant messaging program in no time. Okay, not quite - but you are using the server. That's cool, right? If you're having a problem getting on, compare your configuration settings with these.

Read More

| Smash World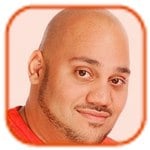 Tweet
Posted by Andru Edwards -
Categories: Features, Mods / Hacks, PC / Laptop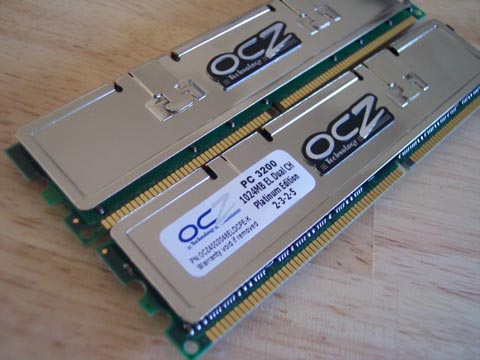 Boy, am I glad that's over. What a freaking ordeal. You see, a few days ago I continued my Mac switch (which, up to that point, included a Mac mini and 12" PowerBook G4) with the purchase of a 20" 2.0 GHz iMac G5. The thing costs about $2,000 after taxes are said and done, and maxing out the RAM would have cost an extra $400. Of course, I have upgraded RAM in many a computer - heck, I have built plenty of computers from scratch. Looking on Newegg, I saw a great deal for 2 sticks of 1 GB OCZ Platinum PC3200 RAM. With that purchase, I saved about $200 doing it myself instead of having Apple do it. The RAM arrived today, and the war between me and my iMac began.
Click to continue reading Installing OCZ Platinum RAM in iMac G5 Makes Me Mad
Tweet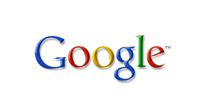 Google has had quite a busy year in terms of expansion- first Gmail, followed by Google maps and personalized Google news pages just to name a few. It now seems that Google is ready to launch their next project, possibly titled Google Talk, as early as Wednesday. Not just a clone of other instant messaging programs in the market, it's reported that along with the ability to talk via text-based messages, users will also be able to hold voice conversations thus throwing Google into competition with Skype, a service which has already hit the 150 million download mark. While Google has not yet commented on the project, I think it's safe to say that whatever it is Google has in store for us, it will be just as successful as their past ventures.
Read More

| USA Today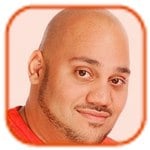 Tweet
Posted by Andru Edwards -
Categories: Misc. Tech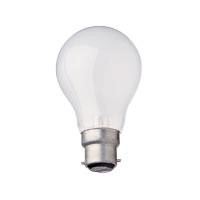 Not 100% sure yet how this one works, but it is cool nonetheless. This is a light bulb that sends an SMS message to its owner once it is burned out by sending a signal through the power line, to the internet, then finally to your mobile device. The result is a message that tells you to stop at Wal-Mart on the way home to pick up a bulb. This one is a little more trouble than it's worth for me. Obviously you need to register your bulb on a website so that it knows where to send the text message once it burns out. Too busy for that.

Read More

| RFID In Japan

Tweet
Posted by Sparky Categories: Accessories, Wii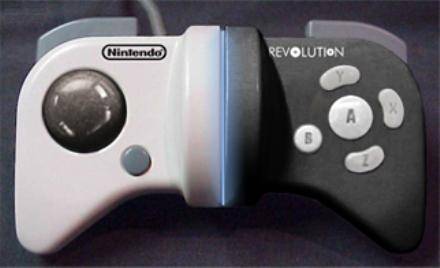 Computer Games Magazine is claiming to know the secret behind the Nintendo Revolution controller, that being gyroscopes. They have announced that the controller will feature off balance spinning widgets inside to give resistance to turning the controller. If Nintendo can get this right and vary the resistance dynamically it could be huge - imagine being in a driving game and when your wheel hits a curb the controller (and your car in sync) twists to the side. The question really is going to come down to wether or not Nintendo can make a motorized system like this work wirelessly without requiring you to recharge the batteries every hour. Just as rumble packs were huge when they hit back in the day this could be a big step forward in console gaming control.

Read More

| Nintendo Fanboy
© Gear Live Inc. – User-posted content, unless source is quoted, is licensed under a Creative Commons Public Domain License. Gear Live graphics, logos, designs, page headers, button icons, videos, articles, blogs, forums, scripts and other service names are the trademarks of Gear Live Inc.