Tweet
Posted by Jesse Easley Categories: Portable Audio / Video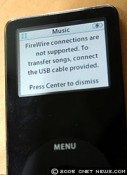 It seems that Apple's new iPod Nano doesn't swing the way of Firwire. If you try to transfer music from the Nano to your computer the Nano screen comes up with an error: "FireWire connections are not supported. To transfer songs, connect the USB cable provided." This is a big disappointment to us, as we have experienced having to swap cables due to the nano not syncing in our Firewire connected dock. When the iPods originally rolled out, they supported Firewire exclusively, adding USB support later on.

Read More

| News.com
Tweet
Posted by Devin Categories: Corporate News, PC / Laptop, Software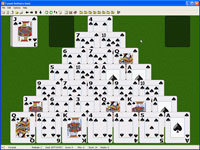 According to an article at BBSpot, it seems Windows XP will be the last OS to display the infamous Blue Screen of Death upon crashing. Instead, Windows Vista users will be treated to a game of solitaire from the Solitaire of Death Screen while waiting for IT support help. The cards backs will be none other than blue in color and will appear when "Windows reverts to less ideal operation for reasons unknown." This new screen is ideal for those whose computers crash while at work, because, as Bill Gates puts it, "Let's face it, these users were probably playing solitaire before their PC crashed so falling back to the SOD will not inconvenience them."
Edit: I was wondering how long it would take before a reader figured out it was a satire article. Gareth, contact us for your prize!

Read More

| BBSpot
Tweet
Posted by Devin Categories: Mods / Hacks, PC / Laptop, Peripherals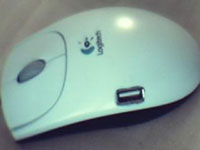 If you're like me, sometimes you're just not in the mood to reach over and plug something into your USB port. Thankfully, we're not the only ones who are lazy - check out this hack that puts a USB port right in your mouse. Say goodbye to all that annoying reach-around! Like the author says, "Amazing how laziness spawns some of the best ideas, eh?"

Read More

| I-Hacked

Tweet
Posted by Jesse Easley Categories: Corporate News
A little while back there was a swimsuit issue of female game characters which turned out to be pretty popular. Playboy followed that up when they did a feature based on naked renderings of female game character, which also turned out to be fairly popular. So much so that they are doing it again this year:
So which lucky video vixens will be baring all? Jacqui, a cheerleader from "Midway's Blitz: The League" will be in her god-given under-armor. Carla Valenti from Atari's "Indigo Prophecy," who plays a detective solving a rash of murders in New York City, will cleverly deduce that she's nude in the issue. Capcom's "Darkwatch" will offer two beauties, the arresting Cassidy, a blond deputy in the Old West, and Tala, a vampiric femme fatale who also appeared in last year's pictorial when "Darkwatch" was still under the watch of Sammy Studios. Alexa, a reporter from VU Games' "50 Cent: Bulletproof," will, to quote 50, not only "party like it's her birthday," but party in her birthday suit.
Read More

| News.com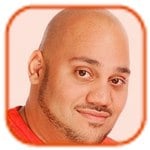 Tweet
Posted by Andru Edwards -
Categories:
You know, there are some ideas out there are are so painfully simple, and wonderfully brilliant, that many wonder "Why didn't I think of that?" Kevin Muoio's iPod My Baby and iPod My Photo ventures are two such concepts. Noticing the immense popularity of Apple's flagship MP3 player, the iPod, Kevin has been able to reap some success of his own by offering photos and baby clothing that are iPod-themed. We talked with Kevin about what it takes to jump into an Internet company, what today's Internet consumer expects out of all web-based stores in todays economy, and the challenges he faced when met with too much success!
Voices: Andru Edwards, Kevin Muoio - iPod My Baby, iPod My Photo

Length: 39:24, 27.1 MB


Get the Podcast:

Subscribe in iTunes
Subscribe in Odeo
Subscribe Locally
Manually Download MP3


Listen | iPod My Baby Interview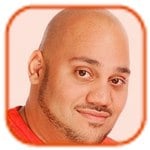 Tweet
Posted by Andru Edwards -
Categories: Accessories, Features, Home Entertainment, Video Games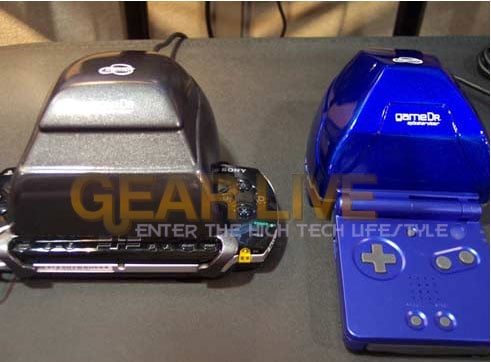 Over the past few days, there has been talk on the Internet that a company out there is working on a device that will allow you to play PSP content on your television. We were given an exclusive look at just that. The GameDr Excelerator will actually come in two flavors - one that allows you to play PSP content on your television, and another that does the same thing for the Game Boy Advance: SP. Now, this isn't something where you just hook up a cable to your portable device that sends a signal to the television. You are actually encapsulating the screen, and the GameDr Excelerator captures the video in real-time, and sends the signal to the television. It results in a bit of bulkiness, but still, a cool concept. No word on when the device will hit the market, but it should be very soon.

Tweet
Posted by Sparky Categories: Cell Phones, Mods / Hacks, Portable Audio / Video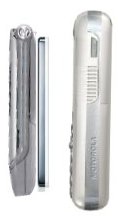 A number of people are complaining about the Motorola ROKRs ridiculous limitation at 100 songs. Analysts are saying Apple insisted on this limit so as not to cut into the sales of the rest of their iPod line. Luckily, some creative folks have figured out a way to create your own iTunes phone with a Motorola RAZR, an iPod Nano, and a roll of duct tape. I really have to admit that this is a rather clever solution to having 1000 songs + your phone line in your pocket, while not having to worry about using your mp3 player and draining your phones battery.

Read More

| Apparent Horizons

Tweet
Posted by Kristin Wenzel Categories: Corporate News, Software

Reversing a decision made in January that allowed Microsoft's Office 2003 XML format to be used within the State government, the State of Massachusetts has given Microsoft's proprietary formats the "thumbs-down."
According to the revised plan, only the OpenDocument file format, which is supported by Open Office, and Adobe's PDF format are to be acceptable for document exchange. According to Eric Kriss, Secretary of Administration & Finance for the Commonwealth of Massachusetts, "Desktop software that supports OpenDocument and PDF in the future is acceptable; Microsoft's proprietary XML formats are not." The state plans to develop phased migration plans from Microsoft Office to Open Office, with a target date for implementation of January 1, 2007.
However, there has been criticism over the definition of Adobe proprietary formats (protected by several patents) as being acceptable while Microsoft's proprietary formats were unacceptable. The "powers that be" in Massachusetts, however, seem to have made their decision - and leave an uneasy feeling about just how great their "commitment to open source" really is.
Read More

| ArsTechnica
Tweet
Posted by Devin Categories: Features, Movies, Product Reviews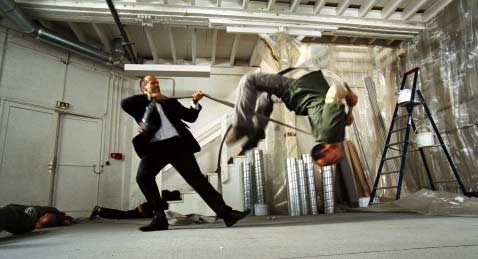 I decided on Friday night that, since I had nothing better to do, I would head to the theater in my little country town and hope that something decent was showing. How pleased I was to see that The Transporter 2 was on. I caught the first showing and was surprised that there was hardly anyone in the theater. From what little I knew about the film, I figured I'd have a good time, and by the time the film ended I knew I had figured right.
Like I had said in last weeks article, if you like to go to movies expecting everything you see to be 100% realistic, you probably won't enjoy this film - but if you're like me, willing to overlook a few slightly unbelievable and unrealistic scenes in hopes of being extremely entertained, you'll have a great time watching this story play out on the silver screen. Statham is great as Frank Martin, the driver for hire who's latest job has him chauffeuring the son of a government official to and from school. When a drug lord kidnaps the boy and injects him with a deadly virus, Frank takes it upon himself to find the antidote, a journey which brings quite a bit of fun to the screen.
Click to continue reading The Final Cut: The Transporter 2 Reviewed

Tweet
Posted by Kristin Wenzel Categories: Misc. Tech, Mods / Hacks, Portable Audio / Video
Think traditional grave markers are a little too "low tech?" Well, you're in luck. A company called VidStone, LLC has just the thing to make your afterlife (or that of a loved one) a little bit more high tech. The company's "Serenity Panel" features a 5-10 minute, multimedia memorial presentation which can include video, music, speech and text. It is solar powered and features a weatherproof LCD panel to display the montage, at the site of the grave itself, built into the tombstone.
The company produces the presentation from material supplied by the client, and provides a proof for final approval before producing the final product, meant to last and provide the living with a way to remember the deceased. The panel can be attached to just about any grave marker, even in a mausoleum.
Creepy? Cool? You decide.
Read More

| Vidstone, LLC
© Gear Live Inc. – User-posted content, unless source is quoted, is licensed under a Creative Commons Public Domain License. Gear Live graphics, logos, designs, page headers, button icons, videos, articles, blogs, forums, scripts and other service names are the trademarks of Gear Live Inc.