Tweet
Posted by Sparky Categories: Mods / Hacks, PC / Laptop, Software
The open source developers behind WINE, the Windows library emulation layer for Linux are working to make their libraries work with the Intel version of OS X. If they succeed then you would be able to run Windows applications from within OS X - no need for emulating a Windows VM - just run the application natively. If they can really pull this off I'll be compressed - it will have taken away the last reason for people to run Windows over Apples popular operating system by enabling all Windows enterprise applications and games to run seamlessly within the Aqua GUI.

Read More

| OS X86 Project Forums

Tweet
Posted by Sparky Categories: Misc. Tech, PC / Laptop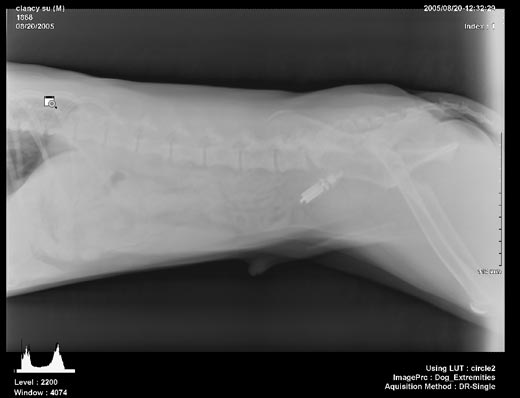 When a soft-coated Wheaton in Brooklyn named Clancy went looking for a chewtoy, he nearly got more than he bargained for. Clancy chowed down on an Apple PowerBook cord and managed to swallow the "business end" - as shown in this x-ray. Clancy is just lucky that the power cable was not plugged in - dogs have been known to receive serious shocks from engaging in this activity.

Read More

| Gizmodo

Tweet
Posted by Kristin Wenzel Categories: PC / Laptop, Software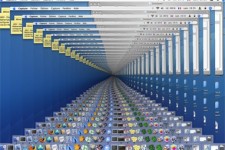 Hilarity ensued when I found this little gem on Apple's download site. To quote: "A stupid OpenGL screensaver that is likely to make you feel sick in a very short time."
No, there's no point. Just a weird, obnoxious screensaver which is, according to an informal poll of my housemates, "Ughh." or "Trippy."

Read More

| SickSaver Download
Tweet
Posted by Edwin Soto Categories: Corporate News, PC / Laptop

In a not-so-stunning move, Apple has newly stated that using PowerPC chips from Freescale is mandatory. In fact, under the signed agreement, Freescale must provide Apple with the chips until 2008 and under that same agreement Apple is under no obligation to use them past a work in progress.
The deal, which has been logged with the US Securities and Exchange Commission, seems to mean that either Jobs' Mob is hedging its bets on any Intel deal or thinks it will take a long time to do it.
These things do indeed take time and Apple is known for doing things their way or the highway. Looks like Jobs is leery about moving too fast on the Intel Project.

Read More

| EETimes

Tweet
Posted by Jesse Easley Categories: Home Entertainment, Misc. Tech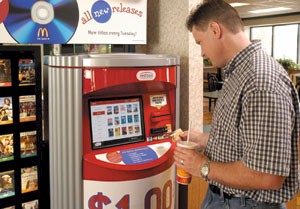 Jumping on the DVD rental bandwagon, McDonalds is testing Red Box DVD kiosks in some Denver locations. You can now rent movies for $1 a day to accompany your Big Mac, large fries, and heart attack.
In Denver, customers can visit the Redbox DVD machines at participating McDonald's and rent the newest DVD movies releases for just $1.00 per night, plus tax - with no membership forms and no late fees - and return the same movies at any participating McDonald's Denver location. The latest new DVD releases are added to the Redbox DVD rental machines every Tuesday. McDonald's is the first quick service restaurant to offer new DVD movie rentals to consumers, extending its legacy of introducing new and innovative ways to create relevant, satisfying, and unique customer experiences in its restaurants.
Read More

| Kiosk Magazine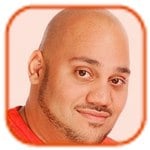 Tweet
Posted by Andru Edwards -
Categories:
So, I am taking a break from packing as I prepare to shut down this iMac before unplugging it and putting it into its box in preparation of our move tomorrow. We are moving ourselves, along with Gear Live Media, from Olympia, WA up to Seattle, WA. The 60 mile move is due to the large community of technology and entreprenurial minded folks that I usually get to communicate with over email, but rarely get to see face to face. A few months ago, I realized the value of face-to-face interaction when I went to GnomeDex. Yes, email is a great tool for the Internet entrepreneur - but you just can't beat the value of sitting down with someone to talk and share ideas.

Tweet
Posted by Kristin Wenzel Categories: Corporate News, Music, Portable Audio / Video

Those pesky music industry execs are at it again - and this time they're looking not to take on file-swapping college kids or bootlegged CDs. Their next target? Apple's wildly popular iTunes music service, which revolutionized and breathed life back into the (legal) music market with their simple pricing scheme (.99 per song, no matter what song it is) and easy-to-use service. The industry, who once hailed iTunes as a savior of sorts, now seem to have changed their… well… tune.
A sore point for some music executives is the fact that Apple generates much more money selling iPod players than it does as a digital music retailer, leading to complaints that Mr. Jobs is profiting more from tracks downloaded to fill the 21 million iPods sold so far than are the labels that produced the recordings.

Andrew Lack, the chief executive of Sony BMG, discussed the state of the overall digital market at a media and technology conference three months ago and said that Mr. Jobs "has got two revenue streams: one from our music and one from the sale of his iPods."

"I've got one revenue stream," Mr. Lack said, joking that it would require a medical professional to locate. "It's not pretty."
Excuse me while I laugh myself stupid. I'm sure Mr. Lack is nowhere near the soup kitchen, if he's the chief executive of Sony BMG. I read things like this and just about always fail to see where these top-dollar executives find the sense of entitlement they always seem to develop as soon as anyone besides them is making any money.
Read More

| NY Times
Tweet
Posted by Devin Categories: PC / Laptop, Software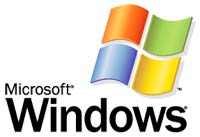 Those of you with Windows XP who have ever had the misfortune of having your system crash are certainly not alone. According to an article by John C. Dvorak, there are an estimated 24.5 million XP crashes a day, for a total of 30 billion each year throughout the world. If you add in estimated crashes for operating systems like ME, 98 and any other Windows platforms, the magic number jumps to 70 million crashes a day. Since kicking your computer won't fix the situation, the next time you see the Blue Screen of Death you can at least take some comfort knowing you're not the only one. Or you could just buy a Mac…
Read More

| PC Mag
Tweet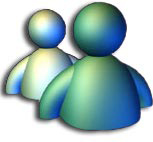 MSN Messenger 7.5 is still in beta, but that doesn't mean Microsoft can't begin work on 8.0, right? According to The Hotfix a third party source who supposedly works for Microsoft was kind enough to provide them with the a list of possible, and most certainly rumored, features for MSN Messenger 8.0:
• Change of Messenger Skins
• Real-time Emotions
• Messenger Built Internal Windows Media Player 10
• Pause/Resumed File Transfers (File Blocked Extension Applied)
• Detailed File Transfer (Download/Upload Speed)
• Animated Display Pictures (.gif .jpg .png (File Support under Consideration))
• Mood Status
• Faster Contact List Loading and scrolling
• Public Profile and MSN Spaces Combined
• More MSN Space features
• New Hotmail and MSN Messenger Integration
• Downloadable MSN Messenger on Mobile
• News Updates according to Location
• Top 10 MSN Music Radio
• New Stylish Notifier Pop-up
• Downloadable Skins for MSN (Contact Window & Conversation Window)
• Complete Integration with Windows XP® & Windows Vista® Codename: Longhorn®
• Offline Voice/Message Machine
• Animated Buddy Icon Helper
• Display Picture Ratings
The source also claims that 8.0 will be in BETA by the end of this year, and we can expect the official release in 2006. What do you think of the features? Improvements to a popular IM client, or just more junk you won't use anyways?

Read More

| The Hotfix

Tweet
Posted by Kristin Wenzel Categories: Internet
After a particularly destructive rampage across the Internet, leaving a wake of disabled and broken PCs, authorities have arrested two young men in connection with the case.
Authorities in Morocco and Turkey have arrested two people believed to be responsible for unleashing a computer worm that infected networks at U.S. companies and government agencies earlier this month, the FBI said Friday.

Farid Essebar, 18, was arrested in Morocco, while Atilla Ekici, 21, was arrested in Turkey on Thursday, the FBI said. They will be prosecuted in those countries, the FBI said.
The worm targeted critical security flaws in Microsoft Windows operating systems, with Windows 2000 most susceptible to infection. Mac users, as usual, were not affected.
Read More

| KOMO
© Gear Live Inc. – User-posted content, unless source is quoted, is licensed under a Creative Commons Public Domain License. Gear Live graphics, logos, designs, page headers, button icons, videos, articles, blogs, forums, scripts and other service names are the trademarks of Gear Live Inc.