Tweet
Posted by Oscar M. Cantu Categories: Corporate News, Mods / Hacks, Software

Microsoft's attempt to fight software pirates was stopped in its tracks last time this validation tool was released. Now they claim to have fixed the vulnerability. I guess you can call this the Genuine Windows Validation Tool SP1. Let's see how long it takes hackers to make this one obsolete. My guess is we'll be hearing about a work around by week's end.
Read More

| The Unofficial Windows Blog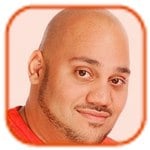 Tweet
Posted by Andru Edwards -
Categories: Features, PC / Laptop, Peripherals, Product Reviews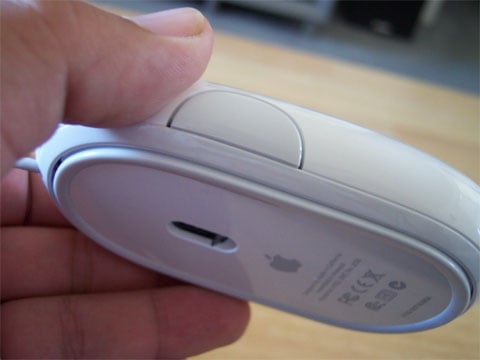 So, Apple announced the availability of their first two-button-esque mouse yesterday. While two button mice have been supported by the Mac OS for years, Apple itself has never released anything but the one button mouse they are notoriously known for. With the release of the Mighty Mouse, Apple has taken a step forward in computing in my opinion. The mouse has some great features, and is highly customizable - but it's not without its shortcomings. We take a detailed look at the mouse that shocked the tech world in our review.
Click to continue reading Apple Mighty Mouse Review

Tweet
Posted by Jesse Easley Categories: Xbox 360
The rumor mill is at it again, this time from sources at Wal-Mart. The claim is that the Xbox 360 will sell for $299, with the games retailing for $59.99. They also say that the system will launch on November 4. This is a good and bad thing for all of us gamers. If the system ends up selling for $299, Microsoft will have a significant price advantage over Sony's PS3 $399 price point. Now the downside is that the games would cost an extra $10 per game which is kind of rough considering many gamers are teens and kids without a source of income. Let us know what you think!
According to the website totalvideogames.com, anonymous sources at the nation's largest retailer Wal-Mart are claiming that the Xbox 360 is slated to launch on November 4, 2005 for the price of $299.99. If true, that price point is what the majority of industry analysts were expecting from Microsoft.
Read More

| GameDaily
Tweet
Posted by Edwin Soto Categories: Wearables, Portable Audio / Video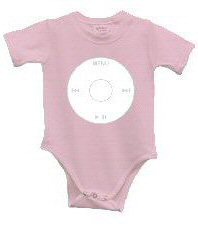 "iPod" and "baby" are two words usually used in this form, "My baby threw my iPod in the toilet," or some variation of that. However, this clothing company is planning on changing that image. In an attempt to "iPodify" your baby, you can get these cute - and strange - onesies in 3 colors and 3 sizes. Now if only the click-wheel would pause crying until you get the bottle - that would be a great baby mod.
Read More

| iPod My Baby via MacMerc
Tweet
Posted by Edwin Soto Categories: Software

You can download this free plugin for Mail (Mac OSX 10.3 and up) which has some handy features in the ever challenging fight against spam. You can set it to check filenames and charsets for extra protection. Here are some updated features since the last update:
What's New:
Version 1.5.8:

Added the ability to check for newer versions of JunkMatcher via the menu item Check for Application Updates under the JunkMatcher menu. Yon can also instruct JunkMatcher to check for application updates every time it starts in the Preferences window.
Re-matching emails by choosing "Apply Rules" from Mail.app will not update test statistics now.
Bug fixed: Now you can really see the Pattern Deltas when you use the Check for Pattern Updates function.
Read More

| MacUpdate
Tweet
Posted by Edwin Soto Categories: Internet

The auction has ended. Who's the lucky winner? A fan of reality shows? Well, it turns out that not even his momma bid. This poor, washed-up reality star put himself up for grabs for a stunningly expensive 400 pounds on eBay. Money raised was to be distributed to a local animal charity (aka his dog), but it seems as if none were too charitable in this embarrassing display.
Read More

| eBay
Tweet
Posted by Edwin Soto Categories: Internet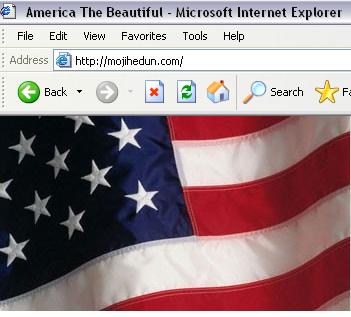 In an effort to prevent new terrorist attacksISP are beginning to do their part by maintaining content hosted. Aplus .Net for example, has used crawling technology similar to those in our favorite search engines to find sites with malicious intent, such as pro Al-Qaeda content. This picture is an example of a site (www.mojihedun.com) created in Pakistan - it was classified as a malicious Jihadi web site and was taken down and replaced with patriotic content. These sites violate contractual obligations in the Terms of Service within the theirISP, therefore removing the content is not illegal.
Every Web-site producer that posts content on the Internet via a commercial Internet Service Provider signs an agreement to abide by the terms of service of theISP . Most of these contracts contain provisions that indicate the posting of criminal or terrorist content is prohibited, so removing the content is well within the contractual rights of theISP.
Read More

| Physorg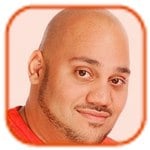 Tweet
Posted by Andru Edwards -
Categories: Internet, Software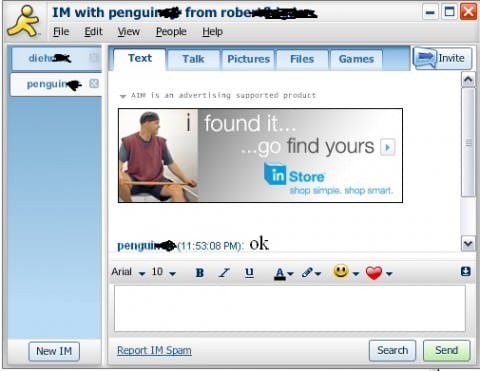 Hey AOL, what are you thinking? I guess we should have known that when we saw AOL was working on putting some nice features into the next version of its Instant Messenger software, Triton, that it would mean even more annoying advertising in the product. I mean, take a look at the above - the ad is directly in the text chat area. Tabbed chatting isn't worth this, AOL. This is why you continue to become obsolete on the Internet.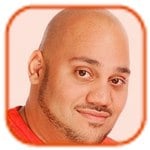 Tweet
Posted by Andru Edwards -
Categories: Features
I thought it would be a good idea to put together a bit guide as how to be a better gamer. I have been playing video games since the days of the Atari 2600 and the Colecovision so this is sort of a community service announcement for the younger generation.
Schedule some time to play a game. Unlike watching TV you can play a game almost anytime you want with the notable exception of Animal Crossing and some MMORPGs but you need to actually say to yourself "I want to play some Gamecube and that is exactly what I am going to do for the next three hours". You don't have to tell your friends and family and rub it in their face but just realize the fact that you want to play games and make sure you got the time. If you don't have a lot of time to play games than a massive RPG really might not be a good idea.

Tweet
Posted by Sparky Categories: Portable Audio / Video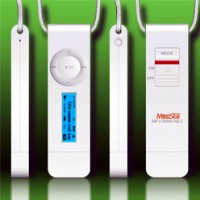 A company out of China called CrownFast Technology has released their latest MP3 player - the MP270. The MP270 of course bears a striking resemblance to the iPod Shuffle, preferring to differentiate itself by adding a small blue LED screen. The MP270 features 7 different backlight colors, MP3 and WMA support, an FM radio + recorder all packed together with a 12 hour battery life. With 64MB on up to 1GB sizes available these things really are aimed at everyone.
While I seriously doubt that this product is ever going to hit the United States without a vicious pack of Apple lawyers to greet it, I must admit that the screen is compelling. How difficult would it be for Apple to make a shuffle Pro with a small screen and touch sensitive strip for scrolling? The FMplayer is a nice touch, but a screen would make the shuffle the ultimate "put in your pocket" MP3 player. You can easily fit a days worth of music on a 1GB player and with enough battery life to keep you rocking all day long and a screen to chose what you want, it's the solution the cries out "Build me Apple - make me a real product".
Read More

| DAPreview via Gizmodo
© Gear Live Inc. – User-posted content, unless source is quoted, is licensed under a Creative Commons Public Domain License. Gear Live graphics, logos, designs, page headers, button icons, videos, articles, blogs, forums, scripts and other service names are the trademarks of Gear Live Inc.