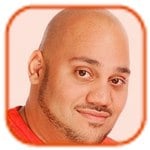 Posted by Andru Edwards Categories: Celeb News, Celebrity Gossip,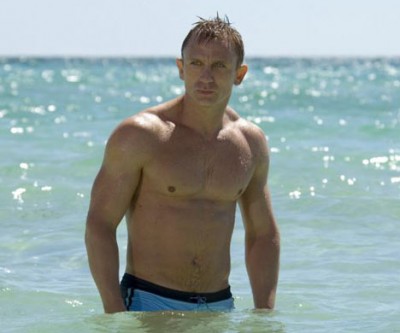 Daniel Craig has been voted Hollywood's Hottest Torso.
The 41-year-old actor topped a Lovefilm.com poll for the scene in Casino Royale where James Bond emerges from the ocean wearing a pair of tiny blue swimming shorts. He won 34% of the vote, while Gerard Butler came second with 21% for his shirtless scenes as Spartan king Leonidas in 300. Brad Pitt's sculpted chest and abdomen in Troy secured third place with 13% of the vote.
Sacha Baron Cohen came an unlikely fourth for his "mankini" scene in Borat, followed by Sean Connery in 1965 Bond adventure Thunderball and Leonardo DiCaprio in The Beach.
Click to continue reading Daniel Craig Praised for His Torso

Posted by Dennis Velasco Categories: Universal, Satire, Comedy, New Releases,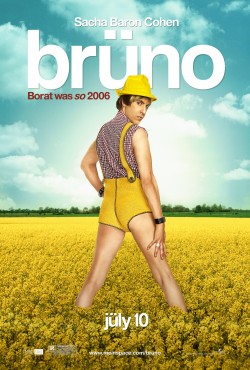 Consider the hype over Brüno after a very funny and, dare I say (I will), brilliant Borat. Also consider how many times you and your friends have said, "D and G. Dolce and Gabana… Hello!" Obviously, there are going to be lots of expectations and anticipation, which was definitely the case when I sat down in my seat, readying myself to laugh hard and be shocked because you knew it was going to happen. Well, the laughs did come and the shock was definitely there. It was so bad, some mother who brought her adolescent daughters actually walked out of the theater after five minutes. But, seriously, what was she expecting?
The film follows the same cinematography of Borat with hidden cameras, an exponential amount of locations, spliced scenes within scenes, and the embarrassment of real-life people that have no idea that they are looking either very dumb, very homophobic, and/or very punked. Sacha Baron Cohen is an unbelievable comedic actor and he sells playing his character Brüno very well. And if you've seen Brüno appearing on various talk shows to promote the movie, such as David Letterman, you know this already.
Click to continue reading Movie Review: Brüno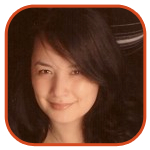 Posted by Veronica Santiago Categories: Universal, Comedy, Celeb News, Upcoming Releases,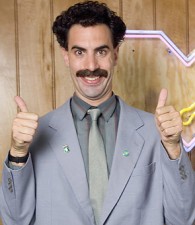 Recognizing that its often best to get out early, Sacha Baron Cohen has decided to put two of his famous characters to rest. Both Ali G and Borat Sagdiyev - personas created almost 10 years ago - will now only be remembered in their prime.
Thanks to the exposure on HBO's Da Ali G Show and last year's Borat: Cultural Learnings of America for Make Benefit Glorious Nation of Kazakhstan, the actor/comedian understands that he can no longer keep up the element of surprise. Fortunately for fans, this will allow Sacha, 36, to now focus his attention on new roles. In addition to his flashy cameo in the currently released Sweeney Todd, Cohen will later be seen in Bruno - a film revolving around the Austrian fashion reporter often featured on his former cable show.
Read More

|
E! Online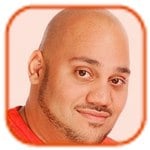 Posted by Andru Edwards Categories: 20th Century Fox, Satire, Comedy, Celeb News, Short FilmCrunch, Theatrical Reviews, Videocasts,
Neil Estep goes off on the people trying to sue to the makers of Borat. He gives you an overview of what the Borat film is all about, and why it's really a genious piece of work, being that it is unique with real-life people. Watch out Borat haters…if Neil sees you on the street, he will yell at you, and then run quickly when you reciprocate. If you are unfamiliar with Borat:
Journalist Borat Sagdiyev leaves his native Kazakhstan to travel to America to make a documentary. As he zigzags across the nation, Borat meets real people in real situations with hysterical consequences. His backwards behavior generates strong reactions around him, exposing prejudices and hypocrisies in American culture. In some cases, Borat's interview subjects embrace his outrageous views on race and sex by agreeing with him, while others attempt to offer a patriotic lesson in Western values.
Now we want to hear from you - hit the forums and let us know what you think, what you want us to watch next, and any other recommendations you have for the show.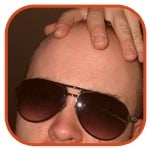 Posted by Johnny Mercedes Categories: 20th Century Fox, Comedy, Celebrity Controversy, New Releases, Theatrical Reviews,
Borat Sagdiyev is a journalist from Kazakhstan sent to the United States to learn the ways of American culture. Upon arriving in New York, Borat and his producer begin setting up interviews with various experts in an effort to take back to their country all they have learned, and to improve the Kazakh way of life. Plans change, however, when Borat discovers a late night rerun of Baywatch, falls in love with Pamela Anderson, and becomes determined to travel across the country to make her his wife. Borat: Cultural Learnings For Make Benefit Glorious Nation Of Kazakhstan will push the moral limits of even the most unscrupulous person, but cannot be ignored for its brilliant social satire and outrageous humor.
Click to continue reading Borat: Cultural Learnings of America For Make Benefit Glorious Nation of Kazakhstan…Review (phew!)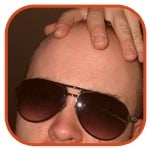 Posted by Johnny Mercedes Categories: Celeb News, Celebrity Controversy,
Mahir Cagri, a Turkish man and freelance journalist, is claiming to be the inspiration for Borat, the fictional Kazakh journalist and main character in the new eponymous film. Created by Sacha Baron Cohen, Borat first officially appeared on Da Ali G Show in 2003 – Cohen had been toying with the character for years in Britain, where he began exposing hidden stereotypes, offending innocent bystanders, and making us laugh. Cagri first became known to the public when he started a personal website to make new friends. The site quickly gained popularity due to the unintentionally humorous photos of Cagri playing ping pong and wearing a Speedo, and poorly written text, including an invitation for any women wishing to visit his home in Turkey. This quickly launched Cagri into instant internet celebrity. However, Cagri claims, "(Cohen) is making money by using me" and seeks an "acknowledgment or an apology."
Doesn't this always happen when someone starts to get really famous? People start coming out of the woodwork, claiming that they've been wronged somehow and demanding recognition or payment. Granted, there are a few coincidences here, but Cohen could've culled his inspiration from many different facets of Central Asian and Muslim culture. It seems Cagri could simply be riding the coattails of a famous character who happens to look and speak similarly. And even if he is Cohen's inspiration, should Cagri have the right to call him out publicly? Should Cohen feel it necessary to apologize? We don't think so. Borat is hilarious – sometimes, satirically brilliant - no matter where he came from, and, despite this accusation, Cohen has molded him into his own unique character. Cagri should be content in his own celebrity and feel flattered at the possibility of his own grand influence. So, leave Borat alone; if he not successful in US and A, he will be execute!
Read More

| CNN

© Gear Live Media, LLC. 2007 – User-posted content, unless source is quoted, is licensed under a Creative Commons Public Domain License. Gear Live graphics, logos, designs, page headers, button icons, videos, articles, blogs, forums, scripts and other service names are the trademarks of Gear Live Inc.