Friday August 10, 2007 12:42 am
The Preview Review: Be Kind Rewind, Lars and the Real Girl, Good Luck Chuck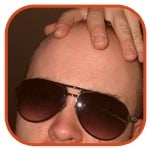 Tweet
Posted by Johnny Mercedes Categories: FOCUS, MGM, Lionsgate, New Line, Drama, Independent, Satire, Comedy, Trailers, Upcoming Releases,
Welcome to an exciting August edition of The Preview Review, where the newest trailers get a second glance.
This time, we turn a scrutinizing eye on three upcoming films about bumbling, unlucky men struggling to overcome ineptitude and find happiness, fall in love, or replace hundreds of erased VHS tapes with homemade film homages. I'll explain after the jump.
---
Be Kind Rewind
Michel Gondry (Eternal Sunshine of the Spotless Mind, The Science of Sleep) returns with his much-anticipated (by me) film about a man who accidentally magnetizes his brain and ruins every tape in his friend's video store. To replace all the lost movies, the two set out to recreate the classic films with a camera, some bad props, and only a slight remembrance of each storyline.
From the mind of Gondry comes another movie that will seemingly blend visual style with relatable subject matter; movie-lovers will likely find Be Kind Rewind doubly appealing due to the very films it playfully mimics. Upon first hearing about this endeavor, as well as its synopsis and cast, I began to wonder if it would be better suited as a short film or YouTube video. I thought, "Is Gondry running rampant with creativity, writing and directing movies based on whims and dreams that, well, shouldn't necessarily be made into feature-length films?" After seeing this trailer, the answer is undoubtedly "no"—while strange, this can't be anything but pure fun.
Prediction: Be Kind Rewind, with the help of an ever-spontaneous Jack Black, will be another exercise in Michel Gondry's brilliance, and will prove once again that anything plucked from his mind should be seen.
---
Lars and the Real Girl
Craig Gillespie directs this odd-looking dramatic comedy about a lonely, delusional man who purchases a life-sized doll on the internet and proceeds to introduce her to his family as his girlfriend.
It's hard to gauge the ability of a director like Craig Gillespie—up until now, he's only really directed commercials. His first feature film will be Mr. Woodcock, a comedy starring Billy Bob Thornton and Seann William Scott, but that won't be released until September. The screenwriter, Nancy Oliver, has experience writing in television—mostly Six Feet Under, which is a good sign—but also lacks experience on the big screen. It seems we have only two major qualities that can be used to determine the success of Lars:
The strangely appealing story, which, beyond its obvious comedic facets, seems utterly heart-warming
The presence of Ryan Gosling
Setting aside his Oscar nomination for 2006's Half Nelson, Gosling is simply the most exciting actor to watch right now. His involvement, along with the sad two-tone jacket and parted hair, makes me feel all mushy inside.
Prediction: Lars and the Real Girl will be a simple story with deep, complex characters, awkward comedy, and unconditional familial support. It will be on par with the fantastic Little Miss Sunshine, but with one great bonus—Ryan Gosling.
---
Good Luck Chuck
Charlie has a curse: When a single woman sleeps with him, the next man she meets will be her true love. After taking advantage of the bittersweet affliction, Charlie meets a girl he really cares about and must break his curse before they become intimate.
Ah, the wonders of marketing. For months we've all seen the film's ambiguous posters hanging outside the theater, depicting a sexy Jessica Alba holding a melting ice cream cone, a goofy Dane Cook with his shirt off, and "the fat guy" yelling and holding some kind of fruit. And, of course, we stop and ogle and stare and wonder, "What could this movie possibly be about?" Now you know. Sadly, despite a relatively short time in film, Dane Cook has begun making "Dane Cook movies." You know, where he's a loud, obnoxious guy doing loud, obnoxious things in an only slightly funny way? Don't get me wrong, Cook has talent and will someday find a vehicle for it (see: Adam Sandler), but that day is far, far in the future.
Prediction: Good Luck Chuck will be another in a recent rash of formulaic and banal comedies: low-brow humor, objectified women, and "the fat guy."
© Gear Live Media, LLC. 2007 – User-posted content, unless source is quoted, is licensed under a Creative Commons Public Domain License. Gear Live graphics, logos, designs, page headers, button icons, videos, articles, blogs, forums, scripts and other service names are the trademarks of Gear Live Inc.