Saturday July 28, 2007 2:57 am
DVD Review: The Number 23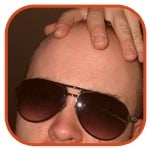 Tweet
Posted by Johnny Mercedes Categories: New Line, Drama, Horror, Mystery, Thrillers, Home Entertainment, New Releases, DVD Reviews,
The slickly-directed and highly-stylized Joel Schumacher film about an ordinary man's infatuation with an extraordinary number was released on DVD this week. Starring Jim Carrey and Virginia Madsen, The Number 23 delves deep into the psyche of Walter Sparrow, a man all too ordinary, and a small red book that enters his life. The thin, disheveled paperback tells the story of Fingerling, a detective whose encounter with the eponymous number grows into an obsession beyond the bounds of logic — an obsession that begins to take hold of Sparrow himself.

Although the film looks beautiful in every way, and the performances hold up enough to keep one intrigued, The Number 23 attempts to invoke malevolence from mathematical coincidence and superstition, and neither become anything more for it's audience.

Please check out FilmCrunch's full video review and textual review.
The DVD is an Infinifilm™ release from New Line, which often means the features will be quite exhaustive and unique; this is no exception. This release also has both the unrated and theatrical versions, though the feature that allows you to jump to various mini-featurettes during the movie is only available while watching the theatrical version.

DVD features:
The Number 23 Enigma Documentary
How to Find Your Life Path Numbers Featurette
Fact Track Trivia
16 Deleted Scenes
Commentary from Director Joel Schumacher
Making of The Number 23 Featurette
Creating the World of Fingerling Featurette
For anyone who enjoys this film, and not unlike other Infinifilm™ releases, the special features here are incredible. Anything you could possibly want to know about the themes, script, characters, or production is probably represented. Standouts include The Number 23 Enigma Documentary, which highlights all of the mystery and history surrounding the number and the general obsession with numbers — things that should've been introduced in the film to give it more urgency. The Fast Track Trivia Feature is also fun — sort of a pop-up video for the entire film, giving the viewer facts about the actors or locations without detracting from the movie itself.

Now, just because the features are incredible, doesn't mean that some couldn't have been tossed aside. For instance the How to Find Your Life Path Numbers Featurette, a segment hosted by numerologist Glynis McCants about zodiac-style personality characterization using numbers instead of astrology, is silly and underwhelming. Not only that, but the instructions for finding one's life path number are a bit unclear.

To find your life path number:
Take your birthdate (dd/mm/yyyy), and add all of the single digits together. For instance, my birthday is 03/23/1982, so I would add 3 + 2 + 3 +1 + 9 + 8 + 2 = 28
With that number, again add the single digits. 2 + 8 = 10
According to Glynis, the life path numbers only range from 1 to 9. My number is 10. Either that means I have a personality that hasn't yet been classified, or the instructions are flawed. Oh well, I guess I can't compare my number with some arbitrarily chosen traits and superstitious nonsense.

All in all, these features will only be attractive if you enjoyed the film. And no, the unrated version doesn't add anything special to the already implausible, sometimes banal plot.
© Gear Live Media, LLC. 2007 – User-posted content, unless source is quoted, is licensed under a Creative Commons Public Domain License. Gear Live graphics, logos, designs, page headers, button icons, videos, articles, blogs, forums, scripts and other service names are the trademarks of Gear Live Inc.