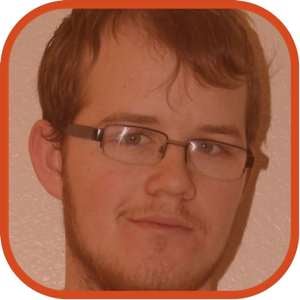 Tweet
Posted by John Ball Categories: Action, First Person Shooters, PlayStation 3, Release Dates, Trailers, Xbox 360,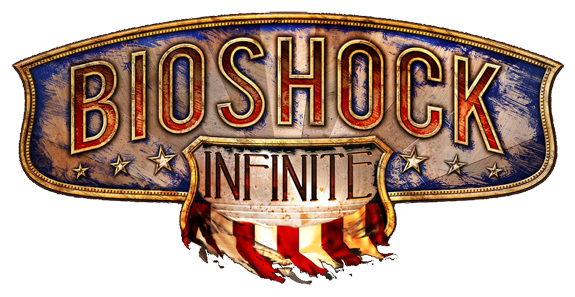 The Internet is ablaze this week as more and more information about the Irrational Games upcoming release Bioshock Infinite is coming out. We now have 3 exclusive preview trailers released as of today, and we are sure to see more on the way. Irrational Games has named each trailer after the specific object in the game. The collection of these trailers is known simply as Bioshock Infinite Heavy Hitters, and, man, do they hit hard. Hit the jump to get a look at all three.
Click to continue reading Bioshock Infinite Preview Trailers: Heavy Hitters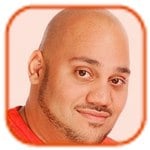 Tweet
Posted by Andru Edwards Categories: Action, Downloadable Content, Third Person Shooters, Xbox 360, Xbox Live,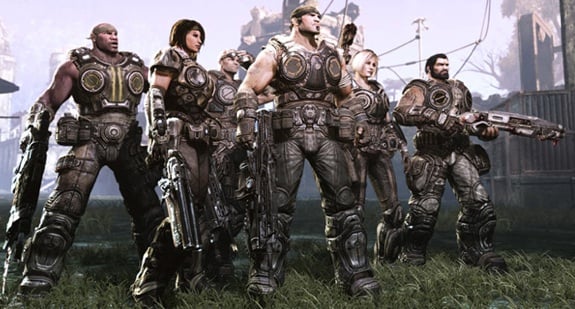 Gears of War 3 Title Update 4 drops tomorrow morning at 2:00am PDT, and brings with it a bunch of improvements and bug fixes. To get it, just load up the game and you'll be automatically prompted to download it if you're connected to Xbox LIVE. We've got the full list of changes for you after the jump.
Click to continue reading Gear of War 3 Title Update 4 details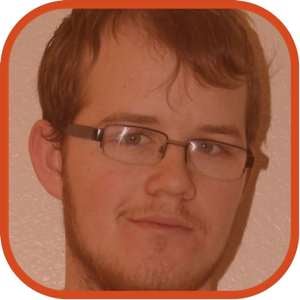 Tweet
Posted by John Ball Categories: Hardware, Nintendo, Nintendo 3DS, Nintendo DS,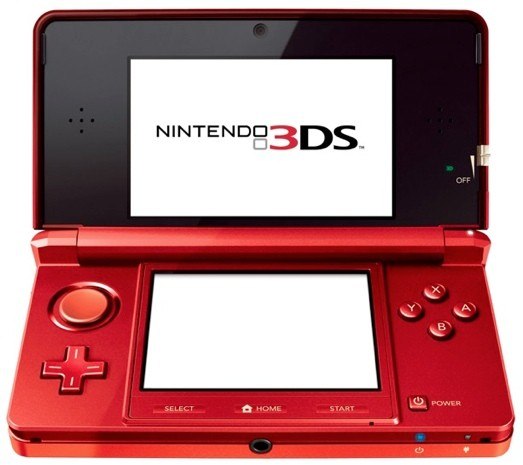 The Nintendo 3DS sales information is in, and the numbers are astounding. 4.5 million units have been sold in the United States over the past 12 months, and the console was Nintendo's best-selling in Japan in its first year. It's is also the best-selling Nintendo console in the U.S. as well, after initially being seen as a flop, resulting in a massive price cut soon after it launched. The price drop certainly worked, as the 3DS has even outsold the incredibly popular Nintendo DS, which in its first year sold "just" 2.3 million units. Have you picked up a Nintendo 3DS yet? Hit us in the comments with your thoughts.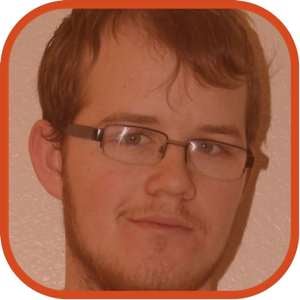 Tweet
Posted by John Ball Categories: Action, Adventure, Corporate News, Kinect, Microsoft, Release Dates, Role Playing Games, Third Person Shooters, Xbox 360,

As any in-the-know gamer should be aware of, Mass Effect 3 was released last Tuesday, and, man, is it flying off the store shelves. Opening day sales for the game hit 890,000 units, which is most definitely a lot of cheddar. 1.5 million units of the title have been shipped to retailers worldwide, however take note that the number of units shipped does not correlate with the number of units sold.
To learn more about the game check out our Mass Effect 3 Kinect feature.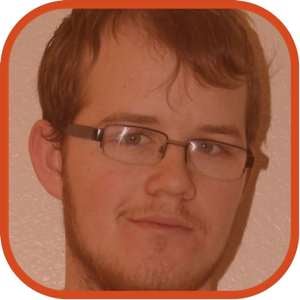 Tweet
Posted by John Ball Categories: E3, Features, PlayStation 3, Release Dates, Survival Horror,

Deadly Premonition, the popular PlayStation 3 and Xbox 360 title, is getting a re-release for the PS3. This new release of the game promises to include better graphics and PlayStation Move support, alongside new scenarios to play through. This information was revealed when Toybox Games founder Yasuhiro Wada let the news slip at GDC. We can expect to hear a lot more about the game at this years E3 event.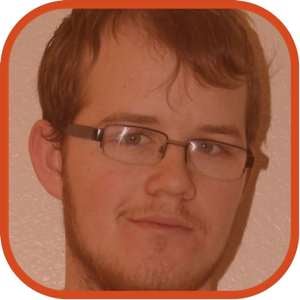 Tweet
Posted by John Ball Categories: Action, First Person Shooters, Microsoft, Trailers, Xbox 360,
After months of development and secrecy, 343 Industries has released its first official 'ViDoc" explaining just a little bit of what they are working on for Halo 4. The video goes into detail about how the Master Chief looks with his upgraded suit and HUD, and also explain that the multiplayer for Halo 4 will be fairly independent from the campaign with newly designed multiplayer maps. This also goes on to explain that in multiplayer, instead of playing your campaign character, you are a completely new breed of Spartan, The Spartan IV. This, we can assume, will also give us a deeper look into the Halo Universe.
Right away in the ViDoc we notice that the Spartan model as well and the Battle Rifle have had a major overhaul and graphics update. The multiplayer, according to 343, will also give a reason as to why a Red Spartan should fight a Blue Spartan. We get a good look at two of the multiplayer maps throughout the video, one of which is "Warhouse", an abandoned Military base with a giant mech in the middle that, while you play, is built. 343 stated that they want the player to feel completely submersed when they play the game, and go on to hint that the player will be able to manually open doors and even make jumps that would previously seem impossible in previous Halo games.
All of this news has come fast and will most likely be ushering more and more information from 343 Industries as the game gets closer to release.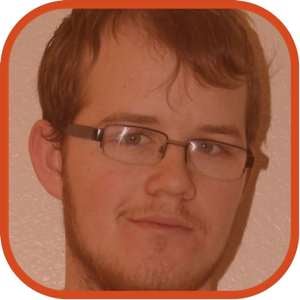 Tweet
Posted by John Ball Categories: Action, E3, First Person Shooters, PlayStation 3, Release Dates, Rumors, Xbox 360,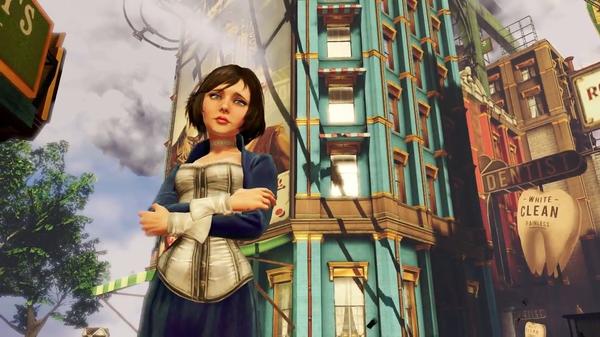 After much secrecy from Irrational Games, Bioshock Infinite's release date was finally announced last week. If you live in the United States, you can expect to pick up a copy on October 16, while international gamers can expect to see it in stores a few days later on October 19. Also, it may be worth noting that the PC version of the game will be released on the same dates. That's very unusual, but hey, this is Bioshock after all.
We don't expect to hear too much more about the game for a while, at least not until E3 2012.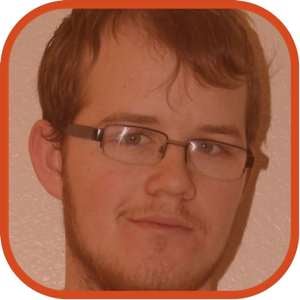 Tweet
Posted by John Ball Categories: E3, PlayStation 3, Release Dates, Ubisoft, Xbox 360,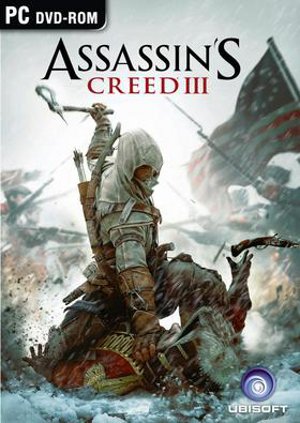 That's right, Ubisoft officially announced Assassin's Creed III with its cover art being revealed, and it reveals a lot. As you can see from the image on the right, it appears as though our hero is in fact going to be of Native American descent (at least partly) and that he will be in the time of the American Revolution. Just peep the tomahawk in the hand, as well as the American flag in the background. We can also very clearly see an old-timey pistol in the image as well.
With the American Revolution setting, we suspect that there will be the killing of a lot of Red Coats in the near future. Stabbing and shooting our way into history as possibly the most interesting assassin ever. The release date for Assassin's Creed III has yet to be revealed by Ubisoft, though we are sure to hear more about it at this year's E3 event. If you would like to make your own inferences about the game, also check out the Game Informer Magazine cover art below.
Click to continue reading Assassin's Creed III cover art leaked, confirmed by Ubisoft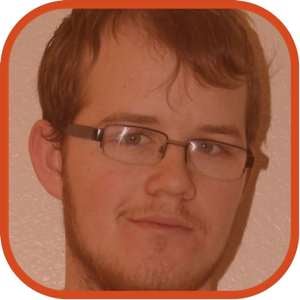 Tweet
Posted by John Ball Categories: Corporate News, Nintendo, Rumors, Wii U,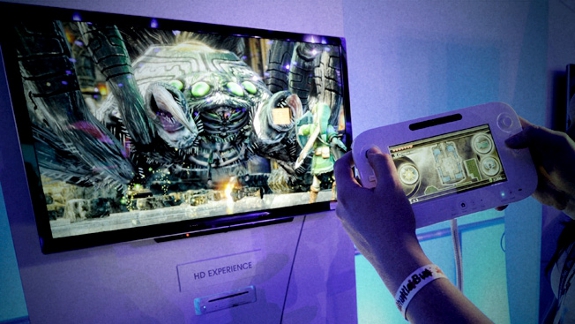 Ahh Nintendo, rarely an innovator, often an imitator. At least that can be said about the company's next online "innovative" venture. The company is looking to various media service providers in order to kick off the Wii U release later this year with a bang. Like the Xbox 360, Nintendo has every intention of collecting as many service providers as it can in order to try to replace your cable or satellite box with the console. Nintendo is currently in talks with several 'top content' companies, possibly including Comcast, to become a cable TV provider alongside or after the Wii U launch.
Currently there are no official statements from Nintendo as to what content we can expect to see with the Wii U. What we do know is that Nintendo has announced that the Wii will soon be receiving Hulu compatibility.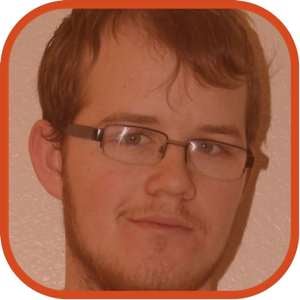 Tweet
Posted by John Ball Categories: Culture, First Person Shooters, Microsoft,

A few weeks ago we shared the story of an ambitious web series called Halo Helljumper, a small independent work based on the book "Dirt" by Tobias Buckell. Two episodes have hit the web since then, and now the folks behind the project are looking for your help. We think they stuff they've produced so far is top-notch and high quality, and so we wanted to support the cause and share the message:
The series is in need of raising $65,000 to complete the next two episodes and get them released. You can watch the first two Halo Helljumper episodes here on their channel.
© Gear Live Media, LLC. 2007 – User-posted content, unless source is quoted, is licensed under a Creative Commons Public Domain License. Gear Live graphics, logos, designs, page headers, button icons, videos, articles, blogs, forums, scripts and other service names are the trademarks of Gear Live Inc.