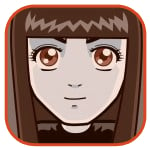 Posted by Sheila Franklin Categories: Music, PlayStation 3, Wii, Xbox 360,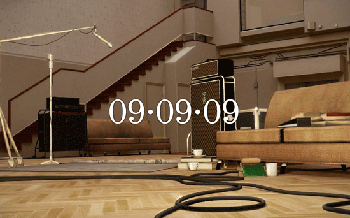 MTV Games and Harmonix have convinced Apple Corps, the Beatles' music company, to put some of their tunes on Rock Band. Included in the deal will be:
The Beatles: Rock Band Software - Xbox 360, Playstation 3, Wii: $59.99.
The Beatles: Rock Band Standalone Guitars - Xbox 360, Playstation 3, Wii: $99.99.
The Beatles: Rock Band Limited Edition Premium Bundle: Xbox 360, Playstation 3, Wii: $249.99.
You can visit the site, but the only info available is the date, so we suppose more information will trickle out eventually.
Read More

| DVICE

Posted by Alex Lifschitz Categories: Activision, Corporate News, Culture, Electronic Arts, Music,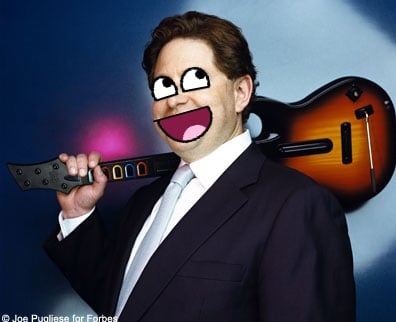 Hay fanboys, listen up! And before you read anything, the following was from FORBES, not Bobby Kotick, for the sake of Rock Band/Guitar Hero wars everywhere.
In a recent profile of Activision CEO and industry provocateur Bobby Kotick, Forbes decided to talk about a number of Activision bread and butter franchises, such as Tony Hawk's Pro Skater (whose empty, frail husk now litters that halls of Activision, milked clean of its sweet, sweet nectar). Somewhere around the end, though, is an interesting little snippet of text:
"EA also teamed with MTV to sell Rock Band, a shameless knockoff of Guitar Hero that added drums, bass and a microphone to the world of make-believe rock stars. EA says it is returning to an "auteur model" of designing games, taking bigger chances on fewer ideas."
Look, we should all see this kind of writing for what it really is: Unresearched and inflammatory. Even if you didn't know that the Rock Band guys are the guys who made Guitar Hero in the first place, it's a wee bit unprofessional to take sides. I've worked for Activision, and they've said some crazy things regarding the music game timeline, but don't confuse the quote as coming from Kotick.
Funny how they don't mention Guitar Hero: World Tour anywhere.
Read More

| Forbes

Posted by Alex Lifschitz Categories: Downloadable Content, Electronic Arts, Music, PlayStation 3, Xbox 360,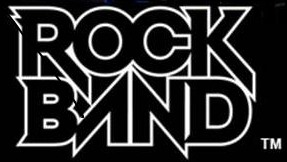 Rejoice, ye fans of backwards compatibility! Harmonix has just released the title update for Rock Band that will allow players to export the first game's song list into Rock Band 2 at their leisure. 55 of the songs are slated to have the ability to transfer over ("Run To The Hills", "Paranoid", and "Enter Sandman" are exempt) - you just pay 5 semolians, follow the instructions, and the songs are then burned to your HDD as any other DLC song would. Plus, you can also delete individual songs, if there are some you didn't particularly care for. Personally, after being forced to play "In Bloom" into eternity during the first game, I'll take that as a very welcome addition.
Rock Band is slated to have over 500 songs available for download and play by the year's end, which is relatively unprecedented. Where they're going from Rock Band 2 is anybody's guess, but there have been some rumblings about a music creation system in the works (though Guitar Hero: World 2 seems to have that base covered already).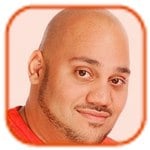 Posted by Andru Edwards Categories: Downloadable Content, Music, PlayStation 3, PlayStation Network, Portable/Mobile, PSP, Puzzle,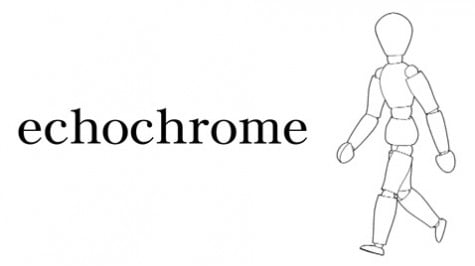 Oh, happy day, echochrome has arrived. In case you've been under a rock, echochrome is a delicious puzzle perspective game, which is simple and deceptive all at the same time. The graphics are simple, the concept is amazing, and we've been waiting for it since last year's E3. It is now here, along with a few other pieces of content - like new Rock Band tracks - on this weeks PlayStation Store update.
Games and Demos
echochrome ($9.99) for PS3
echochrome ($9.99) for PSP
Dark Sector demo (free)
Expansions and Add-ons
Rock Band tracks ($1.99 per track) - "Zero" by Smashing Pumpkins, "Time-Sick Son of a Grizzly Bear" and "Red Tandy" The Mother Hips
Karaoke Revolution Presents: American Idol Encore tracks ($1.49 per track)
Videos
Battlefield: Bad Company "Redford Blog" video
echochrome trailer
Dead Space "Announcement" trailer
Dead Space "Ship Date" trailer
Kung Fu Panda trailer
NBA Ballers: Chosen One TV spot
Turok "Kane Gameplay" trailer
Turok "Bring It" trailer
Themes and Wallpapers
4 echochrome wallpapers
3 Kung Fu Panda wallpapers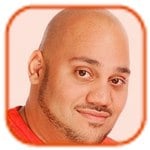 Posted by Andru Edwards Categories: Activision, Downloadable Content, Music, Politics,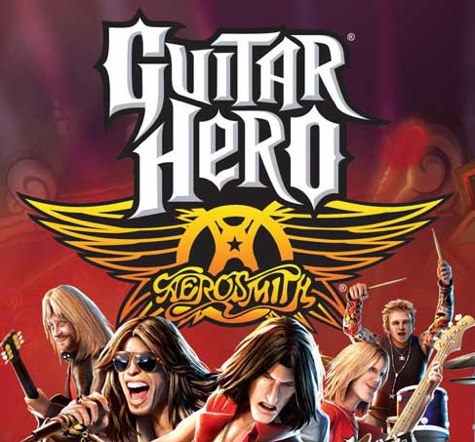 Looks like artist music is going to start becoming exclusive to specific brands, as it has been made public through Activision PR that all Aerosmith tracks are going to be exclusive to Guitar Hero. What this means is that, no matter how good the Rock Band Store gets (and it is very good), you will never see any more Aerosmith tracks appearing in that franchise. Sure, Rock Band owners do get one Aerosmith track, that being "Train Kept a Rollin," but seriously, that is just a drop in the bucket.
What we are wondering is, as these music/rhythm-based games continue to flourish, how many other artists are going to sign on for the exclusive? What do you guys think?
Read More

|
Newsweek

Posted by Lolita Beckwith Categories: Accessories, Casual, Culture, Music,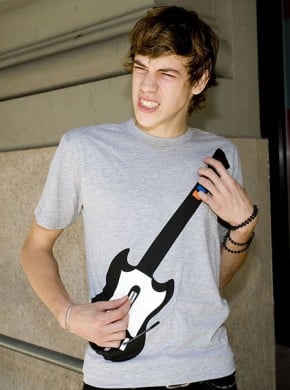 If you're a fan of the Guitar Hero and Rock Band, we've got a T-shirt for you. The design on this tee bears a striking resemblance to the faux guitar that comes with those, games so you're guaranteed to be the star of the show when wearing one. Or for ultimate geekiness, you can crank up some Led Zep and make like the lad in the photo above. But we suggest you only do that around those who truly "get you". Available in both men's and women's sizes for only $12 USD.
Read More

|
Gifts.com

Posted by Paul Hamilton Categories: Accessories, Downloadable Content, Features, Hardware, Microsoft, Music, PlayStation 3, Wireless, Xbox 360,
The Official Xbox Magazine's podcast has an interview this week with Harmonix co-founder and president Alex Rigopulos about their upcoming game Rock Band. In the interview he talks about the game bundles, although light on concrete details he does confirm a band-in-a-box bundle that will include a guitar, drum kit and microphone. However, he goes on to say that the PlayStation 3 version will include a wireless guitar controller while the Xbox 360 version will have to include a wired guitar because Microsoft's wireless technology is too expensive to make the bundle reasonably priced. Since the 360 also has only two USB ports, the 360 Rock Band bundle will also be packed with a USB hub.
Rigopulos goes on to discuss the game's career modes a little, saying there will be both solo career mode that progresses in a linear fashion similar to what Guitar Hero players are used to, but they are also including a less linear band career mode. In this mode you traverse to various venues trying to build up your fan base and in some cases return to previously played locations to maintain your fame there. Also it's worth noting that the solo career mode will not include a bass career track so your options are vocals, guitar and drums in solo career mode. But Rigopulos did reveal that the finale songs for each career path (and therefore likely the difficulty distinctions throughout) will be different for each instrument, and he even said that at this point the drum finale will be The Who's "Won't Get Fooled Again."
Click to continue reading Harmonix Co-Founder Answers Questions About Rock Band
Read More

| KOXM Podcast

Posted by Paul Hamilton Categories: Music, Nintendo, Nintendo DS, Portable/Mobile,
Okay, the game is Hannah Montana. But subtitled "Music Jam," this game looks like a portable Rock Band including recording capabilities, four different instruments, wireless multiplayer and some really cool gameplay. There's really no reason to be ashamed if you end up excited about this game. Except, you know, the teeny bopper license and the fact that any guy over 13 who buys this will get a lot of really suspicious looks from game store clerks.
Still, the guy demoing the game in the video is not a wuss and would totally beat you up, so if he's comfortable playing it, you should be too.
Or, you could hold out and hope that Disney Interactive wisely re-brands this down the road with something a little less emasculating or at the very least a little less "middle school."
Read More

| Infendo

Posted by Steve Van Neil Categories: Corporate News, Culture, Music,
Look no further for proof that the video game business is big business indeed. Media giant MTV has announced that it is sinking over a half billion dollars into the video game industry over the next two years.
"As we take our brands narrow and deep to serve our targeted, niche audiences, we're putting well over $500 million behind building our games business across all of the brands in our portfolio," explained MTV chairman and chief executive Judy McGrath.
MTV is set to make a big splash this fall when Rock Band is released. MTV/Viacom recently purchased Rock Band and Guitar Hero developer Harmonix, so the success of the game will greatly impact any of the network's future gaming endeavors. In addition to the Harmonix acquisition, MTV/Viacom has snapped up Xfire and GameTrailers, quietly making itself a major player in the gaming scene.
Read More

| GameDaily

Posted by Chris Pereira Categories: Accessories, Microsoft, Xbox 360, Xbox Live,
A new Xbox Live dashboard update was released very early this morning. Before you get excited, all the update does is add support for the wireless guitars we'll be seeing released later this year – that's all. Nothing particularly exciting, but then again, that's what the spring and fall dashboard updates are for. Hopefully the update we receive later this year won't be quite as disappointing as this past spring's.
© Gear Live Media, LLC. 2007 – User-posted content, unless source is quoted, is licensed under a Creative Commons Public Domain License. Gear Live graphics, logos, designs, page headers, button icons, videos, articles, blogs, forums, scripts and other service names are the trademarks of Gear Live Inc.