Posted by Lolita Beckwith Categories: Nintendo, Reviews, Survival Horror, Take2, Wii,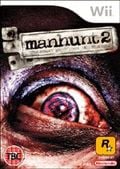 Along with the release of "Halo 3" and the unfortunate postponement of "GTA IV", one of the biggest video game stories of the year is the saga of Rockstar's "Manhunt 2". First, it was banned in England due to its graphic violence. Then it was given the kiss-of-death "Adults Only" rating here in the US by the ESRB. Sony and Nintendo do not release games with that rating—and they're not carried by Blockbuster and Walmart. Undaunted, Rockstar made some revisions, and eventually the game received a "Mature" rating.
So now "Manhunt 2" is available in stores for Nintendo Wii, Playstation 2 and PSP. Having followed the saga, and very curious about the game's content (plus I'm a huge fan of previous Rockstar games), I made it my business to rent the Wii version and play it. Having never played the original "Manhunt"—and not being a fan of stealth games—I had little idea what to expect. After completing the tutorial of Wiimote and Nunchuk moves (which includes some very funny, if grisly, sound effects), I dove in.
Click to continue reading Manhunt 2 Review: The Good, The Bad and The Grisly

Posted by Paul Hamilton Categories: PlayStation 3, Politics, PSP, Survival Horror, Take2, Wii,
Some questions were asked after Rockstar announced that it had adjusted the content of its violent horror title Manhunt 2 to warrant an M rating from the ESRB rather than the unsellable AO it had previously been given. California Senator Leland Yee was one person asking such questions.
Since much of the public's information about the original content in Manhunt 2 came from IGN's Matt Casamassina's hands-on with the game prior to rating, it's only fitting that he plays the modified version heading to retail and reports on what the differences are.
Primarily, Casamassina says, the game has taken the controversial murder animations and added some blur and darkening effects to obfuscate the actions, making the action less identifyable. Casamassina is disappointed with the changes:
[It's] unfortunate because both everything else is unchanged and because these death strikes are what gamers will want to work toward; they're the pay off for a job well done, but now the pay off is not nearly as rewarding.
It's worth noting that one maneuver in which the player removes an enemy's testicles with a pair of pliers has been completely excised from the game, but aside from these adjustments the game is still extremely dark and graphically violent according to Casamassina's estimation.

Posted by Paul Hamilton Categories: Politics, Survival Horror,

After finally agreeing to grant the embattled Rockstar title Manhunt 2 a retail-friendly Mature rating, the ESRB is drawing some fire from California senator Leland Yee. Yee, best known for his failed 2005 video game legislation, is questioning what changed to entice the ESRB's about-face. In a statement he says, "The ESRB refuses to use the AO rating for violence despite the descriptor calling for such a rating when there are 'graphic depictions of violence.' If Manhunt doesn't qualify, what would?"
Somewhat surprisingly, Yee does have a valid question. It does seem like game publishers ought not to be under the typical pre-release scrutiny for something as inconsequential as ratings determination, but is there any reason why the ESRB can't be forthcoming with specifics about how and why it comes to its conclusions?
Read More

| Game Politics via Evil Avatar

Posted by Chris Pereira Categories: Corporate News, Nintendo, PlayStation 2, PSP, Survival Horror, Take2, Wii,
Take Two is in what we call a pickle. Manhunt 2, set for release on July 10, has received a preliminary ESRB rating of Adults Only. Initially, this was believed to be a major problem due to the fact that some major retailers – such as Walmart – wouldn't carry the game. Walmart composes a significant portion of the videogame retail market, making the AO rating a major blow.
Then came word that Nintendo doesn't allow AO-rated games to appear on its systems. In other words, no Manhunt 2 on Wii, or at least not until the game receives a lower rating.
But as with books, television and movies, different content is meant for different audiences. That's why the ESRB provides ratings to help consumers understand the content of a game before they purchase it. As stated on Nintendo.com, Nintendo does not allow any AO-rated content on its systems.
How about Sony, who was supposed to see the game land on both the PlayStation 2 and PSP?
Currently it's SCE's policy not to allow the playback of AO rated content on our systems.
So where does this leave Take Two and Rockstar? They're left with a very limited number of options, none of which are particularly attractive.
Click to continue reading The Adults Only Manhunt 2 Saga
© Gear Live Media, LLC. 2007 – User-posted content, unless source is quoted, is licensed under a Creative Commons Public Domain License. Gear Live graphics, logos, designs, page headers, button icons, videos, articles, blogs, forums, scripts and other service names are the trademarks of Gear Live Inc.