Posted by Paul Hamilton Categories: Activision, Nintendo DS, PlayStation 2, PlayStation 3, Sports, Wii, Xbox 360,
Following close behind EA's demo for new blood competitor Skate, Activision is dropping a demo of Tony Hawk's Proving Ground onto the Xbox Live Marketplace today.
Proving Ground is supposed to challenge Skate with enhanced customization features, especially centered around making videos, and plenty of refinements to the online experience like seamless solo to multiplayer transitions. They're also throwing in a nail-the-grab feature to compliment the popular nail-the-trick mode from last year's Project 8 entry and multiple career paths. There is no firm release date set, but the game is expected to hit store shelves for most current platforms sometime in October.
Read More

| Team Xbox

Posted by Steve Van Neil Categories: Internet, Microsoft, Namco, Puzzle, Wii, Xbox 360, Xbox Live Marketplace,
First the Big Daddy, now the Little Prince. Live demo madness continues as the latest installment of Namco's popular roll-everything-into-a-ball-and-create-a-new-star franchise (how would you describe it?) has a little taster up on Xbox Live Marketplace. This gameplay tease, all too brief at three minutes, will hopefully give fans a little something to tide them over until the full game hits Xbox 360 and Wii later this year.
Read More

| Major Nelson

Posted by Steve Van Neil Categories: Action, Xbox 360, Xbox Live Marketplace,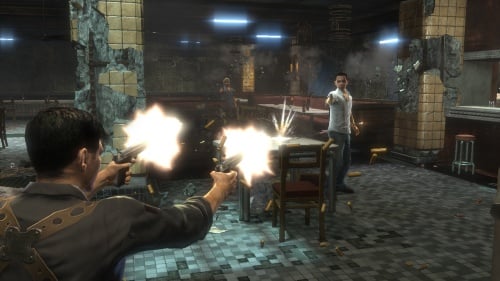 Xbox 360 owners looking for a little John Woo-style running and gunning action should head to the Xbox Live Marketplace at their earliest convenience. You probably know what it's all about by now, but if not, here you go: Take one part Hard Boiled, mix with two parts Max Payne, and you've got Stranglehold. Throw in Chow Yun-Fat's voice and likeness, and you've got THE game for Woo fans. Try before you buy today; the full game is slated to hit the Xbox 360, as well as the PS3, next month.
Click to continue reading Stranglehold Demo Hits Xbox Live
Posted by Michael Cardiff Categories: Release Dates, Rumors, Xbox 360, Xbox Live, Xbox Live Arcade, Xbox Live Marketplace,
Our papa-site Gear Live pointed out this video from MyGamerCard.net that was supposedly leaked from Gamespot.com. This one is looking real legit, and boasts some exciting features:

* Ability to add up to 600 Windows Live Messenger contacts to your Friends List.
* Text chat with up to 6 Live Messenger contacts at once during games or movies.
* The Marketplace will be getting its own Dashboard Blade.
* The Marketplace will be skinned independently of the Dashboard, for special events.
* The Marketplace will be getting a new, easier-to-navigate remake.
* Achievement Pop-ups will now display how many points and which Achievement you have gained.
* Low-power downloading (fans off) and auto-off after finishing queued downloads.
* View partially downloaded video files.
Much like Gear Live, we're still wondering "where the browser at?", but it's looking like Microsoft is still doing a great job of beefing up their already impressive online features.
Read More

| Gear Live
Posted by Christopher Sasaki Categories: Action, Xbox 360, Xbox Live, Xbox Live Arcade, Xbox Live Marketplace,
The classic PlayStation version of Castlevania: Symphony of the Night is now available on the Xbox Live Marketplace. The game sells for 800 Microsoft Points and the demo clocks in at slightly less than 100 MB, which makes this the first Live Arcade title to break the previous 50 MB barrier. So far, the gameplay seems to be true to the older PlayStation version, but with added achievement support and various scaling modes to support HDTV resolutions. Some of the scaling modes seem to work better than others, but one should be able to find a decent match to whatever display device is in use. The original soundtrack for the game makes it to the Xbox 360 largely intact, but one can tell that music was fairly heavily compressed to get it into a reasonable file size for Live Marketplace. Beyond this and the mushy Xbox 360 D-Pad, the port is a good way for gamers to experience the title on the 10th anniversary of its release.
Read More

| Gamerscoreblog
Posted by Christopher Sasaki Categories: Culture, Xbox 360, Xbox Live, Xbox Live Marketplace,
While Electronic Arts has been busy monetizing nearly every facet of its Xbox 360 releases, from tutorials to unlockable items and cheats, a Japanese developer has stepped up to try and take the crown away from EA. 1up reports that Frontier Groove, publishers of AquaZone recently released 18 new fish for their aquarium simulator to the Xbox Live Marketplace. Should a user wish to purchase all 18, the cost will run over 5000 points, more than $60. 1up also discovered that the size of each download is the minimum size allowed by the Xbox 360, 108K, which strongly suggests that gamers are paying for content that is already on the retail disc. Interestingly, AquaZone has been one of the weakest supporters of the Gamerscore program, and is probably one of the reasons that Microsoft is enforcing new standards for that as well.
Read More

| 1up
Posted by Christopher Sasaki Categories: Bungie, First Person Shooters, Trailers, Xbox 360, Xbox Live Marketplace,
This morning, Bungie made the first ViDoc (video documentary) available for Halo 3. The video documentary focuses on the Brutes in the game and runs approximately seven minutes. Bungie is cautioning that the graphics in the documentary are not final, but the feature should give a good idea about where the company is heading with these creatures in the new game. English language Standard and High Definition versions are available on the Xbox Live Marketplace, and the company will be making localized versions and a non-Marketplace version available later. The feature is also currently available on GameVideos.com
Read More

| Bungie
Posted by Christopher Sasaki Categories: Xbox 360, Xbox Live Marketplace,
GamesIndustry.biz recently interviewed Viva Piñata developer Rare, and in some published excerpts, the company claims that it is still on the fence in regards to downloadable content. Viva Piñata's collection-based gameplay would seem to make the game ideal for future downloads, but Rare is balancing developing add-ons versus creation of a whole new game. Part of Rare's hesitance seems to be tied to the relative lack of success that they have had with previous downloadable releases. Realistically, though, the additional content that Rare has offered has been pretty marginal. The company's Kameo Power Pack really only offered new game modes, and nothing particularly compelling. Other game companies have been trumpeting the virtues of downloadable content; Activision and Ubisoft have been happy with the success of their expansions for Call of Duty and Ghost Recon, and Electronic Arts has been going crazy for paid content, so it is odd to see a company with such close ties to Microsoft not buying into the business model.
Read More

| GamesIndustry.biz
Posted by Christopher Sasaki Categories: Xbox 360, Xbox Live, Xbox Live Marketplace,
A number of users have reported problems with Microsoft's new television and movie downloads on the Xbox Live Marketplace. Gamers have had issues with download speeds and incomplete downloads, and incorrect charges. Microsoft's Larry Hryb, via the Major Nelson blog, has announced that the company is working hard at fixing the issues, and will work with consumers to get refunds for content as appropriate. Microsoft claims that the extremely high number of downloads caused issues with the service; while it can be difficult to project how many users may hit the service, certainly things should have been designed to the point where incomplete or failed downloads would result in false charges on an account. Hopefully, Microsoft will resolve the issues quickly for those gamers affected.
Read More

| Major Nelson
Posted by Christopher Sasaki Categories: Corporate News, Xbox 360, Xbox Live, Xbox Live Marketplace,
Rumors recently surfaced that Microsoft was going to make movie downloads available over Xbox Live. Today, Microsoft confirmed those rumors, announcing that they would make television episode downloads and movie rentals available through the Xbox Live Marketplace. The first hints that a rental service was in the offering was the presence of a new expiration flag on multimedia downloads from the Live service. Providers lining up to offer content on Xbox Live include CBS, MTV, Comedy Central, and Nickelodeon. Movie content providers include Warner Bros. Home Entertainment and Paramount Pictures. Television content will be download to own, and movie content will be download to rent over the service. The offering will officially launch on November 22nd, the anniversary of the Xbox 360 in the United States. No mention of availability in multiple regions was made, and costs were not released, but one would expect that Microsoft would offer prices that are competitive with Apples iTunes store. Now, however, the once "spacious" 20 GB hard drive is starting to seem rather small to support downloadable HD content.
The full press release continues below.
Click to continue reading Microsoft Announces TV, Movie Downloads For Xbox Live
© Gear Live Media, LLC. 2007 – User-posted content, unless source is quoted, is licensed under a Creative Commons Public Domain License. Gear Live graphics, logos, designs, page headers, button icons, videos, articles, blogs, forums, scripts and other service names are the trademarks of Gear Live Inc.