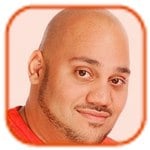 Posted by Andru Edwards Categories: Accessories, Hardware, Kinect, Microsoft, Xbox One,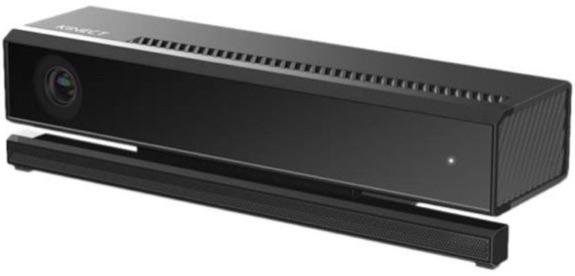 When Microsoft removed Kinect from the lower-end Xbox One bundle (making the promise of what Kinect would be go up in smoke,) it also announced that it would make the Kinect sensor for Xbox One available as a standalone purchase for anyone who might want to add it to their console after purchasing one without it, but never announced a date. Now we know that the Kinect for Xbox One will be available in stores in October, and will cost $150.
It makes sense that Microsoft would offer Kinect separately, but the extra $50 that it's taking on to the price may made it a dud out of the gate, but hey, at least now the fact that you can get an Xbox One with Kinect for $100 more appears to be a $50 savings. For what it's worth, the Kinect will be packed in with a copy of Dance Central Spotlight, which is probably the main Kinect game that people really care about in the first place.
That said--who's planning on buying one?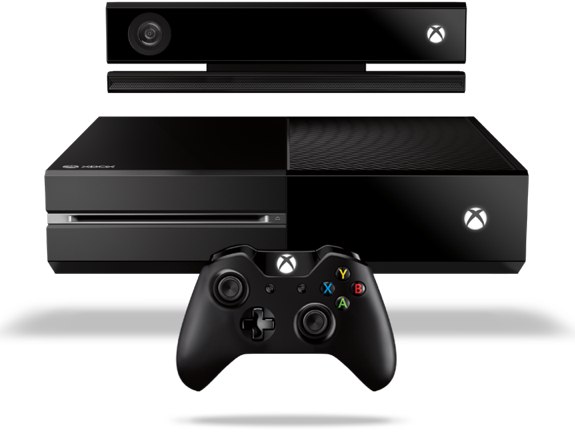 As we mentioned earlier, Microsoft has decided to do an about-face, now offering the Xbox One without Kinect for $399. The move continues Microsoft's seemingly cowardly backtracking trend that it's been doing with the Xbox One for about a year now. While many see this simply as a price drop and a way to get the Xbox One without an accessory that they may now want, for all intents and purposes, this kills Kinect dead. Right where it stands.
Allow me to explain. When the original Kinect launched for the Xbox 360, there was a lot of hype and excitement surrounding its release. For the first time, you could use your body as the controller for a new type of gaming experience. It was cool, and about as novel as the original Wii. It was a toy and a gimmick, and soon many folks stopped playing Kinect games, and none really took off at retail. However, Microsoft was getting good data and feedback for what we realized the "real" Kinect would be. The one that launched with the next Microsoft console.
Click to continue reading Why Microsoft unbundling Kinect is a broken promise to all Xbox One owners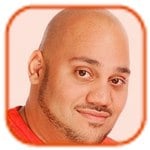 Posted by Andru Edwards Categories: Microsoft, Xbox Live, Xbox One,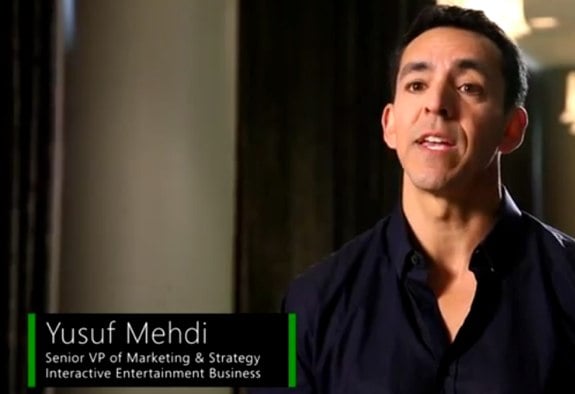 Earlier this morning Microsoft revealed the Xbox One, the follow-up to its 8-year-old Xbox 360. After the jump, we've got a video where Microsoft Xbox executives discuss the new Xbox One console and what they believe makes it the best home console on the market. Check out the video, and let us know if you agree.
Click to continue reading Microsoft execs discuss Xbox One [Video]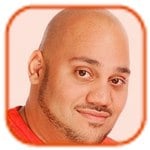 Posted by Andru Edwards Categories: Accessories, Hot Deals, Kinect, Xbox 360,

Today Microsoft has announced a permanent Kinect price cut, bringing the motion controller peripheral down to $109. The change in price is immediate, as you can buy it right now on Amazon for the newly-reduced price tag, which still includes Kinect Adventures, by the way. Kinect also sees price drops in Latin America and the Asia Pacific area, with the exception of Japan.
Read More

| Major Nelson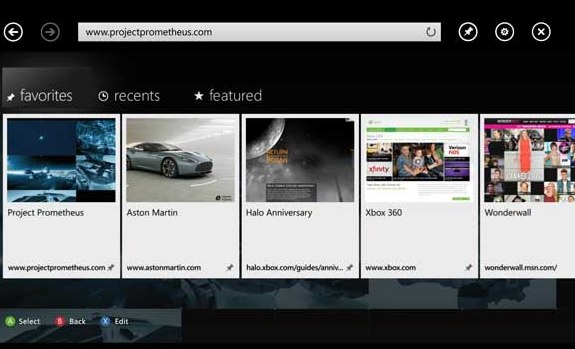 One of the updates you can expect when the Fall Xbox Dashboard Update drops is the addition of a web browser. That's right, after seven years, the Xbox 360 will finally be getting Internet Explorer. During the Microsoft E3 Media Briefing, it was mentioned that a browser would have been cumbersome previously, but with the introduction of the Xbox SmartGlass app alongside Kinect integration, users will be able to easily browse the web on their Xbox 360 console.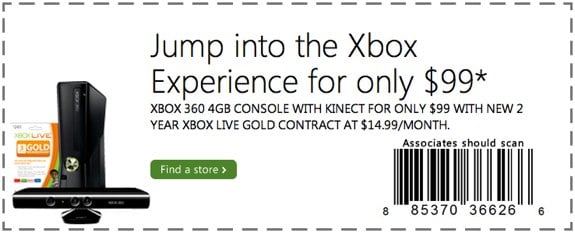 Remember that $99 Xbox 360 Kinect bundle we mentioned last week? Well, Microsoft has just launched it. You can now buy a 4 GB Xbox 360 with Kinect sensor for $99 with two-year Xbox Live Gold contract, paying $14.99 per month for the course of the agreement. If you cancel early, you'll pay an early termination fee, which starts at $250 and decreases each month after the third month. Just head on over to your local Microsoft Store to make it happen.
Read More

| $99 Xbox Offer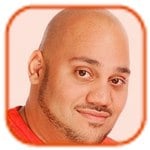 Posted by Andru Edwards Categories: Corporate News, Microsoft, Rumors, Xbox 360, Xbox Live,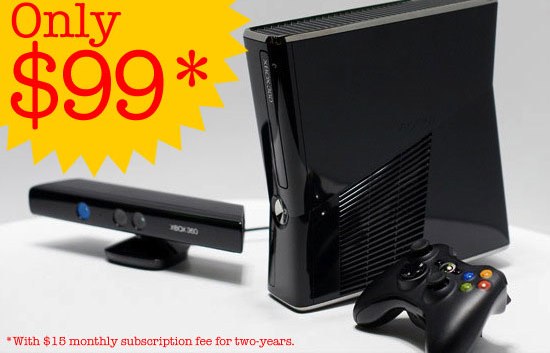 In its neverending quest to get the Xbox 360 to be the entertainment hub of as many living rooms as possible, it appears that Microsoft has come up with a new tactic to move units. The Verge is reporting that the company is set to launch a new 4 GB Xbox 360 Kinect bundle that'll cost just $99. The catch? You'll have to agree to a two-year contract at $15 per month, giving you access to Xbox Live Gold service, and possibly other streaming features (maybe the rumored music service set to launch at E3?) It's certainly an interesting move that hasn't been tested before, which could be why the report claims that the specially-priced bundle will only be available in US Microsoft Stores.
Read More

| The Verge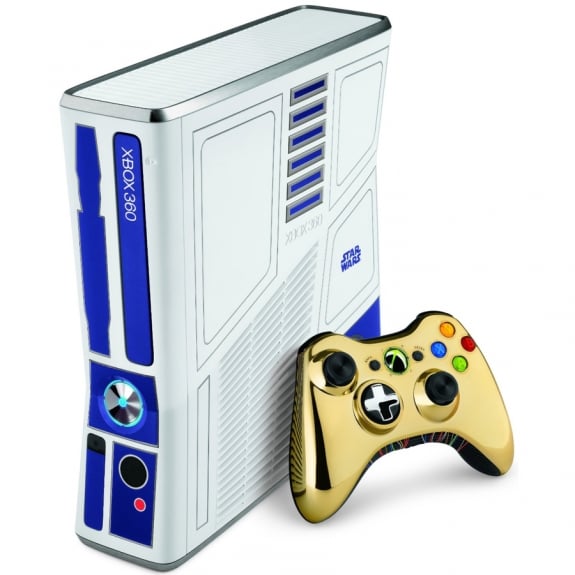 Kinect and Star Wars, a perfect match some might say. George Lucas has teamed up with Microsoft to bring us the wonderful and whimsical Star Wars Xbox 360 Kinect bundle. The bundle includes a custom painted R2D2 themed Xbox 360 with matching Kinect sensor. The Xbox itself also has custom R2D2 sound effects when turning the console on or off or, as well as when ejecting a disc.
That's not all; the bundle also includes a copy of the game Kinect Star Wars and a C3PO-themed controller. On the front of the console it can also be noticed that the standard green LED lights that make up the iconic XBOX 360 face have been replaced with blue LEDs to match the whole R2D2 thing. Finally, the Xbox 360 comes equipped with a massive 360 GB hard drive, the newest and largest drive to date available for the console. All of these wonderful treasures are available for pre-order now, and will be available for purchase on June 1 of this year for $449.00.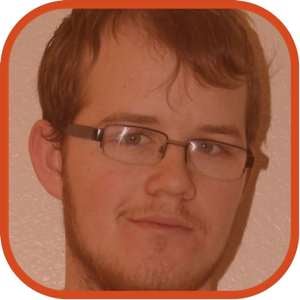 Posted by John Ball Categories: Electronic Arts, Kinect, Third Person Shooters, Xbox 360,

Microsoft's Kinect for Xbox 360, it seems, keeps getting bigger and better as developers have more time to play with it. Some believe that the Kinect's abilities can go far beyond that which was defined by its initial title releases. Bioware, the makers of the Mass Effect series, is no exception to this belief. Adding Kinect voice capabilities, Bioware promises Mass Effect 3 will be their most immersive game yet.
On the whole, this seems like a really good move for the franchise. The ability to interact with other characters, not only in conversation, but combat as well will leave many with a better impression that what they say and do in real life matters a whole lot more in game. With the Mass Effect trilogy coming to an end, Bioware is pulling out all the stops to make sure the fans have the best experience in the final chapter.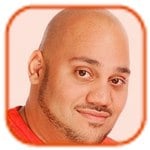 Posted by Andru Edwards Categories: Hardware, Microsoft, Xbox 360,
Improvements to the Xbox 360 have apparently cut down on the number of "red ring of death" reports, but the console still requires more repairs than its competitors, according to data from PCMag's Readers' Choice Awards.
Approximately 10 percent of those polled for the survey reported having to take their Xbox 360 in for repairs over the last year, which was twice the rate of its competitors. However, that was a significant improvement over last year, when that number was 23 percent.
Many Xbox users are familiar with the console's "red ring of death," which replaced the glowing green center on the device's power button when the Xbox was on its last legs. Last year, former PCMag Editor Lance Ulanoff experienced the phenomenon after his son completed a Red Dead Redemption marathon on his Xbox 360. Though some Twitter users helpfully suggested that placing it in the freezer for a few minutes would solve the problem (really), he opted to send it in for repairs.
Last year, Microsoft unveiled a "slim" version of its Xbox 360 console at E3, which featured a redesigned case with a bit more ventilation than the original console. It included built-in 802.11n networking and a 250GB hard drive for $299.
Click to continue reading Survey says Xbox 360 failure rate falls to 10 percent
© Gear Live Media, LLC. 2007 – User-posted content, unless source is quoted, is licensed under a Creative Commons Public Domain License. Gear Live graphics, logos, designs, page headers, button icons, videos, articles, blogs, forums, scripts and other service names are the trademarks of Gear Live Inc.