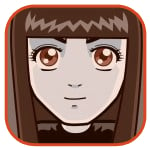 Posted by Sheila Franklin Categories: Activision, Music,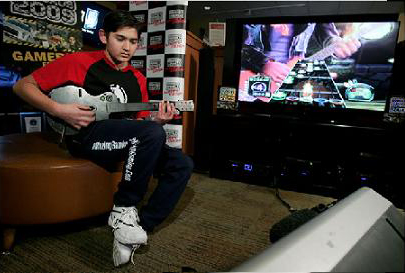 Danny Johnson, a 14 year-old from Grapevine, Texas, set a world record playing Guitar Hero III: Legends of Rock. At a Best Buy in midtown Manhattan, he scored 973,954 points with about 7 minutes of DragonForce's "Through the Fire and Flames," considered by some to be the game's most difficult song. The previous record was made last August with a score of 899,703. Danny claims that he relied on the Star Power function to get those bonus points and said that his ability to play real instruments made the game easier.
Read More

| NY Times

Posted by Alex Lifschitz Categories: Activision, Culture, Music,
From the Department of Plastic Instruments, we present you this little nugget of wondrousness: While you were struggling with a bag of cheese doodles, 14-year-old Danny Johnson entered the Guinness Book of World Records by scoring an astounding 973,954 points on "Through The Fire and the Flames", the Guitar Hero III song infamous as a destroyer of worlds and eater of babies. It's a 99% attempt, which is less than previous title holder Chris Chike's astounding 100% run-through (see above video), but it IS possible to get a higher score with careful Star Power placement. Hit the jump for the full press release.
Click to continue reading Guitar Hero player enters Guinness World Records, Rush still shunned from Rock n' Roll Hall of Fame

Posted by Alex Lifschitz Categories: Activision, Downloadable Content, Music, PlayStation 3, PlayStation Network, Xbox 360, Xbox Live Marketplace,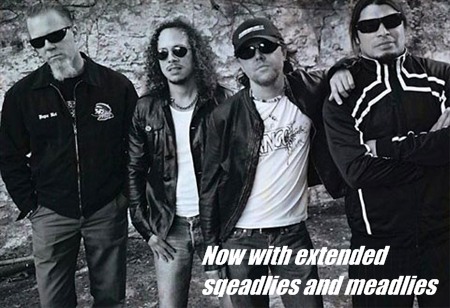 If you're keen on the ways of the music world, you may be interested: Metallica's new album, Death Magnetic, will be released in its entirety on Guitar Hero III this friday. It'll also have full compatibility with the upcoming Guitar Hero: World Tour on all instruments, and will feature two exclusive renditions of the song "Suicide and Redemption" featuring extended solos. It'll cost $17.99 on PSN or 1440 MS Points, though I would hope they might offer it for free to people who blew money on St. Anger. If you haven't heard the new songs yet, they're actually a pretty good throwback to the "...And Justice For All" days, though perhaps not to the stuff they wrote before bassist Cliff Burton succumbed to a bad case of being crushed by a tour bus. Check out the full press release after the break.
Click to continue reading Metallica's Death Magnetic Come to Guitar Hero III This Friday

Posted by Paul Hamilton Categories: Activision, Music, Rumors,
A rumor began circulating yesterday that the full and final track list for Activision's Guitar Hero III was available. The problem with the list was that while it seemed credible it lacked several bands who had previously announced their involvement with the game, notably Atreyu and Velvet Revolver.
We followed up with one of the original sources yesterday and he confirmed that the list was accurate but perhaps not 100% complete, which would leave room for additional songs to be announced closer to the release date or perhaps even kept under wraps until the game ships. In any case, the selection is shaping up nicely with a few unexpected inclusions.
Click to continue reading Expanded Guitar Hero III Track List Found
Read More

| Aeropause

Posted by Paul Hamilton Categories: Activision, Downloadable Content, Music, PC,
It took several years but the marketability of the popular console series Guitar Hero couldn't go unnoticed by the PC side of gaming for very long and today Aspyr Media announced that it will be bringing Activision's Guitar Hero III to PC and Mac in time for the holiday season.
Dusty Welch, head of publishing at Red Octane, said in a statement to GameDaily BIZ: "Providing the option for our fans to play Guitar Hero at their desk or on a laptop on the go is incredibly exciting, and we're thrilled to now offer the ability to rock out literally anywhere and everywhere."
The PC version will ship with a USB guitar controller based on an as-yet unannounced Gibson model. Aspyr is planning on offering some type of download service but declined to reveal any specific details of how that would be handled saying, "We hope to have a very exciting announcement soon." At this stage Aspyr is still conducting compatibility tests and hasn't solidified the system requirements but stressed that they were aiming to make the game accessible to the widest audience possible.
Read More

| GameDaily BIZ via Evil Avatar

Posted by Paul Hamilton Categories: Accessories, Downloadable Content, Features, Hardware, Microsoft, Music, PlayStation 3, Wireless, Xbox 360,
The Official Xbox Magazine's podcast has an interview this week with Harmonix co-founder and president Alex Rigopulos about their upcoming game Rock Band. In the interview he talks about the game bundles, although light on concrete details he does confirm a band-in-a-box bundle that will include a guitar, drum kit and microphone. However, he goes on to say that the PlayStation 3 version will include a wireless guitar controller while the Xbox 360 version will have to include a wired guitar because Microsoft's wireless technology is too expensive to make the bundle reasonably priced. Since the 360 also has only two USB ports, the 360 Rock Band bundle will also be packed with a USB hub.
Rigopulos goes on to discuss the game's career modes a little, saying there will be both solo career mode that progresses in a linear fashion similar to what Guitar Hero players are used to, but they are also including a less linear band career mode. In this mode you traverse to various venues trying to build up your fan base and in some cases return to previously played locations to maintain your fame there. Also it's worth noting that the solo career mode will not include a bass career track so your options are vocals, guitar and drums in solo career mode. But Rigopulos did reveal that the finale songs for each career path (and therefore likely the difficulty distinctions throughout) will be different for each instrument, and he even said that at this point the drum finale will be The Who's "Won't Get Fooled Again."
Click to continue reading Harmonix Co-Founder Answers Questions About Rock Band
Read More

| KOXM Podcast

Posted by Paul Hamilton Categories: Music, Nintendo, Wii,
Despite Nintendo packaging the Wii as an internet-ready and capable device, they seem to still drag their feet whenever it comes to online gaming. The latest evidence of this is the eerie quiet surrounding the online features of the upcoming Guitar Hero III, broken by The Bits Bytes Pixels and Sprites when they contacted a Red Octane PR specialist, Bryan Lam about what Guitar Hero III will be like online with the Wii. He distressingly told BBPS, "We're working closely with Nintendo for an online solution, though at the moment we're unable to confirm the status of the online multi-player."
Considering the other GHIII versions are all set to have online modes and there ought not to be any technical hurdles, this can really only mean Nintendo is having a hard time letting go of the secret to their ultimate online strategy which is so secret not even the consumers can figure out what it is. Online versus and co-op modes may be bad enough as possible omissions from the Wii version, but a follow-up from BBPS suggests that the same hurdles exist for downloadable content as well. While it's difficult to determine why Nintendo would want to feature-deprive third party developers from online action, it's even less comprehensible why they would cut off money-making endeavors like song packs as well.
Read More

| The Bits Bytes Pixels and Sprites via 4 Color Rebellion

Posted by Chris Pereira Categories: Accessories, Microsoft, Xbox 360, Xbox Live,
A new Xbox Live dashboard update was released very early this morning. Before you get excited, all the update does is add support for the wireless guitars we'll be seeing released later this year – that's all. Nothing particularly exciting, but then again, that's what the spring and fall dashboard updates are for. Hopefully the update we receive later this year won't be quite as disappointing as this past spring's.

Posted by Chris Pereira Categories: Activision, Music, PlayStation 3, Wii, Xbox 360,
Today Activision announced 11 new songs that have been added to the official list of songs that will appear in Guitar Hero III: Legends of Rock. You've got your Blue Oyster Cult, Slayer, Iron Maiden, Red Hot Chili Peppers, and more. This brings the total number of confirmed songs up to 27 – and a pretty strong selection it is. The new songs are as follows:
Miss Murder (by AFI)
Through Fire and Flames (by Dragonforce)
Number of the Beast (by Iron Maiden)
3's and 7's (by Queens of the Stone Age)
Suck My Kiss (by Red Hot Chili Peppers)
Raining Blood (by Slayer)
Reptillia (by The Strokes)
Paranoid (as made famous by Black Sabbath)
Cities on Flame (as made famous by Blue Oyster Cult)
Mississippi Queen (as made famous by Mountain)
La Grange (as made famous by ZZ Top)
Check after the break for the list of previously announced songs.
Click to continue reading 11 New Songs Added To Guitar Hero III's Track List

Posted by Chris Pereira Categories: Accessories, Activision, Electronic Arts, PlayStation 2, PlayStation 3, Wii, Wireless, Xbox 360,
Frankly, I don't really care what the guitar looks like when I jam out in Guitar Hero. On account of the fact that there are colored buttons near the end of it, the realism of the rest of it doesn't strike me as particularly important. But for those interested, above you can see the Les Paul model, which will be what's used on next-gen versions of the game. Below is the Kramer for PlayStation 2 owners. And for those wondering, you'll need to drop your Wiimote into a slot in the back of the guitar to play – don't ask me why they couldn't just develop a wireless guitar.
Read More

| Gaming Today
© Gear Live Media, LLC. 2007 – User-posted content, unless source is quoted, is licensed under a Creative Commons Public Domain License. Gear Live graphics, logos, designs, page headers, button icons, videos, articles, blogs, forums, scripts and other service names are the trademarks of Gear Live Inc.