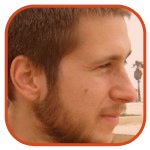 Posted by Brandon Gribin Categories: Action, Downloadable Content, Microsoft, Xbox 360, Xbox Live Arcade, Xbox Live Marketplace,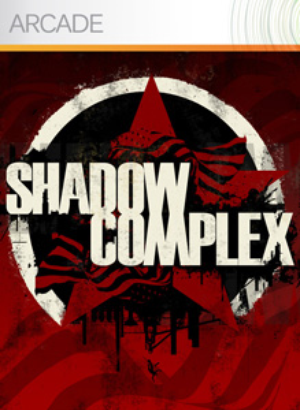 Whatever line there was between retail games and downloadable titles has essentially been torn down.
You can now download full retail games straight to your console thanks to the new Xbox 360 Dashboard Update. And the Xbox Live Summer of Arcade has been rock solid.
But wait. There's more.
The final release of Summer of Arcade hits this week - on Wednesday precisely. And it's been getting stellar reviews.
IGN calls it "one of the best games yet in 2009" - that's out of all games, not just XBLA titles. MondoXbox says it's"capable of rivaling even many of the retail games out there."
Shadow Complex further blurs the line between retail and downloadable games - if not completely destroying that line.
Shadow Complex is a Metroid/Castlevania-style game that features 2.5D side-scrolling action gameplay. Based on the praiseworthy reviews, this one sounds like a winner.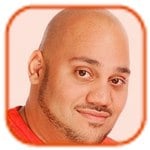 Posted by Andru Edwards Categories: Adventure, Downloadable Content, Games for Windows Live, PlayStation 3, Xbox 360, Xbox Live Marketplace,
The fifth and final Fallout 3 DLC, called Mothership Zeta, will be available on August 3rd on the Xbox Live Marketplace, as well as Games for Windows Live, for 800 Microsoft Points. It will be released for the PS3 at a later date. Here's the synopsis from Bethesda:
Defy hostile alien abductors and fight your way off of the massive Mothership Zeta, orbiting Earth miles above the Capital Wasteland. Mothership Zeta takes Fallout 3 in an entirely new direction – outer space. Meet new characters and join with them in a desperate bid to escape the Aliens' clutches. To do so, you'll wield powerful new weapons, like the Alien Atomizer, Alien Disintegrator, and Drone Cannon, and deck yourself out in brand new outfits, like the Gemini-Era Spacesuit and even Samurai Armor.
You can color us excited. Now we know that the alien crash site was meant for more than just finding the fantastic Alien Blaster weapon. Who's excited?
Read More

| Fallout 3 Mothership Zeta DLC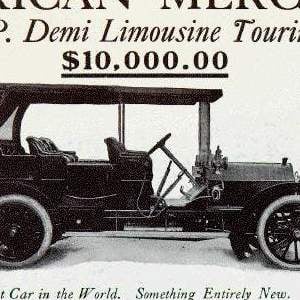 Posted by Drea Avellan Categories: Downloadable Content, Music, Wii,

If you are like me and were not able to score tickets to this year's Mayhem Tour, you can pretty much guess you will spend that day mopping or curling up in bed. Well, Harmonix says NO to that and is releasing 28 tracks from the artists performing at the event in addition to back-catalog tracks from The Presidents of the United States, The Offspring and Lamb of God all available July 7th, 2009. Only catch? These tracks are only available for Wii Rock Band.
Track listing available after the jump.
Click to continue reading Exclusive Green Day Tracks and Mayhem Festival Artists on Wii Rock Band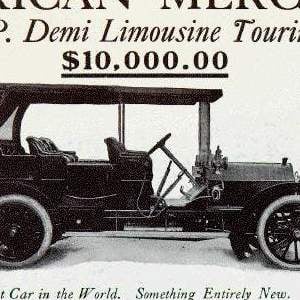 Posted by Drea Avellan Categories: Downloadable Content, Driving, PlayStation 3, PlayStation Network,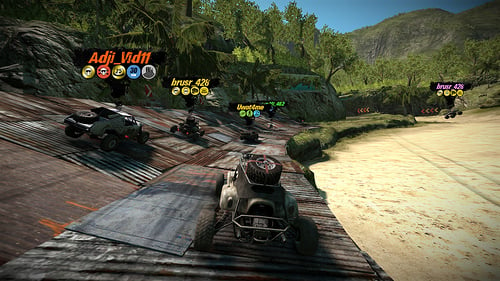 Starting this Thrusday, May 14th, the PlayStation Store will have an exclusive vechicle livery pack available to download every week during the next 8 weeks for the off-road racing game, MotorStorm. These free liveries will features new paint jobs for three vehicles, and the full set will give MotorStorm: Pacific Rift players a cutting-edge new look for every single vehicle class in the game: Mudpluggers, Quad Bikes, Monster Trucks, Rally Cars and more.
Update? Yup, that too. Game Update #2 was just released, and provides a number of useful fixes and updates for MotorStorm Pacific Rift. These include:
Sugar Rush short-cut removed – The short-cut to the left of the "keep right" arrows going into the sugar field was not intentionally included and has been removed
Sugar Rush respawn point fixed – Crashing at a certain point on the track no longer respawns the vehicle in a generous position
Inclusion of Microbadges
Read More

| Playstation.Blog

Posted by Alex Lifschitz Categories: Downloadable Content, Electronic Arts, Music, Rumors,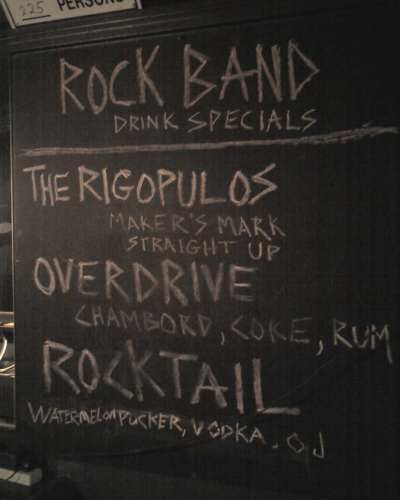 So here's the drink list from the event Harmonix threw the other day at the Rockit Room in San Fran. Nice, eh? I didn't get the opportunity to indulge, but one fellow told me that the overdrive will "take you to flavor country" before gliding away on roller skates.
Oh, and at the end of the night, they announced and played a song called "Don't Stop Believing" or something by some flash in the pan band named Journey, claiming that it would be hitting Rock Band. Should be available next Tuesday, but the date is subject to change and the pricing has not yet been announced, if you care about that kind of stuff.
(It's very hard for me to break sarcasm, but I've always held the position that the first music and rhythm game to get this song wins the war. Good job, HMX! You've doomed me to more DLC as my children starve. Or, at least, they're LIKE my children. But they're older, and female. And hookers.)
STREEEETLIGHT PEEOPLLLEEEEEE

Posted by Alex Lifschitz Categories: Activision, Downloadable Content, Music, PlayStation 3, PlayStation Network, Xbox 360, Xbox Live Marketplace,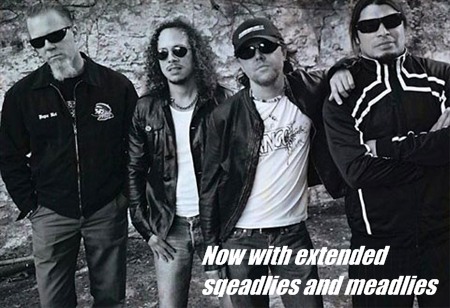 If you're keen on the ways of the music world, you may be interested: Metallica's new album, Death Magnetic, will be released in its entirety on Guitar Hero III this friday. It'll also have full compatibility with the upcoming Guitar Hero: World Tour on all instruments, and will feature two exclusive renditions of the song "Suicide and Redemption" featuring extended solos. It'll cost $17.99 on PSN or 1440 MS Points, though I would hope they might offer it for free to people who blew money on St. Anger. If you haven't heard the new songs yet, they're actually a pretty good throwback to the "...And Justice For All" days, though perhaps not to the stuff they wrote before bassist Cliff Burton succumbed to a bad case of being crushed by a tour bus. Check out the full press release after the break.
Click to continue reading Metallica's Death Magnetic Come to Guitar Hero III This Friday

Posted by Paul Hamilton Categories: Accessories, Downloadable Content, Features, Hardware, Microsoft, Music, PlayStation 3, Wireless, Xbox 360,
The Official Xbox Magazine's podcast has an interview this week with Harmonix co-founder and president Alex Rigopulos about their upcoming game Rock Band. In the interview he talks about the game bundles, although light on concrete details he does confirm a band-in-a-box bundle that will include a guitar, drum kit and microphone. However, he goes on to say that the PlayStation 3 version will include a wireless guitar controller while the Xbox 360 version will have to include a wired guitar because Microsoft's wireless technology is too expensive to make the bundle reasonably priced. Since the 360 also has only two USB ports, the 360 Rock Band bundle will also be packed with a USB hub.
Rigopulos goes on to discuss the game's career modes a little, saying there will be both solo career mode that progresses in a linear fashion similar to what Guitar Hero players are used to, but they are also including a less linear band career mode. In this mode you traverse to various venues trying to build up your fan base and in some cases return to previously played locations to maintain your fame there. Also it's worth noting that the solo career mode will not include a bass career track so your options are vocals, guitar and drums in solo career mode. But Rigopulos did reveal that the finale songs for each career path (and therefore likely the difficulty distinctions throughout) will be different for each instrument, and he even said that at this point the drum finale will be The Who's "Won't Get Fooled Again."
Click to continue reading Harmonix Co-Founder Answers Questions About Rock Band
Read More

| KOXM Podcast

Posted by Paul Hamilton Categories: Music, Nintendo, Wii,
Despite Nintendo packaging the Wii as an internet-ready and capable device, they seem to still drag their feet whenever it comes to online gaming. The latest evidence of this is the eerie quiet surrounding the online features of the upcoming Guitar Hero III, broken by The Bits Bytes Pixels and Sprites when they contacted a Red Octane PR specialist, Bryan Lam about what Guitar Hero III will be like online with the Wii. He distressingly told BBPS, "We're working closely with Nintendo for an online solution, though at the moment we're unable to confirm the status of the online multi-player."
Considering the other GHIII versions are all set to have online modes and there ought not to be any technical hurdles, this can really only mean Nintendo is having a hard time letting go of the secret to their ultimate online strategy which is so secret not even the consumers can figure out what it is. Online versus and co-op modes may be bad enough as possible omissions from the Wii version, but a follow-up from BBPS suggests that the same hurdles exist for downloadable content as well. While it's difficult to determine why Nintendo would want to feature-deprive third party developers from online action, it's even less comprehensible why they would cut off money-making endeavors like song packs as well.
Read More

| The Bits Bytes Pixels and Sprites via 4 Color Rebellion

Posted by Chris Pereira Categories: Action, Downloadable Content, PlayStation 3, PlayStation Network, Trailers,
The $4.99 expansion for the PlayStation Network's Blast Factor has been released today, alongside several free demos and trailers. It's nothing too exciting, but if you've been contemplating picking up a copy of Ghost Recon Advanced Warfighter 2 or The Darkness, you'll want to give the demos a shot before you drop your hard-earned money.
Blast Factor: Advanced Research expansion ($4.99)
Ghost Recon Advanced Warfighter 2 demo (free)
The Darkness demo (free)
Michael Clayton movie trailer (free)
Get Smart movie trailer (free)
The Game Plan movie trailer (free)

Posted by Chris Pereira Categories: Downloadable Content, Driving, Microsoft, Xbox 360, Xbox Live,
Hitting late tonight (well technically, tomorrow, August 1) at 2AM PST will be a free Nissan car pack for Forza Motorsport 2, which includes the 2007 models of the Sentra SE-R, Altima, and 350Z. There will also be a single car that you can purchase for a measly 50 Microsoft Points (or $0.62) in the Peugeot 908. To celebrate the release of the free downloadable content, there will be a variety of events held by Nissan and Xbox.
The first of these activities will be a Nissan Sentra SE-R tournament on Xbox LIVE. In addition to the tournament, Nissan and Xbox will also be hosting an in-game customization contest, as fans utilize the incredibly deep livery system of "Forza Motorsport 2" to create unique and stunning paint jobs on their Nissan Sentra SE-Rs. The contest will be judged by a panel comprised of Turn 10 developers and Nissan representatives, as fans vie for the title of ultimate Nissan customizer.
Further details will be unveiled on ForzaMotorsport.net, and we'll keep you up-to-date here at Playfeed. Check after the break for shots of both the Altima and Sentra. (That's a 350Z above, in case you aren't great at figuring that sort of thing out.)
Click to continue reading First Downloadable Content For Forza 2 Available Tonight
© Gear Live Media, LLC. 2007 – User-posted content, unless source is quoted, is licensed under a Creative Commons Public Domain License. Gear Live graphics, logos, designs, page headers, button icons, videos, articles, blogs, forums, scripts and other service names are the trademarks of Gear Live Inc.