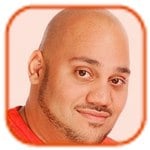 Posted by Andru Edwards Categories: Wii, Wireless,
Nintendo's press conference is over, and we haven't received that much information on the Revolution other than that the box the are showing off is a prototype, with the final product expected to be much smaller. Here is all I know:
Total Backwards Compatibility: Not only will the Revolution play standard Gamecube discs, but its owners will also have downloadable access to 20 years of their favorite Nintendo titles from the NES, SNES, and Nintendo 64 as well.
The specifications: The system boasts 512 megabytes of internal flash memory, wireless controllers, two USB 2.0 ports and built-in Wi-Fi access. A worldwide network of Nintendo players can gather to compete in a comfortable, inviting environment. Revolution's technological heart, a processing chip developed with IBM and code-named "Broadway," and a graphics chip set from ATI code-named "Hollywood," will deliver game experiences not previously possible.
SD Card Expansion: A bay for an SD memory card will let players expand the internal flash memory.
Two disc formats, one slot: Instead of a tray, a single, innovative, self-loading media bay will play both 12-centimeter optical discs used for the new system as well as Nintendo GameCube discs. Owners will have the option of equipping a small, self-contained attachment to play movies and other DVD content.
Wireless Gaming Network: A number of Wi-Fi-enabled launch titles are in development that will employ Nintendo's newly announced wireless gaming service, Nintendo® Wi-Fi Connection. A worldwide network of Nintendo players can gather to compete in a comfortable, inviting environment.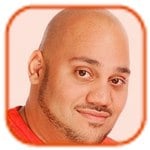 Posted by Andru Edwards Categories: Announcements, Nintendo Gamecube, PC, PlayStation 2, PlayStation 3, Portable/Mobile, Wii, Xbox 360,
Alright guys, we are excited to be at E3 this year, and we plan to make the best of it by hooking you up with a bunch of content straight from the show floor. If you want to know what is happening at E3, be sure to keep PlayFeed bookmarked. Here are some of the features you can expect from us over the next few days:
Live E3 Moblog: Our editors will have their camera phones snapping images of the coolest sights at the show. Games, cool booths, hot booth babes…all updated in real time. Wanna check it out? The moblog can be seen here.
On location video coverage of the event. We will even optimize it so that you can download it straight to your PSP or mobile video device.
Podcast interviews with tons of influential people in the industry, including a couple of surprises. Be sure to subscribe to the Gear Live Podcast feed. We will be putting up a lot of exclusive audio content over the next few days.
Coverage of the big three press briefings, along with interviews with Microsoft executives and an exclusive look at the Xbox 360 games.
A phone number will be posted which you can use to give us a call to tell us what you would like to see covered.
A lot more that we don't want to give away just yet!
Seriously, we are stoked to be at E3 this year. We plan to bring you all a nice representation of the whole E3 experience.

Posted by Oscar M. Cantu Categories: Wii,
Nintendo's next generation console, code named Revolution, will launch in mid 2006 according to an earnings report by the system's memory technology provider. This information was obtained during an earnings call with executives and analyst.
"Then, according to a transcript of the call, Voll said, "We are excited to be a participating member of the Nintendo team once again, as Nintendo will roll out and success game console to the GameCube in mid-2006." (Emphasis added.) Presuming that the transcriber misquoted Voll saying "a successor game console" as "and success console," it means that Nintendo's next-gen console will arrive just over a year from now."
Read More

| Gamespot

Posted by Jesse Easley Categories: Wii,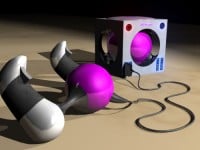 The word has slipped from Monolithic Systems that the Nintendo Revolution is slated to launch mid 2006. Monolithic systems is a company providing RAM chips to go along with NEC's memory for the Revolution. The word slipped durring an earnings conference for the company. There isn't much known about the Revolution since Nintendo has been keeping all information locked in Mario's basement along with the Virtual Boy. All we really know is that ATI and IBM will be providing key hardware and that it will be backwards compatible with the Gamecube (Does anyone still play Gamecube?) More information will be released at E3 next week for sure because Nintendo has finally stated that they will be discussing the Revolution there. Of course we will be there to bring you the information.
"Nintendo clearly does not want to be the last console maker to ship its next-gen system and as such the Revolution is likely to arrive around the same time as the PS3 if not sooner."
Read More

| GameDaily.com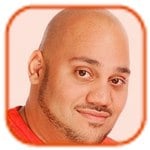 Posted by Andru Edwards Categories: Announcements, Nintendo Gamecube, PC, PlayStation 2, PlayStation 3, Portable/Mobile, Wii, Xbox, Xbox 360,
That's right, y'all. The 2005 Electronic Entertainment Expo is right around the corner, and this one is going to be huge. The Xbox 360 will be there in full effect, and we will be there when Microsoft presents the console to the press. Nintendo will finally let the Revolution out of the bag, unless they choose to not show it for fear that competitors will steal their ideas. They will also be bringing Link and Zelda to the party. Last, but not least, Sony is set to show their PlayStation 3, powered by the almighty Cell processor. These are the obvious E3 attractions, but there will be many more things happening during those three days. We want to know what you guys want to see us cover while we are down at the big show. Game developers will be there in full force. Anything you are interested in seeing us cover? Let us know, and we will do our best to oblige.

Posted by Oscar M. Cantu Categories: PlayStation 3, Sports, Wii, Xbox 360,
In case you've missed the newest Madden commercial, here it is. EA Sports is showing off their next gen Madden on their web site along with five beautiful screenshots of the game. This is all to show off what the next generation consoles can do and to get us drooling in anticipation for the coming weeks. If you missed the commercial during the NFL draft, then head on over to EA Sports and check it out – remember to wipe after you're finished.
Read More

| EA Sports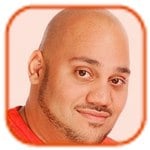 Posted by Andru Edwards Categories: Features, Wii,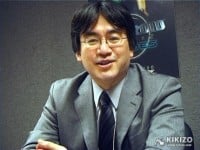 The E3 rumor mill has been buzzing quite loudly over the past few weeks. People are excited about what Microsoft is doing with the Xbox 2/360. People are curious about how Sony is going to use the PlayStation 3 to combat the hype machine that the next generation Xbox has been generating. And Nintendo…well…Nintendo has people buzzing for a different reason. We have been hearing that Nintendo may choose to play down the Revolution at E3 – and that is if they even choose to show it at all. Does it really matter if Nintendo shows the Revolution or not? Is Zelda enough for a successful show for Nintendo? The Playfeed editors take this issue to task in our Nintendo at E3 Roundtable.
Click to continue reading Should Nintendo Bring The Revolution To E3?
© Gear Live Media, LLC. 2007 – User-posted content, unless source is quoted, is licensed under a Creative Commons Public Domain License. Gear Live graphics, logos, designs, page headers, button icons, videos, articles, blogs, forums, scripts and other service names are the trademarks of Gear Live Inc.