Posted by Chris Pereira Categories: Portable/Mobile, Reviews, Role Playing Games,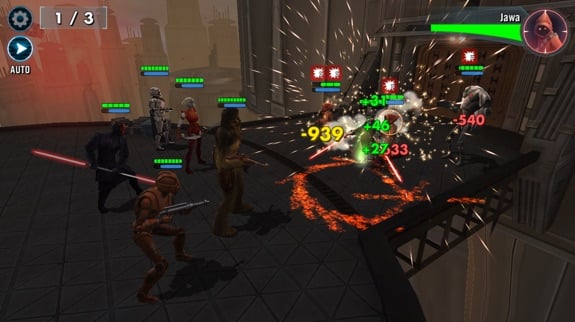 Star Wars: Galaxy of Heroes, a role-playing game released for mobile platforms last fall, initially struck me as a game I could skip without a second thought. It had the appearance of a cheap cash-in meant to capitalize on the launch of Star Wars Episode VII: The Force Awakens. Although I'm not generally not the sort of person to write off a game for being free-to-play (some of my favorite games don't cost a dime to start playing), there's something about the combination of that business model, mobile, and a major franchise that made me assume it was not worth so much as a download.
I was wrong.
Click to continue reading Star Wars: Galaxy of Heroes Is a Surprisingly Great Mobile Game

Posted by Chris Pereira Categories: Adventure, Editorial, Reviews, Role Playing Games, Xbox One,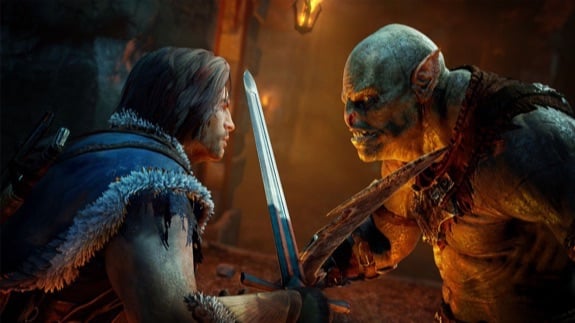 There were any number of reasons to be excited for Middle Earth: Shadow of Mordor, which launched earlier this week. For myself and many others, it was the Nemesis system--which promises unique enemies and emergent gameplay--that was the most exciting aspect of all. And while it's certainly an intriguing feature, I can't help but feel I've been missing out on it for basically being too good at the game.
Until reviews started to hit the web, I was very cautious in being optimistic about Monolith's first-ever Lord of the Rings game. For being such a major franchise, quality games based on it have been few and far between--something that's especially surprising considering its renewed popularity following the release of Peter Jackson's movies. Once I heard the almost-unanimous praise from the reviewers I trust, I was onboard. I was ready to finally play a LotR game that was a genuinely good game, not another passable one that I accepted because it happened to make use of one of my favorite franchises.
Click to continue reading Is being too good at Shadow of Mordor robbing me of a better experience?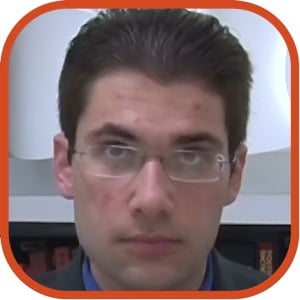 Posted by Ariel Levin-Waldman Categories: Action, Features, Reviews, Role Playing Games,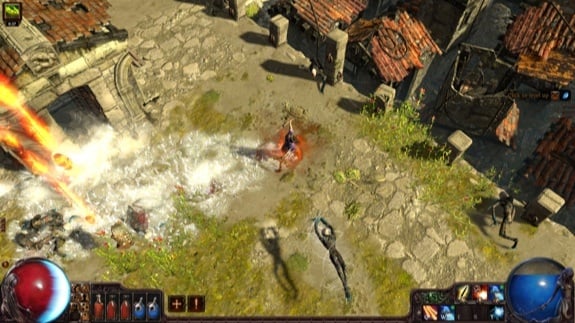 I'll be the first to admit that I am not a hardcore gamer. Ok, that's false, many people have said that first, but the point stands. I can never keep track of the differences between core and hardcore and pro gamer and who is playing what. But when I look at my steam account and see that I managed to log triple digit hours in some of those things I don't know if I can say I'm casual either. In fact, there is only one thing I can say with certainty about video games:
I like the free ones.
The majority of the games in my steam library were free. Metro 2033? Free promotional. Red Orchestra? Free steam weekend. And now another, Path of Exile. Another freebie, and at 132 hours it takes second place for play time in my library next to Civilization 5. That one I bought the hard way.
Its one of the expanding genre of free to play MMOs on the market these days and it ranks at the fifth most popular freebie on steam with a pretty solid community rating. Metascore 85/100 is nothing to sneeze at. It got glowing reviews from Gamespot and IGN. It has five million players. I'm willing to bet some of you reading this have that icon on your desktop right now.
Now I'm going to tell you about my experiences with it after 132 hours.
Click to continue reading Path of Exile review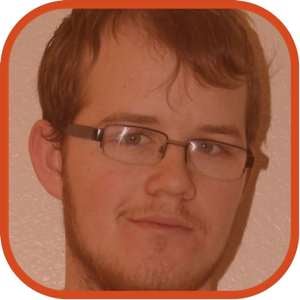 Posted by John Ball Categories: Action, Adventure, Corporate News, Kinect, Microsoft, Release Dates, Role Playing Games, Third Person Shooters, Xbox 360,

As any in-the-know gamer should be aware of, Mass Effect 3 was released last Tuesday, and, man, is it flying off the store shelves. Opening day sales for the game hit 890,000 units, which is most definitely a lot of cheddar. 1.5 million units of the title have been shipped to retailers worldwide, however take note that the number of units shipped does not correlate with the number of units sold.
To learn more about the game check out our Mass Effect 3 Kinect feature.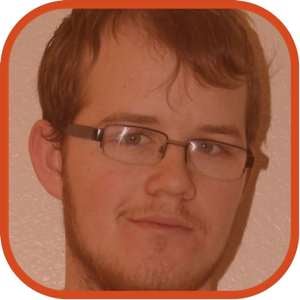 Posted by John Ball Categories: PlayStation 3, Role Playing Games, Trailers, Xbox 360,
With Fallout: New Vegas having been out for almost a year and a half, some had wondered when we were going to see a Game of the Year edition. Well, seeing as that New Vegas did not receive a GOTY award (doesn't mean it wasn't awesome - see our Fallout: New Vegas review,) Bethesda did the next best thing and has announced the Fallout: New Vegas Ultimate Edition.
The game is the same as always, but now you get all the DLC included with the purchase. That includes Dead Money, Honest Hearts, Old World Blues, and Lonesome Road. You also get unique weapons, ammo types, and recipes from the latest Courier's Stash and Gun Runners Arsenal add-on packs. Now dust off your Pipboys, grab some Nuka Cola, and sit down with the official Fallout: New Vegas Ultimate Edition release trailer, above. The game hits stores on February 7th in North America, and February 10th throughout Europe.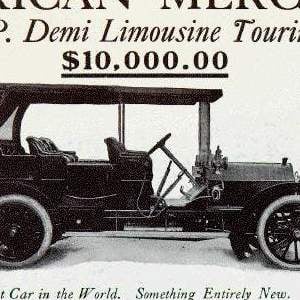 Posted by Drea Avellan Categories: Adventure, Culture, Role Playing Games,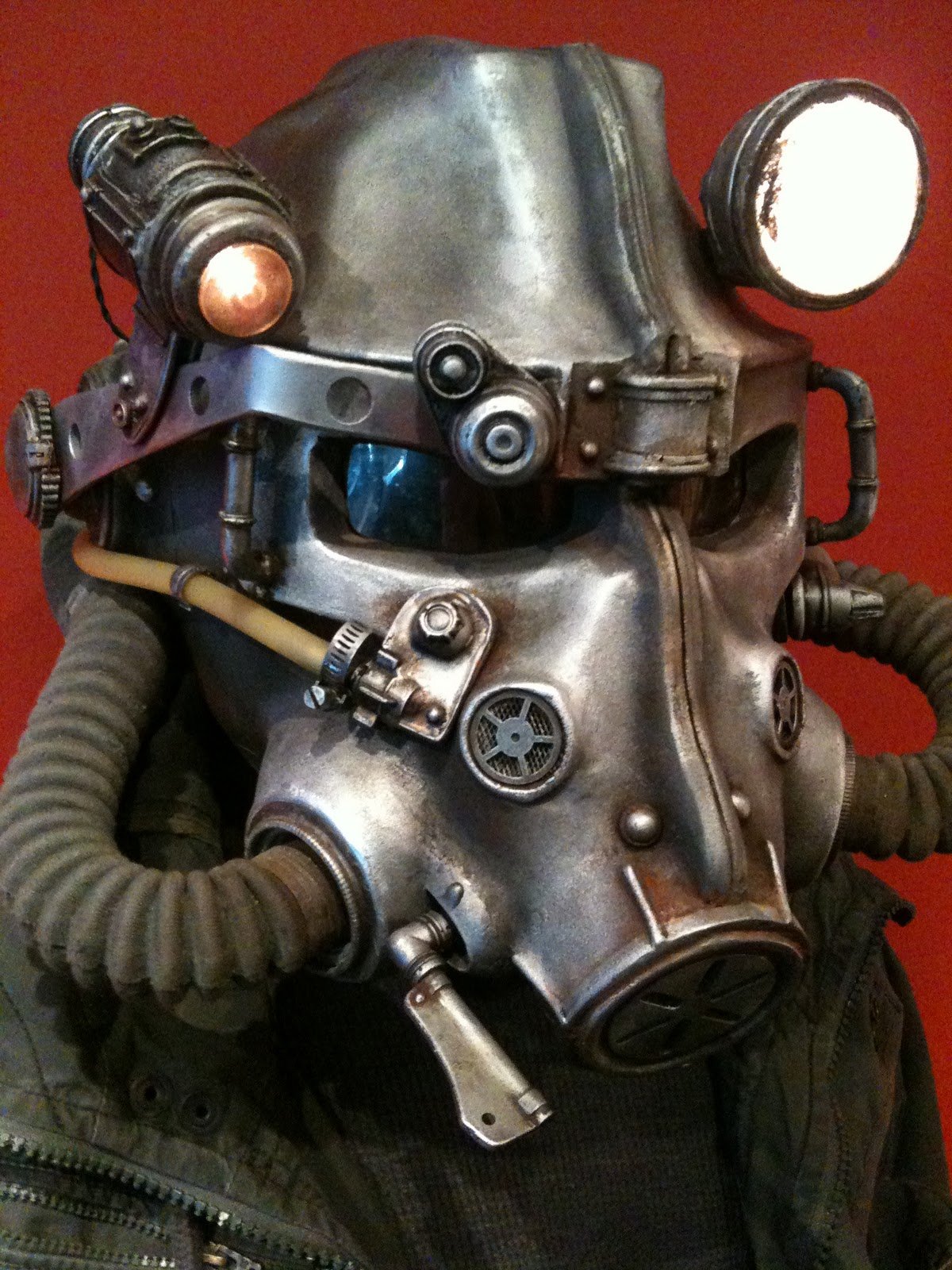 I am known to dabble in the arts - I paint, draw, and like to make a mess with glue. However, don't ever confuse this with being in the least crafty. I cannot make anything myself, which is a great loss when Halloween comes around. Unlike me, Josh Jay probably got all the candy on the block.
Josh is the creator of this amazing Fallout 3 helmet. Why he crafted this stunningly detailed piece is unknown, but those reasons don't matter. It is awesome.
To see pictures of the step-by-step process, you can view his Facebook galleries: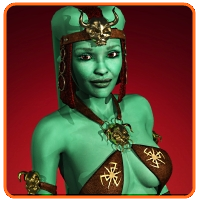 Posted by Patrick Lambert Categories: Action, PlayStation 3, Reviews, Role Playing Games, Xbox 360,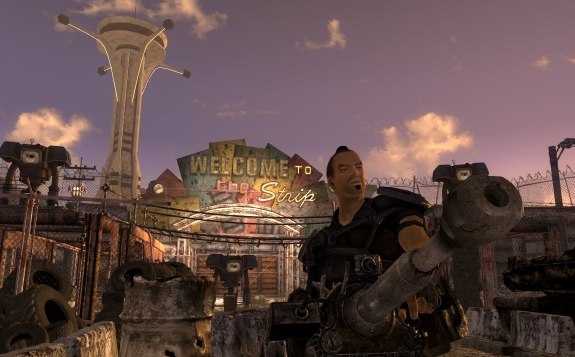 As the first game of the season I was eagerly awaiting, I got Fallout: New Vegas as soon as it came out and played it religiously for 27 hours. In that time I estimate that I probably finished around 60% of the side quests before finishing the main story. It gave me an overview of the wasteland in and around the strip, and most of the quests available to carry the story along. The game is available for the PC, Xbox 360, and Playstation 3. So, is it worth your time? We give you our thoughts in our full review.
Click to continue reading Fallout: New Vegas Review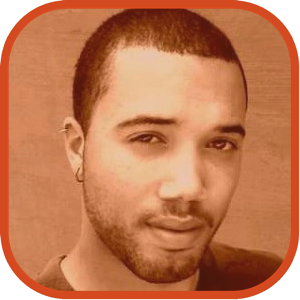 Posted by John Kilhefner Categories: MMORPG, PC, Role Playing Games,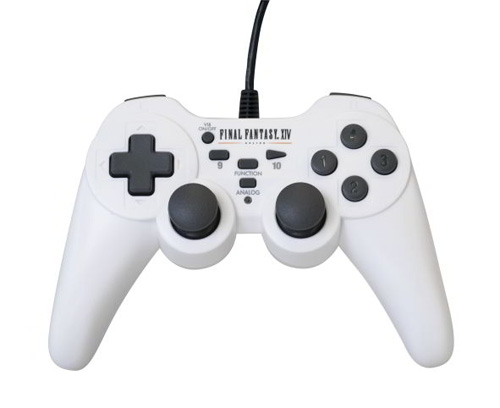 Sunflex created this official Final Fantasy XIV controller licensed by Sqaure Enix for use by PC aficionados. It is definitely inspired from the same aesthetic as Sony's PlayStation controllers, albeit it has a bit of a boomerang look to it. However, while you could just as easily play with a less awkwardly designed Xbox 360 controller, the PlayStation look is definitely more traditionally acceptable for a Final Fantasy game, no? you can pick up the controller alongside the release of the game, which happens on September 30th.
Read More

| Kotaku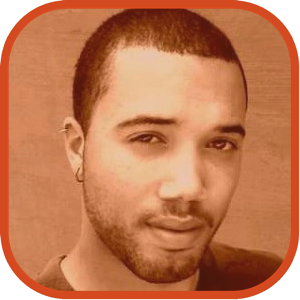 Posted by John Kilhefner Categories: Microsoft, Role Playing Games, Trailers, Xbox 360,
An ad for the Xbox 360 version of Final Fantasy XIII has been removed from UK screens after being accused of using PS3 footage. Sqaure Enix admitted to the ruse, but added that the ad was made entirely from pre-rendered cut scenes that look no different from the Xbox 360 version. The PS3 version of FF13 does indeed look a bit sharper, but not enough to really be noticeable, especially when viewing it in standard definition broadcasted over the air. However, Square states that the ad, comprised of FMV cut scenes, "could have been captured on any device". Though, apparently the UK doesn't take too kindly to duping viewers with interchangeable video game footage, as the ad has since been banned from the air. See the ad and judge for yourself above.
Read More

| Gamespot via Engadget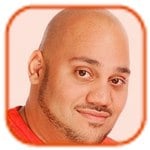 Posted by Andru Edwards Categories: Adventure, PlayStation 3, Role Playing Games, Trailers, Xbox 360,
We love Fallout, and poured hundreds of hours into Fallout 3, which explains the pain we feel in our chest knowing that we won't be able to play through Fallout: New Vegas until the fall of this year. That said, Bethesda has released a teaser trailer for Fallout: New Vegas, which is just enough to whet the appetite. Who's excited?
© Gear Live Media, LLC. 2007 – User-posted content, unless source is quoted, is licensed under a Creative Commons Public Domain License. Gear Live graphics, logos, designs, page headers, button icons, videos, articles, blogs, forums, scripts and other service names are the trademarks of Gear Live Inc.