Monday July 6, 2009 2:54 pm
LEGO Rock Band hands-on

Tweet
Posted by Alex Lifschitz Categories: E3, Music, PlayStation 3, Reviews, Xbox 360,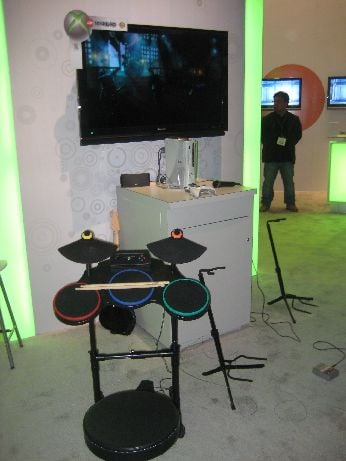 God, what a lonely-looking stand they had this game set up on. Look at that. Really?
When it comes down to brass tacks, at least to me, Rock Band and LEGO go together like peanut butter and chitin. After being revealed to discerning eyes during Dan Teasdale's GDC talk, the game has garnered some attention from puzzled, clueless journos like myself. LEGO Rock Band is a game for the little'uns, principally, tooled to a younger age demographic and given a fresh coat of paint to keep the drooling cretins jamming away on modern pop hits. So if you're coming in looking for some Pantera, you'll be disappointed. But I digress.
Hit the jump for some impressions of LEGO: Rock Band.
What is it?
Rock Band with LEGO. That's really about it.
Why should I care?
Alright, alright. That may be slightly disingenuous. Lego Rock Band is essentially a Fisher Price 'My First Rhythm Game'. It's Rock Band with a younger audience in mind, targeting families and young chil'luns with the LEGO brand for recognizability.
That's not to say, though, that the game can't be enjoyed by adults. If you're not into LEGO, think of it as a track pack. On expert difficulties, the game is just as challenging as any other game in the Rock Band series. But a few mechanics have been re-tooled to make entry smooth and painless for younger audiences.
Did you catch that? That was innuendo.
What did you play?
I got to play Europe's "The Final Countdown" with an MTV representative on a lonely little screen that wasn't calibrated to the game. There was a larger stage just in back, but this was closer, and I'm lazy.
What was cool?
LEGO, son! It's all about the LEGO. LEGO characters, LEGO backdrops, hell, even the note gems are little LEGO bricks. Every UI asset is themed.
The game is also taking into account players with little to no motor skills - a new Beginner mode has been added, and the game is defaulted to a no-fail mode that you can switch off. When you play as a band, you collect little LEGO studs by hitting streaks, and failing out only depletes your stud collection instead of taking you out of the game. To counteract the lack of emphasis on failing a song, there are new challenge modes like the destruction challenge, in which you gain stars on a song (I was told up to 10) to destroy a LEGO building.
It utilizes both the LEGO and Rock Band franchises well, but the big difference is that it was made to be easier. Take that as you will.
What sucked?
I personally felt that theming takes a backseat to gameplay, and in the up and down note clusters in the solo on The Final Countdown, the LEGO bricks used for note gems tended to get obscured due to the extra real estate used by the notches on the brick. It's a minor nitpick, but it isn't as sleek as the classic UI.
Overall, I left the demo a little underwhelmed, but then again, the game really wasn't for me. My professional judgment leads me to believe that this game hits its target demographic rather accurately, that being small children and families who are not into the narrative aspect of the mainstream Rock Band games.
When will I be able to play it?
No clue. Expect it on the PS3 and 360, though.
You'll probably like it if you liked…
Rock Bands 1 and 2, or Guitar Hero World Tour. If you're looking for a newer and more challenging game in the narrative and aesthetic vein of Rock Band, though, you might want to wait for Guitar Hero 5. Or The Beatles: Rock Band, which I recommend whole-heartedly.
© Gear Live Media, LLC. 2007 – User-posted content, unless source is quoted, is licensed under a Creative Commons Public Domain License. Gear Live graphics, logos, designs, page headers, button icons, videos, articles, blogs, forums, scripts and other service names are the trademarks of Gear Live Inc.