Wednesday August 13, 2008 1:55 pm
EA Scrabble iPhone review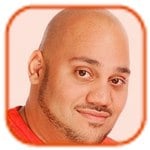 Tweet
Posted by Andru Edwards Categories: Casual, Downloadable Content, Electronic Arts, Portable/Mobile, Puzzle, Reviews,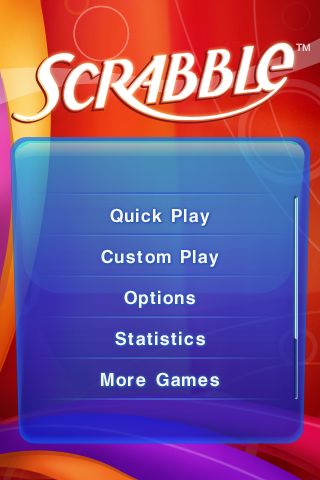 Last year, my interest in Scrabble was brought to life with the release of the Scrabulous Facebook application. It was a good time challenging Facebook friends to old-fashioned word battles, and destroying them all with my superior wordsmithing skills. Or not. If you wanna test me, feel free to challenge me on Facebook. So what's the point? Well, the moment that I saw that EA had released a version of Scrabble for the iPhone and iPod touch, I had to grab it immediately. I mean, an official Scrabble game for the mobile device that I use more than any other? What's not to love about that?
Well, we will tell you. Step on in for our full review of the Scrabble app for iPhone.
Okay, so how would Electronic Arts do in porting the 80-year old Scrabble to the ultimate in modern technology? The first step in finding out was to hit up the App Store and drop $9.99 to purchase the game. Our first thought was that this was a tad on the expensive side for Scrabble, especially since it had recently been released for free on Facebook (replacing Scrabulous in the process).
After the download and install, I launched the game, and was treated to what I thought was a pretty cool opening sequence. I then tapped the screen to skip past it, and quickly realized that this was a loading screen. A loading screen that took about 25 seconds to go away. Every time you launch the app. Yeah, that one is fairly annoying. It's also unfortunate that the game seems to crash on this screen about half the time that you launch it - and in some cases, it caused a hard reboot of the phone itself (including the latest version of Scrabble, running on iPhone 3G firmware 2.0.1).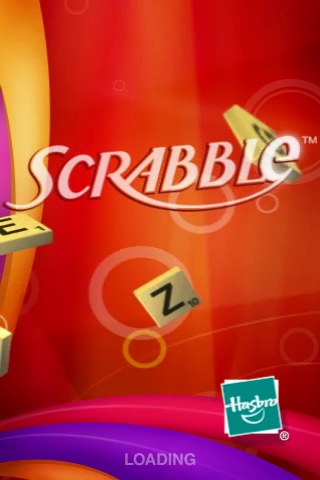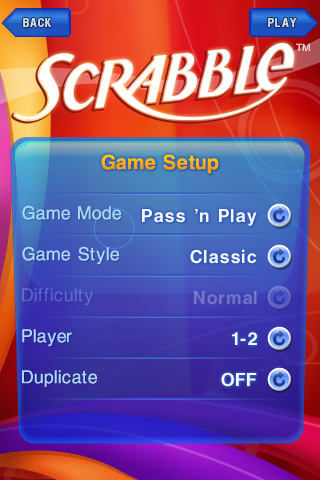 Once (if?) you get you get past the initial loading screen, the menu is presented. It was good to see that you don't just have to play the standard game of Scrabble. There are a few options that you can customize if you are more of a "house rules" kind of player. You can also just jump right in to a game against the computer by hitting Quick Play, or select Custom if you want to play solo, or if you want to do the fantastic Pass 'n Play mode, which allows you to play against up to 3 other human players. Each person takes a turn, and then passes the phone to the next person. I've had some intense one-on-one battles using this mode. Good times.
You also have an options menu, where you can play with setting having to do with music and sound effects, and toggling game tips. The statistics menu gives you a look at how you perform at the game. It keeps track of things like your best game, best word, best turn, win/loss record, win percentage, bingoes, and more. Pretty neat feature - but if you have to restore your iPhone for whatever reason, that all gets reset.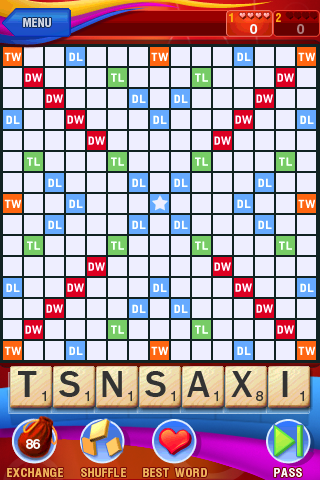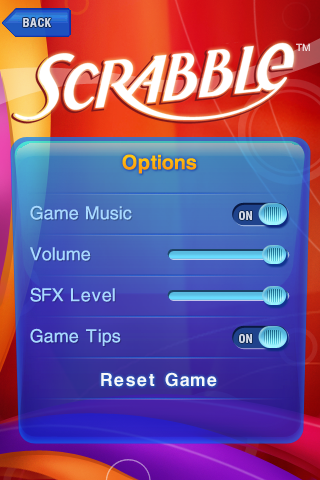 So, jumping into the game itself, you quickly see the nice level of detail that was put into the presentation. The board and tiles look great both zoomed out and zoomed in. In fact, if you've played the official Scrabble game on Facebook, you will see that the same look, feel, and colors are used in the iPhone version. I, for one, appreciate that kind of synergy.
The play mechanics simply have you drag a tile from the bottom of the screen, where your inventory is located, directly onto the Scrabble board. At times, it feels like your finger gets in the way of what you are looking at, but it isn't horrible by any means, especially if you just zoom in first.
You have a few extra options as well. You can shuffle your tiles randomly if you want a different look at what you have available to play, you can just exchange them outright (which costs you a turn), you can pass, or you can have the game show you the best word that can be played out of the letters you have available. That is available to you four times per game, if you have that setting on.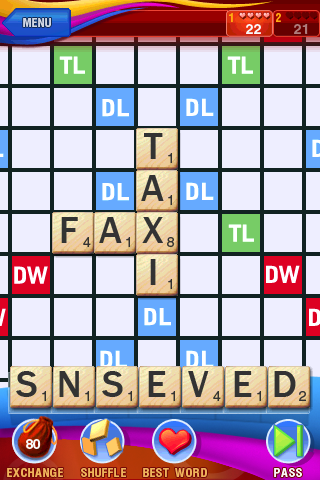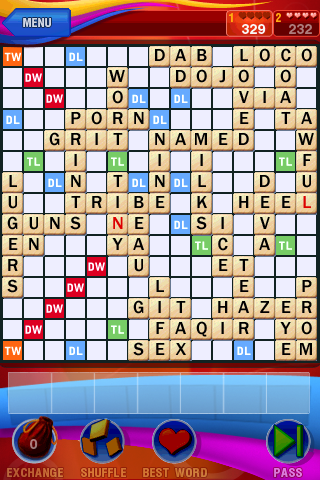 There were a couple of things that we didn't like, such as the fact that the game doesn't tally your points until after you play a word. Not a huge deal, since you should be able to calculate on your own, but this is an electronic version. As such, as you are playing a word, it should tell you how many points you would earn if you were to play it. Secondly, the blank tile mechanic can be improved. I mean, you'd think that playing a blank tile would invoke a keyboard so that you could quickly hit the key of the letter you want to use. Nope. Instead, you get the letter 'A', and a couple of arrows that allow you to advance through the alphabet until you find the letter you need. Weak.
Another welcome addition to the game would be multiplayer over Wi-Fi. I mean, seriously, if me and a friend both purchased the Scrabble app, there is no reason for us to use Pass 'n Play on one iPhone, when we could instead each have our own device. Other games include a multiplayer Wi-Fi feature, and Scrabble should too.
Overall, when it doesn't crash, we like the app. I've had fun playing it every time that I used it, and I think that is the mark of a good game. The game was clearly tailor made for the iPhone and iPod touch, and with the exception of multiplayer Wi-Fi, we feel that EA hit a home run with the way you use the touch screen to interact with the game. While we initially thought that $10 might be a bit steep, if you like Scrabble (or word games in general), we whole-heartedly recommend picking this one up.
© Gear Live Media, LLC. 2007 – User-posted content, unless source is quoted, is licensed under a Creative Commons Public Domain License. Gear Live graphics, logos, designs, page headers, button icons, videos, articles, blogs, forums, scripts and other service names are the trademarks of Gear Live Inc.