Monday July 14, 2008 12:06 pm
E3 2008: Xbox Media Briefing: Gears of War 2, Lips, Guitar Hero Tunes, Final Fantasy XIII announced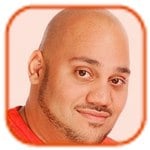 Tweet
Posted by Andru Edwards Categories: Corporate News, E3, Microsoft, Xbox 360, Xbox Live, Xbox Live Arcade, Xbox Live Marketplace,
We've entered the auditorium here in the West Hall, and are currently waiting for the E3 2008 Xbox Media Briefing to begin. Very nice setup in here, by the way. Bunch of stage lighting, high definition displays, and…oh, even a mock living room setup. Snazzy. Anyhow, keep it locked here, as we will be bringing you live updates from the keynote as it happens. Any predictions on what we will be seeing announced today?
Oh, as for images, we will update the post with a bunch of those after the keynote ends. We wanna focus on bringing you the text updates for now, mkay?
We start with some Xbox 360 Street Talk, where apparently Microsoft went around town and interviewed people off the streets, and asked them about what they like about Xbox 360. Obviously, all good comments here. Now we get answers for questions like "What is a noob?", "What does it mean to be 'pwned'?", "What does melee mean?", "What does RPG mean?", etc. Basically, what do average people know about video game terms. This is kind of like sitting through the advertisement trailers in the movie theater, the ones that come before the actual trailers.
Check out the rest of the keynote after the jump:
Oh yay, more Street Talk. This time they are having people make faces in conjunction to how their gaming performance is. You know, "Give us your I'm Winning face! What about when you are losing, make that face! Awesome!" It's filler, luckily, we should only have 10 more minutes of this.
Don Mattrick takes the stage to kick things off to welcome everyone to the event. He mentiones blockbusters like GTA IV, Bioshock, Halo 3, COD4, and Assassins Creed. Also says Guitar Hero, Rock Band and Uno prove that Xbox can deliver games to both hardcores and casuals alike. He says today they will prove that the answer to the question that asks if they can continue to deliver to both.
Fallout 3, Resident Evil 5, Fable 2, and Gears of War 2 will be shown off today. And with that, we go to the game trailers. We get a Vault-Tec old-school style commercial that seems to be part of a bigger game trailer. Actually, yup. Fallout 3 it is. Todd Howard from Bethesda hits the stage to talk about Fallout 3. He mentions that Oblivion taught Bethesda a lot, and they are applying that knowledge to Fallout 3 development. Now we get a demo of the game.
We get a scene of destruction, post apocalyptic Washington DC in the year 2017. The Pip Boy 3000 is your menu system in the game. You can play steathily, combat, or use speech to your advantage and sweet talk all the girls to victory. Todd starts taking out limbs on the baddies, showing off his gun skills, even taking out a turret with a laser gun.
We will have more on Fallout 3 later this week, as we have a behind closed doors session with Bethesda to learn more. They end the demo with the Fat Boy nuclear launch gun, and they announce that Fallout 3 will have a substantial amount of DLC on the Xbox Live Marketplace.
Jun Takeyuchi arrives to talk to us about Resident Evil 5. We are gonna get a look at the world's first look at playable Resident Evil 5 demo. The game takes place in Africa, as we all know. Chris Redfield is walking around, investigating the causes of a bioterror incident, and the demo just starts off with Chris shooting some zombies down.
Oh, nice - Resident Evil 5 has an online co-op mode! Chris hits a spot where he needs help, and someone else arrives on the scene, controlled by someone else, and they team up to get through a particular obstacle with an alley oop move of sorts. They move then work on taking down a team of zombies. They end the demo with a cool chainsaw enemy.
Resident Evil 5 will be launched in North America and Europe on Friday the 13th, March 2009. Japan gets it one day earlier.
Peter Molyneux now takes the stage to walk us through Fable 2, starting by saying that Fable 2 is finished. That is some fantastic news. Fable is an RPG with invention and creativity, and we get to look at the opening montage. Needless to say, this is a gorgeous game. Oh, and it ends with the main character getting pooped on by a bird. No, seriously.
We get another announcement of co-op over Xbox Live. Very cool way of getting your friends into your world, just by walking up to an orb and inviting them in. You get an immediate connection rather than a game lobby that you both need to wait in. You can get married in the game, get drunk at a bar with your buddies, etc. Apparently there are a lot of things you can do to just interact with the game. If you have a child, the child will grow as you progress through the game. It really does become your own unique world with your own unique hero, says Peter. Fable 2 launches in October 2008.
Next up, Gears of War 2. The trailer starts off with a massive fight scene along with a reading of I Have a Rendezvous with Death. Cliffy B walks on stage to show off the game. He believes they have the most wanted title this holiday season on any console. We are getting a look at two player co-op. The graphics here are even more amazing that what we saw in the original Gears of War. They players are trying to make it down to the bottom of a locust sink hole. A new feature allows you to pick up a fallen locust, and use him as a shield as you run towards more enemies.
The entire demo is on huge fight scene, and it really is pretty much non-stop action, Very, very impressive. This is a must-have. Gears of War 2 has a new mode called Hoard. 5 people can take on wave after wave of locusts with increasing difficulty. Gears of War 2 launches on November 7, 2008.
Don appears on stage again. He shares that a recent forecast says that people will spend 48 billion on video game purchases this year. Bigger than movies, music, and DVD sales. Xbox 360 has the most consoles (not by much in terms of Wii, but 5 million more than PS3). They are also selling the most games, and have the best-selling third-party games on any platform. We now have over 12 million people on Xbox Live. A new member ever 5 seconds. More than 1 billion has been spend on Xbox Live since November 2005's Xbox 360 launch. They have over 10,000 movies and television shows, and they are the world's largest provider of on demand high definition programming - more than cable and satellite providers even.
New to Xbox Live are NBC and Universal Studios. Here comes The Office, Heroes, and Thirty Rock baby! That also includes Sci-Fi by the way, for you BSG fans. With Universal, we get the Bourne Trilogy, Riddick, and similar. This is all available today in the US.
John Schappert is introduced to show off how Xbox is going to reach out to an even wider audience. Looks like this is going to be Xbox Live-focused. They are going to improve the Xbox 360 experience through the magic of software upgrades. I think we are going to get a new dashboard. We are getting a trailer…and we have an ENTIRELY new Xbox 360 Dashboard. So this is why we didn't get a Spring update. This looks absolutely fantastic.
You also get avatars with hairstyles, clothes, accessories. This is a very welcome improvement, and a bold move to see a video game console manufacturer completely revamp and redo their dashboard look and feel. We love it. The avatars can even become a community and interact together. Let me say this again, this dashboard is great.
You can create a Live Party to get a bunch of fiends all together and chatting. You can stream photos in the Live Party. There is also a new feature called Xbox Live Primetime. You get to take part in a television game show right inside of Live. We get a trailer for 1 vs 100, using your avatars. Very neat looking - and these avatars look so much better than Miis on Wii.
We get a look at Uno Rush. This is all still inside the Xbox Live party. So they have gone from photo sharing, to Live Primetime, to playing Uno Rush. The Party Leader is the one who leads through this.
We also get the announcement that Geometry Wars Retro Evolved 2 launches next month on Xbox Live Arcade. I think we get four player multiplayer. We also get the first Galaga sequel in 20 years, called Galaga Legions, also available next month on Xbox Live Arcade.
And now we get the announcement of Portal: Still Alive. Standalone Portal game, launching in 2008? Yes. Yes, please. This is also an Xbox Live Arcade game, exclusive to the Xbox. Sorry if you were hoping it would come out on Steam!
Next we get a quick announcement of the South Park Xbox Live Arcade game.
Community games also launch this fall as well.
We also get the announcement that Microsoft has come to agreements with Netflix, which will allow Xbox Live subscribers to enjoy the Netflix library at no additional cost (other than the cost of your Netflix membership.) You can share your Netflix movies and television shows with your Live Party. Remote movie watching and sharing, legally. Now that is big.
Shane Kim enters and takes over. He starts talking about some upcoming games like Prince of Persion, Call of Duty World at War, and more. Also goes into new episodes that will be available for Grand Theft Auto IV. By the end of 2008 there will be over 1000 titles available for the Xbox 360.
We get a look at the new Banjo-Kazooie Nuts & Bolts game, as well as Viva Pinata Trouble in Paradise. The game will feature purchaseable cards that you can hold up to the Xbox Live Vision camera, which will scan the card and bring in the new pinata right into your garden. That is neat. The original Banjo-Kazooie game will also be available on Xbox Live prior to the holiday launch of these two new games.
Scene It Box Office Smash is shown, and it looks like a lot of fun. This game takes advantage of the new avatars, so I am guessing this wont be available until the Fall, since that is when avatars hit the console. Next up is a game called You're In The Movies.
Don and John are back, along with a Genevieve to demo You're in the Movies. The game will allow you to make short, campy B-movies with your friends. You follow cues on screen, and are then superimposed into a movie. John is pretending to swat hornets, with the Vision camera following his movements. Genevieve then has to dance around like a crazy person. The game then takes all of the footage from the minigames, and puts a movie together. This particular one is called Cold Blooded, and this is going to be a lot of fun for families, definitely. A directors mode also lets you edit and cut. The game will include the Xbox Live Vision camera right in the box. Hopefully you haven't already accidentally (or intentionally) bought one, like I did over a year ago.
In terms of music games, over 3.5 million songs are downloaded on Xbox Live each month, which is 80% of all console sales. Now we get Kai Huang on stage to talk to us about Guitar Hero World Tour. We get a wireless drum kit, over 85 songs on the disc, and a touch-sensitive guitar. There will also be a Music Studio in the game, allowing you to make and share music from within the game itself. GHTunes will allow you to share that music online as well. Guitar Hero World Tour will feature an REM track pack from their new album, featuring three songs from their new album before anyone else. Metallica is joining forces with Guitar Hero as well, featuring Death Magnetic when the album launches. It will be available for Guitar Hero 3 in September, and then World Tour once it launches.
Shane is back and introduces a new music game from Microsoft. I think this is gonna feature that Lips microphone they've been trying to keep under wraps. Yeah, there it is. This is a karaoke type game. In the trailer, a Zune is hooked up to the Xbox 360, does this mean you can use any track available in the Zune Marketplace? Okay, yes, this is the Lips game. It will be available this holiday. Just got confirmation that you can use your own music collection - no need for all that DLC crap. You can use your Zune or your iPod.
Duffy hits the stage to sing her current hit, Mercy. Not surprisingly, she hits each and every note in her song in the Lips game. Now, this track has her music video playing behind it on the screen. I am guessing that these special types of tracks will have to be purchased if you want the slick backgrounds. Lets hope this doesn't fall by the wayside like the Madonna music video backgrounds that were supposed to hit Lumines Live. Yeah, I brought that topic back up. Call me bitter!
Oh wait, now Duffy is improvising and the game is docking her score - awesome. She sounds amazing though.
Rock Band 2 is next up - we get a look at the game from Alex Rigopolis. We get 84 tracks on the disc, all are master recordings. Guns N' Roses are debuting a new track on Rock Band. Bob Dylan is providing Tangled Up in Blue, first for Dylan in a game. AC/DC will also make the cut into music gaming with their track Let There Be Rock. And remember, all Rock Band tracks will work with Rock Band 2. If you own the game, you can export the content on the disc into Rock Band 2 as well. By this holiday, there will be over 500 tracks that you can play in Rock Band 2.
Looks like we have one last thing, from Square Enix. Infinite Undiscovery will be available on Sept 2 in NA, Sept 5 in Europe, and Sept 11 in Japan and Asia, and it is an Xbox 360 exclusive.. Star Ocean: The Last Hope will launch in Spring 2009. The Last Remnant is still being developed, and will be available this holiday season on November 20 in North America, Europe, and Japan. It will also be available for Games for Windows, but no launch date for that version yet. We get a look at footage from The Last Remnant.
During the wrap-up, we get interrupted by one more trailer. This game looks absolutely sick, although we aren't seeing much gameplay, just CGI cutscenes. Oh boy, Final Fantasy XIII has just been announced for Xbox 360.
Microsoft dropped the gauntlet today; let's see how Nintendo and Sony respond tomorrow.
© Gear Live Media, LLC. 2007 – User-posted content, unless source is quoted, is licensed under a Creative Commons Public Domain License. Gear Live graphics, logos, designs, page headers, button icons, videos, articles, blogs, forums, scripts and other service names are the trademarks of Gear Live Inc.