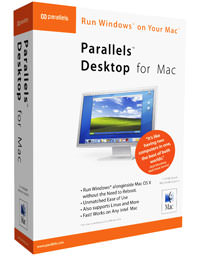 It's been a while since we have given away something to you guys, the readers that keep us in business. We have seen a lot of excitement around the Parallels 3.0 feature walkthrough video that we posted the other day. A few people emailed in saying that $79.99 was a bit too rich for their blood for Parallels, although we feel that it is a tremendous value, even at that price. Others have balked at paying $50 to upgrade their software from 2.0. We say forget all that, and instead, just participate in our contest where you can get a new copy of Parallels 3.0 for free. Here are the details:
Our Parallels video walkthrough was published on our video show, The Bleeding Edge. We have made the Parallels episode available for your viewing after the jump. You can find the show in iTunes in both high resolution format (suitable for Apple TV) and a smaller iPod format. Go ahead and check out either link, which will take you right to the iTunes pages for the respective format, and if you would be so kind, go ahead and subscribe.
Now, on to entering. All you need to do to enter is write up a short review of the show on the iTunes page. Once you do that, let us know here in this thread, and you are in. If you leave a review for both the Apple TV and iPod versions, you get two entries into the giveaway. We will run the contest through Sunday, and then randomly choose a winner based on the number of entries we receive. You must live in the USA or Canada to be eligible for the prize.