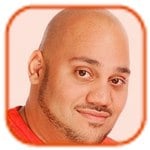 Tweet
Posted by Andru Edwards Categories: Announcements, Features, Microsoft,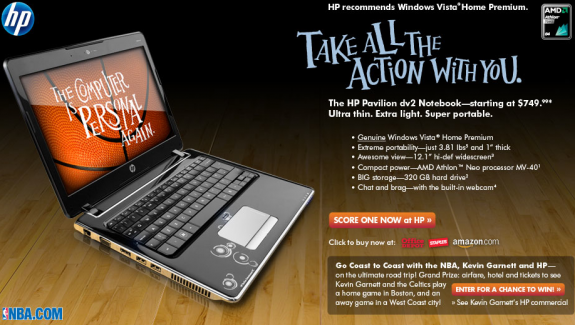 If you're an NBA fan, then this HP Take All the Action With You contest is going to be right up your alley. Even better? We are partnering with about 24 other sites to bring you some exclusive prizes as well. We will go into all the details after the jump, but here it is in a nutshell:
By entering the HP-Microsoft contest, you are entered to win a grand prize that allows you to see Kevin Garnett and the Celtics play a home game in Boston, and an away game in a West Coast city. That's right, coast-to-coast baby! That includes VIP tickets to the games, airfare, hotel, and some HP gear as well. At the very least, check it out. So, that's one contest. But the real deal is that we are having our own giveaway with 24 other sites, with the prizes being 2 trips to the 2010 NBA All-Star Game in Dallas, TX, including travel, accomodations, and a ticket to the game. The winners will be accompanied by the site owner. In other words, if someone from Gear Live wins, I'll be personally going to the NBA All-Star game with them.
Now, there are a bunch of runners-up prizes as well, so jump down for all the details, including how to enter.
Click to continue reading Contest: Want to go to the 2010 NBA All-Star Game?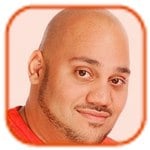 Tweet
Posted by Andru Edwards Categories: Features, Home Entertainment, Transportation,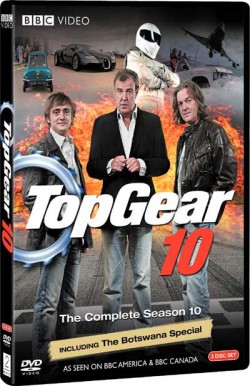 For all you lovers of Top Gear, the fantastic BBC show that goes to the extreme with cars, we are giving away the new Top Gear Season 10 DVD set. If you haven't seen Top Gear, you should, because it's insane entertainment. How insane? How about driving through the Kalahari Desert in three 20 year old beaters? Or how about crossing the English Channel in a fleet of amphibious cars? See? Now you're interested.
As with all our other giveaways, you need to be a Gear Live member located in the US. To enter, log in and leave a comment in this thread to something cool on the Internet involving cars. Funny YouTube videos, serious scientific articles, conspiracy theories, or whatever else. We will choose a random winner in a week.
Read More

| Top Gear 10 on Amazon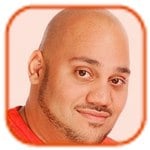 Tweet
Posted by Andru Edwards Categories: Announcements, Smartphones, Features, Handhelds, Hot Deals,
We are giving away a Pantech Matrix Pro, along with a $100 AT&T gift card that you can use to set up service, play your current AT&T bill, or apply towards the purchase of anything at an AT&T Store. This contest is courtesy of AT&T, so big ups to them. If you want a closer look at the phone, take a look at our Pantech Matrix Pro gallery.
Here's how to enter to win:
If you don't have one already, sign up for a Gear Live account
If you don't have one already, sign up for a Twitter account
Add the Gear Live Twitter account to your follow list
On Twitter, post a tweet about our contest and link to this page. In the tweet, include the phrase "@gearlive" so we can easily find it.
Once that is done, leave a comment here in this post with a direct link back to your Tweet. Be sure you are signed in to your Gear Live account before you leave the comment.
Here's an example of an appropriate Twitter entry:
"@gearlive I just entered to win the Pantech Matrix Pro and $100 AT&T gift card! http://bit.ly/O04Rl/" (Click here to tweet this now)
BONUS ENTRIES: Want more chances to win? Share the link to our contests on the following sites, and leave us a comment linking to those as well:
Facebook: Shared Link
Del.icio.us bookmark
FriendFeed: Use Post a Link
Your blog: Have a site? Link to our contest on it!
Remember: The bonus entries are just that - bonus. In order to be eligible to win, you must complete the core Twitter requirements.
The contest starts today, and is open to US residents only. May 11th. You have until 11:59 PM PST on May 15th to enter your comments here on this post. We will then announce our winner, chosen randomly out of all valid entrants and bonus points, on May 18th.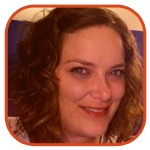 Tweet
Posted by Jenny Lewis Categories: Dessert, Snacks, Holiday Cooking, Chocolate, Spices, Baking, Festivals, Parties,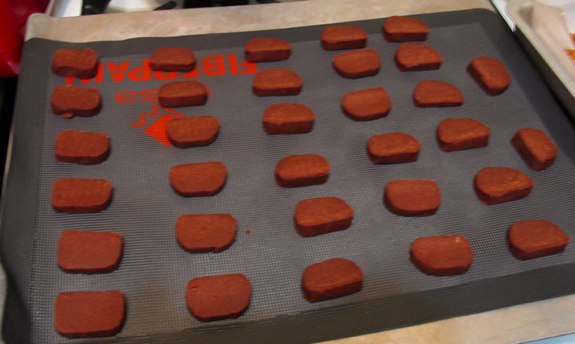 Cakes are great, pies are good, anything gooey and sweet is fantastic. But cookies? So underrated. Cookies are, in my opinion, the best way to end a party. Put a big plate of cookies out at the end of a party and people will eat them up! I made these Mexican Chocolate Icebox cookies the first time a couple years ago, and they've been the sleeper hit in my repertoire.
1 1/2 cups all-purpose flour
3/4 cup cocoa powder
3/4 t ground cinnamon
1/2 t cayenne
1/4 t salt
1/4 t freshly ground black pepper
12 T (1 1/2 sticks) butter, room temperature
1 cup sugar
1 1/2 tsp vanilla extract
1 egg
PREPARATION:
Sift together the flour, cocoa, cinnamon, cayenne, salt and pepper in a medium bowl.
In a large bowl, cream together butter and sugar. Beat in vanilla extract and egg. Gradually add flour mixture until dough is uniform in color and no unmixed flour remains.
Shape into two 9" logs and wrap tightly in plastic wrap. Make sure the wrap is airtight. Freeze overnight. The dough will keep up to six weeks in the freezer.
When ready to use, preheat oven to 375F and bake for 8-10 minutes. Cookies should feel a bit firm at the edges. Store in an airtight container when cool.
Be sure to check out our other Cinco de Mayo recipes!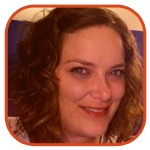 Tweet
Posted by Jenny Lewis Categories: Dinner, Holiday Cooking, Kitchen Gadgets, Recipes, Grains, Boiling, Parties,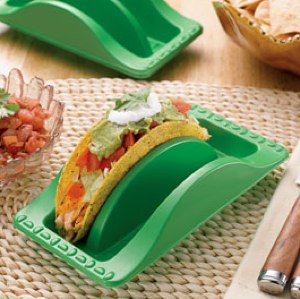 Hopefully you didn't fill up too much on dips and drinks, because I believe I have a beauty of an entree idea and a gadget that is perfectly matched.
"Make your own…" bars are super fun, and incorporating them into a party is always a hit - everyone gets exactly what they want. And a Cinco de Mayo taco bar couldn't be more awesome! Get yourself a meat or two, lettuce, sour cream, cheese, radishes, and some leftover guacamole and pico de gallo, set them all out in bowls with a stack of warmed tortillas for soft tacos and a stack of taco shells. And I recently made the life-changing discovery of these taco plates that keep your tacos upright and your ingredients safely inside the shells.
So what's to serve with the tacos?
Click to continue reading Cinco de Mayo Dinner: Mexican rice recipe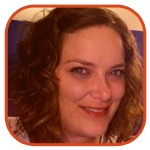 Tweet
Posted by Jenny Lewis Categories: Appetizers, Side Dishes, Snacks, Holiday Cooking, Recipes, Condiments, Vegan, Vegetables, Vegetarian,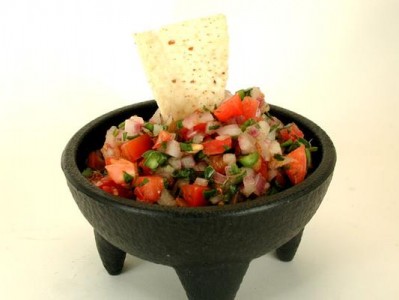 Pico de gallo, spanish for "rooster's beak," is a great fresh condiment that is made from fresh ingredients and a little fruit juice. It's also quick to make, and fits into an Cinco de Mayo celebration.
Ingredients:
2 large tomatoes, seeded and chopped
1/2 to a whole small onion
1 or 2 seeded chopped jalapeño peppers
Chopped cilantro to taste
Lime juice to taste
Salt to taste
Preparation:
Put the tomatoes, onion, and peppers into a bowl. Add the cilantro and stir to combine. Sprinkle the lime juice and salt on top and stir again. Done!
Be sure to check out our other Cinco de Mayo recipes!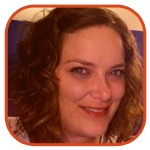 Tweet
Posted by Jenny Lewis Categories: Appetizers, Side Dishes, Snacks, Holiday Cooking, Recipes, Beef, Condiments, Meat, Pork, Vegetarian,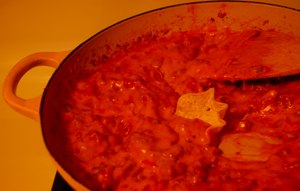 Continuing with the dips for Cinco de Mayo, Chorizo con Queso is a classic.
Ingredients:
1/2 pound spicy chorizo
1/2 cup chicken broth
1/2 small can diced green chiles
1 can diced tomatoes, drained
1/2 small onion, diced
2 cloves of garlic, minced
2 cups cheddar
1 cup Monterey jack
1/4 cup milk (if desired)
Preparation:
Squeeze the chorizo out of its casing and fry on medium in a shallow pan. Once it's done, remove it with a slotted spoon and set aside to drain, retaining as much of the rendered fat in the pan as possible. Pour the chicken broth into the pan to deglaze it - scrape the browned bits from the bottom. Add the chiles, tomatoes, onion and garlic and heat until bubbling. Add the chorizo back to the pan and stir until well incorporated. Add the cheese and stir until melted. If the dip is too thick for your taste, add the milk. Serve hot with chips or warmed tortillas.
PS - if you're feeling crazy, you could always deglaze the pan with tequila instead of chicken broth for an extra kick of Mexican flavor.
Be sure to check out our other Cinco de Mayo recipes!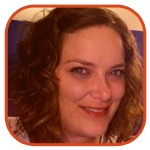 Tweet
Posted by Jenny Lewis Categories: Appetizers, Side Dishes, Snacks, Holiday Cooking, Recipes, Condiments, Vegetarian,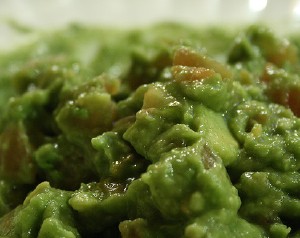 Dips are a tasty way to get a party started. Today I have three dips for Cinco de Mayo that taste great with veggies, chips, or warmed tortillas. Classic, customizable guacamole is a cool foil to a hot chorizo con queso dip, and pico de gallo is chunkier than a traditional salsa but still packs a ton of flavor. Also, it's so incredibly simple that once the ingredients are chopped, you're pretty much done with the entire thing. Let's start with the guacamole:
Ingredients:
2 ripe avocados
1 Tablespoon lime juice
1 teaspoon salt
2 tablespoons chopped cilantro
Preparation:
Scoop the flesh from the avocados into a bowl. Add the lime juice, salt and cilantro. Mash until creamy.
This is the most basic of recipes for guacamole, and there are plenty of ways to add to it. If you're feeling a little kicky, add some pico de gallo or a little bit of salsa. Add more cilantro if you feel like it, or don't add any at all. Maybe sprinkle some cumin on top or add some ancho chiles. The guac possibilities are literally endless.
Be sure to check out our other Cinco de Mayo recipes!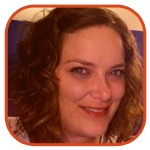 Tweet
Posted by Jenny Lewis Categories: Beverages, Cocktails, Spirits, Holiday Cooking, Recipes, America, Festivals, Parties,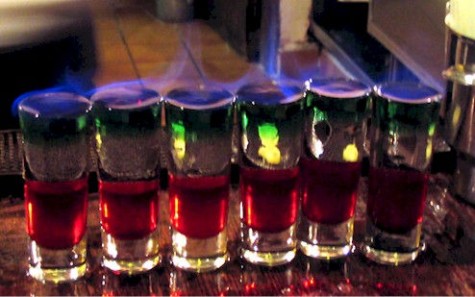 So, in case our horchata recipe wasn't strong enough for you, we've got something with a little more kick for your Cinco de Mayo party. Usually if I'm imbibing tequila, it's in margarita form and I am just fine with that. But the Mexican Flag is consistently great just as it is.
Ingredients:
1 cup of tequila
the juice of 2 1/2 limes
3 tablespoons powdered sugar
Maraschino cherries
Green seedless grapes
Banana
Preparation:
Dissolve the sugar into the lime juice and then mix with the tequila. Pour over ice and garnish with a cherry, a grape and a slice of banana.
Next up in our Cinco de Mayo recipes series, a trio of tasty toppings for tortillas. Okay, really it's three dip recipes, but I love alliteration.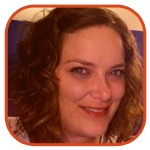 Tweet
Posted by Jenny Lewis Categories: Beverages, Milk, Holiday Cooking, Recipes, Summer Cooking, Dairy, Parties,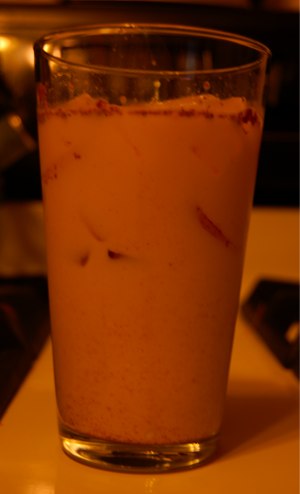 Cinco de Mayo is here! And if you're not hip to the actual reason the fifth of May is celebrated, let me clue you in! On May 5, 1862, 4,000 Mexican soldiers defeated the French army and an army of traitor Mexican soldiers to regain control of the country in Puebla.
Anyone can go to their local Mexican joint to celebrate. But WHY? Over the course of today, I'm going to lay out easy recipes to cover your celebration, from drinks to dessert. First up, horchata!
Click to continue reading Cinco de Mayo drinks: Horchata recipe
© Gear Live Media, LLC. 2007 – User-posted content, unless source is quoted, is licensed under a Creative Commons Public Domain License. Gear Live graphics, logos, designs, page headers, button icons, videos, articles, blogs, forums, scripts and other service names are the trademarks of Gear Live Inc.