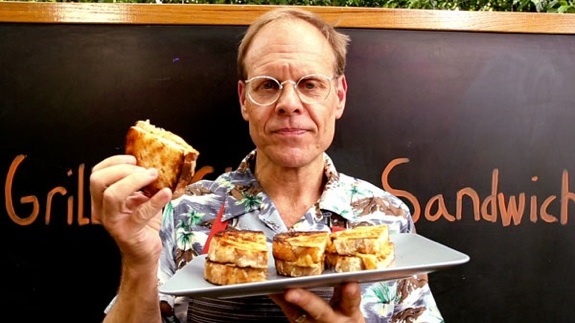 Alton Brown, the lovable and knowledgable food geek and resident cuisine geek, doesn't seem too impressed with the current state of the grilled cheese sandwich. Thankfully, he has decided to share his own recipe for what he refers to as Grilled Grilled Cheese. You see, it's a sandwich cooked on the grill, and the recipe actually involves grilling the freaking cheese.
That's because whenever and wherever people say they're gonna make you a grilled cheese sandwich what they really mean is there gonna make you a griddled sandwich containing some melted cheese. Well not me. Now when I say grilled cheese sandwich, I mean a grilled sandwich containing grilled cheese and here's how I do it.
Look delish though, right? Check out the video after the break.
Click to continue reading Alton Brown presents his sumptuous 'Grilled Grilled Cheese' [Video]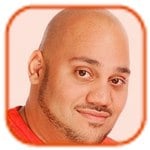 Posted by Andru Edwards Categories: Videos, How To, Beef, Meat,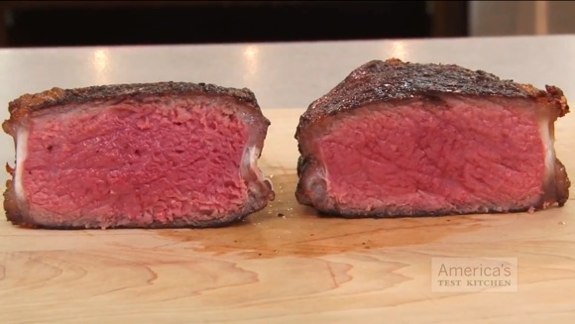 Have you ever has an amazing steak, cooked to perfection, that you just couldn't finish? You get it boxed up and put it in the fridge, looking forward to finishing the tasty leftover morsels the next day. Then you heat it up, only to find that it's dry and tough. What happened? Why?? More importantly, what can be done to avoid your delectable dinner from turning into a disgusting disaster? The folks over at America's Test Kitchen have found that the best way to reheat steaks is as follows:
First, pre-heat your oven to 250 degrees
Place the steaks in the oven on a wire rack for about 30 minutes until they reach 110 degrees at the center
Take out of over and pat dry
Heat 2 tablespoons vegetable oil in a pan until hot
Place steaks in pan and sear until brown, abotu 60-90 seconds per side
The end result here is that your steak will be only slightly less juicy than it was originally, and that means deliciousness. If you wanna see the process in action, check out the video after the break.
Click to continue reading How to reheat steak without drying it out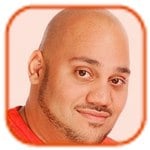 Posted by Andru Edwards Categories: Fast Food, Health, Trends, Videos, Food Trivia,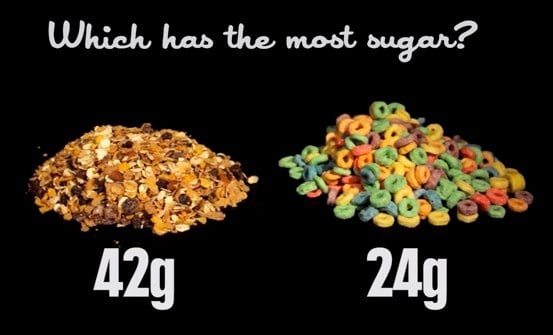 Did you know that a Hot n Spicy McChicken sandwich has 17 grams more sugar than a regular McChicken? Ot that light ranch dressing has twice the amount of sugar as regular old ranch? Yeah, sugar hides out in the most unexpected places. Check out the video below for a few more surprises.
Click to continue reading How much sugar is in random foods? [Video]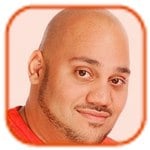 Posted by Andru Edwards Categories: Trends, Videos, Kitchen Gadgets, Slow Cooking, Sous-Vide,
If you consider yourself a foodie, you've likely heard of sous-vide cooking. These immersion circulators cook food at low temperatures for a long time in a bath of water set to a specific temperature, ensuring tender, even cooking from all sides of the food. The problem is that sous-vide cooking devices are expensive. This is where Nomiku comes in.
Nomiku aims to bring sous-vide cooking to the masses. It's a cyclindrical aluminum device with internal heat sink that you can clip to any pot that will then warm the water to any temperature, up to 100 degrees Celsius. It's also got a digital display at the top that gives you vital cooking information, along with a knob for controling the temperature (similar to what you'd find on the Nest thermostat.)
If you want to get one, you'll have to hit up the Nomiku Kickstarter page. It's already a success, surpassing it's initial goal of $200,000. Current pledges sit at $331,823, with another 6 days to go. If you're interested in picking one up, pledge $299 and you'll get the green Nomiku along with digital access to the Nomiku sous vide primer. The finished product is expected to ship in December 2012.
Read More

| Nomiku Kickstarter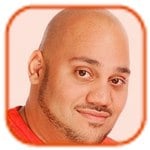 Posted by Andru Edwards Categories: Dessert, Science, Videos,
Ever wonder what a cube of Jell-O looks like when bouncing around at 6200 frames per second? Wonder no more, and gaze upon this hypnotizing deliciousness.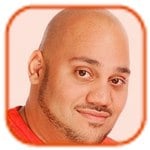 Posted by Andru Edwards Categories: Videos, How To, Poultry,
Yeah, if you thought you knew how to consume a chicken wing correctly, you may in fact be sadly mistaken. Chef John from Food Wishes put together the video above that shows how to eat the flat part of the chicken wing for maximum meat and deliciousness consumption. Give it a look, and enjoy your new knowledge.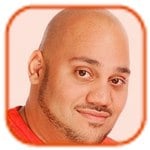 Posted by Andru Edwards Categories: News, Interviews, Videos,
World renowned four-star executive chef, Eric Ripert, made an appearance on Obsessed with Samantha Ettus. Eric is the co-owner of Le Bernardin in New York, and appears on Top Chef fairly regularly. He just released his third book, On The Line, which he talks a bit about in this episode as well. Definitely a great look into the history, and life, of Eric Ripert.
Read More

| Obsessed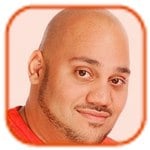 Posted by Andru Edwards Categories: Dinner, Lunch, Side Dishes, Product Reviews, Poultry, America,
Just leave it to Diddy, hip-hop star, fashion mogul, and leader of Bad Boy Records, to bring such a scientific experiment into the forefront of our minds. Why the final word between KFC's fried chicken and that of Popeye's has taken so long to be settled is beyond me, but we need to thank the heavens above that Diddy was able to bring this important issue into light.
Now we won't ruin the results, but we will say that we have to agree with his assessment that says KFC mashed potatoes and gravy beat Popeye's version, while Popeye's beans destroy those of KFC. But really, this is all about the chicken, is it not? Hit the video above for the results - we've kept you waiting long enough.
© Gear Live Media, LLC. 2007 – User-posted content, unless source is quoted, is licensed under a Creative Commons Public Domain License. Gear Live graphics, logos, designs, page headers, button icons, videos, articles, blogs, forums, scripts and other service names are the trademarks of Gear Live Inc.