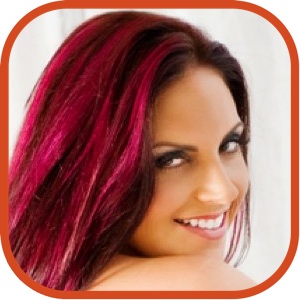 Posted by Taylor Peterson Categories: How To, Kitchen Gadgets, Recipes, Dairy, Organic, Paleo,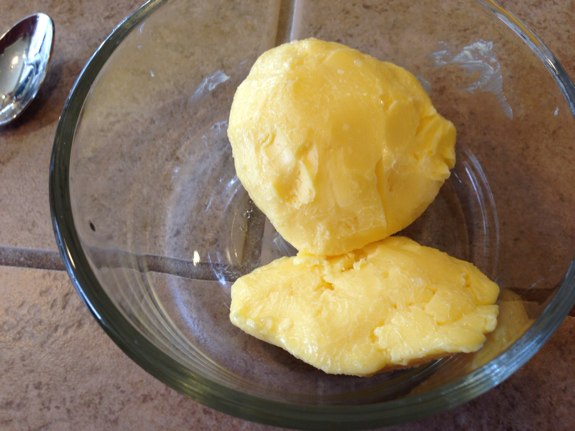 This weekend we purchased a KitchenAid Professional 5 mixer. I have wanted one of these mixers for years, but they're expensive and I didn't want to spend the money. As it turns out, we purchased this used on Craigslist for $130 (which excites me enough to add it to this post.) It was originally listed for $200 (and retails for over $400,) and I'm very proud to have negotiated (with some assistance) to the final price.
After we got the mixer and brought it home, we felt like we needed to immediately start using it due to the excitement. However, we needed to do some shopping and didn't have a lot of time right then. I remembered that we had some heavy cream in the refrigerator that Andru purchased for our coffee. We normally follow a Paleo diet and this cream, from grass fed cows, is an acceptable part of the program. That said, this month I'm following the Whole30 program, and that doesn't allow any dairy except butter from grass fed cows. I knew butter that butter is made by churning cream, but I thought for sure there was more to it than that.
Click to continue reading How to make homemade butter (recipe!)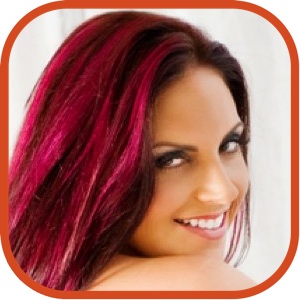 Posted by Taylor Peterson Categories: Breakfast, Comfort Food, Recipes, Eggs, Organic, Vegetarian, America, Boiling, Slow Cooking,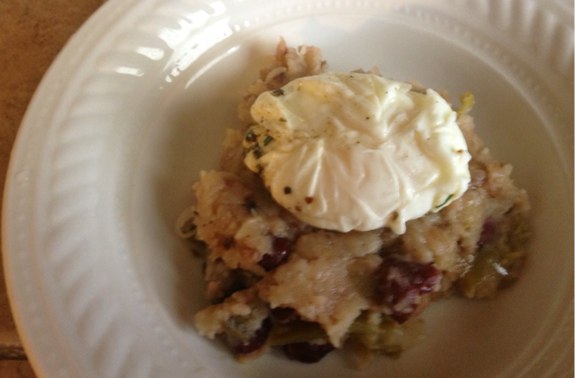 We recently completed the Whole30 challenge and are now settled in to eating a paleo diet. I am not the one that does the cooking in the house but yesterday Andru told me about sous-vide cooking and we actually backed the Nomiku from Kickstarter after watching their video. Shortly after I saw a tweet with a video showing how to sous-vide an egg without buying an $800 machine, and I wanted to know more. I don't regret our Nomiku purchase at all--it wasn't $800--but since it won't arrive until December, I wanted to find something else in the meantime.
Click to continue reading Poached eggs sous-vide recipe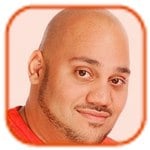 Posted by Andru Edwards Categories: Dessert, Recipes, Dairy, Grains, Vegetarian, Boiling,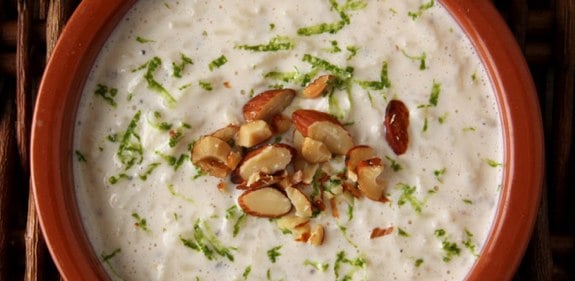 I'm an absolute sucker for rice pudding, mostly because I've found it to always be pretty delicious, regardless of the source. Whether it's something ordered at a New York diner, an Indian restaurant, or bought at the supermarket in a Kozy Shack plastic tub, if I see it as an option, I'm usually getting it. This rice pudding recipe is adapted from Monica Bhide, who suggests serving it with fresh mango. While that is good, the recipe does stand up on its own as well, as the coconut and cardamom bring something nice and different to the table, without changing the overall goodness.
Click to continue reading Coconut Cardamom Rice Pudding Recipe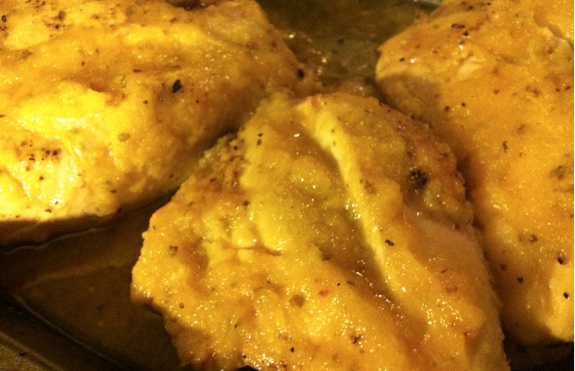 Chicken is a great meat because it holds the flavor of spices really well, while maintaining the original flavor of the chicken itself on the inside. This makes it a great base for recipes like this Pineapple Lime Chicken, where we are using a couple of different fruit acids, along with a few spices, with the end result being a nice, island-y dish. To make this one a little easier come preparation time, you can cut up the pineapple days in advance and keep it inside of a sealed container in the fridge.
INGREDIENTS
Marinade:
1/2 pineapple, chopped into chunks
2 limes (or 1/2 cup lime juice)
2 cloves garlic, minced
1/4 teaspoon ground cumin
1/2 teaspoon dried oregano
1 teaspoon sea salt
Chicken:
4 chicken breasts, bone in with skin
2 Tablespoons olive oil
1/2 teaspoon sea salt
1/2 teaspoon black pepper (freshly ground)
Click to continue reading Recipe: Pineapple Lime Chicken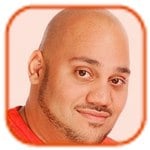 Posted by Andru Edwards Categories: Dinner, Comfort Food, Recipes, Beef, Condiments, Meat, Far East, Braising,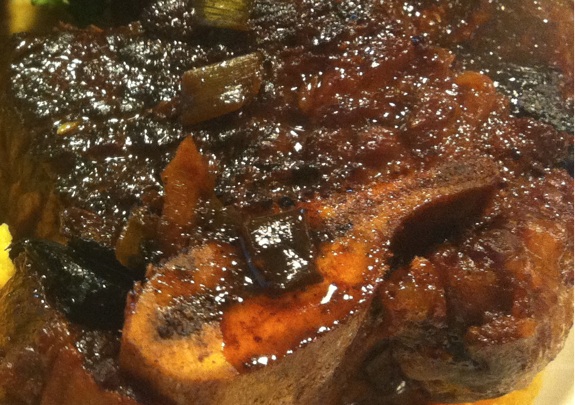 I am a big fan of short ribs, and also enjoy a good marinade. There's just something about the way a few key ingredients can totally enhance the flavor of meat after leaving it to sit for a while in the fridge. Korean short ribs are a prime example. Typically, the marinade has a handful of ingredients, and you can taste each one in the end result. Here's a recipe for Korean-style short ribs, with a great marinade, that tastes absolutely delicious:

INGREDIENTS

Marinade:
1/4 cup reduced sodium soy sauce
2 Tablespoons brown sugar
4 stalks chopped green onion
1 tablespoon olive oil
2 tablespoons sesame oil
3 garlic cloves, minced
2 tablespoons rice vinegar

Short Ribs:
1.5 pounds beef short ribs
8oz chicken or vegetable stock
Click to continue reading Recipe: Korean Short Ribs with Marinade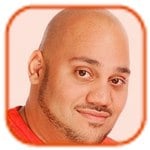 Posted by Andru Edwards Categories: Videos, How To, Poultry,
Yeah, if you thought you knew how to consume a chicken wing correctly, you may in fact be sadly mistaken. Chef John from Food Wishes put together the video above that shows how to eat the flat part of the chicken wing for maximum meat and deliciousness consumption. Give it a look, and enjoy your new knowledge.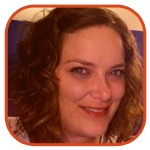 Posted by Jenny Lewis Categories: Dinner, Features, Site Announcements, Holiday Cooking, Summer Cooking, Condiments, Soda, Barbecuing, Grilling,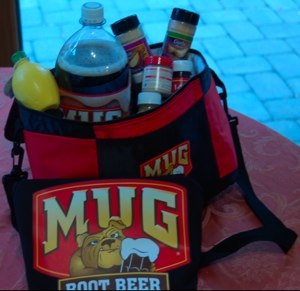 We're less than a week out from Father's day, and I can smell the charcoal already. While some may head out to a nice steakhouse for a special dinner for Dad, tons of us will be gathered around a grill doing it ourselves. My friends at Mug Root Beer want to help make all of this summer's BBQs a culinary triumph for you.
From today until Sunday at 8:00 PM Eastern, comment on this entry about your most memorable "Dad" moment. Did your dad show up to the aforementioned steakhouse in a Hawaiian shirt and flip flops? Maybe your friend's dad stepped in to save the day when a road trip went bad, or your uncle's BBQ went up in a blaze of meat glory. I want to hear about it! I'll be choosing five of the most memorable BBQ stories that you all share and the winners will each receive a prize pack, containing the fantastic recipe for MUG Root Beer Southern Specialty Brew-B-Q sauce (and the sauce is awesome - I was given a copy of the recipe and made some last night) and all of the ingredients to boot, in an insulated MUG bag with a MUG apron.
Lay'em on me guys - I want to hear your Dad stories!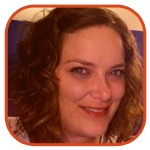 Posted by Jenny Lewis Categories: Breakfast, Dessert, Comfort Food, Recipes, Baking,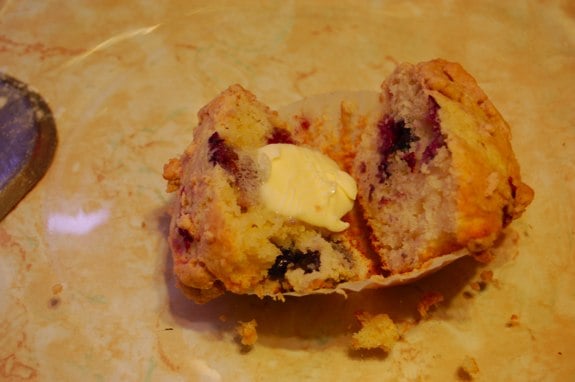 It's time for fresh berries! One of my favorite ever weekend breakfasts (okay, most weekend breakfasts are my favorite) is a nice warm blueberry muffin. Or a few. And yes, there are plenty of mixes and bakeries around who will hook my breakfast up right for just a little bit of time and money, but I'm still firmly of the belief that everything tastes better when it comes from my personal oven.
These muffins are an adaptation of a recipe from the Butter Queen Paula Deen - when I went to buy blueberries this week, there were some raspberries that I just couldn't resist. I added a streusel topping recipe found on the Chowhound message board for a little bit of extra sweetness and crunch. And before you ask, I did not eat muffins straight off of my counter - there IS a plate under there. It's just clear. I swear.
Click to continue reading Recipe: Summer Berry Muffins
Read More

| Food Network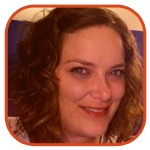 Posted by Jenny Lewis Categories: Dessert, Snacks, Holiday Cooking, Chocolate, Spices, Baking, Festivals, Parties,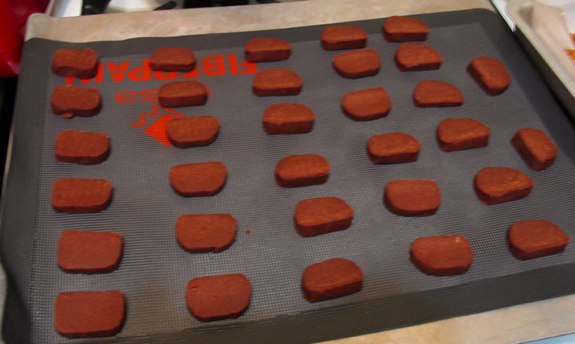 Cakes are great, pies are good, anything gooey and sweet is fantastic. But cookies? So underrated. Cookies are, in my opinion, the best way to end a party. Put a big plate of cookies out at the end of a party and people will eat them up! I made these Mexican Chocolate Icebox cookies the first time a couple years ago, and they've been the sleeper hit in my repertoire.
1 1/2 cups all-purpose flour
3/4 cup cocoa powder
3/4 t ground cinnamon
1/2 t cayenne
1/4 t salt
1/4 t freshly ground black pepper
12 T (1 1/2 sticks) butter, room temperature
1 cup sugar
1 1/2 tsp vanilla extract
1 egg
PREPARATION:
Sift together the flour, cocoa, cinnamon, cayenne, salt and pepper in a medium bowl.
In a large bowl, cream together butter and sugar. Beat in vanilla extract and egg. Gradually add flour mixture until dough is uniform in color and no unmixed flour remains.
Shape into two 9" logs and wrap tightly in plastic wrap. Make sure the wrap is airtight. Freeze overnight. The dough will keep up to six weeks in the freezer.
When ready to use, preheat oven to 375F and bake for 8-10 minutes. Cookies should feel a bit firm at the edges. Store in an airtight container when cool.
Be sure to check out our other Cinco de Mayo recipes!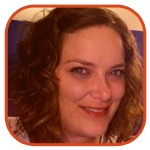 Posted by Jenny Lewis Categories: Dinner, Holiday Cooking, Kitchen Gadgets, Recipes, Grains, Boiling, Parties,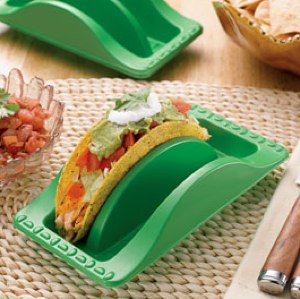 Hopefully you didn't fill up too much on dips and drinks, because I believe I have a beauty of an entree idea and a gadget that is perfectly matched.
"Make your own…" bars are super fun, and incorporating them into a party is always a hit - everyone gets exactly what they want. And a Cinco de Mayo taco bar couldn't be more awesome! Get yourself a meat or two, lettuce, sour cream, cheese, radishes, and some leftover guacamole and pico de gallo, set them all out in bowls with a stack of warmed tortillas for soft tacos and a stack of taco shells. And I recently made the life-changing discovery of these taco plates that keep your tacos upright and your ingredients safely inside the shells.
So what's to serve with the tacos?
Click to continue reading Cinco de Mayo Dinner: Mexican rice recipe
© Gear Live Media, LLC. 2007 – User-posted content, unless source is quoted, is licensed under a Creative Commons Public Domain License. Gear Live graphics, logos, designs, page headers, button icons, videos, articles, blogs, forums, scripts and other service names are the trademarks of Gear Live Inc.