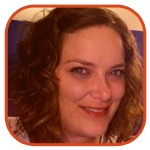 Posted by Jenny Lewis Categories: Dinner, Features, Site Announcements, Holiday Cooking, Summer Cooking, Condiments, Soda, Barbecuing, Grilling,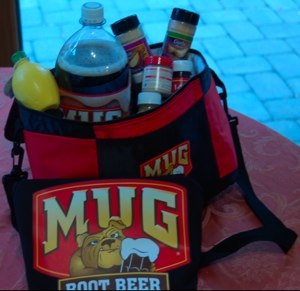 We're less than a week out from Father's day, and I can smell the charcoal already. While some may head out to a nice steakhouse for a special dinner for Dad, tons of us will be gathered around a grill doing it ourselves. My friends at Mug Root Beer want to help make all of this summer's BBQs a culinary triumph for you.
From today until Sunday at 8:00 PM Eastern, comment on this entry about your most memorable "Dad" moment. Did your dad show up to the aforementioned steakhouse in a Hawaiian shirt and flip flops? Maybe your friend's dad stepped in to save the day when a road trip went bad, or your uncle's BBQ went up in a blaze of meat glory. I want to hear about it! I'll be choosing five of the most memorable BBQ stories that you all share and the winners will each receive a prize pack, containing the fantastic recipe for MUG Root Beer Southern Specialty Brew-B-Q sauce (and the sauce is awesome - I was given a copy of the recipe and made some last night) and all of the ingredients to boot, in an insulated MUG bag with a MUG apron.
Lay'em on me guys - I want to hear your Dad stories!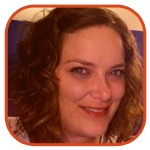 Posted by Jenny Lewis Categories: Dinner, Summer Cooking, Condiments, Meat, Pork, Poultry, Vegetables, Vegetarian, South America, Barbecuing, Grilling,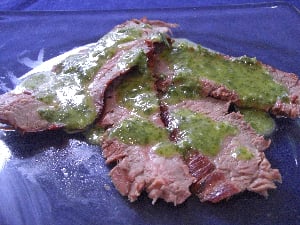 How's the weather, everyone? Summer made its debut in my neighborhood over the weekend, which means one thing: GRILLING. And lots of it. And one of the very best condiments for a nicely grilled piece of meat is definitely chimichurri. Originating in Argentina, chimichurri is a vibrantly hued sauce that is packed full of flavor, and as a bonus in the warm weather, it doesn't require an iota of heat to make!
Ingredients:
2 garlic cloves, peeled
3/4 teaspoon dried crushed red pepper
1 cup (packed) fresh Italian (flat leaf) parsley
1/4 cup (packed) fresh cilantro
1/2 teaspoon ground cumin
1/2 teaspoon salt
1/2 cup olive oil
1/4 cup red wine vinegar
Preparation:
In a food processor, chop the garlic. Add the red pepper, parsley and cilantro and process until the herbs are finely chopped. Add the cumin, salt, olive oil and vinegar. Pulse until the mixture has emulsified and the sauce is bright green. Serve immediately on whatever you just took off the grill.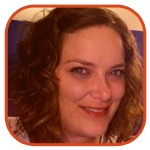 Posted by Jenny Lewis Categories: Appetizers, Snacks, Recipes, Condiments, Dairy, Mediterranean,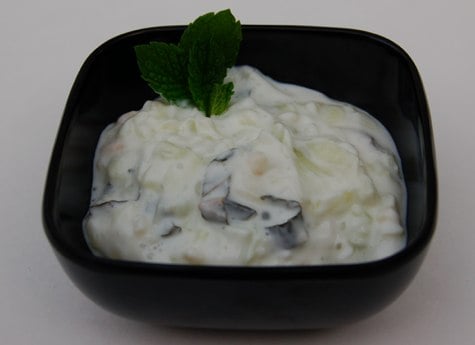 I can't even come up with words to properly convey my feelings for tzaziki. Cool, creamy, and fantastic with everything from vegetables to steak. It's incredibly easy to make, and incredibly easy to customize to your own taste.
Ingredients:
2 cups plain yogurt (this can be regular yogurt or Greek yogurt, fat free or as fatty as you'd like, as long as it's plain)
1 cucumber, peeled and seeded
1 or 2 pinches of salt
1/4 cup fresh mint
3 cloves of fresh garlic or 1 tablespoon of pre-minced garlic from a jar
Click to continue reading Recipe: Tzaziki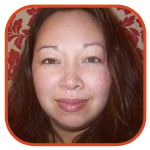 Posted by Monica Edwards Categories: Dinner, Features, Recipes, Vegan, Vegetarian, America, Baking, Barbecuing,
This recipe was passed to me from a friend who has been a vegetarian all her life. So, needless to say, she has an arsenal of delicious veggie recipes that I have gleaned to add to the eclectic bunch that I rotate throughout the week. I love this particular recipe for tofu because everyone (including my kids) who has tried it, loves it. And it makes tofu taste like you would never believe. It has a few ingredients that one might seem would not be paired together but all of the flavors blend so well and it is a recipe to be tried on the naysayers of tofu. It is a meal that needs an extra day to prep, but it is so easy and foolproof. It is a healthy, protein packed meal that you will feel good about feeding to your kids. Serve it on top of white or better yet, brown rice; I like to add a green vegetable on the side to add that bit of color to please the eyes as well as the palate. I usually go with broccoli or green beans, but also love asparagus lightly sauteed with some olive oil and kosher salt and freshly ground pepper.
Click to continue reading BBQ Tofu Recipe

Posted by Jenni Burns Categories: Side Dishes, Snacks, Recipes, Fruit, Organic, Vegan, Vegetarian, America, Slow Cooking,
I love this time of the year, when the weather starts to turn a little colder, and forces us indoors. I love the changing of seasons - it makes me feel creative, as there are so many different fresh food options with each season. In Washington, August through October is the season of bountiful apples, pears, plums, peaches, nectarines, and many other tree ripening fruits. I think that many people buy applesauce because, it's less expensive at the stores, but even more than that, they don't realize how easy it can be to make yourself. If you have apple farmers in your area, take a family trip and buy a box or two of apples, I think you will be surprised how much you will spend. The farmers in this area charge around $.40 a pound for seconds (perfectly edible apples that don't look perfect so they can't sell them in the stores, which are perfect for saucing). I love making applesauce because it makes the house smell delicious all day long. When I first started making applesauce a few years ago I had tried different recipes that all called for sugar. Every time I made the sauce I added less sugar until I realized, it doesn't need any! This is such a simple recipe and such great apple flavor. I try to make it a fun event for the kids as well, they get to help me sauce the cooked apples and of course they get to taste the fruits of our labor!
CROCKPOT APPLESAUCE
Ingredients:
As many apples as you can fit in your Crockpot, quartered (the best sauce is made of 2-3 different kinds of apples, varying in sweetness)
1/4 cup water
Dash of cinnamon to taste
Directions:
Wash and quarter apples, place in Crockpot.
Add water and cinnamon. Cover and let cook on low for 8-10 hours or high for 5-6 hours.
Towards the end I lift the lid and mash up a bit with a potato masher, that way I can see if it's ready or not. It's ready when the apples are very soft and mash easily with the masher, if there are still big chunks you need to cook the apples longer.
When the apples are ready, ladle the cooked apples into a food mill and sauce the apples, leaving behind the apple peels and seeds. If you don't have a food mill you can peel and core the apples and mash with a potato masher for a little chunkier sauce, but very pretty. Be creative with this, if you like more seasoning you can add some allspice or nutmeg, some people like to add sugar and lemon juice, I prefer less sugar.
I always freeze my applesauce, it's so easy. I just ladle the applesauce into quart freezer Ziplock bags and label, that's it! You can thaw in the refrigerator or in warm water if you need it to thaw more quickly, then place the sauce in a jar (or freeze it right in the jar, leaving a 1/2 inch of room at the top for expansion.
© Gear Live Media, LLC. 2007 – User-posted content, unless source is quoted, is licensed under a Creative Commons Public Domain License. Gear Live graphics, logos, designs, page headers, button icons, videos, articles, blogs, forums, scripts and other service names are the trademarks of Gear Live Inc.