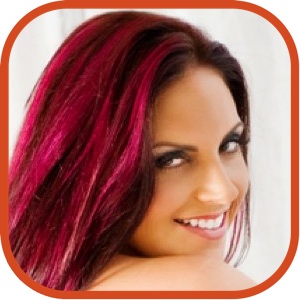 Posted by Taylor Peterson Categories: Breakfast, Comfort Food, Recipes, Eggs, Organic, Vegetarian, America, Boiling, Slow Cooking,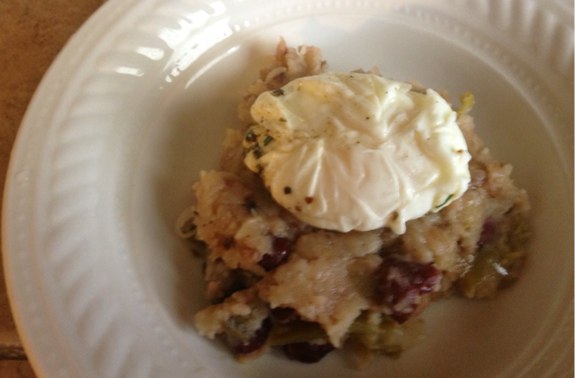 We recently completed the Whole30 challenge and are now settled in to eating a paleo diet. I am not the one that does the cooking in the house but yesterday Andru told me about sous-vide cooking and we actually backed the Nomiku from Kickstarter after watching their video. Shortly after I saw a tweet with a video showing how to sous-vide an egg without buying an $800 machine, and I wanted to know more. I don't regret our Nomiku purchase at all--it wasn't $800--but since it won't arrive until December, I wanted to find something else in the meantime.
Click to continue reading Poached eggs sous-vide recipe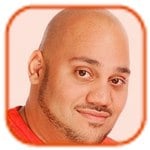 Posted by Andru Edwards Categories: Breakfast, Science, How To, Strange Food, Grains,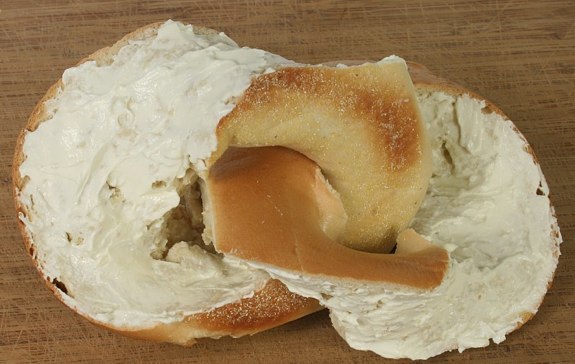 Here's a cool food hack that we just came across and had to share. Did you know that you can technically slice a bagel in such a way that the two halves are linked? Even better, when cut this way you get a little more surface area than the old school slice, which means that you can technically fit a bit more spread and goodness on it as well. Don't believe me? Hit the link below for the full details, with diagrams on showing exactly where to cut the bagel and everything.
Read More

| Mobius Sliced Linked Bagel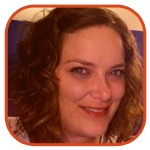 Posted by Jenny Lewis Categories: Breakfast, Dessert, Comfort Food, Recipes, Baking,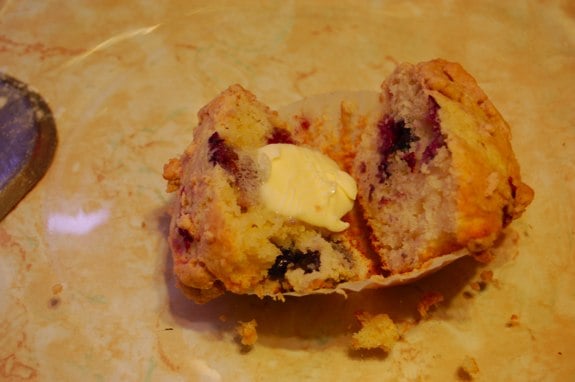 It's time for fresh berries! One of my favorite ever weekend breakfasts (okay, most weekend breakfasts are my favorite) is a nice warm blueberry muffin. Or a few. And yes, there are plenty of mixes and bakeries around who will hook my breakfast up right for just a little bit of time and money, but I'm still firmly of the belief that everything tastes better when it comes from my personal oven.
These muffins are an adaptation of a recipe from the Butter Queen Paula Deen - when I went to buy blueberries this week, there were some raspberries that I just couldn't resist. I added a streusel topping recipe found on the Chowhound message board for a little bit of extra sweetness and crunch. And before you ask, I did not eat muffins straight off of my counter - there IS a plate under there. It's just clear. I swear.
Click to continue reading Recipe: Summer Berry Muffins
Read More

| Food Network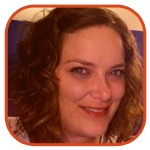 Posted by Jenny Lewis Categories: Breakfast, Dessert, Comfort Food, Recipes, Fruit, Baking,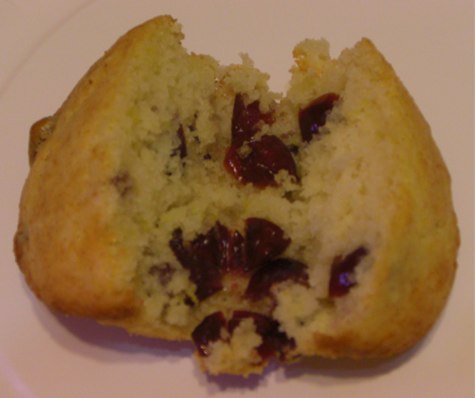 I'm on a personal mission to get you baking, readers! These cranberry lemon muffins, which I've adapted from Nigella Lawson's classic "How To Be A Domestic Goddess: Baking and the Art of Comfort Cooking", are easy, fast, and delish.
Ingredients:
1/4 cup butter
1 1/3 all-purpose flour
2 teaspoons baking powder
1/2 teaspoon baking soda
1/2 cup sugar
1/4 teaspoon salt
Juice and and chopped zest of 1 lemon
Approximately 1/2 cup milk
1 large egg
5 ounces dried cranberries
Click to continue reading Recipe: Cranberry Lemon Muffins
My kids love it when they hear the Vita-Mix (a high powered blender) grinding wheat in the morning because they know that it probably means I am getting ready to make pancakes! These whole wheat pancakes are delicious. If you are used to white flour pancakes you will be surprised to see how moist and flavorful these taste. I altered this recipe from one of my favorite cookbooks, "The Joy of Cooking," by Irma S. Rombauer and Marion Rombauer Becker. I hope you enjoy them as much as we do!
Whole Wheat Blueberry Pancakes
INGREDIENTS:
3 cups whole wheat flour
2 teaspoons salt
3 1/2 teaspoons baking powder
6 tablespoons sugar (optional-I leave this out)
1 tablespoon cinnamon
2 1/2 cups milk
3 eggs (lightly beaten)
6 tablespoons melted butter
1 cup blueberries
DIRECTIONS:
Sift the dry ingredients into a large bowl.
In a separate bowl mix together wet ingredients. Pour wet ingredients into flour mixture and stir well. Add blueberries and stir until mixed into the batter.
Scoop batter out with a 1/4 cup measure and pour onto greased skillet in rounds.
Cook on one side until bubbly, flip and cook until golden brown.
Slather on the butter and 100% maple syrup and enjoy!
This recipe should make around 18-20 pancakes.

Posted by Jenni Burns Categories: Breakfast, Summer Cooking, Fruit, Vegetarian,
One of the things I really look forward to come summer is all the wonderful fresh produce that we have available to us. During the summer I usually buy most of my produce at open market on the corner of Burlington Blvd and Hwy 20. They seem to have the best prices and the produce is fresh and local. My kids have enjoyed sitting down to a bowl full of nice juicy watermelon for breakfast at least once a week. It's so refreshing to eat just fruit for breakfast, and to be able to eat enough of it to fill you up, you can afford it now because the prices are so good. Take advantage of these opportunities now because in just a few short weeks we are going to be heading (gasp!) into the fall season! Can you believe it?! Well, I'm heading tonight to pick up some of that wonderful juicy watermelon for breakfast tomorrow.
Tip on picking a good watermelon: I was always told that a good tip is to put your ear close to the melon and knock on it. If it is hollow sounding you know that it is juicy. Here is a discussion on choosing a good watermelon. Enjoy!
© Gear Live Media, LLC. 2007 – User-posted content, unless source is quoted, is licensed under a Creative Commons Public Domain License. Gear Live graphics, logos, designs, page headers, button icons, videos, articles, blogs, forums, scripts and other service names are the trademarks of Gear Live Inc.