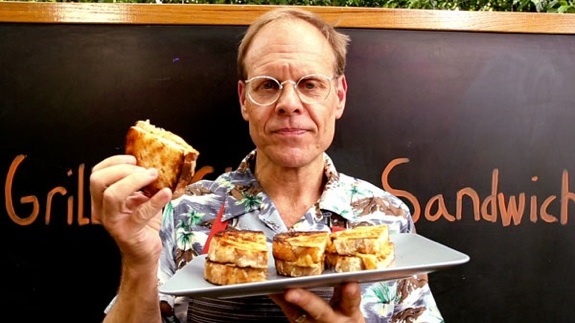 Alton Brown, the lovable and knowledgable food geek and resident cuisine geek, doesn't seem too impressed with the current state of the grilled cheese sandwich. Thankfully, he has decided to share his own recipe for what he refers to as Grilled Grilled Cheese. You see, it's a sandwich cooked on the grill, and the recipe actually involves grilling the freaking cheese.
That's because whenever and wherever people say they're gonna make you a grilled cheese sandwich what they really mean is there gonna make you a griddled sandwich containing some melted cheese. Well not me. Now when I say grilled cheese sandwich, I mean a grilled sandwich containing grilled cheese and here's how I do it.
Look delish though, right? Check out the video after the break.
Click to continue reading Alton Brown presents his sumptuous 'Grilled Grilled Cheese' [Video]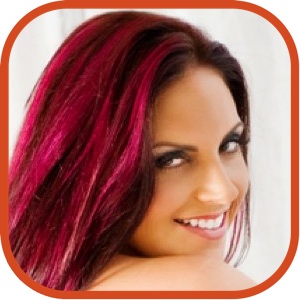 Posted by Taylor Peterson Categories: How To, Kitchen Gadgets, Recipes, Dairy, Organic, Paleo,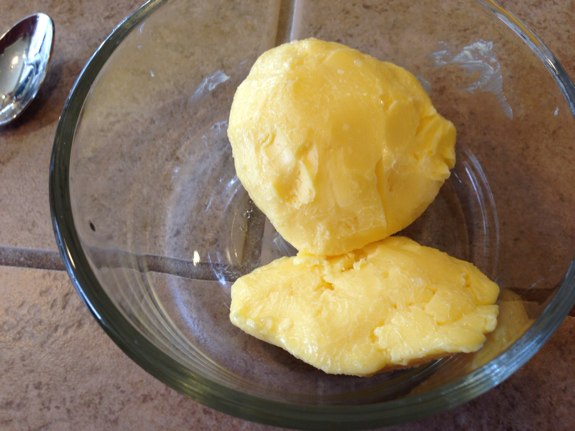 This weekend we purchased a KitchenAid Professional 5 mixer. I have wanted one of these mixers for years, but they're expensive and I didn't want to spend the money. As it turns out, we purchased this used on Craigslist for $130 (which excites me enough to add it to this post.) It was originally listed for $200 (and retails for over $400,) and I'm very proud to have negotiated (with some assistance) to the final price.
After we got the mixer and brought it home, we felt like we needed to immediately start using it due to the excitement. However, we needed to do some shopping and didn't have a lot of time right then. I remembered that we had some heavy cream in the refrigerator that Andru purchased for our coffee. We normally follow a Paleo diet and this cream, from grass fed cows, is an acceptable part of the program. That said, this month I'm following the Whole30 program, and that doesn't allow any dairy except butter from grass fed cows. I knew butter that butter is made by churning cream, but I thought for sure there was more to it than that.
Click to continue reading How to make homemade butter (recipe!)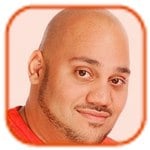 Posted by Andru Edwards Categories: Dinner, Lunch, Quick Meals, Recipes, Grains, Meat, Poultry, Carribean, Southern, Boiling, Frying,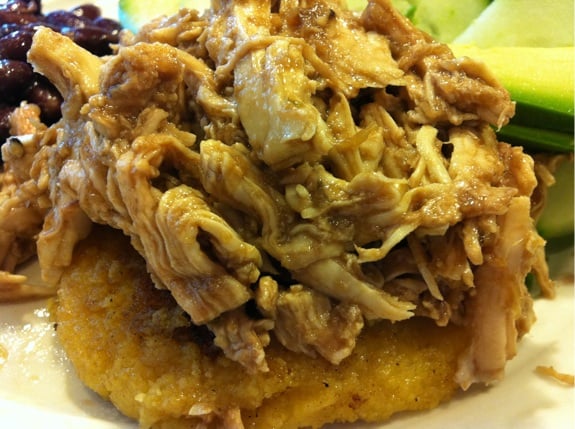 This recipe for tropical chicken polenta cakes is one you can mostly prepare days in advance, making it a convenient mid-week meal. Simply boil the chicken breasts and prepare the polenta, put both in their own sealed containers, and bring them out when you want to make this dish. If you end up with extra polenta cakes, use them to make "grilled cheese sandwiches." Seriously, they're awesome. On to the recipe:
INGREDIENTS:

Tropical Chicken:
3 chicken breasts, shredded (see prep)
1/2 pineapple (2 cups), blended into a puree
2 Tablespoons balsamic vinegar
1 teaspoon lime juice
1/4 teaspoon sea salt
Polenta:
1.5 cups chicken or vegetable stock
1 cups polenta (coarsely ground yellow cornmeal)
1 tablespoon olive oil
Optional: 1/4 cup grated Parmesan
Click to continue reading Recipe: Tropical chicken polenta cakes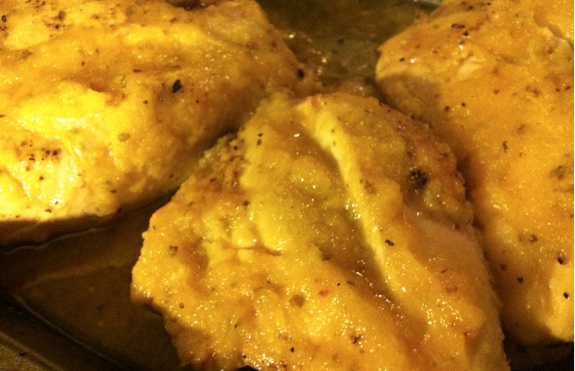 Chicken is a great meat because it holds the flavor of spices really well, while maintaining the original flavor of the chicken itself on the inside. This makes it a great base for recipes like this Pineapple Lime Chicken, where we are using a couple of different fruit acids, along with a few spices, with the end result being a nice, island-y dish. To make this one a little easier come preparation time, you can cut up the pineapple days in advance and keep it inside of a sealed container in the fridge.
INGREDIENTS
Marinade:
1/2 pineapple, chopped into chunks
2 limes (or 1/2 cup lime juice)
2 cloves garlic, minced
1/4 teaspoon ground cumin
1/2 teaspoon dried oregano
1 teaspoon sea salt
Chicken:
4 chicken breasts, bone in with skin
2 Tablespoons olive oil
1/2 teaspoon sea salt
1/2 teaspoon black pepper (freshly ground)
Click to continue reading Recipe: Pineapple Lime Chicken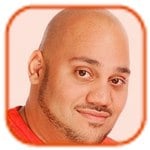 Posted by Andru Edwards Categories: Videos, How To, Poultry,
Yeah, if you thought you knew how to consume a chicken wing correctly, you may in fact be sadly mistaken. Chef John from Food Wishes put together the video above that shows how to eat the flat part of the chicken wing for maximum meat and deliciousness consumption. Give it a look, and enjoy your new knowledge.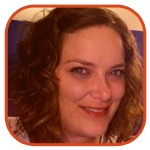 Posted by Jenny Lewis Categories: Dinner, Features, Site Announcements, Holiday Cooking, Summer Cooking, Condiments, Soda, Barbecuing, Grilling,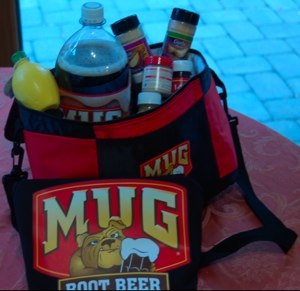 We're less than a week out from Father's day, and I can smell the charcoal already. While some may head out to a nice steakhouse for a special dinner for Dad, tons of us will be gathered around a grill doing it ourselves. My friends at Mug Root Beer want to help make all of this summer's BBQs a culinary triumph for you.
From today until Sunday at 8:00 PM Eastern, comment on this entry about your most memorable "Dad" moment. Did your dad show up to the aforementioned steakhouse in a Hawaiian shirt and flip flops? Maybe your friend's dad stepped in to save the day when a road trip went bad, or your uncle's BBQ went up in a blaze of meat glory. I want to hear about it! I'll be choosing five of the most memorable BBQ stories that you all share and the winners will each receive a prize pack, containing the fantastic recipe for MUG Root Beer Southern Specialty Brew-B-Q sauce (and the sauce is awesome - I was given a copy of the recipe and made some last night) and all of the ingredients to boot, in an insulated MUG bag with a MUG apron.
Lay'em on me guys - I want to hear your Dad stories!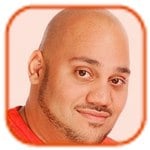 Posted by Andru Edwards Categories: Dinner, Lunch, Side Dishes, Product Reviews, Poultry, America,
Just leave it to Diddy, hip-hop star, fashion mogul, and leader of Bad Boy Records, to bring such a scientific experiment into the forefront of our minds. Why the final word between KFC's fried chicken and that of Popeye's has taken so long to be settled is beyond me, but we need to thank the heavens above that Diddy was able to bring this important issue into light.
Now we won't ruin the results, but we will say that we have to agree with his assessment that says KFC mashed potatoes and gravy beat Popeye's version, while Popeye's beans destroy those of KFC. But really, this is all about the chicken, is it not? Hit the video above for the results - we've kept you waiting long enough.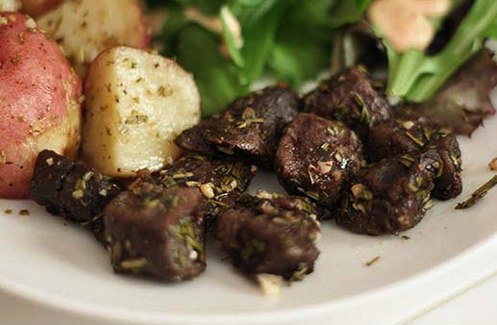 When our family is enjoying any kind of meat dish, I love to break out the horseradish and announce to whoever is within earshot, "Horseradish makes EVERYTHING taste better". So when I came across this recipe in Everyday Food for beef skewers with rosemary (one of my favorite herbs to cook with), my mouth started watering at the thought of dipping the yummy skewers into a horseradish dipping sauce, bringing the whole dish to a new level.
Ingredients:
3 flat iron (shoulder top blade) steaks (1 1/2 pounds total, with gristle removed)
1/2 cup reduced fat sour cream
1 tablespoon prepared white horseradish, drained
2 garlic cloves
2 tablespoon fresh rosemary leaves
1 tablespoon olive oil
coarse salt and ground pepper
Eight 6 inch wooden skewers
Click to continue reading Recipe: Rosemary Beef Skewers with Horseradish Dipping Sauce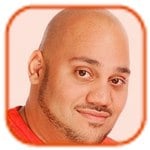 Posted by Andru Edwards Categories: Beverages, Tea, Far East, Boiling,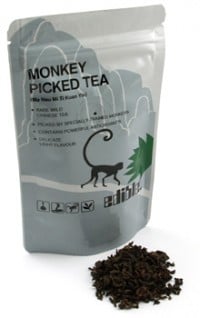 We know, it sounds odd. Why would anyone want to drink tea that has bee picked by a monkey? Does it make it taste any better? As the story goes, this is some of the best tea available, but the trees it grows in are too high, and the mountain face where the trees are is too steep. However, the tea is so delicious that the locals had to have it - so they trained monkeys to pick it. Fast-forward to today, and the practice of monkeys picking tea has pretty much died out, except in one small village where the tradition continues to this day.
Each package is about 2 oz, and we hear it is just about the finest loose tea you'll ever taste. Each bag makes about 28 servings. Go ahead and pick up a bag over at ThinkGeek Caffeine. Find it under the drinks area.
Read More

|
ThinkGeek Caffeine
© Gear Live Media, LLC. 2007 – User-posted content, unless source is quoted, is licensed under a Creative Commons Public Domain License. Gear Live graphics, logos, designs, page headers, button icons, videos, articles, blogs, forums, scripts and other service names are the trademarks of Gear Live Inc.