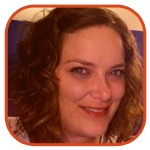 Posted by Jenny Lewis Categories: Dinner, Lunch, Quick Meals, Recipes, Summer Cooking, Poultry, Salad, Vegetables, Mediterranean,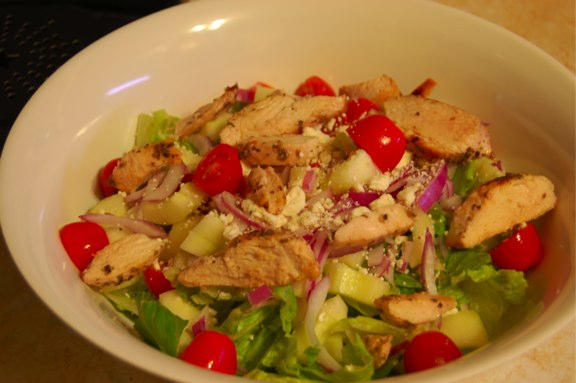 At home one night with plenty of nicely marinated chicken but no pita to be found, I had an epiphany - if souvlaki is basically an undressed Greek salad with chicken on a pita, why couldn't I eat it as a DRESSED Greek salad with chicken without a pita? And thus my new summer standby meal was born - the chicken souvlaki salad. This recipe will feed two very well and leave four wanting more (I suggest getting some baklava for dessert).
Vinaigrette Ingredients
:
1/2 cup plus 2 Tablespoons olive oil
5 Tablespoons red wine vinegar
1 teaspoon lemon juice
1 teaspoon thyme
1 teaspoon oregano
1/4 teaspoon black pepper
Salad Ingredients
:
2 boneless skinless chicken breasts
1 head of Romaine lettuce or 2 hearts of Romaine
2 tomatoes, diced
1 small red onion, diced
1 large cucumber, peeled and de-seeded
2 Tablespoons crumbled Feta cheese
Preparation:
Mix the marinade. Reserve half to dress the salad, and combine the other half in a zipper bag with the chicken. Marinate the chicken for 4 to 24 hours.
Grill (or saute) the marinated chicken breasts. Slice thinly. Prepare the salad vegetables. Top with the chicken and cheese, then the reserved vinaigrette. If you're feeling really saucy, you can use tzaziki as a dressing instead of the reserved half of the vinaigrette. Or you could just use both.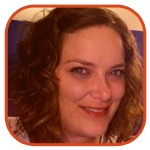 Posted by Jenny Lewis Categories: Breakfast, Dessert, Comfort Food, Recipes, Baking,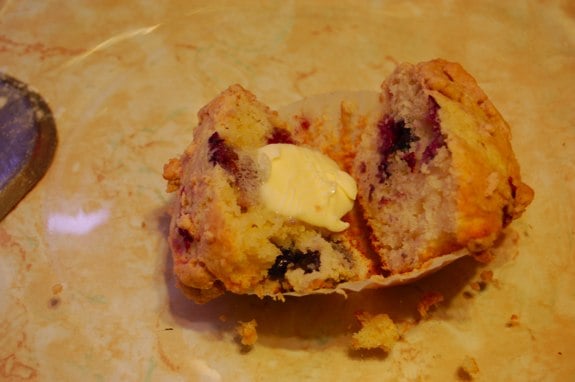 It's time for fresh berries! One of my favorite ever weekend breakfasts (okay, most weekend breakfasts are my favorite) is a nice warm blueberry muffin. Or a few. And yes, there are plenty of mixes and bakeries around who will hook my breakfast up right for just a little bit of time and money, but I'm still firmly of the belief that everything tastes better when it comes from my personal oven.
These muffins are an adaptation of a recipe from the Butter Queen Paula Deen - when I went to buy blueberries this week, there were some raspberries that I just couldn't resist. I added a streusel topping recipe found on the Chowhound message board for a little bit of extra sweetness and crunch. And before you ask, I did not eat muffins straight off of my counter - there IS a plate under there. It's just clear. I swear.
Click to continue reading Recipe: Summer Berry Muffins
Read More

| Food Network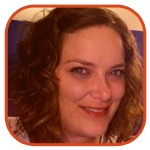 Posted by Jenny Lewis Categories: Dinner, Holiday Cooking, Kitchen Gadgets, Recipes, Grains, Boiling, Parties,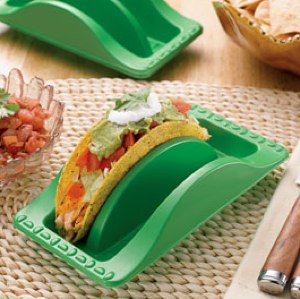 Hopefully you didn't fill up too much on dips and drinks, because I believe I have a beauty of an entree idea and a gadget that is perfectly matched.
"Make your own…" bars are super fun, and incorporating them into a party is always a hit - everyone gets exactly what they want. And a Cinco de Mayo taco bar couldn't be more awesome! Get yourself a meat or two, lettuce, sour cream, cheese, radishes, and some leftover guacamole and pico de gallo, set them all out in bowls with a stack of warmed tortillas for soft tacos and a stack of taco shells. And I recently made the life-changing discovery of these taco plates that keep your tacos upright and your ingredients safely inside the shells.
So what's to serve with the tacos?
Click to continue reading Cinco de Mayo Dinner: Mexican rice recipe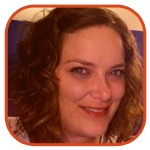 Posted by Jenny Lewis Categories: Appetizers, Side Dishes, Snacks, Holiday Cooking, Recipes, Condiments, Vegan, Vegetables, Vegetarian,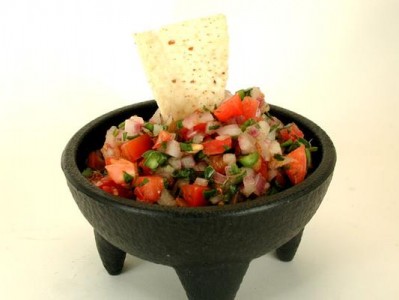 Pico de gallo, spanish for "rooster's beak," is a great fresh condiment that is made from fresh ingredients and a little fruit juice. It's also quick to make, and fits into an Cinco de Mayo celebration.
Ingredients:
2 large tomatoes, seeded and chopped
1/2 to a whole small onion
1 or 2 seeded chopped jalapeño peppers
Chopped cilantro to taste
Lime juice to taste
Salt to taste
Preparation:
Put the tomatoes, onion, and peppers into a bowl. Add the cilantro and stir to combine. Sprinkle the lime juice and salt on top and stir again. Done!
Be sure to check out our other Cinco de Mayo recipes!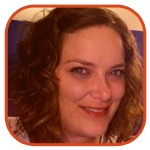 Posted by Jenny Lewis Categories: Appetizers, Side Dishes, Snacks, Holiday Cooking, Recipes, Beef, Condiments, Meat, Pork, Vegetarian,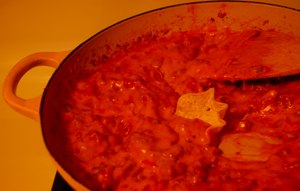 Continuing with the dips for Cinco de Mayo, Chorizo con Queso is a classic.
Ingredients:
1/2 pound spicy chorizo
1/2 cup chicken broth
1/2 small can diced green chiles
1 can diced tomatoes, drained
1/2 small onion, diced
2 cloves of garlic, minced
2 cups cheddar
1 cup Monterey jack
1/4 cup milk (if desired)
Preparation:
Squeeze the chorizo out of its casing and fry on medium in a shallow pan. Once it's done, remove it with a slotted spoon and set aside to drain, retaining as much of the rendered fat in the pan as possible. Pour the chicken broth into the pan to deglaze it - scrape the browned bits from the bottom. Add the chiles, tomatoes, onion and garlic and heat until bubbling. Add the chorizo back to the pan and stir until well incorporated. Add the cheese and stir until melted. If the dip is too thick for your taste, add the milk. Serve hot with chips or warmed tortillas.
PS - if you're feeling crazy, you could always deglaze the pan with tequila instead of chicken broth for an extra kick of Mexican flavor.
Be sure to check out our other Cinco de Mayo recipes!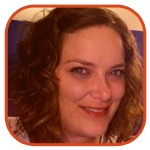 Posted by Jenny Lewis Categories: Appetizers, Side Dishes, Snacks, Holiday Cooking, Recipes, Condiments, Vegetarian,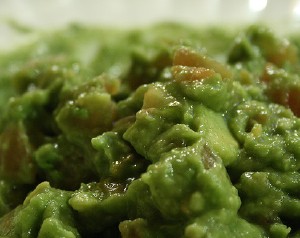 Dips are a tasty way to get a party started. Today I have three dips for Cinco de Mayo that taste great with veggies, chips, or warmed tortillas. Classic, customizable guacamole is a cool foil to a hot chorizo con queso dip, and pico de gallo is chunkier than a traditional salsa but still packs a ton of flavor. Also, it's so incredibly simple that once the ingredients are chopped, you're pretty much done with the entire thing. Let's start with the guacamole:
Ingredients:
2 ripe avocados
1 Tablespoon lime juice
1 teaspoon salt
2 tablespoons chopped cilantro
Preparation:
Scoop the flesh from the avocados into a bowl. Add the lime juice, salt and cilantro. Mash until creamy.
This is the most basic of recipes for guacamole, and there are plenty of ways to add to it. If you're feeling a little kicky, add some pico de gallo or a little bit of salsa. Add more cilantro if you feel like it, or don't add any at all. Maybe sprinkle some cumin on top or add some ancho chiles. The guac possibilities are literally endless.
Be sure to check out our other Cinco de Mayo recipes!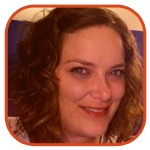 Posted by Jenny Lewis Categories: Beverages, Cocktails, Spirits, Holiday Cooking, Recipes, America, Festivals, Parties,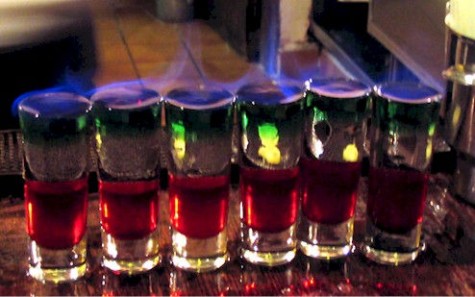 So, in case our horchata recipe wasn't strong enough for you, we've got something with a little more kick for your Cinco de Mayo party. Usually if I'm imbibing tequila, it's in margarita form and I am just fine with that. But the Mexican Flag is consistently great just as it is.
Ingredients:
1 cup of tequila
the juice of 2 1/2 limes
3 tablespoons powdered sugar
Maraschino cherries
Green seedless grapes
Banana
Preparation:
Dissolve the sugar into the lime juice and then mix with the tequila. Pour over ice and garnish with a cherry, a grape and a slice of banana.
Next up in our Cinco de Mayo recipes series, a trio of tasty toppings for tortillas. Okay, really it's three dip recipes, but I love alliteration.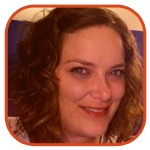 Posted by Jenny Lewis Categories: Beverages, Milk, Holiday Cooking, Recipes, Summer Cooking, Dairy, Parties,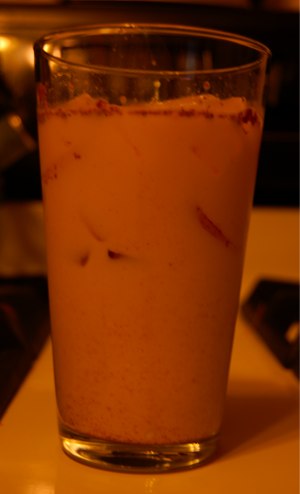 Cinco de Mayo is here! And if you're not hip to the actual reason the fifth of May is celebrated, let me clue you in! On May 5, 1862, 4,000 Mexican soldiers defeated the French army and an army of traitor Mexican soldiers to regain control of the country in Puebla.
Anyone can go to their local Mexican joint to celebrate. But WHY? Over the course of today, I'm going to lay out easy recipes to cover your celebration, from drinks to dessert. First up, horchata!
Click to continue reading Cinco de Mayo drinks: Horchata recipe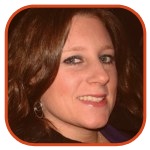 Posted by Vicky Lane Categories: Appetizers, Dinner, How To, Quick Meals, Recipes, Summer Cooking, Shellfish, America, Carribean, Broiling,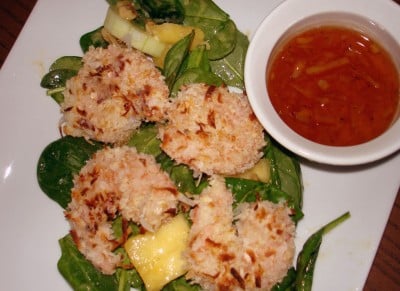 Yesterday in Chicago the weather was sunny and 65… in the middle of February! It was spectacular. I was inspired by the warm weather to create something that reminded me of summer or my favorite warm weather place, the Caribbean.
The first time I ever tried coconut shrimp was at a restaurant I worked at in college. They fried them up and served with a sweet plum sauce. I absolutely loved them and ordered them almost every shift I worked. My version requires no frying and it so easy and quick to make. I also borrowed a great broiling technique from Ellie Krieger from the Foodnetwork, which works every time.
Some people say they are not fans of the texture of coconut, which I can kind of understand. A great tip for flaky coconut is to throw it in the blender or food processor before using, this helps the coconut blend in well with the breading. I did not do this as me and Husband love coconut in any form.

Prep Time : About 15 minutes
Cook Time: 5 minutes
Serves 4
Ingredients
1 pound peeled and deveined shrimp (this just makes life easier)
1/2 cup all purpose flour
1/2 cup shredded coconut, I used sweetened and used a heaping 1/2 cup
3/4 teaspoon salt
1/4 teaspoon pepper
3 egg whites
3/4 panko crumbs (japanes style breadcrumbs, found in almost every grocery store in the Asian section)
1 teaspoon ancho chili powder (which is a milder chili powder)
2 tablespoons canola oil
Nonstick cooking spray
Click to continue reading Recipe: Coconut Crunchy Shrimp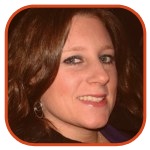 Posted by Vicky Lane Categories: Cuisine, Fish, Meal Time, Dinner, Lunch, Preparation, Broiling, Specials, How To, Quick Meals, Recipes,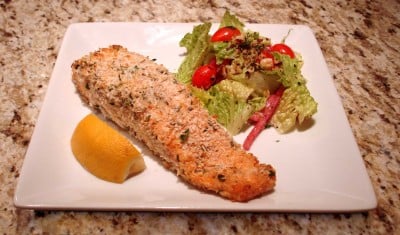 One of my favorite, recent creations is a light, alternative to fried fish that is easy but still packs a ton of flavor. Panko Crusted Salmon is a great go-to meal during the week that literally takes maybe 20 minutes to prepare and broil. In this recipe, I used Norwegian Salmon, mostly because it always looks so great at the seafood counter but also because the flavor is amazing. Most fish would work with this recipe but it is perfectly matched with Salmon.
Panko is the Japanese term for bread crumbs and in my opinion creates a much crunchier, crispier crust on anything. If you are looking for a better alternative to bread crumbs, panko is by far the way to go. They are light and flaky and can be used for toppings on casseroles or even filler to crab cakes (it can really replace anything requiring bread crumbs). I love panko crusted seafood but have also used these delicious, airy crumbs to crust chicken and pork chops. Panko can absorb seasoning well (as they are rather bland alone) and don't make foods heavy like bread crumbs usually do. Panko is perfect when you want a crunch without frying and can be found at most grocery stores and all Asian specialty stores.
Panko Crusted Salmon
Serves 4
Prep Time : 10 minutes
Cook Time: 10 minutes
Ingredients
4 Salmon Fillets (6 oz each)
Nonstick Cooking Spray
1 Tbs Rosemary chopped finely
1 Tbs Parsley chopped finely
Dijon Mustard
3/4 cup panko crumbs
Salt and pepper
Lemon wedges
Click to continue reading Recipe: Panko Crusted Salmon
© Gear Live Media, LLC. 2007 – User-posted content, unless source is quoted, is licensed under a Creative Commons Public Domain License. Gear Live graphics, logos, designs, page headers, button icons, videos, articles, blogs, forums, scripts and other service names are the trademarks of Gear Live Inc.