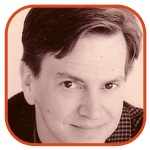 Posted by Tom Mason Categories: Reviews, Independent,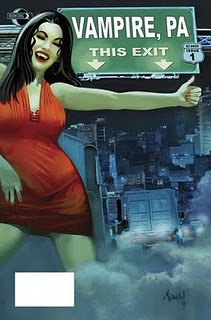 "I finally had the guts to ask Dee-Dee out, but only after she saw me drive a stake through the heart of a vampire."
That's Dean Marklin, vampire hunter in suburban Pittsburgh, the star of Vampire, PA, the new 3-issue mini-series from Moonstone. The series is created and written by J. C. Vaughn and illustrated by Brendon and Brian Fraim. Dean's found himself in the middle of two warring factions of vampires, and one of the vampires, Jocelyn, may be trying to play him for a sucker. Dean's already killed her once and he may have to do it again.
This "Fistful of Dollars with vampires" set-up delivers the goods, in large part because of the characters. Dean treats his nighttime vampire hunting as a job – a thing that has to be done to clean up his hometown. He goes about it with precision and good-natured humor, and drags along his friend Scuba Dave and girlfriend Dee-Dee. And, except for the wooden stakes and Super-Soakers filled with holy water, he's got a normal life – he'd like to get married and re-open the town's aging movie theater. He's not some super-human guy either – he's simply doing the best he can to rid his town of these creatures and is still learning as he goes.
Click to continue reading Vampire PA: J. C. Vaughn, Brendon & Brian Fraim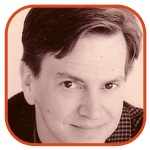 Posted by Tom Mason Categories: Interviews,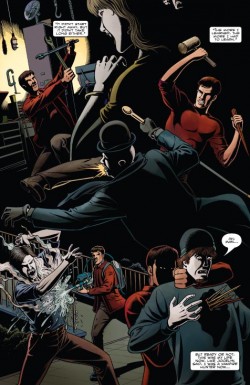 The comic book industry is like a city with a lot of restaurants. If you want to find something good, you need a recommendation. That's how I discovered the most-excellent work of the twin brothers Brendon and Brian Fraim.
My friend J.C. Vaughn is not just the Executive Editor and Associate Publisher of The Overstreet Comic Book Price Guide, he's also a comic book writer. He pointed me in their direction because J.C., Brendon and Brian collaborated on the serialized adventure/mystery strip, Antiques, for The Antique Trader newspaper.
Their new project, Vampire, PA is debuting from Moonstone in June. J.C. wrote it, Brendon and Brian illustrated it and Mark Wheatley is coloring it. There's a great 8-page preview of the first issue over at Vaughn's website, Well-Defined Productions.
Click to continue reading Q&A: Brendon Fraim and Brian Fraim (Vampire, PA)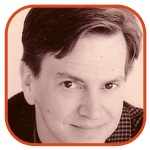 Posted by Tom Mason Categories: Editorials,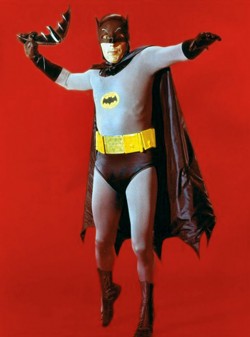 Lots of cool to click on lately, from horror and comic book author Christopher Golden to comic book and television writer Gerry Conway, with a dash of The Simpsons and a blast from the Direct Market past with the ghost of Steve Milo. Check 'em out:
Christopher Golden: When I first read Golden's Of Saints And Shadows, I was struck by two things: (1) he's really good and (2) this book reads like a horror version of X-Men. Novelist Ed Gorman plays Q&A with Golden over at his website.
Gerry Conway: One of my absolute favorite comic book writers (and now a TV writer in the Dick Wolf empire), Mr. Conway is excited about the new Predator reboot, Predators. He tweets: "Not that it matters: Predators seems to have a similar plot device to a movie Roy Thomas & I pitched years ago. Great minds, etc." He expands on that in subsequent tweets, "I'm not claiming idea theft, 'cause Roberto Rodriquez would've been 14-years-old when Roy & I made our pitch, and somehow I doubt…" Since he curtailed his blogging, his tweets make for fun reading.
Click to continue reading Weekend Reading: Starlog, Christopher Golden, Gerry Conway, Tarzan and Steve Milo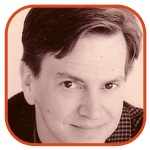 Posted by Tom Mason Categories: Editorials,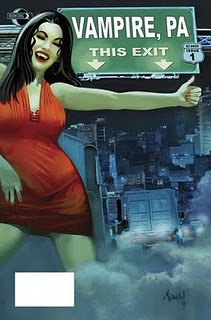 When you think of Pennsylvania, do you think of (1) The Pittsburgh Steelers or the Pittsburgh Pirates? (2) Coal-Mining? (3) Vampires?
If you answered "Vampires," then you know the realities of suburban western Pennsylvania, a target-rich environment for vampire hunters like Dean Marklin. Dean didn't used to believe in vampires, but then he met a hot one, and a bunch of not-so-hot ones who keep trying to kill him. Life is hard enough in Vampire, PA without having to carry a wooden stake in your pocket all the time.
From The Twilight Saga to Dracula and every point in between, vampires are the new Vin Diesel and my pal J.C. Vaughn has come up with an excellent twist on the genre that's worth a look. He's written Zombie-Proof, the adventures of Jack Bauer in 24, some nice Shi comics with Billy Tucci, and a host of other stuff, and now he's reunited with his Antiques co-horts, Brian Fraim and Brendon Fraim for a 3-part full-color series.
Click to continue reading Sneak Peek: Vampire, PA From Moonstone Books
© Gear Live Media, LLC. 2007 – User-posted content, unless source is quoted, is licensed under a Creative Commons Public Domain License. Gear Live graphics, logos, designs, page headers, button icons, videos, articles, blogs, forums, scripts and other service names are the trademarks of Gear Live Inc.